I realize there are a lot of terrible things going on in the world right now, but my own little world was recently shattered and my heart broken because my hero, the man I looked up to most in my entire life, the man who taught me integrity, hard work and respect, the last link to my childhood – my amazing dad – has died. (Ok, my hubby comes in a close second.) My dad who was 97 and one of the last few Pearl Harbor Survivors passed away just a few days before I left for the Portland PNNA show. I tried really hard to keep it together during the show, but at times it was hard because every time some kind person would come up to me to offer condolences, I would get choked up and couldn't speak. But I got through it and even managed to take a few photos for a short report. Wine helped.
Then I went straight from Portland to Baltimore and had to do it all over again. Although being at these coin shows was a good distraction, it was still hard to keep from tearing up every time someone offered their sweet and heartfelt condolences. Again, wine helped. So although I was preoccupied and really wasn't into taking photos for a show report, I managed to take some pictures, admittedly the photos were mostly of the social aspects after the show.
So, if you don't mind, at the end of this show report, I'd like to do a special tribute to my dad. I've been participating in this forum for so many years that I feel you are all a part of my "community." And although it's hard, I've found it has been cathartic and comforting to talk/write about him.
But first, the "show" reports.
As I was going through the photos I took, I realized that most of them are from our dinner outings after the show with not many taken during the show. I apologize for these reports not being very coin comprehensive – I think this was because I found it easier to just work behind my table rather than take the chance of breaking down in front of more people around the show.
So I left beautiful sunny Orange County for Portland on Friday morning. I was actually looking forward to seeing some rain, but when I arrived in Portland, the weather there was about the same as what I left in Southern California – it was gorgeous! Since set up wasn't until 3:00pm in my same time zone, it was nice to be able to fly in on the same day the show started.
I believe this is Mount Shasta
I checked into my room at the Doubletree where the show was held.
The room where the show is actually held is across from the entrance to the registration.
After I set up my booth, I opened a nice bottle of Columbia Valley wine.
After the show was over on Friday, West Coast Coins and The Portland Mint hosted dinner for members of the Facebook group Coin Dealers Helping Coin Dealers (CDHCD) at Stanford's Restaurant right behind the Doubletree. It was a great evening of camaraderie among the dealers and a nice way to meet and chat with new dealers you might not have previously known. A big thanks to Revick Galstoun (West Coast Coins) and Adam Young (The Portland Mint)!
They had a nice menu to choose from, including these delicious ribs!
The next day, Friday, was quite busy with a good amount of public attending this show. Since I had sold quite a bit of raw Lincolns at a prior show, one of my goals was to replenish my raw Lincoln cent inventory which I was able to do at this show. I also found a complete Lincoln cent set, as well as a few certified coins to add to inventory.
I also bound a couple of pieces for my exonumia collection, including this really nice encased 1908 Indian cent from Niagara Falls
I received a surprise visit from this young couple who recently moved to Portland from Orange County. They are my sons' childhood friends. Max and my sons have known each other since they were five years old.
After the show on Saturday, we went to our favorite Portland spot, Jake's Crawfish, which I believe is the oldest restaurant in Portland. They have amazing food and we absolutely love it!
On Sunday, there was still a fair amount of traffic at the show and it was busy all the way through early afternoon. I took a couple pictures around the bourse floor including the collector exhibits.
While I was walking around taking photos, my bff Cindi had brought a birthday cake and set it out on my table which caught me by complete surprise! (fyi, my birthday wasn't until the next week during the Baltimore show but we wouldn't be seeing each other then so she celebrated my birthday a little early.)
Since I was leaving for the Baltimore show directly from Portland, I stayed one more night at the Doubletree in Portland. And Cindi and Steve were also not leaving Portland until the next day so we got together for dinner at the hotel. She again surprised me at dinner with a birthday cheesecake which we shared with the other patrons at the restaurant!
And the bar was having a special on "Fruit Loop Martinis" so of course we just had to try one! They even had crushed Fruit Loops on the rim of the glass!
Overall, the Portland PNNA show was pretty busy, and I was fortunate to find some nice coins to buy as well. Let me just add that it has been my experience that the dealers at this show are particularly friendly. And Scott Loos and the rest of the staff who put it all together and make it run as smoothly as it does are extremely nice and helpful. I really enjoy attending this show, and look forward to next year's show!
Monday I spent most of the day flying from the Pacific Northwest to the Northeast! It was a long day! I left beautiful sunny Portland late Monday morning.
After spending a couple hours in Dallas, I finally arrived in Baltimore about 1am and checked into my hotel room.
On Tuesday morning, I went to one of the dealers who were set up in their hotel room showing coins and bought a great group of coins. I then went back to my room and began working up all the raw coins I had bought in Portland so I could have them ready during the Baltimore show. Later I grabbed a bite to eat at the hotel restaurant, then called it an early night!
On Wednesday, I dropped off my coins at security, then headed to the Horseshoe casino for a few hours since it was only a couple miles away from the convention center. They had a new type of poker game out in the blackjack area called "CrissCross." It was interesting and I ended up doing pretty well.
Set up day began Thursday at 8am. Set up day was surprisingly not busy, although I did manage to buy some more coins. These are all the coins I bought during the Baltimore show:
Including these two scarce beauties:
1873 Double Liberty PCGS MS64 BN
1916 MPL PCGS PF66 RB
When I was leaving the show on Thursday, I looked around and saw all the chairs on top of the tables and was reminded of the joke "how to you tell when a coin dealer is on vacation?" "From all the chairs on top of his house!" ha ha ha!
Thursday night we went to one of our favorite Baltimore restaurants, Da Mimmos, in Little Italy. I had an amazing lobster on linguine along with same even more amazing wine!
After dinner, we walked across the street to world famous Vaccaros for a "little" dessert. I can't even describe how many desserts they have on display when you walk in, and when you order one off the menu, they give you enough for four people!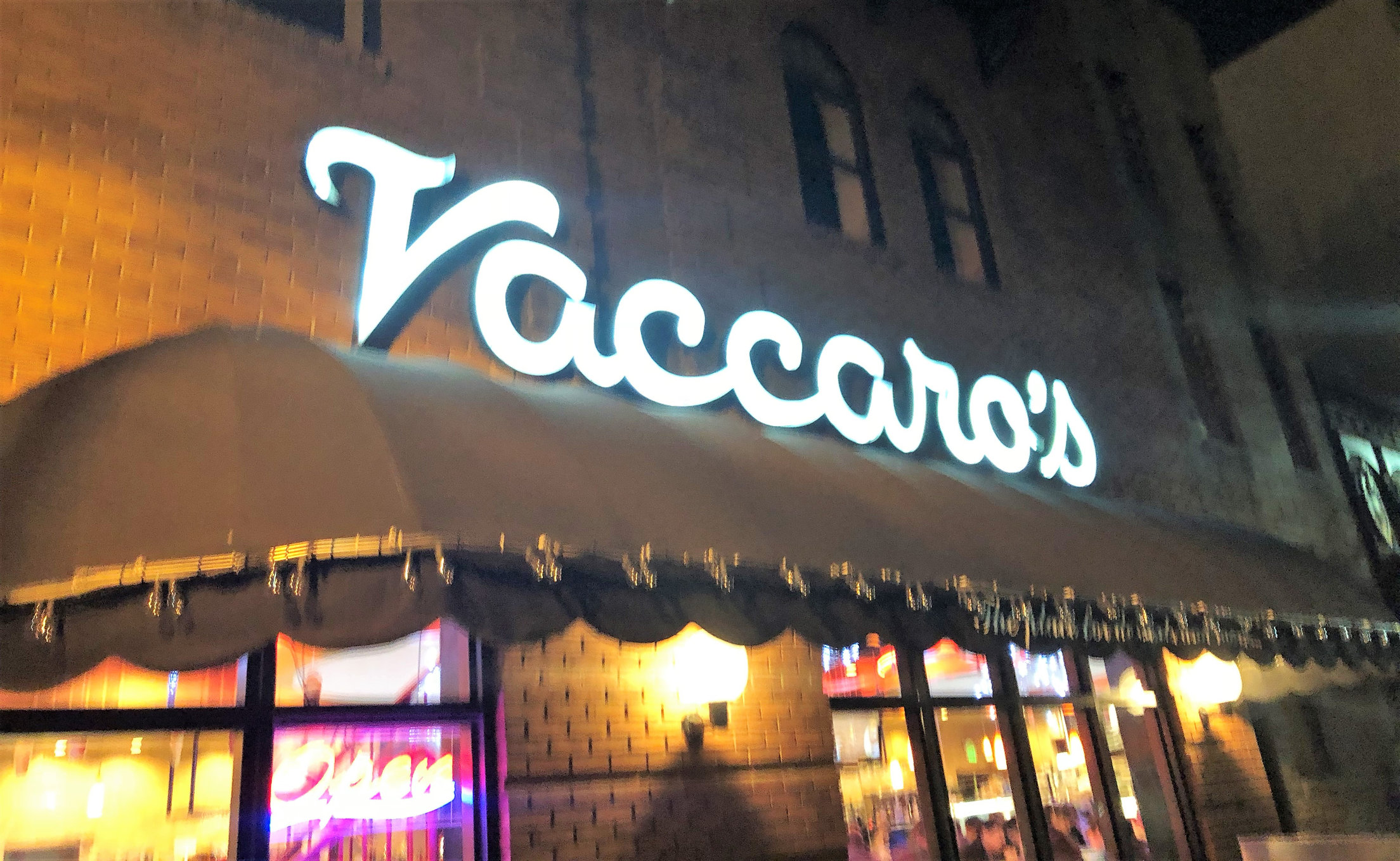 Little Italy is a fun area of Baltimore, with some great restaurants. Here are a few photos I took around Little Italy
On Friday, there was a big storm in the northeast and the show started out a little slow but soon it picked up. I was honored to have the Bressetts stop by my table to say hi. It happened to be Ken's 90th birthday!
It was also Dave Bowers' 80th birthday. Both of their birthdays were celebrated at Morton's Steakhouse (I was not there so I borrowed these photos from Jeff Garrett.)
I did manage to get around the bourse and take a few photos of some of the usual hard working suspects!
PCGS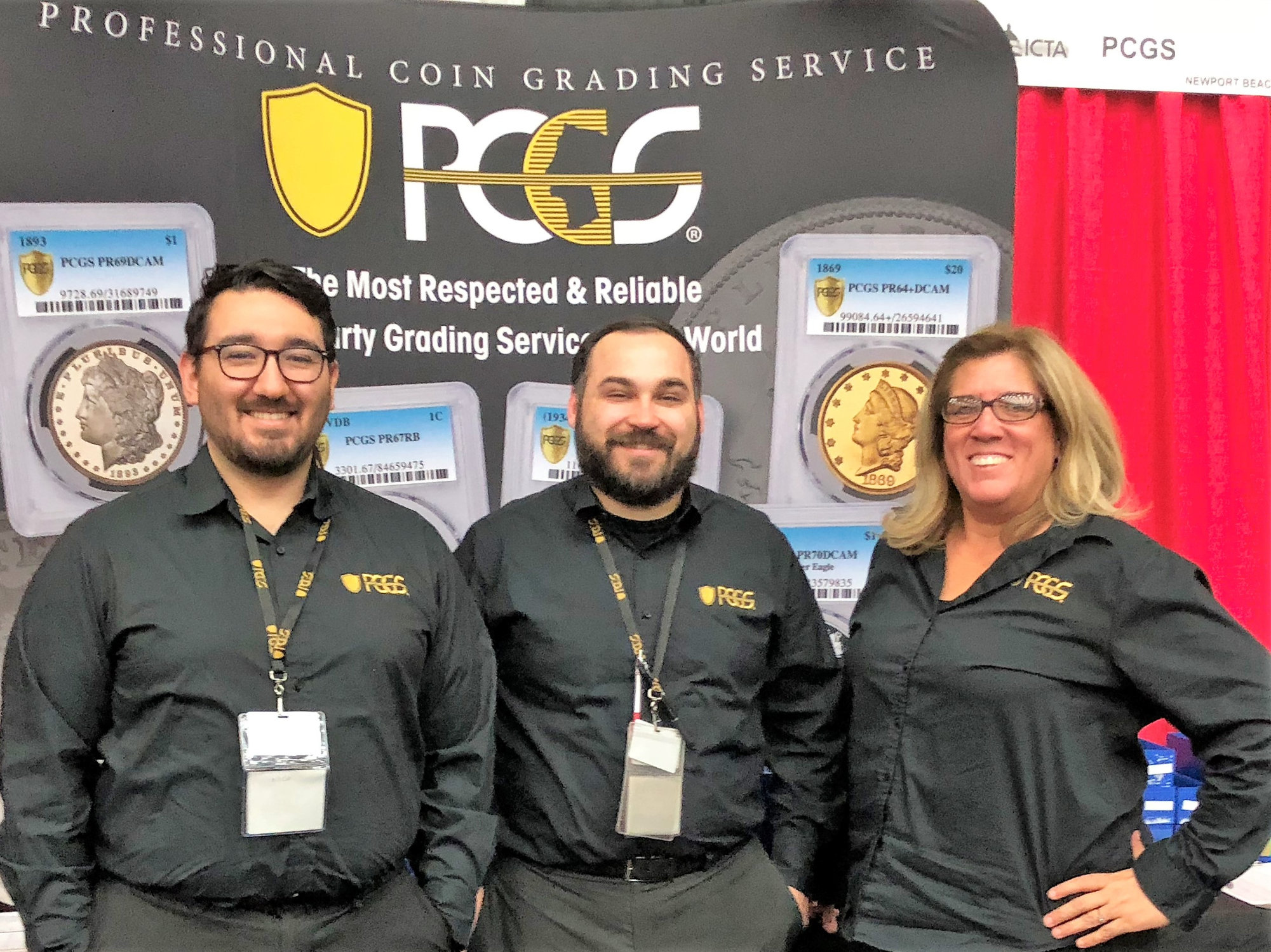 NGC
And that's Todd Pollock/BlueCC Photos in the background!
Friday happened to be my actual birthday and, even though it was a pre-planned event, I was really looking forward to spending my birthday at our usual Friday night restaurant at the Black Olive restaurant in Fells Point, with my "dark side" friends. This is the restaurant where we get to dine at the one table in the wine cellar surrounded by hundreds of bottles of amazing wine!
Unfortunately, I only remembered to take a picture of the white wine we had upstairs before we went down to the cellar, where we usually have several different types of red wine, followed by a wonderful dessert wine.
I did remember, however, to take pictures of some of the dishes from their new menu, including an entire fish – ugh!
This is one of everyone's favorite dish at the Black Olive, the octopus!
Saturday was still raining and the show was excruciatingly slow but I did manage to have a few decent sales before it was time to pack up and head home. By Saturday, I had been on the road over a week and was very tired and emotionally exhausted. I was very much looking forward to getting home especially because my dad's memorial service was set for Sunday afternoon in my home town. This year I have had several flight mishaps and with the rain storm in Baltimore, I was getting a little nervous about making it home in time. But all went smoothly and I arrived home late Friday night, exhausted, but with no flight issues whatsoever. Someone was smiling down on me!
It was wonderful to be home with my hubby and of course, my chubby little Penny!
Again, I apologize for the weak and sparse show report, my heart just wasn't in it this time. But now, I hope you will bear with me as I post this tribute to my Dad…..
My heart broke the day my Dad died. He was 97 and lived a very full life. He was a Pearl Harbor survivor, a husband, father, grandfather, and great grandfather – but most of all he was my Dad. I loved him so very much. He was a strong, caring man and so kind with a big open heart. He was always there when I needed him, he was my hero. My Dad loved camping, hunting, and road trips around the country with his family. He showed me the beauty of nature and the majesty of National Parks. He taught me how to shoot a rifle, reload bullets, change the tire, oil, and radiator water on my car. He taught me to have integrity, be honest, work hard, and to always do the right thing. My Dad told me he loved me often and always made me feel loved.
My Dad grew up on a farm in Michigan. His parents were humble and poor Polish immigrants. In order to help out his family, he tried to enlist in the Navy when he was 17 but the Navy found out and sent him home. He returned when he was 18, and at 20 he found himself stationed on Pearl Harbor as a Naval fireman.
These are photos taken of my Dad before the attack on Pearl Harbor
He was on duty, driving a firetruck to the dock where the oil tanker USS Neosho was pumping gasoline and other fuel into Ford Island fuel tanks when the attack began. He was interviewed for the book "Day of Infamy" by Walter Lord, here are excerpts from that book:
My Dad's local newspaper also interviewed him two years ago on the 75th anniversary about what he was doing during that fateful day. Here's a link to that story
This is my Dad, me, my son, and my son's son.
These are my siblings, and my Mom and Dad (my Mom passed away 5 years ago)
So Sunday we headed to the home in Oxnard, California, where my parents lived since 1959 and where I grew up. We decided to hold the memorial service there, including the military honors.
A video of the 21-gun salute and taps portion of the ceremony
This is a photo of our family and friends taken on Sunday at the memorial.
The local newspaper was present at my Dad's memorial on Sunday. The story appeared on the front page of the Ventura County Star today.
A link to the online story of his memorial
After the service, all of his children, grand children, and great-grand children gathered and reminisced about my Dad. One of the central things we all remembered and talked about was growing up with my Dad's jeep. He bought this military jeep right after the Korean war. He modified it to meet his needs, including adding a 440 Dodge motor, a heavy duty winch welded onto the front, a metal top and sides that he welded onto the jeep himself along with postal truck-type sliding doors, sliding tool drawers under the front seat on both sides, and small water tanks in the back on each side with outside spigots so we could get water or wash up. Then he threw in a featherbed on the floor in the back for us to sit on! He would pack us all up in that jeep, including our big dog, hitch up the trailer, and take us camping at least once a month throughout our lives. That jeep could go anywhere, and it did. I can't even tell you how many different colors that jeep has been painted over the years. This is the jeep now, along with my grandson who loves anything with wheels!
This picture was taken of us in front of the jeep when we were kids
So a couple years ago, we recreated that same photo
We were all pleased and grateful when my sister's daughter and her husband agreed to take custody of the family jeep so we wouldn't have to sell it off or scrap it.
My Dad was born in May and my brother recently came across this song that made him think of our Dad. It is called "the King of May." So during our reminiscing, we played this beautiful Natalie Merchant song for everyone to hear – it brought tears to everyone's eyes. Here's a link to the song
These are the lyrics
"King Of May"
Farewell today
Travel on now
Be on your way
Go safely there
Never worry
Never care
Beyond this day
Farewell tonight
To all joy and to all delight
Go well and go peacefully
We can't keep your majesty
Be on your way
Make ready for the last King of May
Make a cardboard crown for him
Make your voices one
Praise a crazy mother's son
Who loved his life
Who loved his life
Farewell today
Travel on now
Be on your way
Can't bear the very thought
That we could keep your majesty
Be on your way
Make ready for the last King of May
Make a hole in the crowd for him
Raise your voices up
Lift your loving cups
To his long life
To his long life
Make ready for the last King of May
Make a hole in the sky for him
Raise your voices up
Drink your loving cups
To his long life
To his long life
Thank you for bearing with me and allowing me to write this tribute to him. I know my Dad lived a long full life and how lucky I am to have had him with me for more years than most people get with their parents. I will miss him every day for the rest of my life.