First of all – HAPPY THANKSGIVING EVERYONE! I hope you are all able to spend some quality time with your loved ones. I know I am very grateful for my family and friends, including all you folks who have always been so supportive, friendly and helpful to me on this forum. I am also thankful to PCGS for having a platform such as this forum that allows us all a place to ask questions, gain knowledge and share our numismatic (and other) passions with each other.
Next, I sincerely apologize for the lengthy delay in producing this show report. A lot of different things conspired to make it difficult for me to put this together sooner (which unlike some "suggestions" did NOT involve joy riding in my new mustang – though I wish that were the case! On the contrary, my red beauty is currently receiving some tender loving care and minor tweaks that will make her even more perfect than she already is).
In any event, finally, here are my adventures at the November Baltimore show!
I left sunny and warm 85 degrees OC early on Tuesday very happy to be going to another coin show!
When we landed in beautiful Chicago where I was changing planes, it was only 14 degrees!
I arrived in Baltimore late Tuesday, where it was in the 30's – way too cold for this SoCal gal, but I was prepared and brought what I call my "Baltimore gear" with me!
The next morning I headed to the dealer trading rooms at the convention center to see if I could find some Pretty Pennies to add to my inventory, which I did!
Here are the coins I found both at the preshow and throughout the main show:
After I secured my coins at Security, I headed over to the Horseshoe Casino which was only a couple miles from the convention center. I wasn't doing very well at the tables, but I hit a nice jackpot on my favorite penny slot machine! During one of the bonus free spins I hit so many buffaloes that it gave me 32 x $90 for that one spin alone. I ended up with just over $3,000 for the bonus spins and had to be "hand paid" along with the dreaded federal form so I can pay taxes on my winnings! (You have to pay taxes on any slot machine win over $1,200).
Rick later joined me at the casino and we decided to play some limit poker for a few hours.
Since I play at various Harrah's casinos, I had $150 in dining credit so we had dinner at a wonderful Italian restaurant in the casino. I even had credit leftover so we ordered some crab cakes to take for lunch the next day!
Thursday of course was the day the Mint released the 2019 American Eagle Enhanced Reverse Proof coins. I wasn't involved in purchasing any of these, but boy, did folks need a lot of patience to participate in this special release! There were lines everywhere, from obtaining them at the Mint, then trying to get them graded. My friends, Cindi and Steve, got up very early and bundled up so they could stand in the various lines, along with hundreds of others, early that morning and were able to get a couple of them. They graciously allowed me to use some of the photos they took of how long the lines were to get the numbers and then the separate lines to get the coins. Wow, what an ordeal!
Even besides the chaos of the Enhanced Reverse Proof sales, the show was very busy on Thursday both during set up and after the public was let in. Here is my good friend David Lange busy helping folks at the NGC table.
My long time friend, Winston Zack just published the first volume of his amazing book on contemporary counterfeits, which I had ordered, and brought it over to me. This volume is on copper and nickel counterfeit coins. The next volume will be on silver, followed by the third volume on gold counterfeits. What a fantastic and well-written and beautifully photographed reference!
I had brought a bottle of Justin Malbec with me, along with my new personalized Penny Lady cups!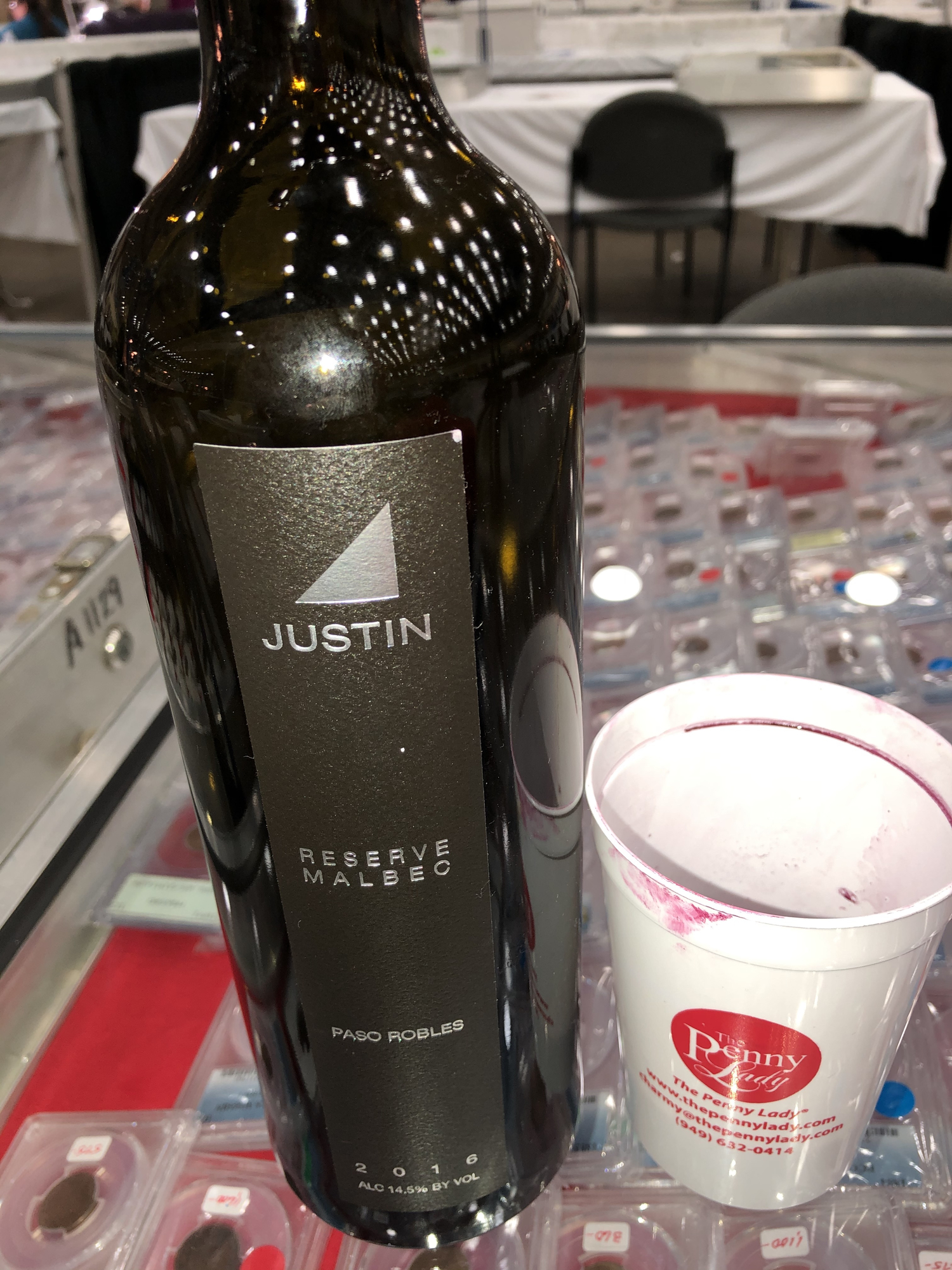 Thursday night after the show I had dinner with a large group at Mo's Seafood – James Sego, Mark Alvarez, David, Steve Cummings, Rick Snow, Ron Mirr, Cindi Snow (no relation) and me! Mo's had a wonderful crabcake over lobster dish that was very yummy, not to mention huge! Their crab legs were also popular. We ended up sharing dishes and had a great time!
After we left Mo's, we went across the street to famous Vaccaro's for some of their amazing desserts!
Friday was also surprisingly busy at the show and I had a lot of sales! I also picked up some Conder tokens I had submitted that NGC brought to the show for m.
I also found another beautiful Conder token to add to my collection. I love the various die states, especially terminal die state Conder tokens – and this one is a beauty, not to mention scarce variety!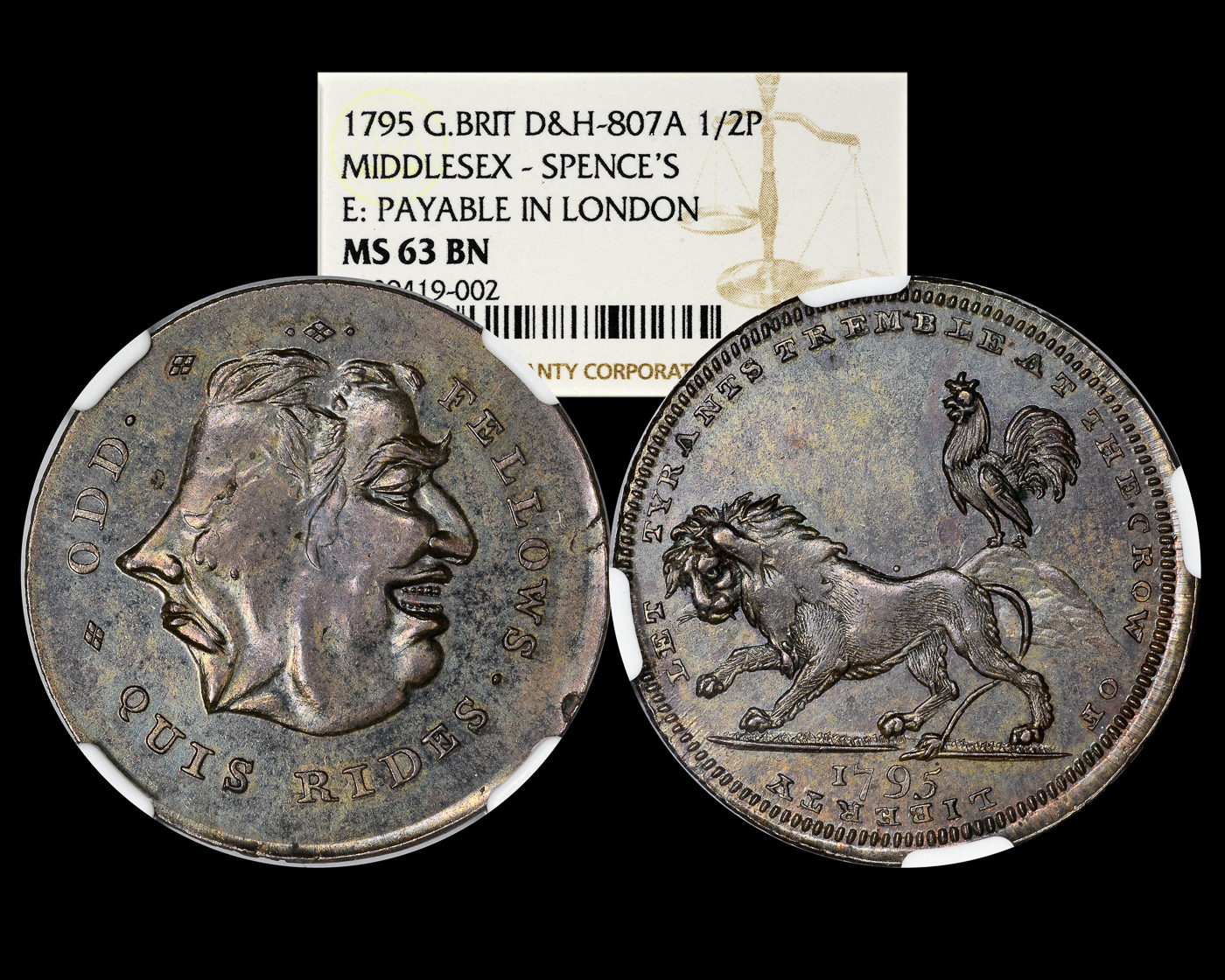 I also checked with John Kraljevich to see if he might have one of his little packets for me. John knows the type of exonumia I collect and will put a little packet together for me if he finds pieces he thinks I might like. He found this unusual encased penny pin back piece for me.
Ron Mirr brought me this wonderful bottle of Mencia which I shared and was gone pretty quickly!
Friday night of each Baltimore show is reserved for dinner with my "dark side" friends at the Black Olive in Fell's Point.
We all very much look forward to this evening of great wine, great food and even greater friends! Dan Sedwick, Al Boulanger, Karl Stephens, Charlie, Michael Barry, Me and Augi
Their specialty dish is the octopus and it is fantastic!
Even though I've only been participating in this event for the past 5 years or so, this group has been coming to the Black Olive for about 15+ years. So they let the folks at the restaurant line up an excellent selection of white and red wines for us.
They also have a great selection of seafood and their lamb is very popular as well!
On Saturday, there seemed to be a lot of public early on, but as usual it thinned out in the afternoon since many dealers were packing up and heading home. I couldn't get a late enough flight on Saturday this time, so I stayed and flew home on Sunday. There was this bird character walking around the show but I never did find out what or who it was representing, but it was awfully cute!
My flight was early Sunday morning, so I packed up my booth and went across the street to the Pratt House Pub with some friends for a quick bite, then called it an early night!
Then it was back at the airport at 5:30 am, through Chicago again, then onto home…..
where sweet Penny was waiting for me (my hubby was having fun riding the dunes in Glamis while I was away)!
For me, it was a very busy and successful show and I was very happy to be kept busy most of the time. And as usual, I especially enjoyed seeing all my usual customers and friends. I am truly grateful to be able to do something I love and for all the good friends that help make numismatics so interesting, challenging and especially fun!
Next up: The FUN Show in Orlando in January!