I've read some of the Long Beach show reports and I have to agree with them – this was one of the busiest and well-attended Long Beach shows in a long time. Thanks to Taryn and Cassi and the rest of the folks who worked hard to put this show together – from the fantastic Central America Ship of Gold, to the amazing Tyrants of the Thames display of "The World's Most Valuable Private Coin Collection," and even the Miller/Harrison Morgan Dollar set on display at the PCGS table. This was such a great show and I was so busy that I didn't even have a chance to take as many photos that I usually do!
I arrived early on Wednesday as usual to wait in line to get up to the loading dock which they usually don't open until just before noon, but I was very pleasantly surprised to see that they were letting people up right away. So I was able to unload and go park the car early which allowed someone else to do the same thing. Then we waited outside the loading door until noon.
The city is getting ready for the Long Beach Grand Prix and the course goes right in front and behind the convention center, so there is lots of construction activity along the streets.
Set up went quickly and smoothly and soon I was able to shop around the bourse for customer want lists and inventory. Throughout the show I found quite a few nice coins, several of which I sold during the show, as well as several great raw pieces.
After set up on Wednesday, we went over to a birthday reception at 555 for one of my favorite vest pocket dealers, Greg, who was turning 60. Greg's wife Rose put on a very nice party with some great appetizers.
Fellow dealers Gene Bruder and Bruce Braga
The next day when I arrived at the loading dock back door, there were two KTLA news vans parked by the door. I guessed they were there to film the ribbon cutting for the Ship of Gold display.
On my way to see the Ship of Gold display, I ran into these two error coin experts (Fred Weinberg and Jon Sullivan) wheeling and dealing together at Fred's table!
They held the ribbon cutting ceremony at the Ship display right when the public was let in and there was quite a crowd gathered around.
Don Pearlman read a letter from California Governor Brown and made the introductions
Mark Stephenson showed me the portal containing some large gold bars
The display was so amazing and I truly enjoyed having the opportunity to view such historical pieces!
.
This is the brochure they were handing out about the display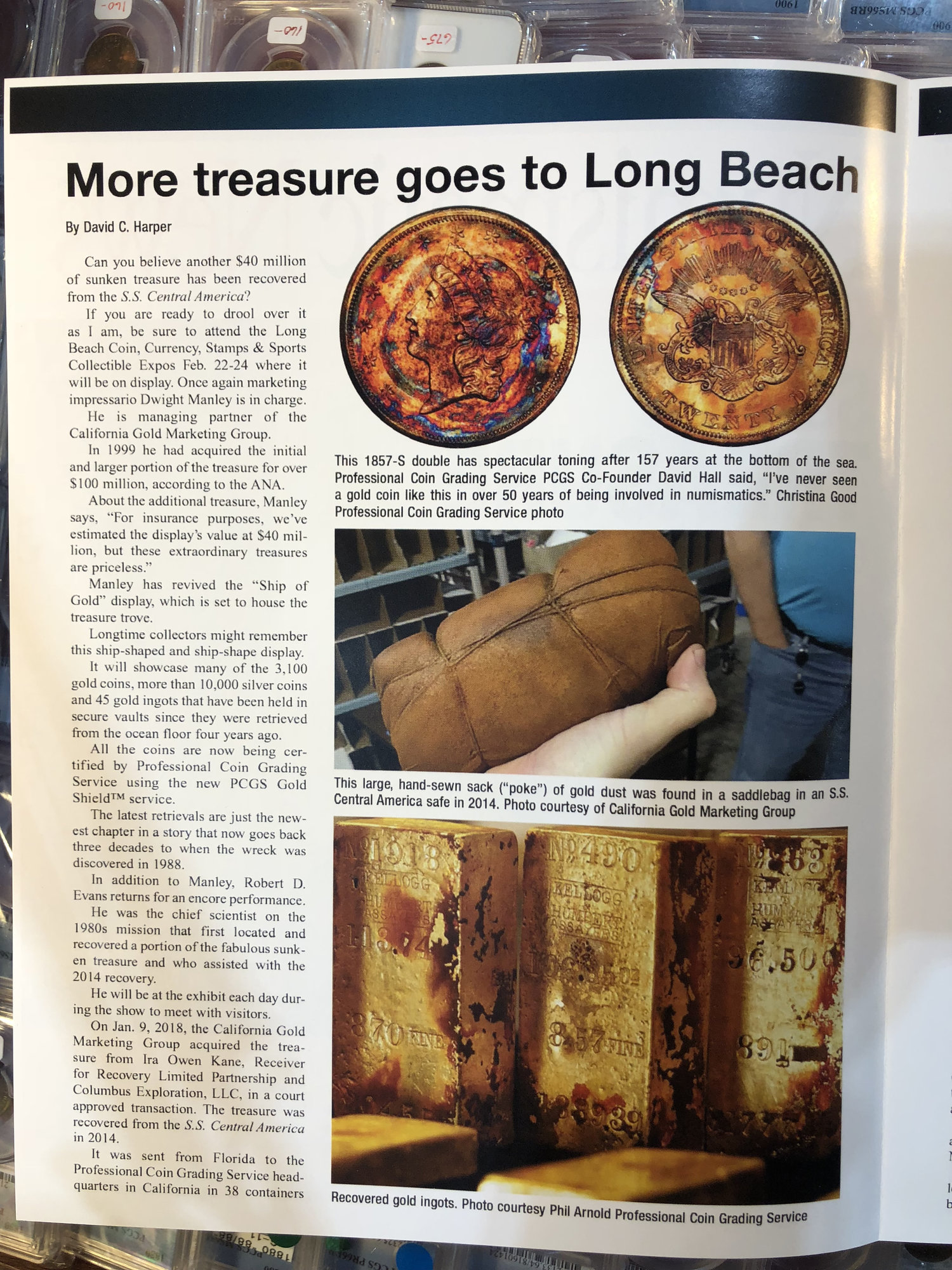 After viewing the display, I went back to my table and conducted non-stop business until late in the day. I was really surprised how busy the show was even in the afternoon. This picture was taken around 4pm on Thursday.
When things finally died down, I opened a bottle of my favorite Rombauer!
PCGS was giving out these adorable rubber super hero Collectors.com dolls, so I picked one up for my grandson.
After the show on Thursday, a bunch of us headed over to our usual Thursday night dinner spot, Naples Ribs. Before each Long Beach show, my hubby asks me if we're going because he looks forward to me bringing home all the leftover ribs! So this time, I even ordered ribs just to make sure he would be able to have his fill!
The guy across from the girl is Karl d'Amico, the lead guitar player of Missing Persons
Friday morning I took an opportunity to view the Tyrant display. There were so many incredible cases of coins, I decided to just photograph one.
I then went by the PCGS table and viewed the Miller/Harrison Morgan dollars display
The PCGS table was busy as usual!
I happen to catch David Lange and the folks at the NGC table helping Todd/BluCCPhotos and dealer/instructor Bob Campbell
ANA President Gary Adkins with Steve Ellsworth
After the show ended on Friday, we went over to King's Fish House for our usual wine tasting dinner.
On Saturday, I briefly checked out the Ship display again. The crowd viewing the Ship of Gold on Saturday was steady
Nina and the rest of the folks at the Kagin table were working very hard to make sure the auction at the ANA show in Irving is a hug success, and the catalogue is beautiful!
When I got back to my table right after the show opened to the public, I was surprised how busy I got. I had several customers right away, but one in particular made my show. He was looking for some pretty eye appealing coins and I sold him several beautifully toned Indian cent proofs I had just picked up at the show. Then he handed me his type set book and asked me to help him fill the first page with more eye appealing coins. Of course I had coins for just about every spot that was empty, and he seemed very pleased with the coins I had chosen for him. It was a fun experience for someone to have such confidence in me to let me choose the coins for his album. And he was a delight to deal with.
As some of you know, in my past life I was a litigation paralegal and worked at the Orange County office of Morrison & Foerster (MoFo) for 17 Years. This is my dear friend Dean Zipser who was the managing partner of MoFo back then (he now has his own firm). Dean and his wife Este came to the Long Beach Coin Show today to sell some old coins he had inherited so we got to do some catching up! It was so great seeing him again!!
So it was truly a fantastic show, all around, and I was exhausted when it was over and I finally got home! Whenever I'm away at shows my kids usually send me a pic of my cutey-pie grandson so he sort of becomes part of my show, and thus, my show report!
Then when I get home, I get to see my hubby and my sweet purring Penny in all her chubby glory!
That's it for now! Next up: The Buena Park show, then the PNNA Tukwila/Seattle show, followed by Baltimore!