Another Long Beach show has come and gone – and it seemed to happen so quickly! I always enjoy being at the Long Beach show and seeing all my friends and regular customers, as well as meeting new folks! Most people I spoke with about this show said it was slower than the usual September show. I know several usual east coast dealers weren't there, possibly due to the storms.
For me, Wednesday I did my usual buying, and Thursday was busy, but Friday was slow, then Saturday was surprisingly busy. Overall, it turned out to be a B+ show for me, both buying and selling. I know the expo folks work really hard to please both the dealers and the collectors. I'm sure it's not easy sometimes working with us dealers, trying to meet all our needs yet run the business of putting on a successful show, but they in my view they do a great job. And they also work hard at getting the public in the doors with special promotions, free passes to any collector wanting to attend the show, great door prizes, and a fun and entertaining treasure hunt for the kids.
Being a creature of habit, whenever I attend the Long Beach show, I enjoy going to the same restaurants as before (and usually with the same group of people), mostly because they have such good food. And this makes it a bit of a challenge to write a show report that doesn't look like past Long Beach show reports, but I'll try!
Me and my booth bud, Rich, arrived at the convention center as usual on Wednesday before set up, unloaded, and waited at the loading dock area to be let into the bourse floor.
While standing outside the open loading dock door, I noticed a big white tent in the middle of the bourse floor. We were told that there was a cosmetics convention that had taken up all the rooms upstairs so they had to juggle tables around on the floor and make room for Heritage lot viewing.
So while Rich waited with my cart at the door, dealers who wanted to do lot viewing were let in so I took advantage of the opportunity to do that instead of waiting outside. I saw my friend Matt who is a quality copper lover as well. I had wanted to see several pieces I noticed in the catalog – I was glad I took the opportunity to see the coins in hand, and it was nice to have a second pair of eyes look at the coins I was interested in as well.
During set up, I met with several vest pocket dealers and bought some great Pretty Pennies, including a nice 1856 Flying Eagle in PF61 that looks higher grade.
I'm planning to write an article on Penny Pocket Mirrors and my friend Alan Weinberg graciously agreed to let me pick his brain since he too is an avid collector of pocket mirrors and has a wealth of knowledge on most anything exonumia related! So we had a really nice chat, and he gave me a lot of useful information for my article.
After set was over, we went to our usual place for dinner, Cafe Piccolo's. Along with my foreign coin dealer friends Karl and Joanne Stephens, Ron Guth and Jeff Garrett joined Rich and I for dinner. Cafe Piccolos has a really nice casual atmosphere, with part of the restaurant outdoors. We've been going there for so long that the waiters know us and even know what we like to order!

We all brought wines and each one was very good.
Most of us had our usual goat cheese chicken dish which is excellent!
Thursday when I arrived at the show I took a few minutes to see the amazing Tyrant Collection.
And this is the Paterson Collection of Ancient coins that was on display at the GreatCollections table
The US Mint was set up at the show
Todd also stopped by to show me another rare glass Columbian Expo token he just bought. This one was in its original bezel and is beautiful!
The show on Thursday was really busy, and everyone I spoke with said that Thursday was their best day. Once the show opened, I didn't get away from the table until later in the day. I finally took some photos around the bourse later in the day.
My friend, Ryan Delane of Interfanatic Digital Marketing stopped by to say hi. He's building a new website for me and I'm really excited about it!
After the show on Thursday, due to some conflicts within our group, instead of going out to Naples Ribs with several other dealers, we went to King's Fish House just behind the convention center on Pine. They not only have amazing seafood, including the best macadamia nut crusted halibut, but they have FREE corkage!
Rich and I got there a little early, so we had a pre-dinner cocktail – they make an awesome lemon drop martini!
Everyone brought a bottle of wine to share, and there were some really great ones. The Grenache I brought seemed to be very popular as it was all gone by the end of dinner!
This is the macadamia nut crusted halibut that I have each time I go there!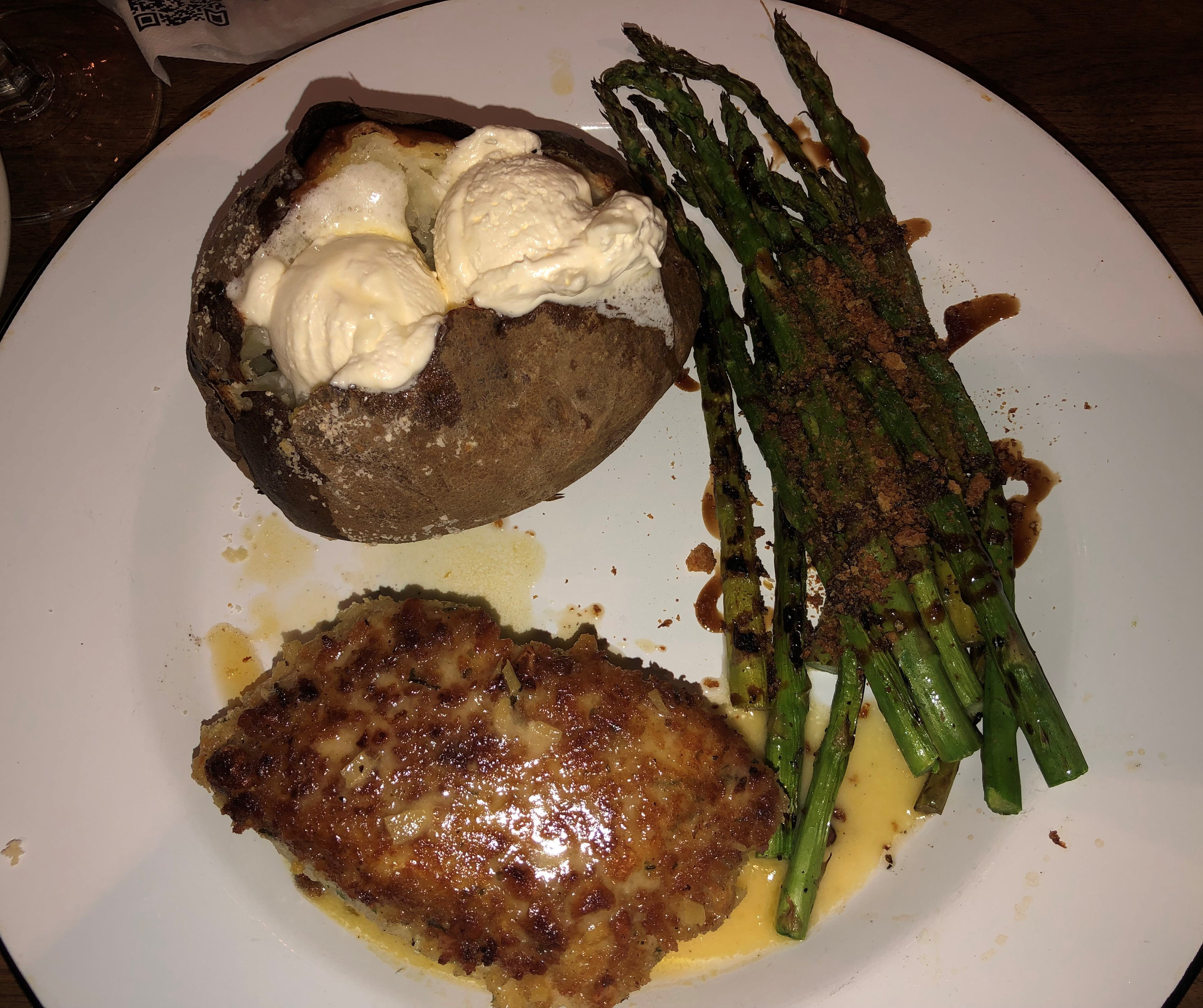 Getting together for these dinners after a long day at the show is something we all look forward to. It gives us a chance to get to know each other, find out about how our families are doing, talk about how the day went, how the coin market is going in our specialties, etc. It is one of my favorite aspects about attending shows!
Fridays are usually slower than Thursdays, and this Friday was typical. I had lots of bursts of business, then it would quiet down and be slow for a while. So I had a little more time to walk around the bourse, hunt for coins, and take a few more photos. This is Alan Weinberg's jaw dropping Brasher Doubloon that was on display.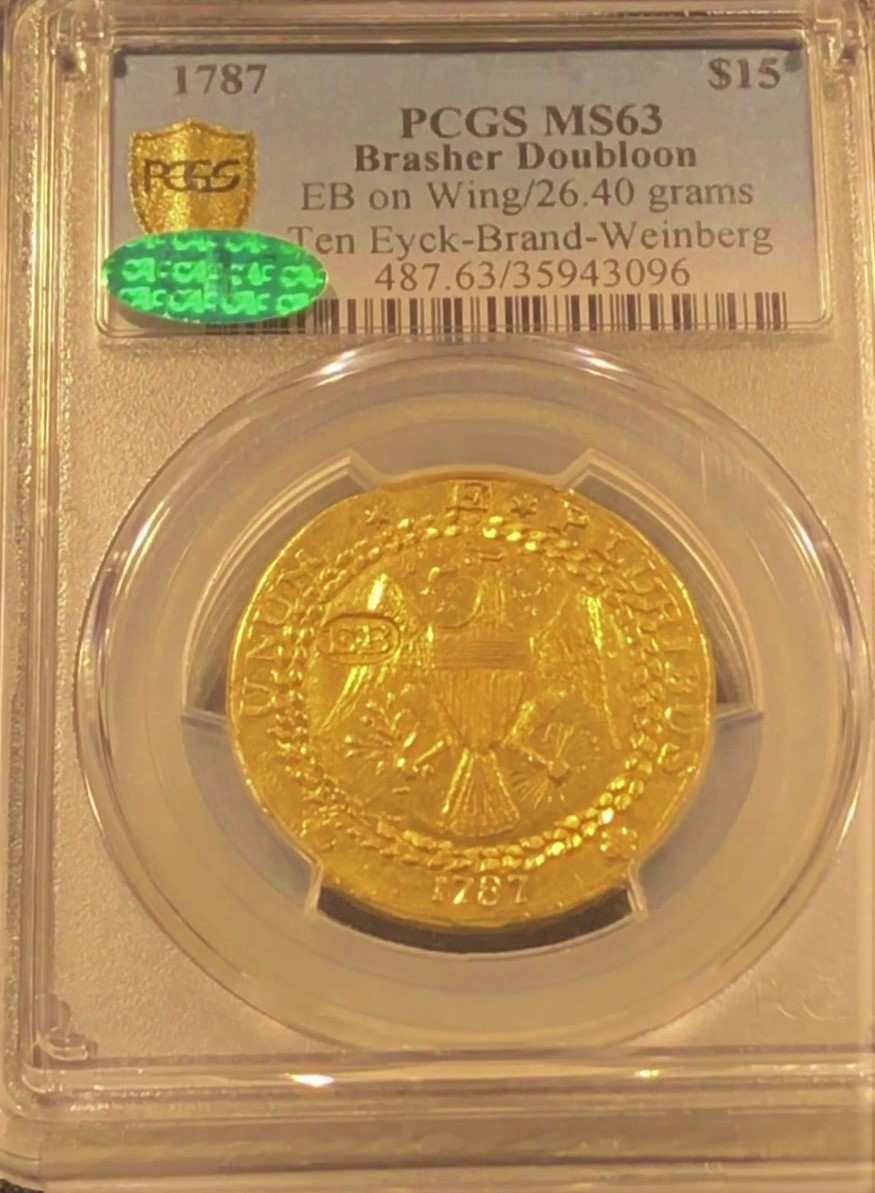 I also viewed the stunning Rollo Fox Collection of $20 Saint-Gaudens gold coins that were on display at the Heritage table
The PCGS folks working hard as usual!
NGC folks working just as hard!
Ted from San Diego also always seem to be very busy at every show I see him.
There there is Todd and his dad Roger – I think he has more fun than he actually works! 😉
My dear friends Joe Wargo and Art McBride – two of the nicest, kindest dealers out there!
A very good friend (and customer), Buck, is working on a couple of booklets about his personal collections and I recently helped edit one of them, so he brought me these two very good bottles of wine as a thank you.
Forum member Michael/RockyMountainProspector stopped by to say hi
That night Rich and I went across the street to PF Changs, our favorite Chinese restaurant. The harbor area where there are several restaurants, is really nice, and the evening was warm with a slight breeze – It was an absolutely beautiful evening!
This is the view from the harbor across the street to the convention center
Rich and I just sat at the bar and had a nice grouping of appetizers. And PF Changs makes the best Mai Tais!
The next day Saturday we arrived at the show early (Rich and I carpool since we're both from Orange County) so we could get submissions ready for PCGS, take my Conder tokens to NGC, collect checks from dealers, write checks to other dealers, etc. before the public was let in. Surprisingly, we were very busy most of the day Saturday, all the way until about 2pm. I was sincerely shocked at how much business I did that Saturday – it was great!
But soon it was time to pack up, load up, and head home. My hubby was at our Havasu home checking on things after the monsoon they recently had, but of course I had Penny waiting for me when I got home – she's such a sweet affectionate kitty!
That's it for now! Next up: Buena Park Show in October, then the PNNA Portland, Baltimore, and Las Vegas Palace Station shows in November.