With all the harsh weather the east has been getting lately, and the several flight issues I had last year around this time, I was a little apprehensive about traveling to the Pittsburgh show. But I was very pleasantly surprised to find out I didn't even need to bring my heavy coat. The weather in Pittsburgh was beautiful, as was the city itself with the three rivers and those hundreds of very cool bridges. The convention center was also one of the more open, well lit and architectually eye appealing convention centers I've been to. Overall, the show itself was on the soft side, with slow sales and a lower public attendance. That being said, I don' think I've been in a more friendlier town than Pittsburgh!
I left OC on Tuesday morning and, as usual, we flew out over the ocean before turning around and heading east. I never get tired of seeing the gorgeous Newport Harbor and the Orange County coastline from the air!
I had a connection in Denver, and must say that the view from the air of the snowy Colorado mountains was equally as amazing as the California coastline!
Flying from coast to coast, especially with a connection, is an all-day ordeal and leaves me drained at the end of the day. I finally arrived in Pittsburgh late Tuesday night, checked into my room, and went straight to bed.
Set up was Wednesday at 1pm, so I slept in before heading over to the convention center.
As I mentioned, the weather was beautiful and not too cold. I took this picture of the city from the walkway between the hotel and the convention center.
This is the pristine looking convention floor before all the kaos of dealer set up began. You can see how light the room is from the glass ceiling architecture.
The convention center is right on the river with some beautiful views of the river, bridges and the city.
The convention center was a bit of a maze, especially if you were coming from the hotel over the walkway, but at least the ANA had a lot of signage throughout the convention center so it was easy to find where the show was.
There was a large crown of dealers gathered around outside the door waiting to be let in.
After I set up my booth, I went over to the ANA museum area to see the amazing rarities on display.
Just before I left for the show, I acquired a complete registry set of MS64/65/66 brown Indian cents from one of my customers (including several key varieties). But I still had some specific coins I was looking for so, before I headed back to my table, I walked around show to see what other Pretty Pennies I could find. Also, throughout the afternoon, several of my favorite vest pocket dealers also stopped by to show me their "wares." And being a one-woman show, I very much appreciate it when dealers stop by my table and let me look through their boxes.
When things died down later in the afternoon, I opened a bottle of my very favorite wine that I had brought with me, Rombauer Zinfandel.
After the show ended on Wednesday, the Pennsylvania Association of Numismatists was hosting a wonderful dinner event at the LeMont restaurant, which included being entertained by the Washington Jazz Orchestra. They had a bus take everyone to the restaurant which is located up the hill overlooking the three rivers.
It was a really fun evening, with great food, a raffle and silent auction, and several guest speakers including U.S. Mint Director David Ryder.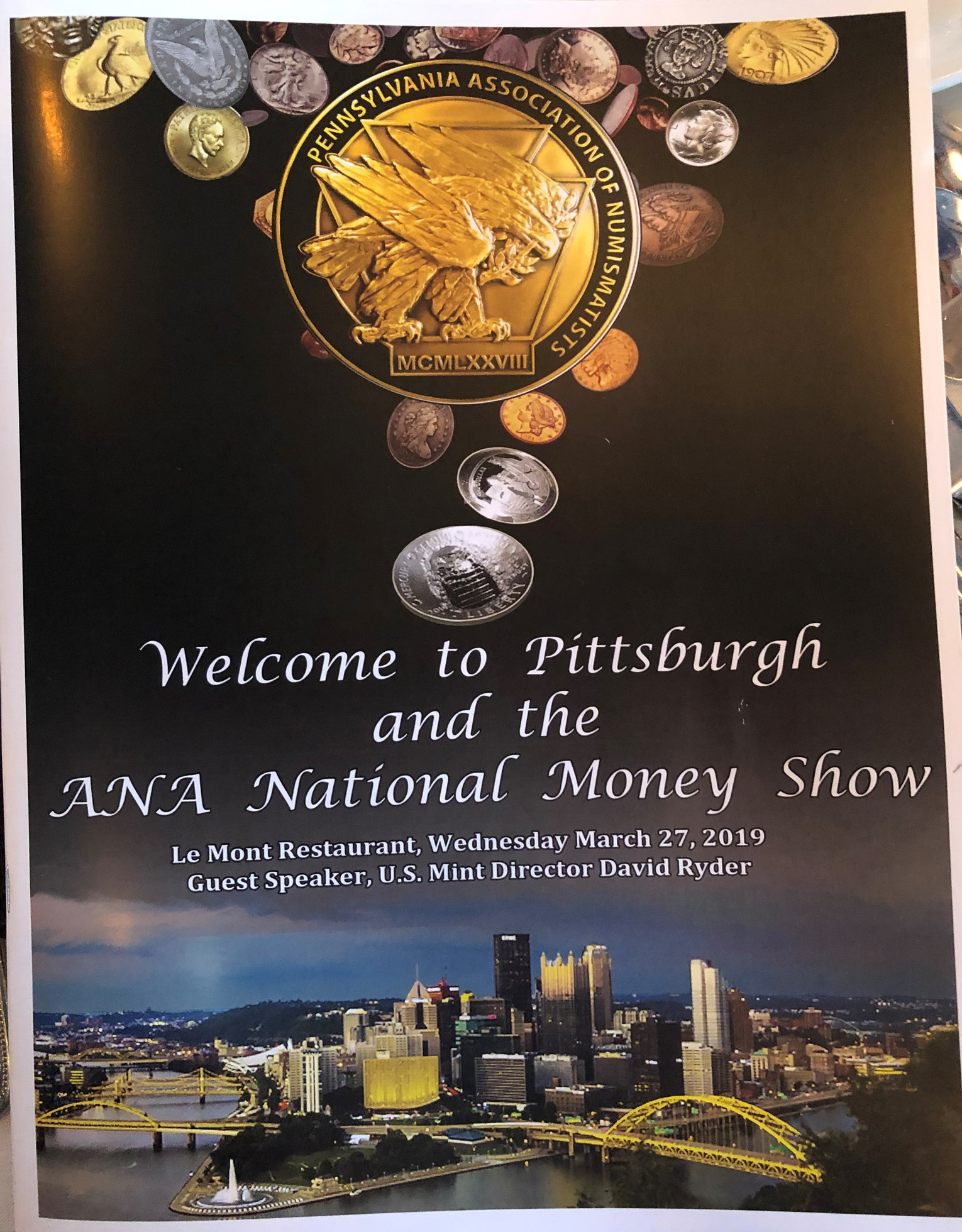 This is me taking a picture of ANA photographer Rob Kelley taking pictures of the orchestra
Me and Abe Lincoln!
The silent auction items
I was bidding on the Caramel Crown Royal and Cuban cigars but when it got to $400, I had to bow out!
Guests
Speakers Dennis Boggs/Abe Lincoln who gave a great Lincoln-esque talk, and U.S. Mint Director David Ryder who gave a very informative talk and also announced that the Mint had no plans to stop minting the U.S. penny – yay!
Tom Uram, PAN President/ANA Governor
Towards the end of the evening, they announced winning raffle numbers, and I was lucky enough to win this little 1/10th ounce gold coin! It's the very first gold coin I've ever owned! Winning this coin was icing on the cake of an already wonderful evening!
Thursday the show opened to the public at 9:30am. I was pleased to have several folks stop by looking for pennies right off the bat! Thursday morning was my best selling day of the show! Also, I truly enjoyed chatting with several forum members who stopped by to say hi, and a few allowed me to take their picture for my show report.
Jim/Kranky
Ray/Raybob15239
Jeff/StrikeoutXXX (he stopped by on Friday)

By early afternoon, the public thinned out and the show slowed down quite a bit
There were several very interesting and creative exhibits by collectors in the Exhibit area. My favorite was this one by my friend Rod Gillis on Money of Monopoly. It included original stock certificates from the same businesses that are featured in the Monopoly game.
Another interesting exhibit was about the History of Nursing on pins and medals
After the show on Thursday, we went over to the Church Brew Works for dinner and drinks. According to Wikipedia, "The brewpub is located at 3525 Liberty Avenue in the Lawrenceville neighborhood of Pittsburgh, Pennsylvania. The church building was originally built in 1902, and had been used as a church until 1993. Its doors opened as The Church Brew Works on August 1, 1996, after the building underwent extensive renovation, necessitated by years of lying dormant after being officially deconsecrated by the Diocese of Pittsburgh in 1993. In 2012, Pittsburgh Magazine named it one of the best breweries in Pittsburgh." In addition to the beautiful church architecture, the food and beer was delicious!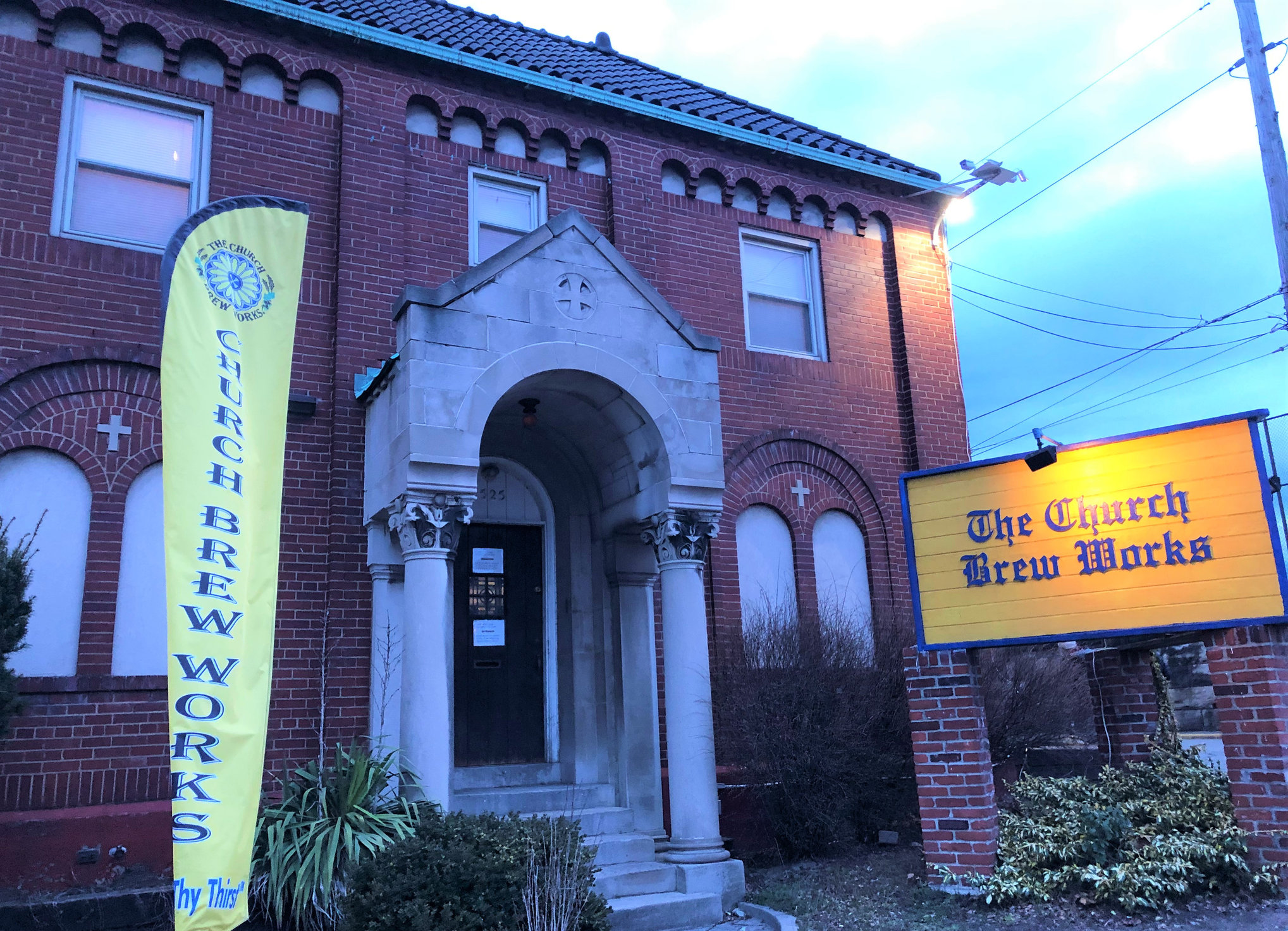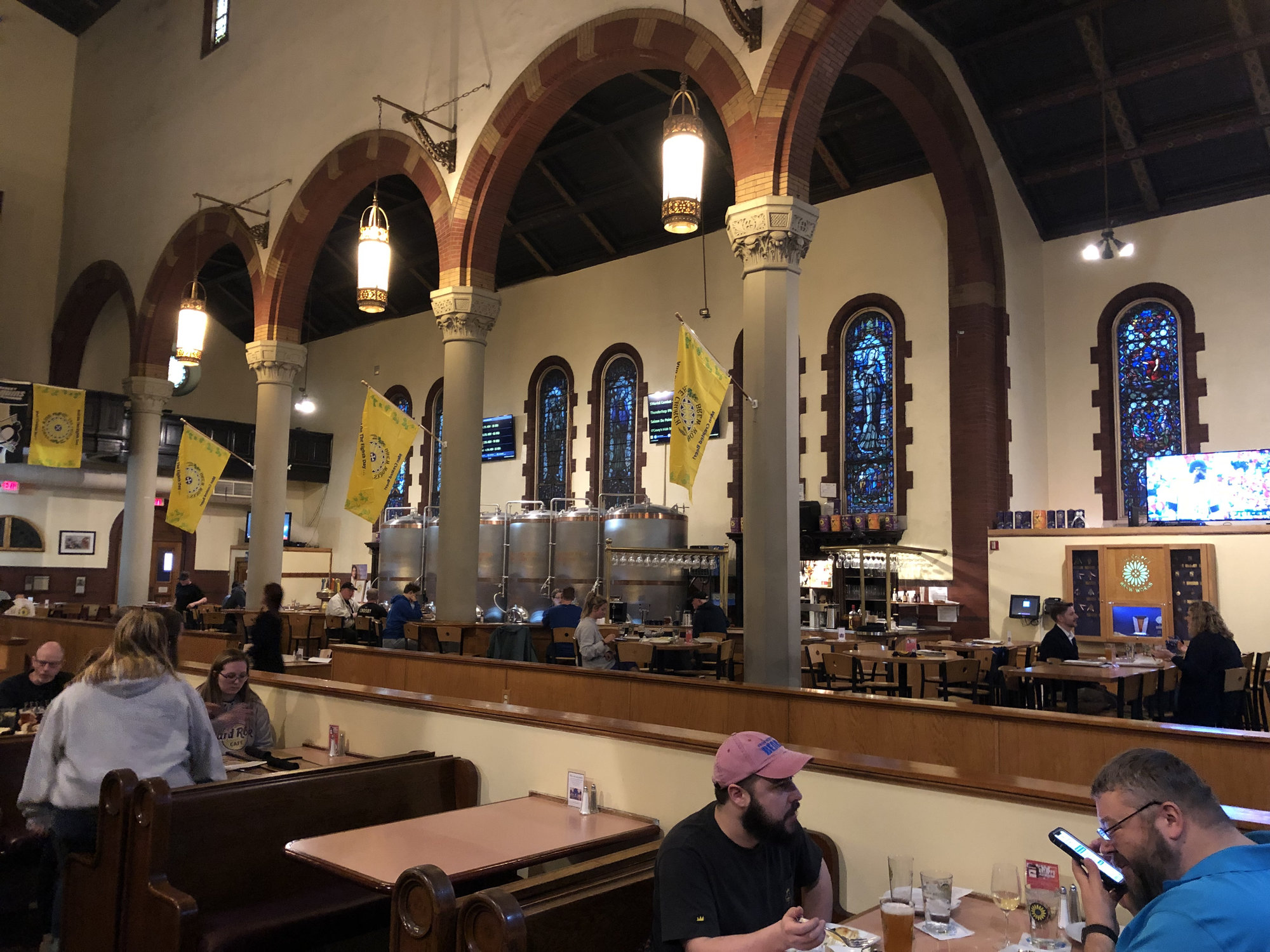 Being half Polish, I grew up on perogies so I just had to try theirs and they were amazing!
I also had a glass of their Quadroscope beer whih was slightly sweet and delicious!
And we all split one of their signature raisen and apple bread puddings
After we left the Church Brew Works, we headed over to the Rivers casino which was just across the river. We had a good time playing the Ultimate Texas Hold-Um game, and I was very happy that I ended up a few hundred dollars ahead by the end of the night!
When I woke up on Friday, it was raining.
This is the bourse floor before they let the dealers in
The U.S. Mint was set up at the show – these were taken before the public was let in.
They also set up a memorial library in honor of John Burns, a popular and beloved book dealer who passed away during a show a few years ago.
Typically, the show was not as busy on Friday, with very moderate traffic.
After the show on Friday, we headed over to Eddie V's for a steak/seafood dinner. Wow! What a wonderful dining experience we had there, with amazing food and a wonderful bottle of wine!
The lobster bisque was so tasty, as was the seabass and the filet (covered with bernaise and crab).
This very cool looking old building was right next to the restaurant.
We also saw the peddle cars filled with folks peddling like crazy and having a blast cruising down the street!
After dinner we headed over to the Ten Penny pub which we had heard about, so of course, we penny people had to check it out!
Soon it was time to call it a night.
On Saturday there were lots of families who came to the show, many of whom stopped by my table to ask about pennies they had found or inherited. Unfortunately, I had to advise most of them that the pennies they had wouldn't make them rich. However, a few people came by just to ask questions and learn about how to improve their collection. I gave them advice on learning to grade (I recommend "Making the Grade"), not cleaning their coins, don't buy damaged coins, etc.
Several people asked me about some anomaly they found on one of their coins like a repunched mint mark, doubling, a die chip or crack, etc. For folks who like to do roll searching, I always recommnd the "Cherry Picker's Guide" to help them determine which types of varieties might be worth hunting for.
One of the questions I get asked the most is what dates of coins should they be looking for that might be worth something. That's when I recommend they get "the Red Book" so they could determine which of their coins may be more valuable. Unfortunately (and unusually), there was no supply dealer at this show, so I advised these folks that they could find the books at Barnes & Noble or an online coin book website.
Soon it was time to pack up and head to the airport and beging the long journey home. Bye bye Pittsburgh until August 2020 when we return for the ANA WFM!
Hello my own sweet Pretty Penny!
Next up: The Santa Clara Show next week, then Central States in Schaumberg the end of April!