Charmy's Coin Show Reports
The following are my Coin Show Reports about my adventures of the various coin shows that I attend throughout the country.
CHARMY'S 2023 FUN SHOW REPORT w/Tons of Pics!
WOW! What a show it was!! This was one of the busiest shows I've had in a long time. Even though there were some very minor glitches on dealer set up day, the show was fantastic, with tons of public on both Thursday and Friday. Even Saturday was surprisingly busy. As many dealers commented, prices are higher especially on better quality, tougher date coins – and it's harder to find the tougher dates in better grades. However, on dealer set up day and throughout the show, I was lucky enough to acquire several nice Pretty Pennies, including an 1856 Flying Eagle cent and three scarce Flying Eagle and Indian cent pattern pieces. The days flew by – it was simply a GREAT show!
As always, each January I very much look forward to the FUN show – this show always seems to start the year off with a bang! I got to the airport early on Tuesday, sailed through TSA, and had lots of extra time before my flight so I grabbed a refreshing Bloody Mary before I began my long trek to Orlando.
I was a little apprehensive about my flight after hearing the airline horror stories over the previous few days, but the only glitch was a a 1/2 hour delay leaving cloudy Orange County.
My only concern was that my layover in Houston was less than an hour, but luckily the gate we arrived at was only a few gates away from my next departing gate which had just begun to board when we landed so I made it just fine. However, when I boarded my flight I asked the flight attendant if our bags from that flight would make it to this flight, and he said "they most likely arrived before you did!" And what do you know, I looked out the window and I saw my bag being loaded onto my plane!
I arrived in Orlando with no problems, checked into my hotel, grabbed a glass of wine down at the bar where the CHUBB Insurance Group was having a huge gathering, then I headed to bed!
After sleeping in a bit, I headed over to the convention center. This was the view from my room.
Set up was at 2pm on Wednesday but I arrived there early to grab my ribbon and to see if there was any dealer trading – which there really wasn't much of since the FUN Board doesn't allow dealers to rent pre-show trading rooms at the convention center. So I just caught up with several dealer friends whom I hadn't seen in quite a while. By the time the bourse was ready to open, there was quite a crowd of dealers waiting to get in!
Set up went smoothly, and then I began my hunt for coins for my customer's want lists and jus to add to my inventory. I did find a few pieces that a couple of my customers had been looking for, but mostly found coins to fill in gaps in my inventory. These are the coins I acquired throughout the show including the three patterns cents and the 1856 Flying Eagle cent.
When I got back to my table, I was happy to see these two long-time forum member friends whom I had seen in quite a while!
@ldhair and @spacehayduke

And my very good ex-FBI now coin dealer buddy Neil Ulrich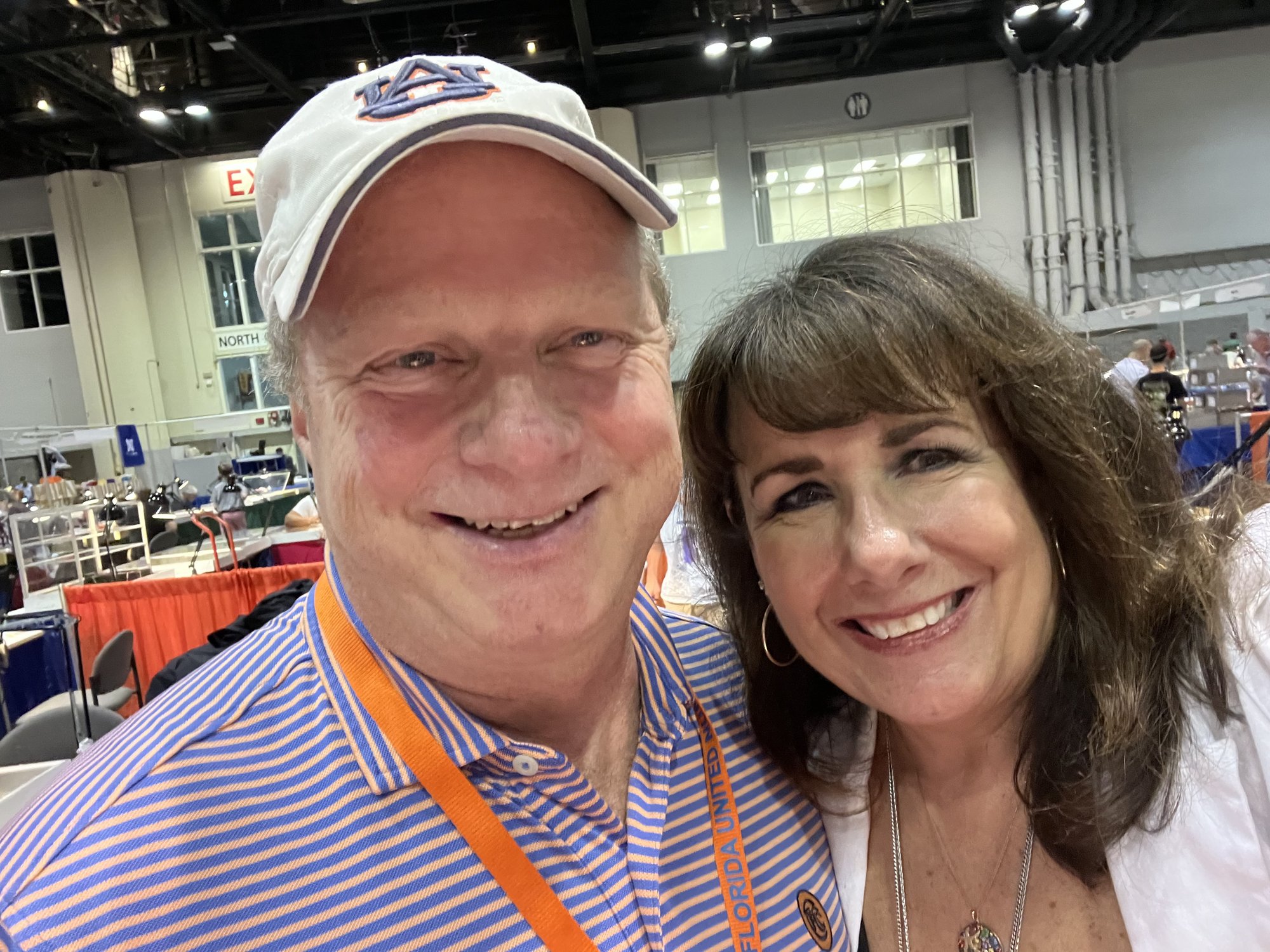 In the afternoon, I opened a bottle of this 2014 Williams Selyem Zinfandel – it was very yummy and was shared with several friends!
After a very busy set up day, soon it was time to head out to a nice relaxing dinner! We headed over to Maggiano's and had some awesome food and a wonderful time!

I had a glass of bought 2020 Caymus cab which I've had several times and is always amazing. It was so good and the restaurant price was surprisingly inexpensive so I bought a bottle to take to the show!
Neil and I had ordered the chicken piccata and, and after the other two people at our table had received their dinners, the server accidentally gave away our dinners to the table next to us who happened to order the same two dishes. So the waiter gave us TWO complimentary platters of various desserts.
I have to say, despite this minor glitch, the service at Maggiano's was truly over-the-top.
A couple pics of the bourse on Thursday taken from my table when I had a few seconds to breath!
I was able to pick up a few pieces for my personal exonumia collection – a few hard to find penny pocket mirrors and a scarce celluloid encased Indian cent.
I enjoyed chatting with a few more forum members who stopped by to say hi!
Rick/ @Barberian

Greg/ @keyman64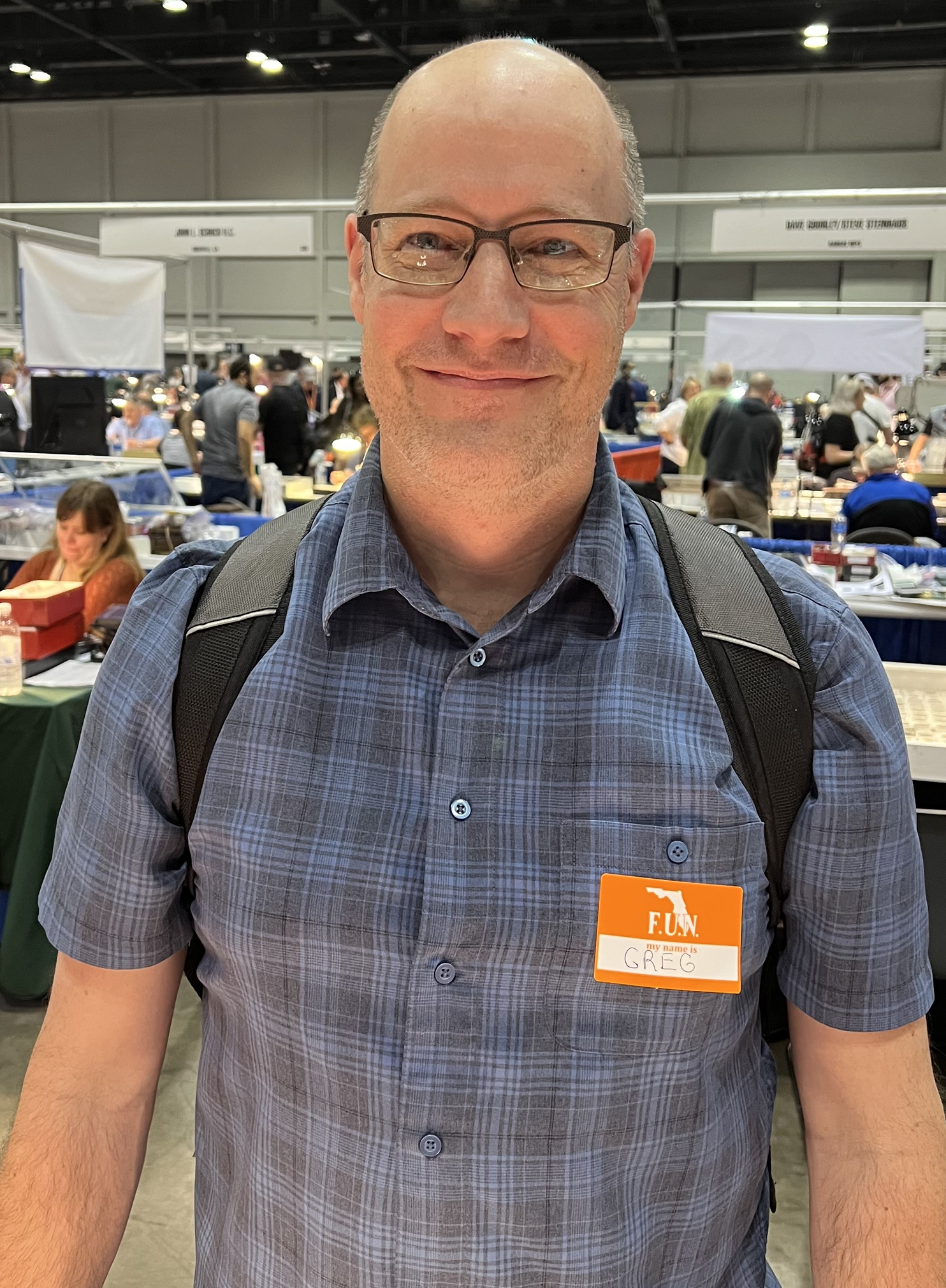 Ed V.

I brought with me a special bottle of 2014 Eighty-One Justin Cab. I'm a Justin reserve wine club member and I received 6 bottles of this special limited edition wine shipped to me in a wooden crate wrapped in tissue paper. I had been storing it for a few years and this was the first time I opened one of these bottles. Boy, was it amazing! So smooth, full bodied, with hints of blackberry and chocolate – I believe it's the best wine Justin has produced!
One of my customers and a fellow forum member, Steve Feiertag/ @winesteven contacted me before the show to see if we could get together for dinner one evening so we set up to meet me and a few other coin dealers at Del Friscos Double Eagle Steakhouse on Thursday night. Knowing how much I love wine, Steve wanted to share one of his special bottles of wine with us – he brought an "otherworldly" bottle of 2015 Sine Qua Non Syrah Trouvre L'Arene with an AMAZING 100 pt. rating! WOW! It was sooooo delicious, it easily lived up to its perfect rating! Steve even shared wine tasting notes with us which describe in great detail how truly wonderful this wine is.
Even though there could be no wine that we could order that would compare with Steve's wine, we ordered a bottle of 2018 Mt. Veeder O'Shaughnessy cab off the menu and, while it didn't quite compare to Steve's wine, it was very delicious (and pricey at $350!).
The wine went very well with this bone-in ribeye!
By the way, did I mention that, other than the extra bottle of wine we ordered, Steve picked up the entire dinner tab! Boy, it would be hard for me to find a more kind, generous, interesting fellow coin and wine-loving man!
Steve, me, Neil Ulrich and Ron Mirr

Friday morning I took the opportunity to go around the bourse floor and take some photos before the public was let in, including viewing the great exhibits that were on display.
This is Steve Fieretag/ winesteven's exhibit that deservedly won People's Choice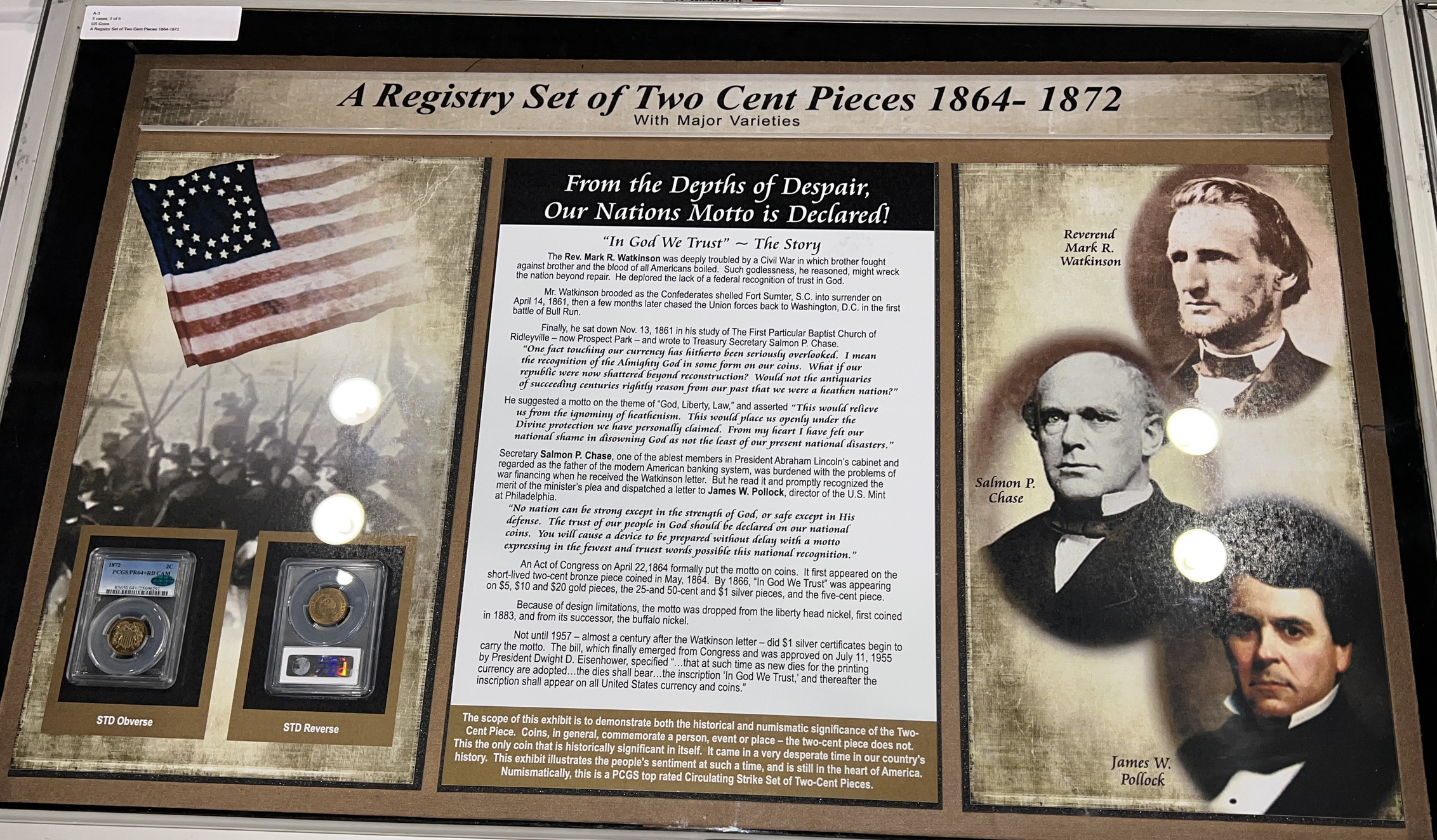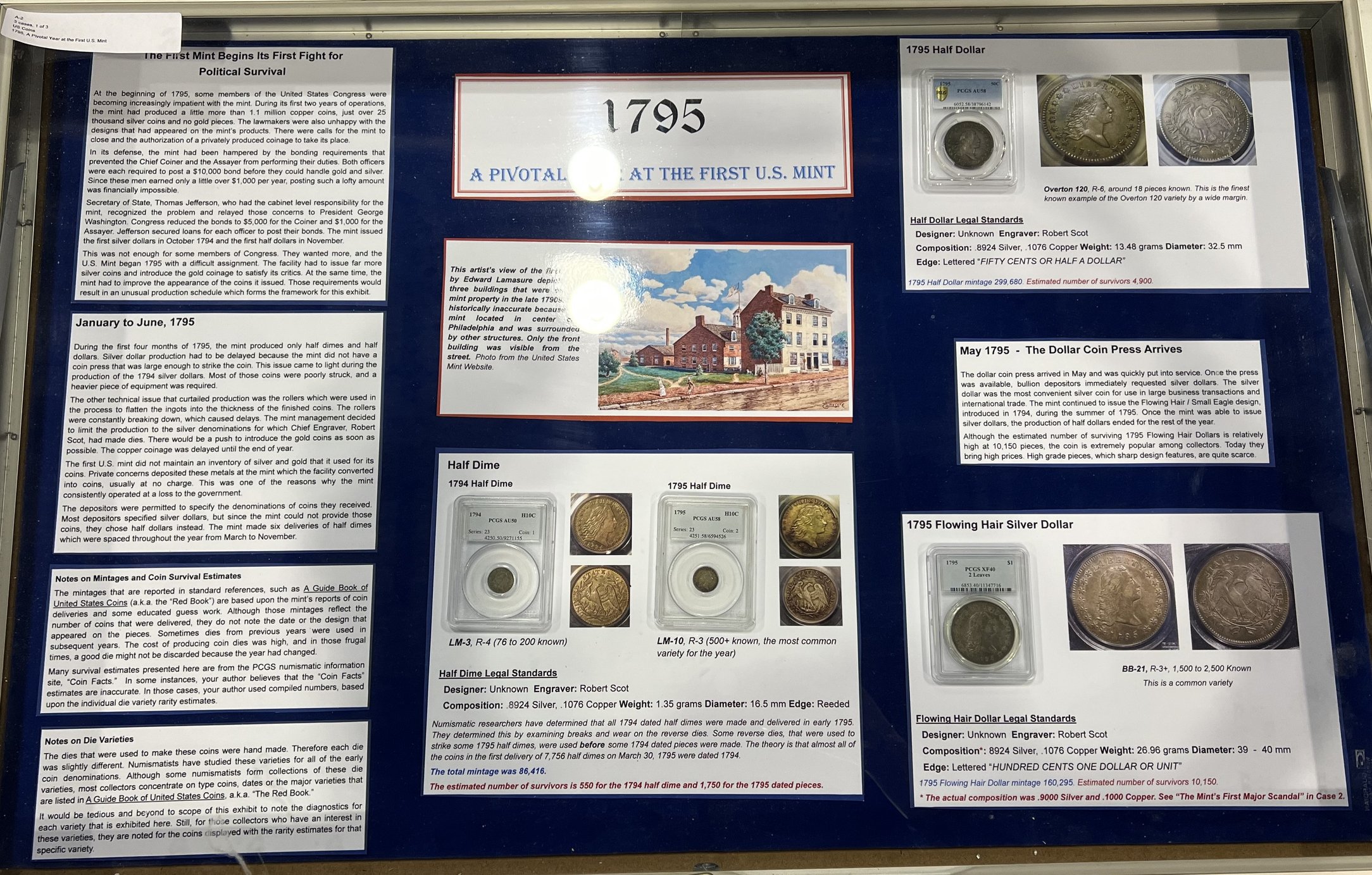 Billie/The Grey Sheet is always a delight to chat with!

Hardworking folks at PCGS!

Also very hard working folks at NGC (David Lange – we miss you!)

Great group of folks at ANACS!

Abe and friends

Young page girls trying their hands at the Kids' Zone wheel

I also stopped by the GreatCollections' table to check out the fantastic Stuart Blay Lincoln set that is set for auction in a week or so. Another WOW which isn't even enough to describe these top pop coins!
I attended the Fly-In Club meeting with Chris Pilliod and Rick Snow, as well as several other club members. Although I couldn't stay for the entire meeting, Chris was giving a talk about Indian cent metals

Photos taken around the bourse floor


Greg/ @Walkerguy21D also came by to say hi

Steve stopped by again in the afternoon and I was happy to share some of my special Justin Eighty-One with him.

My friends Connor and Dan Sedwick with a European percussion cap pistol from the late 1700's-early 1800's that they had just acquired (you may recognize these two from my many dinners in Baltimore in the wine cellar of the Black Olive restaurant)
Friday afternoon, a dealer friend Richard Gross stopped by my table and showed me a very cool and very RARE S-2 1793 Chain Cent. I was thrilled to see it and immediately thought that this might be something my friend Matt Chapman might be interested in. Interestingly, this particular coin is pedigreed to Chapman from 1885 (no relation to Matt as far as we know). So I asked Richard to wait a minute while I called Matt to see if he was still at the show and if he wanted to come and take a look at this amazing coin, which he did! So after examining the coin Matt told Richard he was interested. They then went back to Richard's table to work out the details. I subsequently discovered that they did indeed make a deal and Matt is now the proud owner of this amazing piece of history!
This is a picture of the 1885 photograph of the exact same coin!

And this is the write up about this coin that Matt gave me:
_1793 Chain "AMERICA" cent, Sheldon-2, Wide Date
Pedigree: ex. Chapman (5/1885)
Interesting not only for being the first die variety with the AMERICA fully spelled out on the reverse, but also for being the rarest die variety of the four with an assigned rarity of 4+. This very coin was owned by none other than Henry and Samuel Chapman and was sold in May of 1885 as part of their collection by a third-party auction firm. Henry and his brother Samuel were born in 1859 and 1857 respectively and began selling coins as dealers in 1878. The pedigree is unusual since in most cases, merely brokering coins as a dealer does not warrant a pedigree in the strictest sense. It was only because a third party auctioned the coin and attributed it as having been owned by Chapman that allowed the pedigree attribution. The auction sale price was $23!
The coin itself is actually quite light colored for the type, and the reverse shows several planchet voids and fissures as is typical. The surfaces are hard and glossy. NGC has assigned a grade of AU53 to the coin, and my EAC grade is sharpness 50, net 45. What's really amazing is that until now, the coin has resided raw in a private collection, and has only now been graded for the first time! Before now, the only photos of the coin are from old auction catalogues. Up until now, the only idea of the coin's quality had to be gleaned from these old photos, or photos of photos. According to the photo in Numistudy, the coin was only assigned a grade of sharpness 40, net 30.
_
It's a fascinating coin with a great pedigree! So pleased for Matt that he was able to acquire this historical piece!
On our last night in Orlando I went to the Capital Grille with my foreign coin dealer friends – another restaurant with some great food! We brought our own wine which we all enjoyed.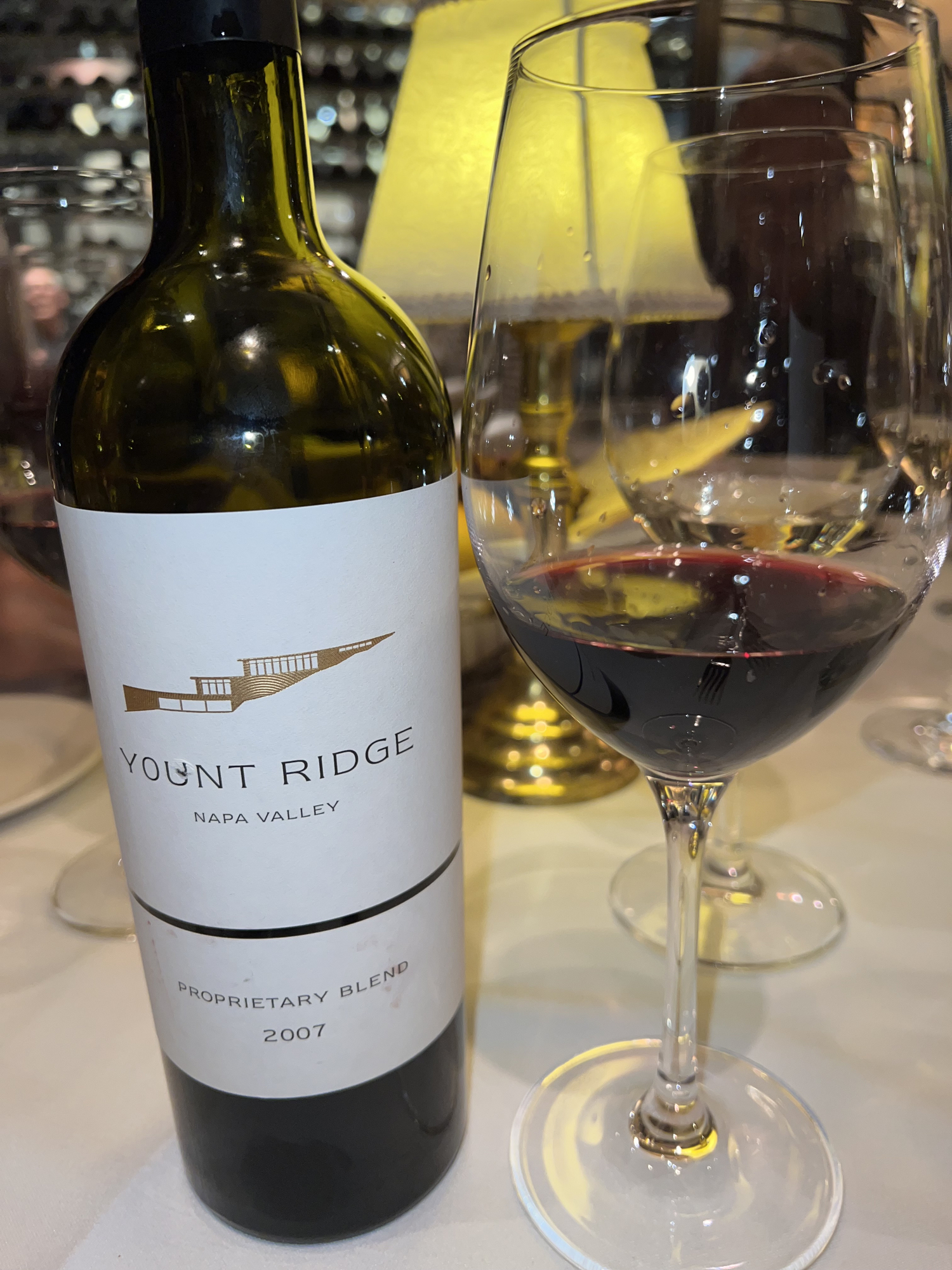 Gary Braisted allowed me to use these two photos taken of him and the granddaughter of Astronaut Alan Shepard, Laura Shepard Churchley and Gary with Astronaut, test pilot and jazz musician Winston Scott who were at the show
Saturday was a surprisingly busy day too. From what I could see, not many dealers had left on Friday and the bourse was still quite full. I had quite a few decent sales before I had to pack up and head to the airport. So long til next year!
It was really good to finally get home to my dear sweet hubby and my adorable chubby Penny!
Participating in opposite coast coin shows is very wearing and tiring due to the long flights, changing planes, and especially the time change. But I really enjoy attending such a successful and well-organized show as the FUN show, finding beautiful coins, making decent sales, seeing my friends, and dining at great restaurants with good people – so I definitely look forward to going back next year!
Next up: The Long Beach show on February 1-4 and the ANA in Phoenix on March 1-4, 2023.
Charmy's September 2022 LONG BEACH SHOW REPORT w/Lots of Pics!
Once again, it was time for my favorite coin show – the Long Beach Expo!
During this show, however, I didn't have any helpers due to some family obligations, so for the first time since I've been setting up at the Long Beach show I was by myself. For security reasons, I don't usually like to work a corner table at a major show by myself, and while I was super busy and tried not to leave my table much, everything worked out just fine. I also made sure my security camera and warning sign were clearly visible. As a result of not having a helper, I wasn't able to leave my table very often during the show so I didn't take as many photos as I usually do. However, when I did need to take care of something away from my table, I called a friend who was walking the show and he would help me, and so did Angel Dees' wife, Allyne – she was a super sweetheart and would sit at my table while I dashed away for a few minutes. It's really wonderful to have good friends in this business who don't mind helping out!
So Wednesday was set up as usual, except that we've been having unordinary hot and humid weather which made set up day very uncomfortable especially since there was no air conditioning in the hall while the loading doors were open. No matter, after I finished setting up, I locked all my cases, and made a quick run around the bourse to do some "shopping" during dealer day. While I didn't buy as much as I usually due throughout the show, I managed to find several nice Pretty Pennies for my inventory and for some customers. I even sold a few of my new purchases before the end of the show. These are most of the coins I found at the show, including a nice group of raw coins:
One of the coins I bought and quickly sold during the show was this scarce 1856 Flying Eagle in PCGS VF25!
Also, a few days before the show began I bought this awesome double struck Indian cent for my personal collection!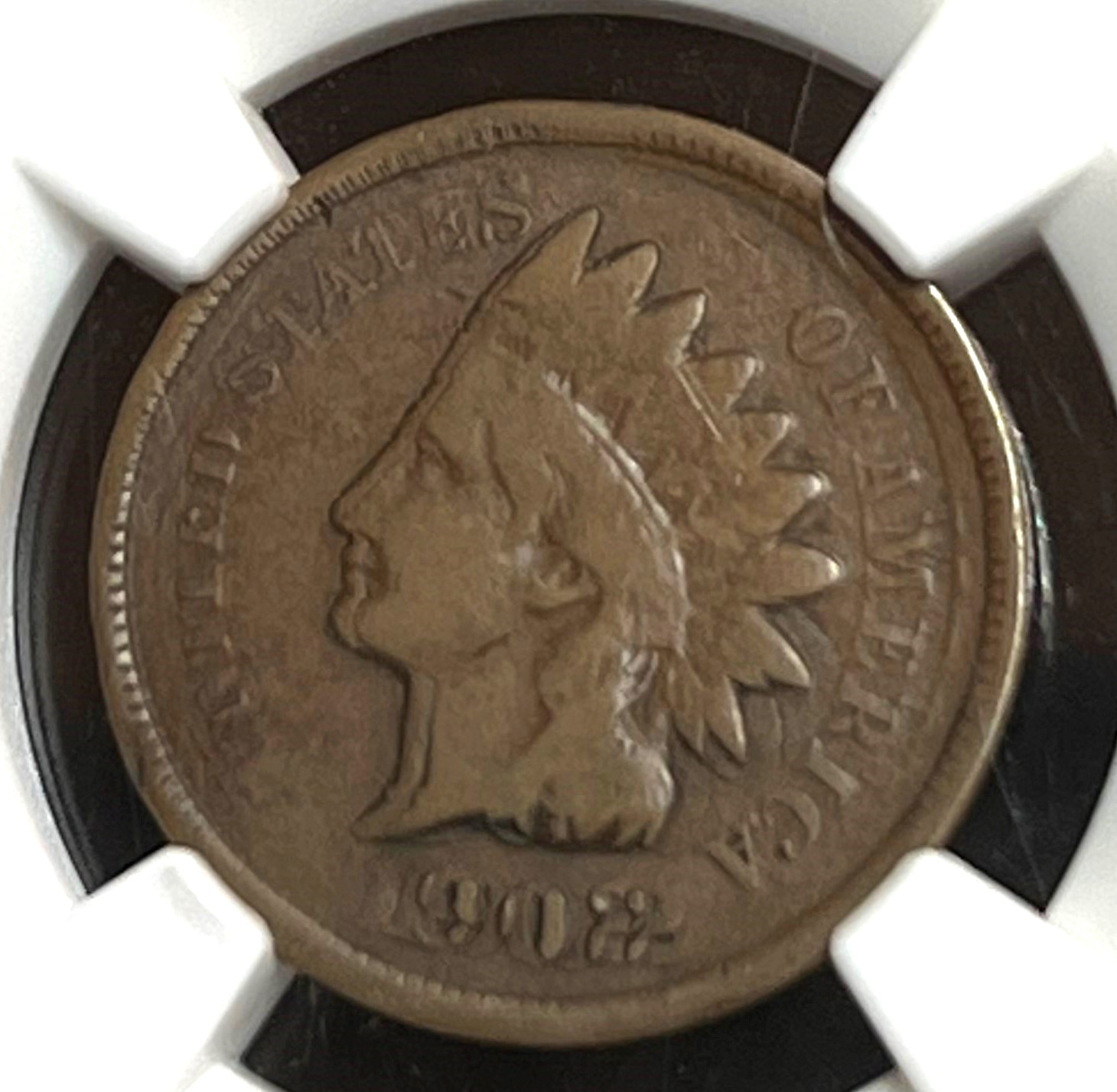 Soon it was wine time! This time I brought a special Domaine Chandon Pinot Meunier – it's a lovely delightful light red wine made by the same folks who make Dom Periognon champagne.
Thursday morning I arrived back at the show right at 9am so I could take care of a few things before the public weas let in at 10am. Then shortly before the show opened I took these photos of the very long line of folks waiting to get into the show – the line went all the way down the hall, out the door, and around the side of the building!
When the show opened, folks steadily streamed in and soon the bourse was buzzing with lots of energy. A long line began to form at the back of the room where the PSA and sports tables were set up. I was so very busy on throughout the day that I never even left my table the entire day! I was very slammed almost consistently all day, which is a good thing. By the way, one of the most popular things at my table is this "Treasure Box" where I have various low-value items that I've acquired over time, including several 1933-34 Chicago Expo elongated pennies, packets of various Lincoln and Indian cents, several tokens and penny souvenir-type items, a couple old Indian cent Avon cologne bottles, and the most popular item is a packet of the 8 2009 P/D Lincoln bicentennial cents that I pulled directly from rolls and put together with a little picture of the 4 different designs. I usually sell quite a few of those little packets at each show I bring them to.
These guys even found something from my Treasure Box!
Sorry, but I was so busy on Thursday that I wasn't able to take photos around the bourse. After the show, we went up the hill to La Opera Italian restaurant for dinner. They have wonderful Italian and seafood. Since we all wanted different wines, we just ordered by the glass. I enjoyed my favorite chardonnay, Rombauer!
Matt Chapman and me

Rick Snow and his son Kenny

I had their filet medallions with garlic wine sauce which was super tasty!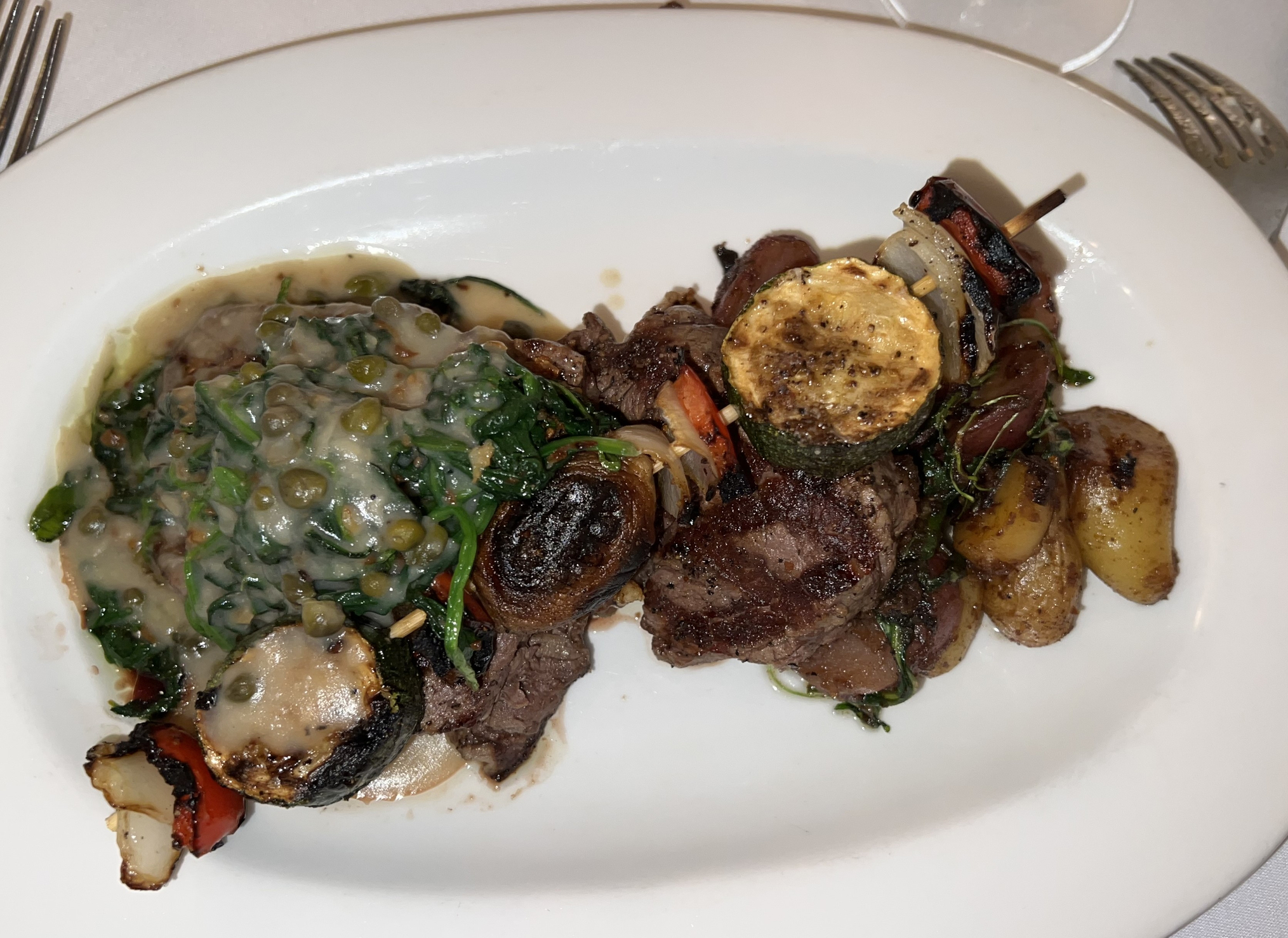 Matt had their halibut special which also looked very yummy

Rick and Kenny had their special lasagne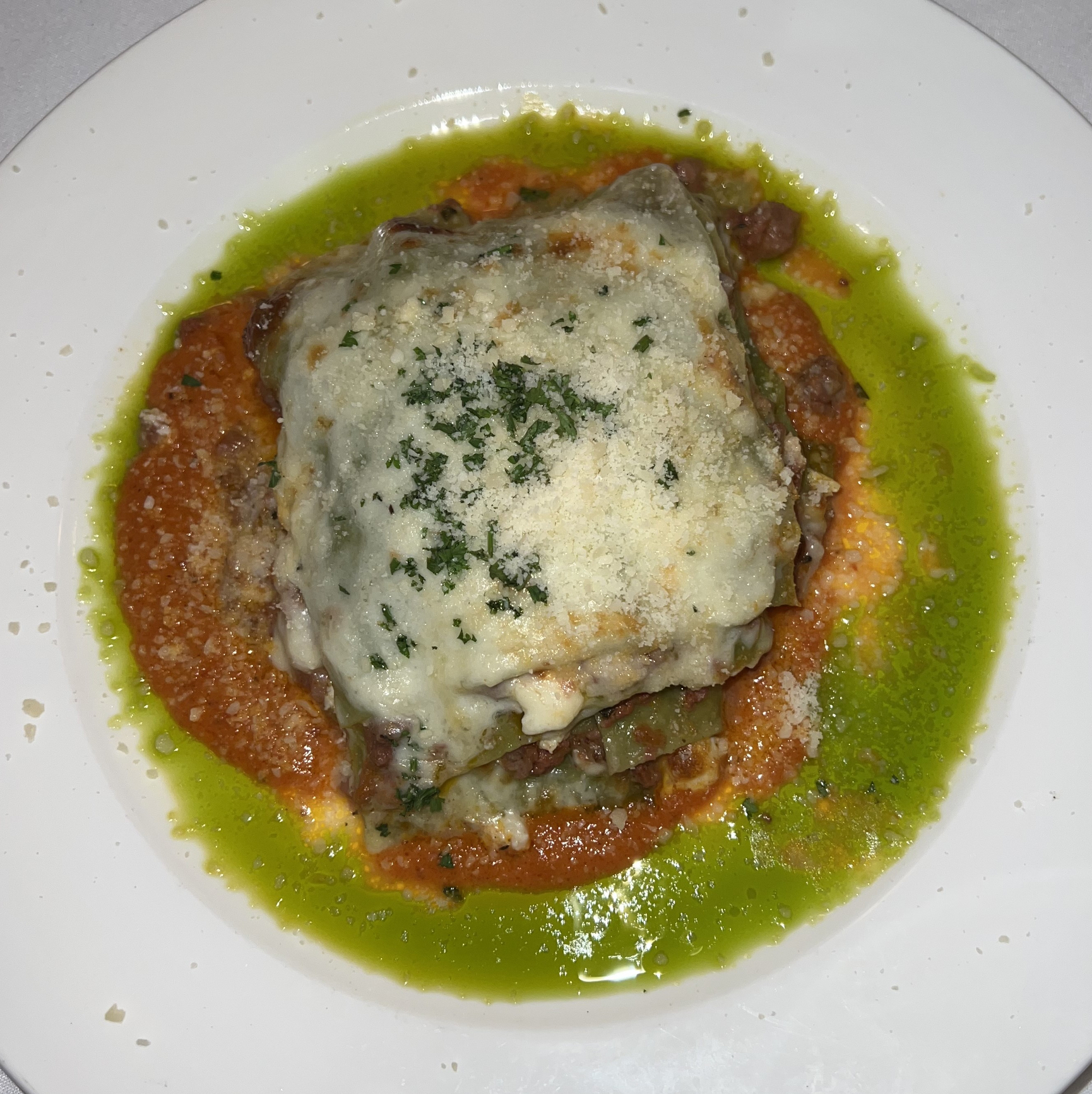 Then we shared some delicious desserts!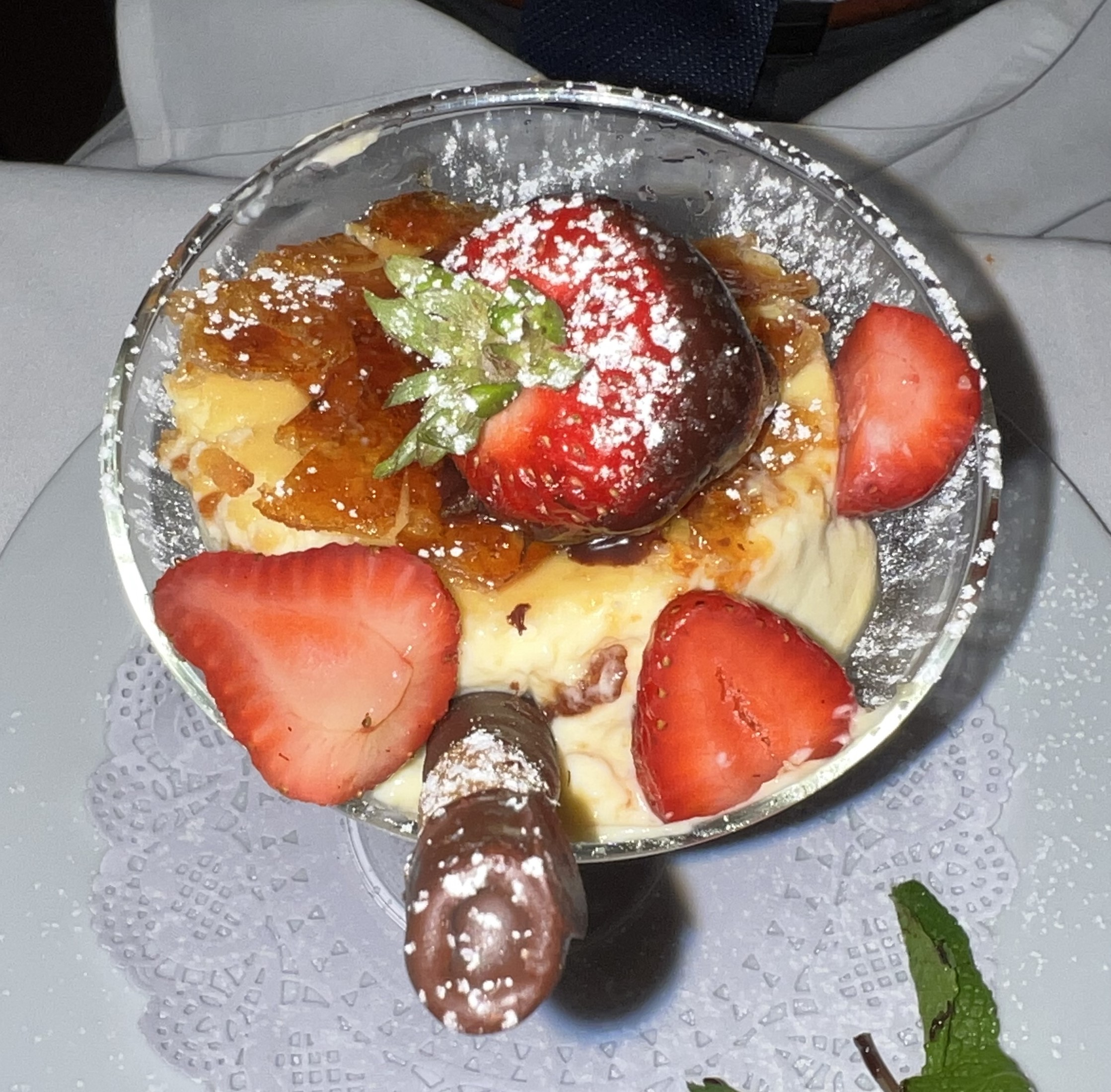 On Friday although the bourse filled up, as usual there wasn't quite the same buzz as there was on Thursday. Luckily my helper was able to come to the show and work the booth with me on Friday, so I was able to get out and take some photos.
The PCGS Lounge where you could get assistance with questions, filling out forms, etc.
PCGS Folks at work!
The US Mint's booth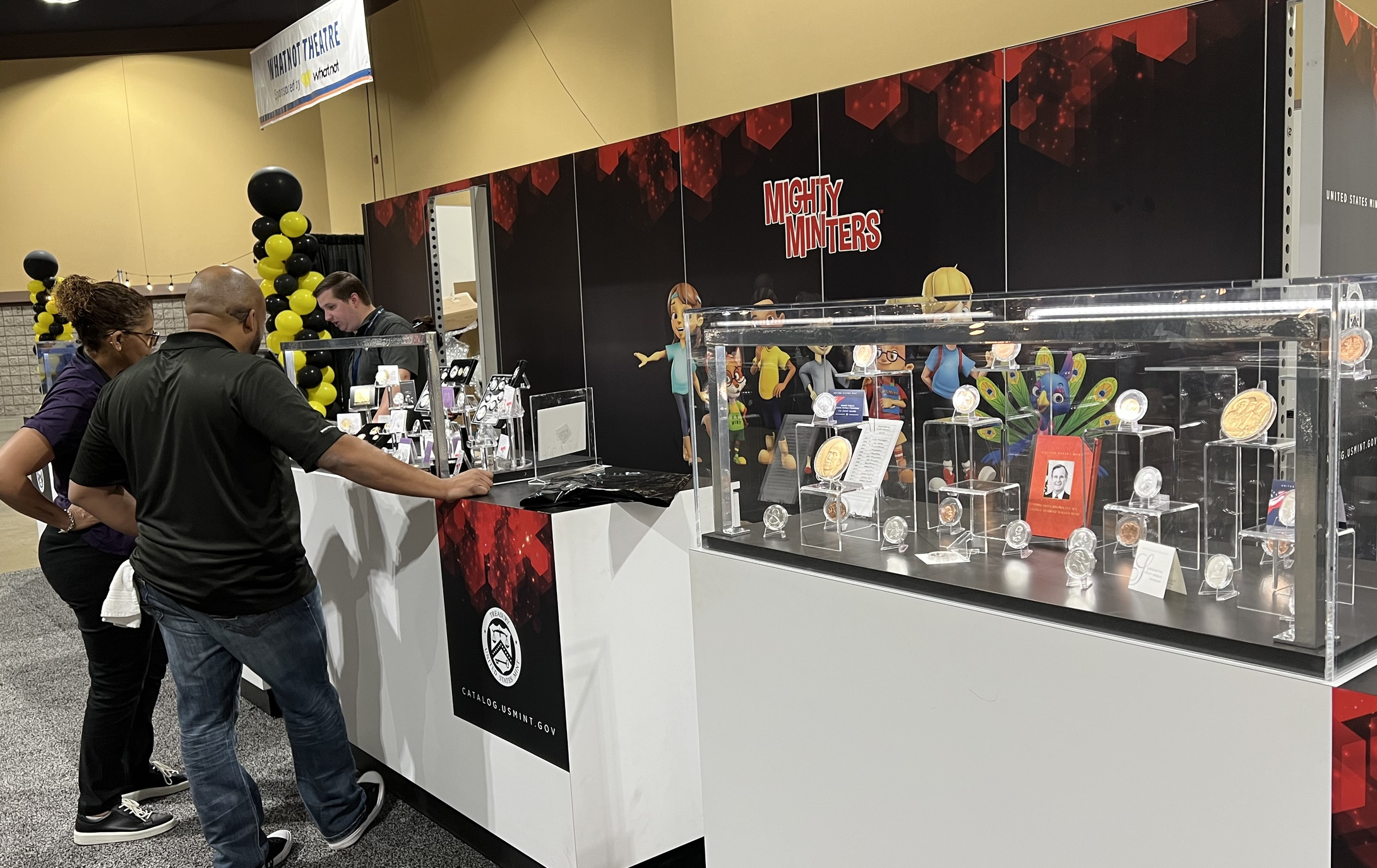 The fun guys at the Whatnot booth
The ANACS table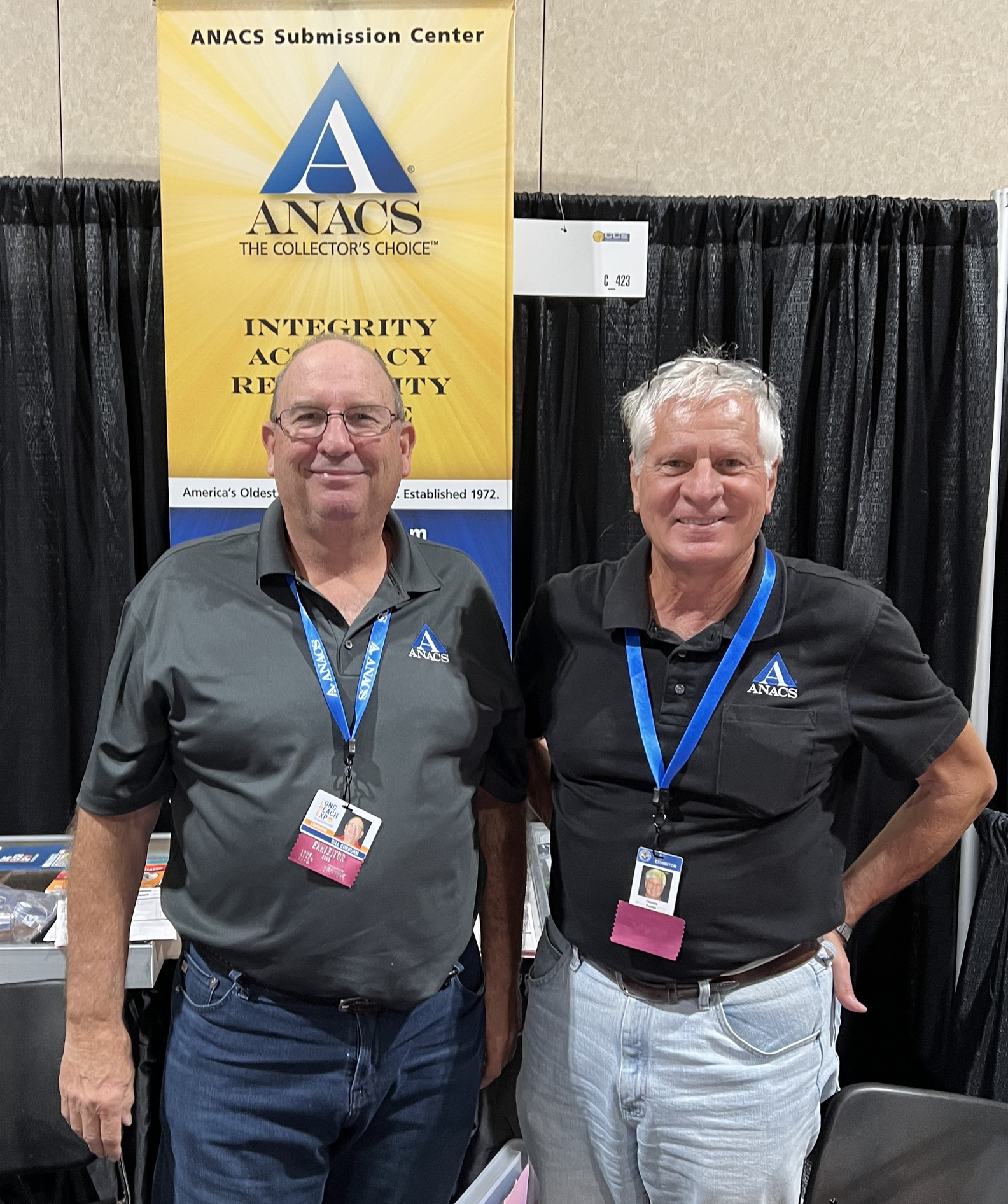 Andy at the GreatCollections table and their awesome display of rattler coins up for auction
David McCarthy at Kagin's table
The kids' Treasure Hunt table
A table overflowing with loose coins for sale!
Friday we went to our regular Friday night dinner spot – King's Fish House – which I love! Pine Street is lined with great restaurants and is quite a busy and fun street on Friday night.
Saturday was the usual family day, where I (and many other dealers) get lots of questions from new collectors, roll hunters, evaluation of inherited coins, asking how valuable their handful of wheat cents are, and determining if their 1943 copper cent is authentic. I usually get someone showing me their supposed "1943 copper cent" almost every show, however, I've never had someone show me an actual authentic one! It's a lot of fun helping people, except for the ones that I have to tell their handful of wheat cents are only worth a few cents each or their coin is counterfeit, or that tiny anomaly on their penny that they hunted hours for doesn't mean much or make their coin more valuable. This is also the day I usually get parents bring their kids to my table to help fill in their penny books. I really enjoy helping them find a penny they can afford to fill in one of the empty spaces in their book!
Also, I'm on the Treasure Trivia Hunt trail, so I get a steady stream of kids stopping by to answer a question (assigned to my table) so they can fill in all the blanks in their treasure trivia game, and then win a prize at the end. I usually have some sort of treat to hand each one – this time I gave out our Women in Numismatics lighted magnifiers we had left over. The kids seemed thrilled to get one of these. Here are some of the adorable kiddos who stopped by my table:
And I saw this guy walking around, guess he's a bit of a Laker's fan!
So soon enough it was time to start tearing down the booth and packing up. Once again, although their was a brief delay in dealers getting in for set up due to the some final issues with setting up the bourse floor, PCGS did a great job putting this show together and getting collectors in the door. Most dealers agreed it was a good show, though not quite as busy as the last one. I personally had a really good show, especially sales-wise.
A little OT, but the next day, an old friend from my past life as a litigation paralegal at Morrison & Foerster (1988-2005) was playing in a band at a local place in the canyon where I like to cruise in my 1968 California Special mustang, so I took the hubby in my mustang and joined another one of my old Mofo friends to see him play – it was a blast!
Next I will be packing up and heading to the PNNA Tukwila show in Seattle in just a few days for another go-round! In the meantime, my cutie pie Penny will be waiting for me!
________________________________________________________________________________________________________________
Charmy's BIG HUGE 2022 CHICAGO ANA WORLD'S FAIR OF MONEY SHOW w/tons of Pics!
Wow, another summer ANA show has come and gone! While it wasn't quite the blockbuster show last year's was, it was quite busy, very well attended, and flew by! I was busy every day, bought a lot of great newps, sold some of them and much more, spent time with some great friends, attended some club meetings, saw some amazing competitive exhibits, really loved viewing the rare and very cool coins at the ANA museum exhibits, and especially enjoyed the fantastic Central America artifacts display which I understand was being displayed in full for the first time at this show – photos of all of these exhibits you will see later in this report!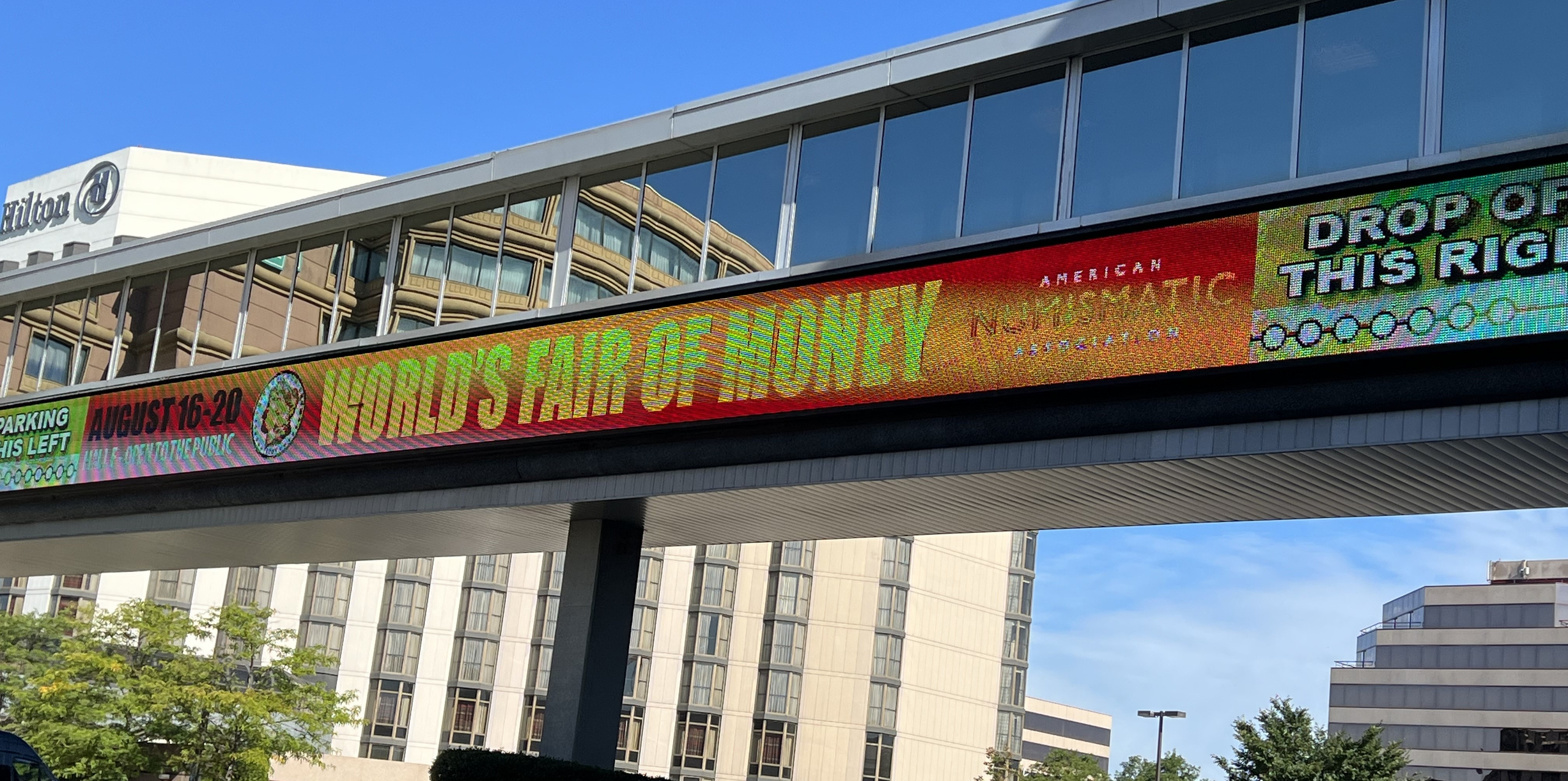 I did read some negative comments on another "show report" about certain aspects of this show, but I personally thought overall it was a very successful show and after speaking with several other dealers, they all felt pretty much the same. Everyone thought last year's show, of course, was one of the best shows we've had in many years, but that this year's ANA was still successful, busy, and well attended. Most dealers felt that having Heritage and Stacks auction lot viewing off site was inconvenient, but that was because GreatCollections is now the official ANA auction company (for which they pay a hefty fee) so it was my understanding that the other auction companies were not allowed to have onsite auction lot viewing as they were no longer "paying" for this privilege. Since there are some particularly nice lots in the Stacks auction that I am interested in, for this reason and since I don't live very far from them, I made sure to do my Stacks lot viewing at their offices before the show.
As others have mentioned, the dealer day is an important part of a large show for dealers and will occur with or without the host show's participation. And as a collector, I can understand the frustration with feeling like all the "good stuff" may be gone before the show opens to the public. But as you all know, along with auctions and some other avenues, this is one of the major ways we dealers acquire inventory. It is also especially convenient and generally more secure to have the dealer tables on the bourse floor rather than in separate rooms or at off site hotel rooms. It's also a significant additional revenue for the ANA – when the PNG ran dealer day, they charged $500 per table rather than $250 fee the ANA charged. For me personally, it is also nice not to be rushed to set up and get organized, and much easier to be able to view other dealers' inventory without interfering with their retail business.
One more thing I thought I'd address briefly what I know about the theft at the show that some of you may have heard about on dealer day where a case full of Rolex watches was stolen and the group of thieves (all caught on camera) just picked up the locked case, placed it upside down on a cart, and just walked off with it (the dealers had just taken a brief lunch break). They headed out some doors that were "guarded" by a convention worker but they distracted her and when her back was turned, the others pushed the cart out the door. It is believed they blended in with the other workers who were still on the floor moving/placing show cases at dealers' tables, etc. Believe me, we were all in shock over this brazen and well-orchestrated theft and I'm sure there will be changes made all around as a result of this. Even though this was a terrible event and very frustrating for all concerned, I know it is being handled by all the parties and authorities involved, I really would prefer not to have this show report derailed or focused on this incident.
So with that being said, on with my report! WARNINGL I took a lot of photos throughout the week, especially of the ANA museum, the Central America exhibit, and the competitive exhibits – so go grab that cup of coffee or cocktail, sit back and relax, and hopefully enjoy a fun read and pictorial tour of my week at the Chicago ANA show!
I always look forward to attending the summer ANA show as there is so much to do and see, and so many coins to buy and sell, I very much enjoy attending this show!
I left sunny OC Sunday morning, flew over beautiful Catalina Island, and arrived in Chicago that evening with no delays or any flight issues whatsoever – yay!
I settled in at the hotel and went down to the bar for a quick drink and bite to eat. I happened to sit down right next to Kenny, the show's security guard and very much enjoyed chatting with him. I've known him and seen him around at the all the major shows for years and he's always been very friendly and helpful anytime I've needed anything.
He even highly recommended a very nice cab that I hadn't tried before, which I really enjoyed!
Monday morning was dealer set up day and when I arrived I was really surprised to see how long the line was of all the dealers waiting to get in!
While I was searching for coins, I found a few
of what I call really "cool" coins that I took pics of
The 1825/4/1 Capped Head Left Half Eagle. JD-1, BD-1. Rarity-8 as a Proof (finest known) is truly awesome to see in person. It's currently up for auction at Stacks Bowers. Now, I have no "skin" in this auction piece whatsoever, but when I got to hold it and view it, it truly is beautiful, rare, and amazing just to see in hand. Here is only a very small part of the auction description: "One of the most important offerings in the numismatic market of the 21st century, Stack's Bowers Galleries is pleased to present a landmark early Proof gold rarity whose existence was lost to the collecting community for half a century. Its undeniable and universal Proof qualities, combined with the Proof-67 Cameo grade recently assigned by PCGS, confirm this extraordinary Superb Gem as the finest of just three Proof 1825 half eagles known."
In very pale comparison to the above coins, these are a few pieces I picked up throughout the show for my own very modest but, in my opinion, almost just as cool, exonumia collection:
1912 The Navarre Deposit Bank encased Lincoln cent pocket mirror (from Alan Weinberg)

1902 encased Indian cent "Spinner" by Drovers Journal with its original ribbon – I've never seen one like this before!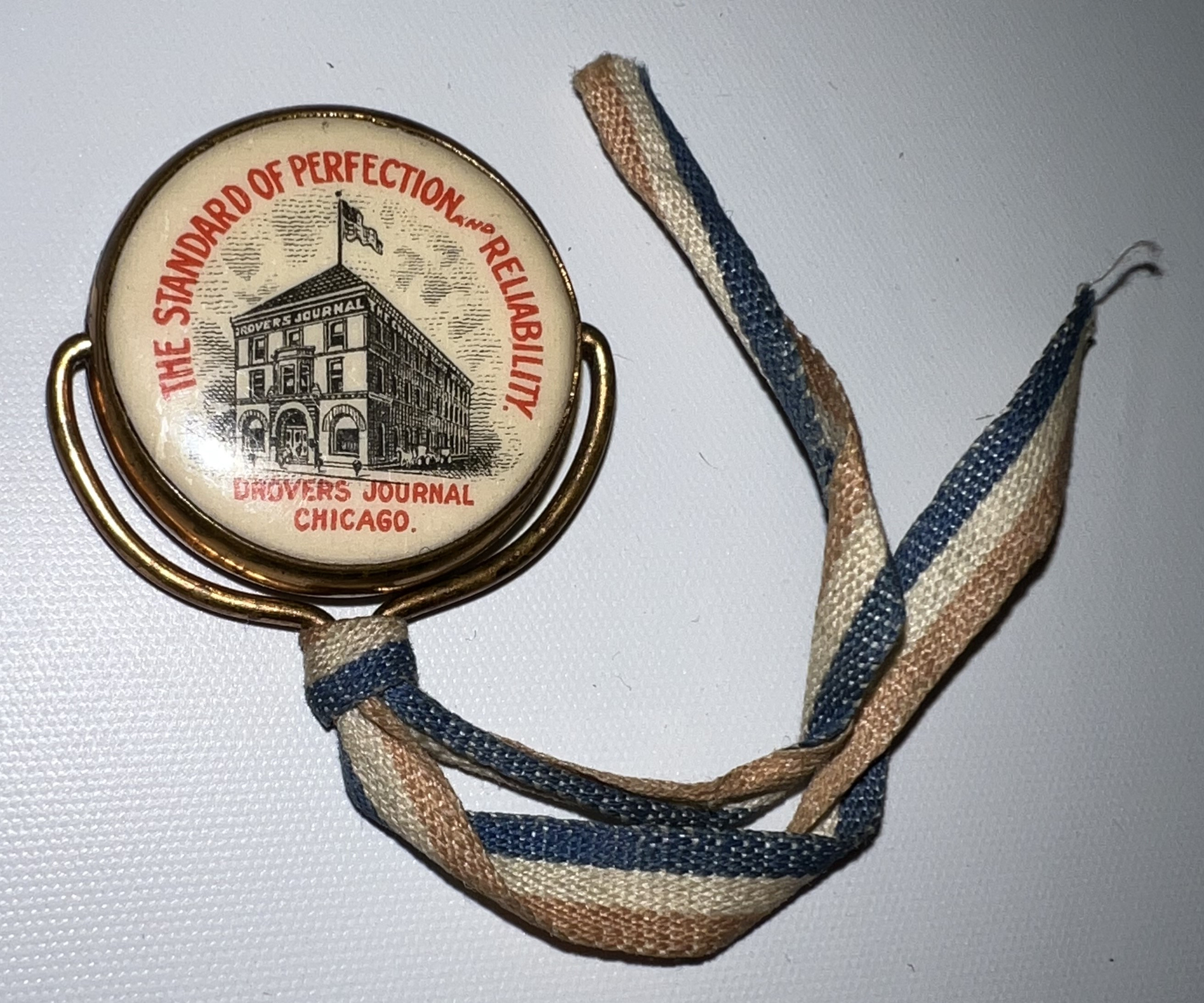 A neat simple 1952-S sticker penny from Nelson's TV in Palto Alto (from John Kraljevich)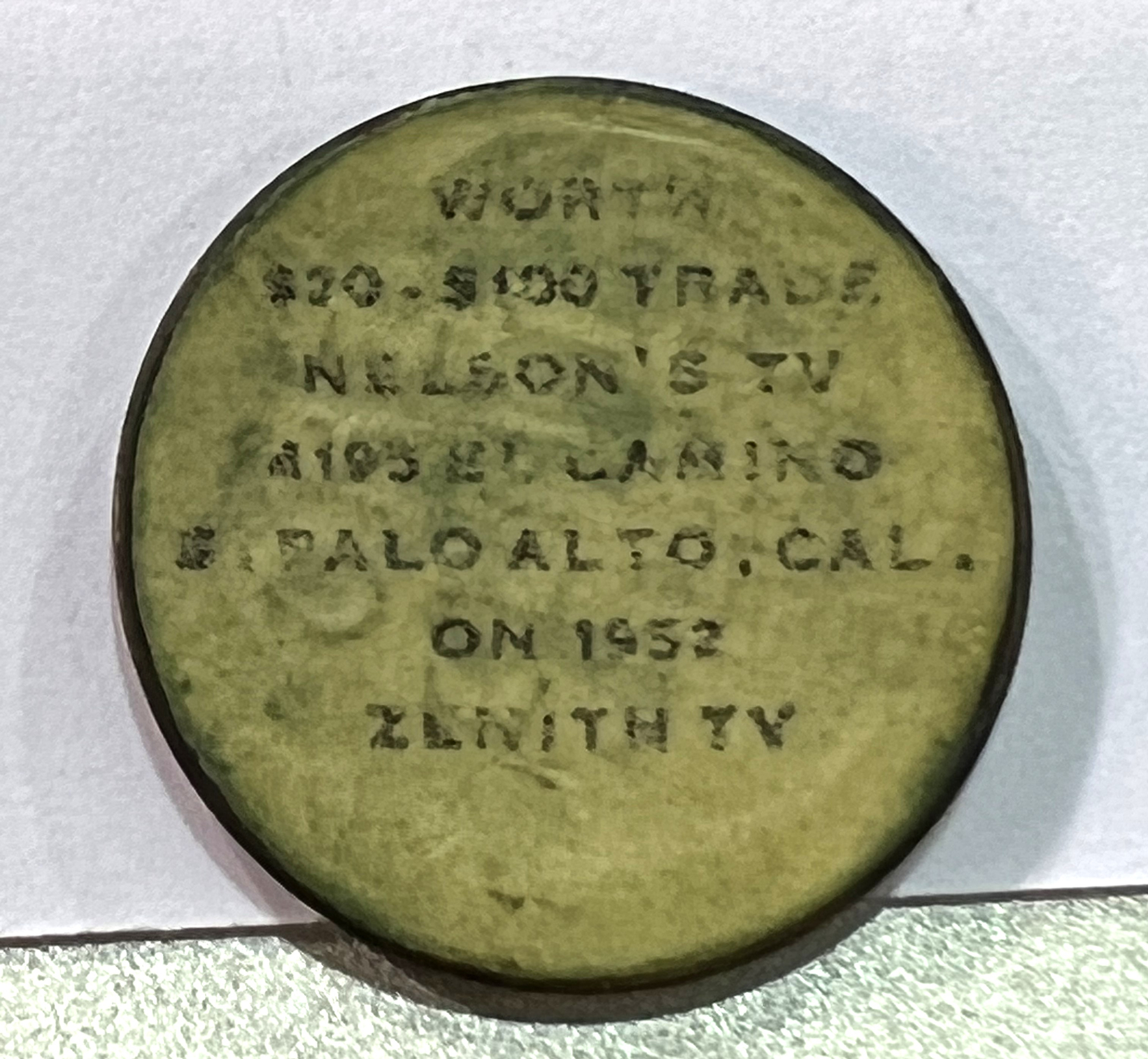 FYI, sticker cents are relatively scarce as, in addition to the stickers losing their adhesiveness to the coin and eventually falling or wearing off, when the Secret Service discovered businesses were advertising on coinage, which is illegal, they contacted the advertisers and required them to recall/remove any coinage on which they had placed stickers.
So after I had set up, organized my booth, and finished my "shopping" for the day, you know what time it was – time for wine of course! However, since we were "wrapping" up our Women in Numismatics organization, I had brought several gifts for our board members and my bag was too full to bring my usual two bottles of my "beloved" wine. However, I was able to pack one small half bottle of what I call "emergency" wine from my favorite Temecula winery! (I asked a wine friend who was driving to the show if he would bring me a couple bottles that I could buy from him, which he gladly did!)
After the dealer show ended on Monday, I met a group of my foreign coin dealer friends at Gibson's.
Of course, with Gibson's wine selection, we had some great wines!
And some great food!
Not surprisingly, there were several other tables of coin dealers all around us!
I arrived back at the convention center early Tuesday morning so I could get some paperwork done, process my new purchases, and take some more photos around the bourse.
Here are the hardworking folks at NGC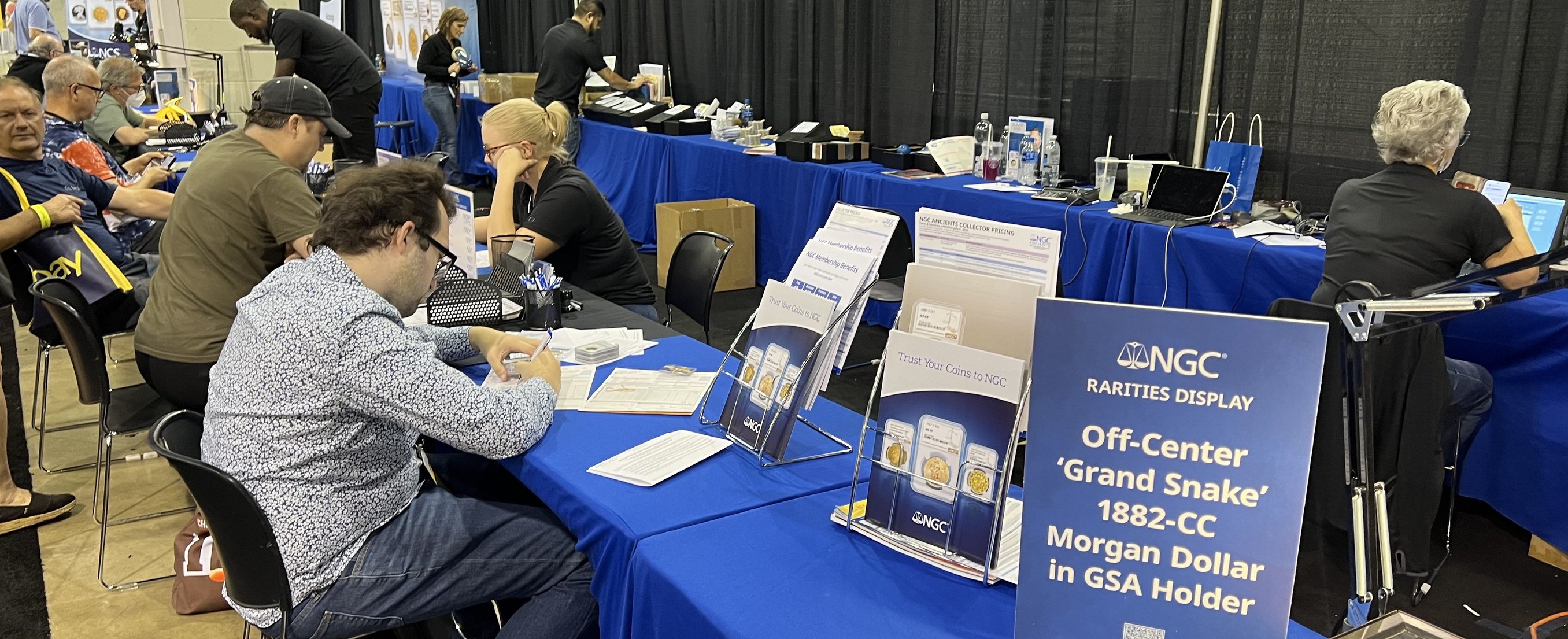 PCGS folks were always busy as well!
GreatCollections, the ANA's official auction company for the next 3 years, was front and center and had a lot of activity throughout the show!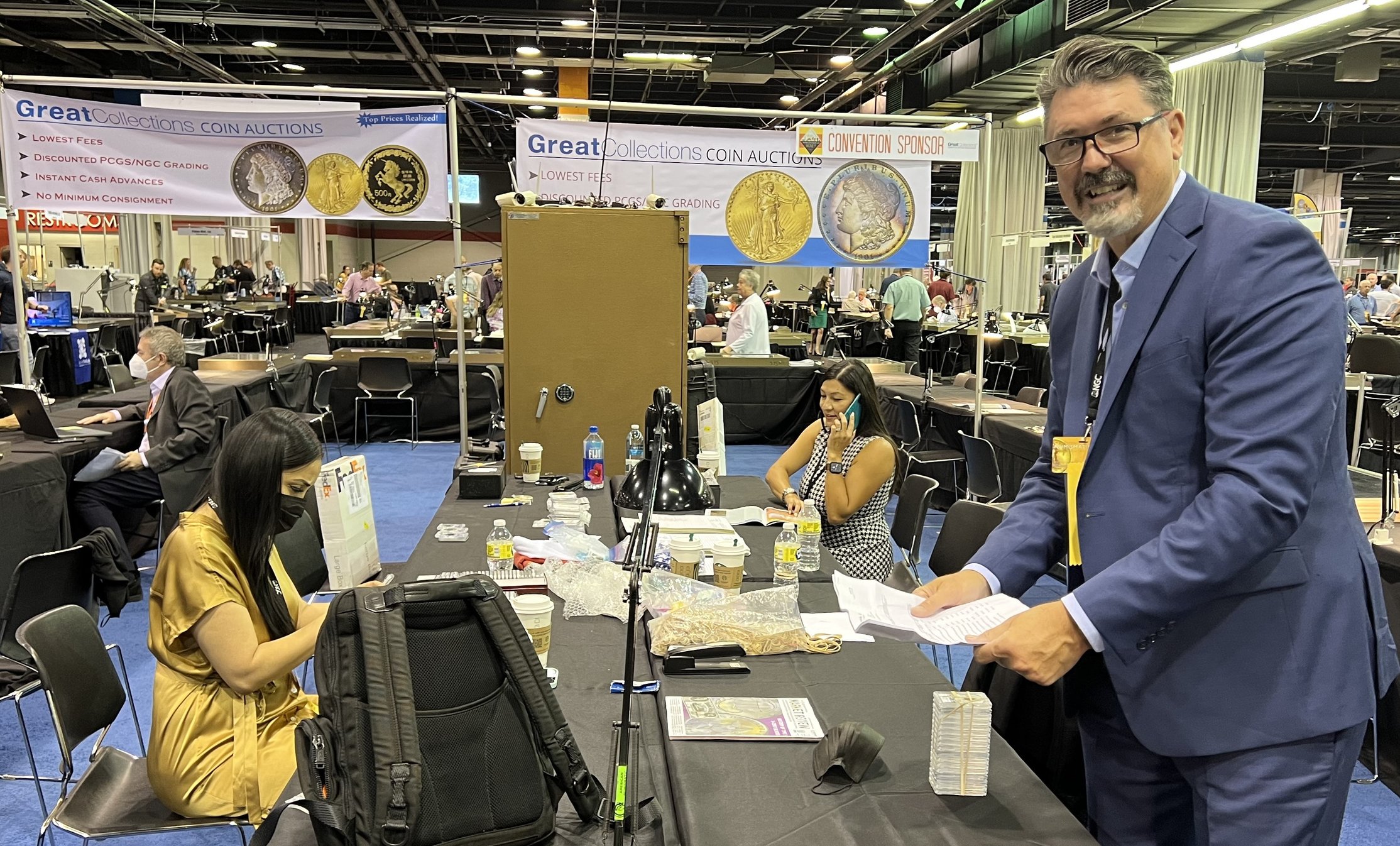 John and Nancy Wilson are amazing longtime and very friendly numismatic ambassadors, eager to greet everyone attending the show!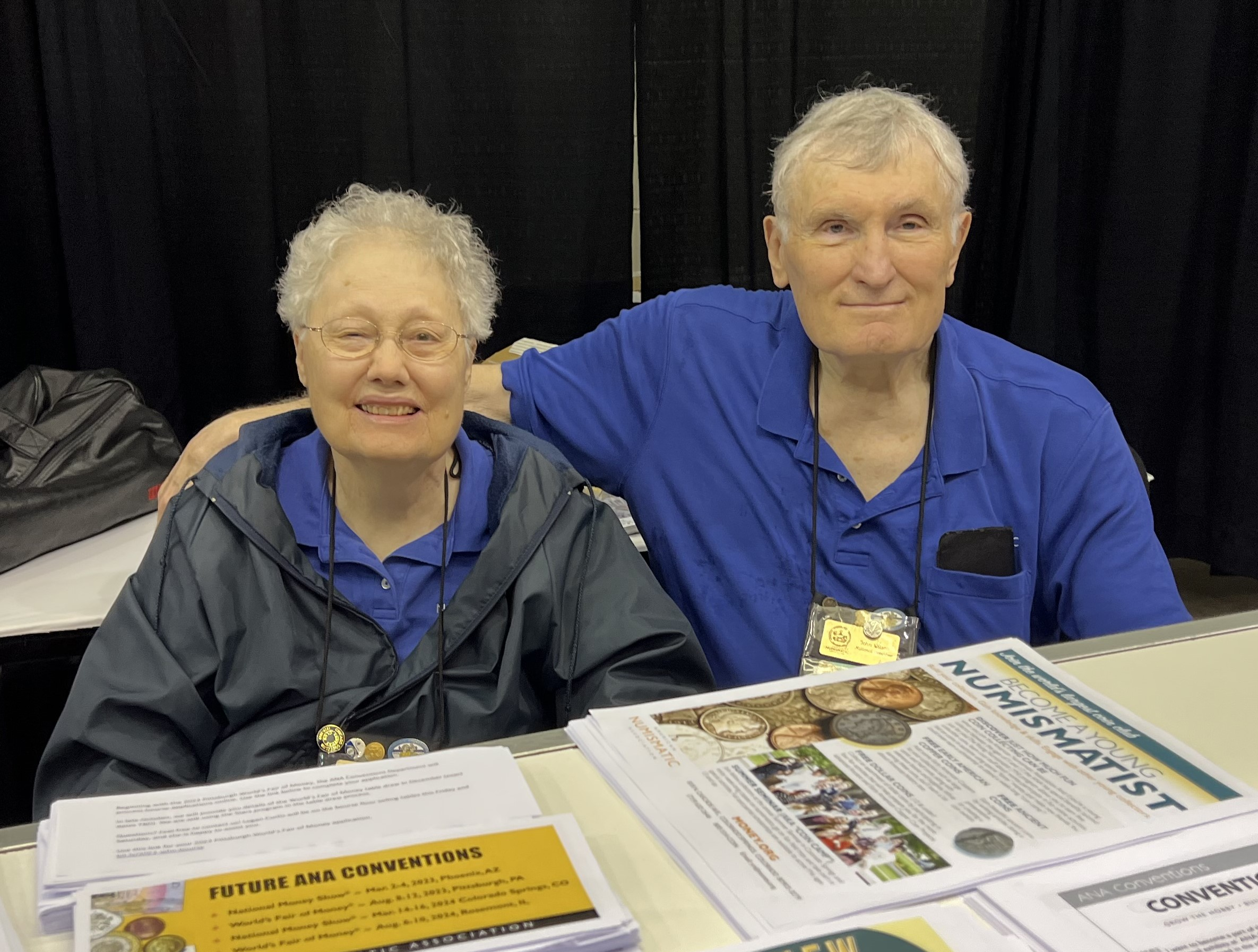 The public was let into the show at 1pm, and boy was there a HUGE crowd gathered at the door when ANA Executive Director Kim Kiick welcomed everyone to the show!


Tuesday afternoon was really busy and I was happy to have lots of folks stopping by my table.
After the show ended, a group of us went over to a local pub, Five Roses Pub, which is in the park just behind the hotels across from the convention center.
After dinner, a couple of us headed over to the Rivers Casino which is right next to the airport and only a few miles away. By the end of the evening, I was happy to end up $50 ahead!
Wednesday morning was sadly my last Women In Numismatics (WIN) meeting. I've been president of WIN for the last 6 years, but after a year of thoughtful discussions and meetings, the board came to the conclusion that WIN had met its goals and felt it was no longer really necessary to have a woman-oriented numismatic organization.
This is the basic content of my speech which I took from my final President's Letter that was just published in our last issue of "Winning Ways" which our editor, Dave Heinrich, artfully, carefully, and thoughtfully put together for us.
I can tell you it was very hard to get through my talk without tearing up and I had to pause a few times to gather myself as I will truly miss being a part of Women in Numismatics.
_"Women in Numismatics was formed in 1991 as a national non-profit organization that provided a networking and educational forum for female numismatists. Members have included new and established collectors, dealers, and those associated with numismatic-related organizations. WIN has encouraged fellowship among its members and promoted education through guest speakers and informative presentations. WIN has also provided educational opportunities to its members by awarding an annual scholarship to the ANA's Summer Seminar in Colorado Springs.
Now, after more than 30 years of service to the numismatic community, WIN has accomplished its mission and achieved the goals it set for itself. With some sadness but also pride in what the dedicated members and officers of WIN have achieved over the years, the WIN Board of Directors has decided to dissolve Women in Numismatics as of December 31, 2022.
Over the years, WIN has done its best to educate, mentor and guide its members through the wonderful world of numismatics and I hope we've left it a little better off. It has truly been my honor to serve Women in Numismatics and its members over these past six years as its president. I am thankful to all those who have been a part of and supported WIN. I am also grateful for all the new friends I have gained through being a part of Women in Numismatics.
And even though WIN may no longer be a formal organization, I'm sure I speak for the rest of our board members, that we will still be around if any of you need any assistance or guidance with any of your numismatic endeavors. In particular, please know that I will be honored to continue to help with your numismatic needs. Just email me at charmy@thepennylady.com or call me at (949) 632-0414.
I'd also like to personally thank each of our WIN board members for all they've done over the years to help our organization achieve its goals and to help me through my tenure as WIN's president. I could not have performed my duties without the assistance and dedication of each member of our board: Cindy Wibker (secretary and membership); Louise Boling (vice president); Kathy Freeland (publicity and member at large); Dreama Hurst (treasurer); Carrie Best (parliamentarian); Lisa Loos (publicity); David Heinrich (editor); and James Motley (webmaster). You have not only been my cohorts in WIN, but you have become my friends and I am so profoundly grateful for each of you."_
During the meeting, we presented Mitch Ernst (President of Central States), Kim Kiick (Executive Director of the ANA), and Bob Hurst (President of FUN) each with a check for just over $3,000 to use for educational purposes. These funds were originally given to WIN by the Newman Foundation for us to use for educational purposes, so we thought we'd pass it on to these organizations who not only supported WIN and gave us free space and booths during their shows for our meetings and presentations, but these organizations also have excellent educational programs and WIN was happy to help support their educational platforms as well.
We also awarded our volunteer webmaster, Jim Motley, with a check for $250 and a special medal depicting the Patron Saint Isidore Of Seville Medal which is regarded as the "patron saint of technology."
We also gave literary awards to Kathy Skelton Larry Sekulich for outstanding articles they authored for Winning Ways. And WIN will also make a $100 donation to the Ocean County Coin Club in NJ in memory of Kari Brower who passed away recently and who was a prolific author of numerous articles for our WIN publication.
At the end of the meeting, I presented each of our board members with a special Yeti WIN mug I had made to thank them for all their hard work and dedication to WIN. As I mentioned above, I could not have done my part without the support of each and every one of these amazing and dedicated people!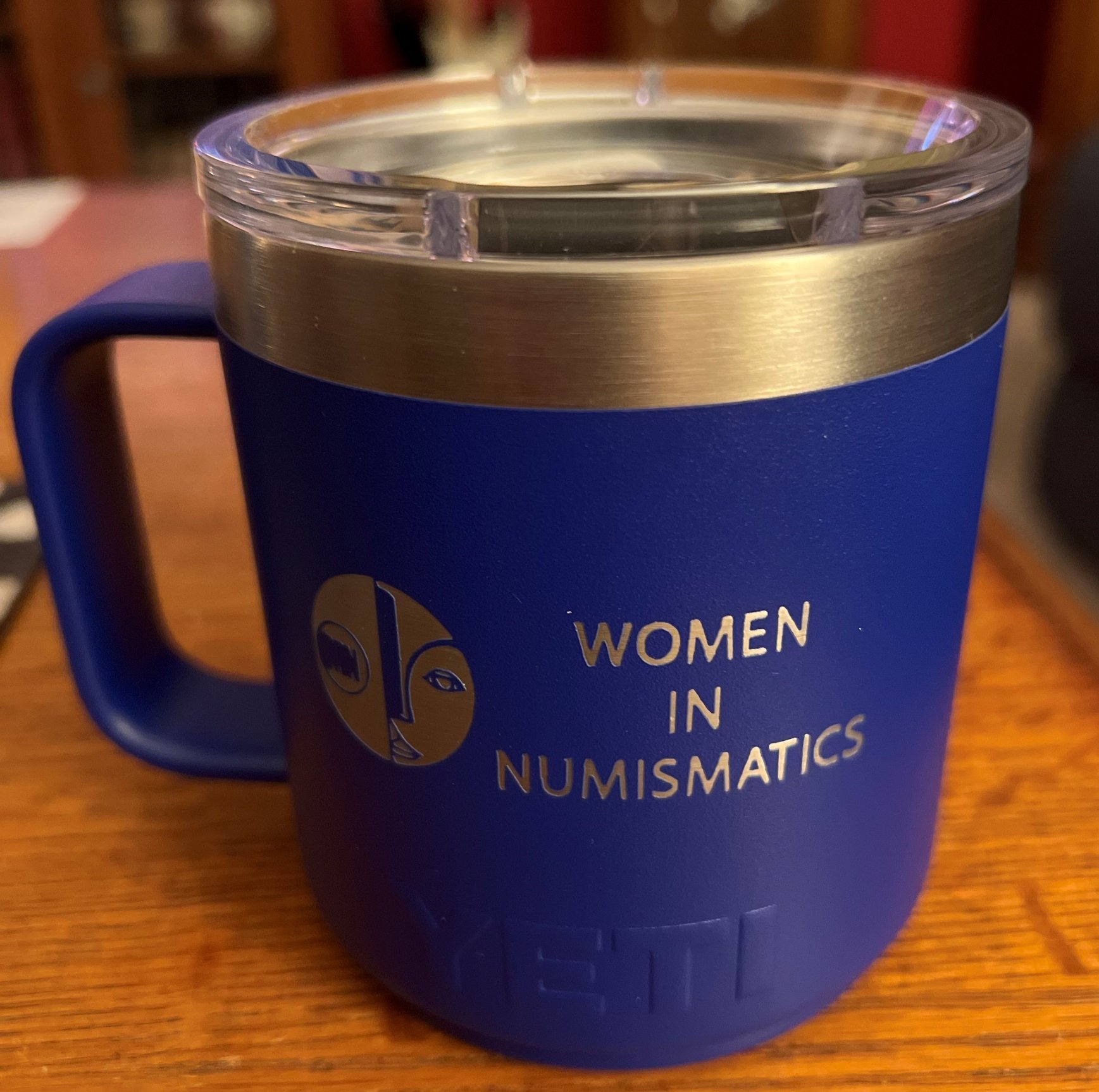 Here are a few pics around the bourse floor after the show opened on Wednesday morning
My awesome booth neighbors (who coincidentally were my neighbors a year ago at the last show!):
Todd/PursuitOfLiberty stopped by my table for a visit
Wednesday was steadily busy, and I was able to buy a few more pieces for my inventory. I also sold several coins from my new purchases, in addition to quite a few pennies from my uncertified boxes.
Here are the new coins I acquired throughout the show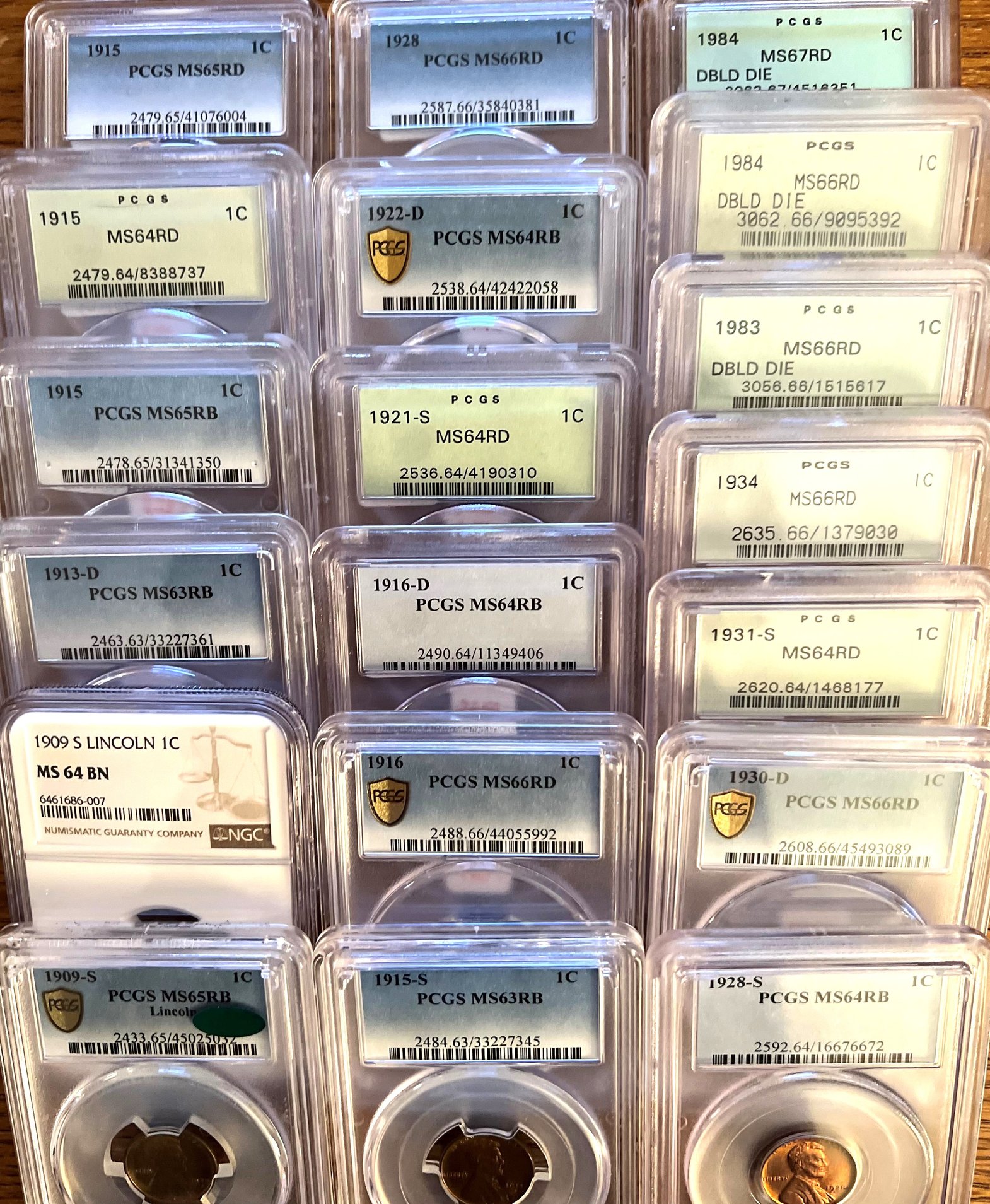 I posted in my last show report from Central States about the 1870 J-788 aluminum pattern cent I saw at the show, where there are only two known – one in PF66+ and one in PF65.
This is a spectacular pattern cent. It has deep mirrors and a beautiful cameo contrast. As only two are known, there are very few chances of acquiring one. The second example is the PR66+CAM from the Simpson collection, which came out of a nearly complete denomination set broken up around 2017-18. This (MS65) example comes from the Loye Lauder collection (Estee's sister) which was sold in 1983. The coin surfaced in the Dickson collection in 2021, just after the Simpson collection sale where the PR66+Cam came on the market."
I ended up purchasing the PF65 for my personal collection right after the CSNS show.
Well, the person who owned both coins also decided to part with the beautiful PF66+ piece as well and and I was honored that he gave it to me to sell for him. This is an absolutely stunning and rare piece and anyone who ends up with it will be very pleased to add it to their collection!
Soon it was time to take a breather and open one of the bottles of wine that my friend brought for me – Chappellet Cab. It was one I hadn't had before and it was delicious! (He has very good taste!)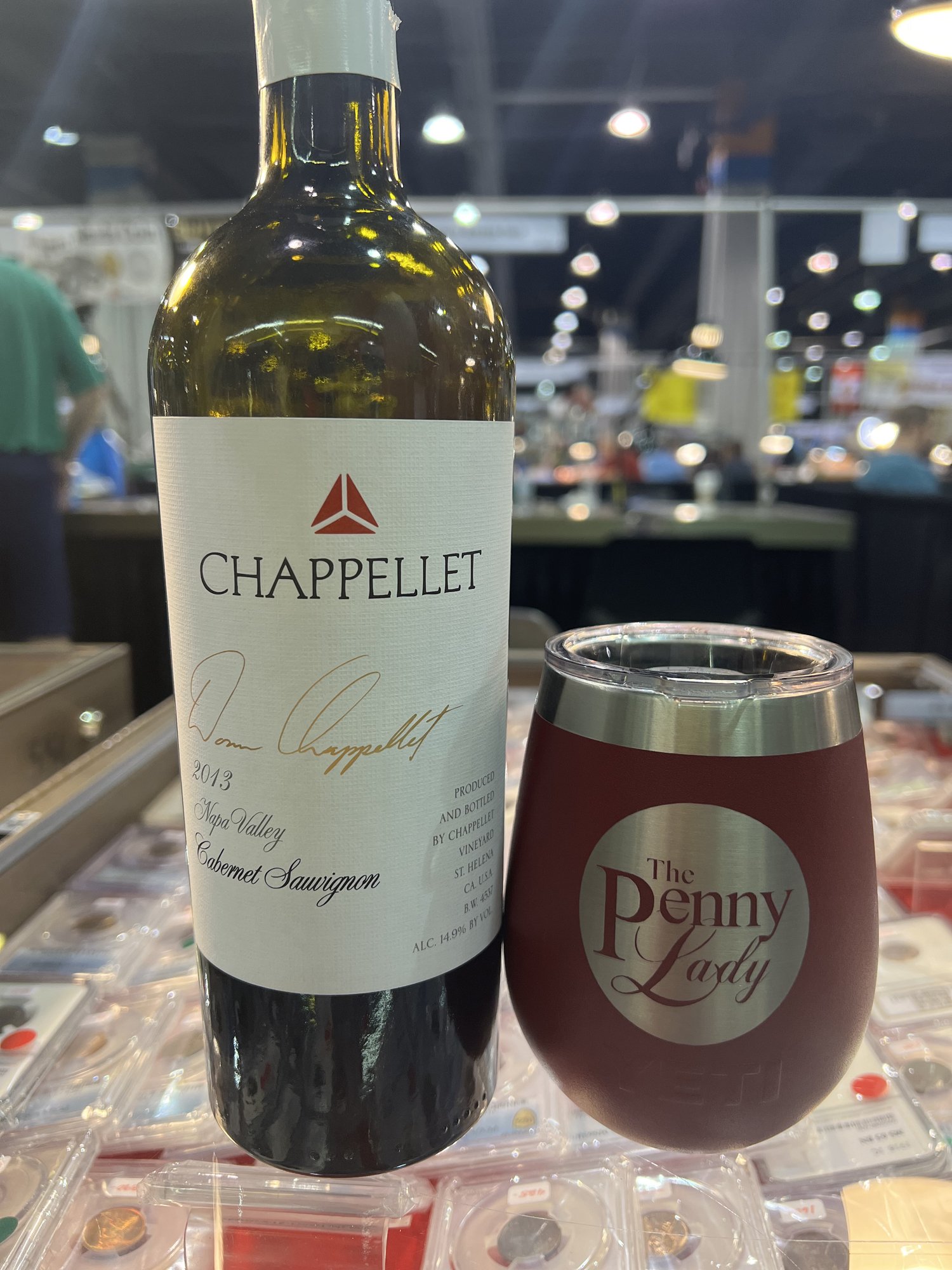 After the show on Wednesday, we headed to Carlucci's for dinner. What a wonderful Italian restaurant, one of my favorites!
The wine and food was amazing!
Thursday morning when I got to the show I decided to take some time to view the competitive exhibits before the public was let in. They had some very diverse, fun and interesting exhibits and you could tell that all the creators put a lot of time and effort into creating them. My personal favorite weas the WWII exhibit entitled "Wartime Change."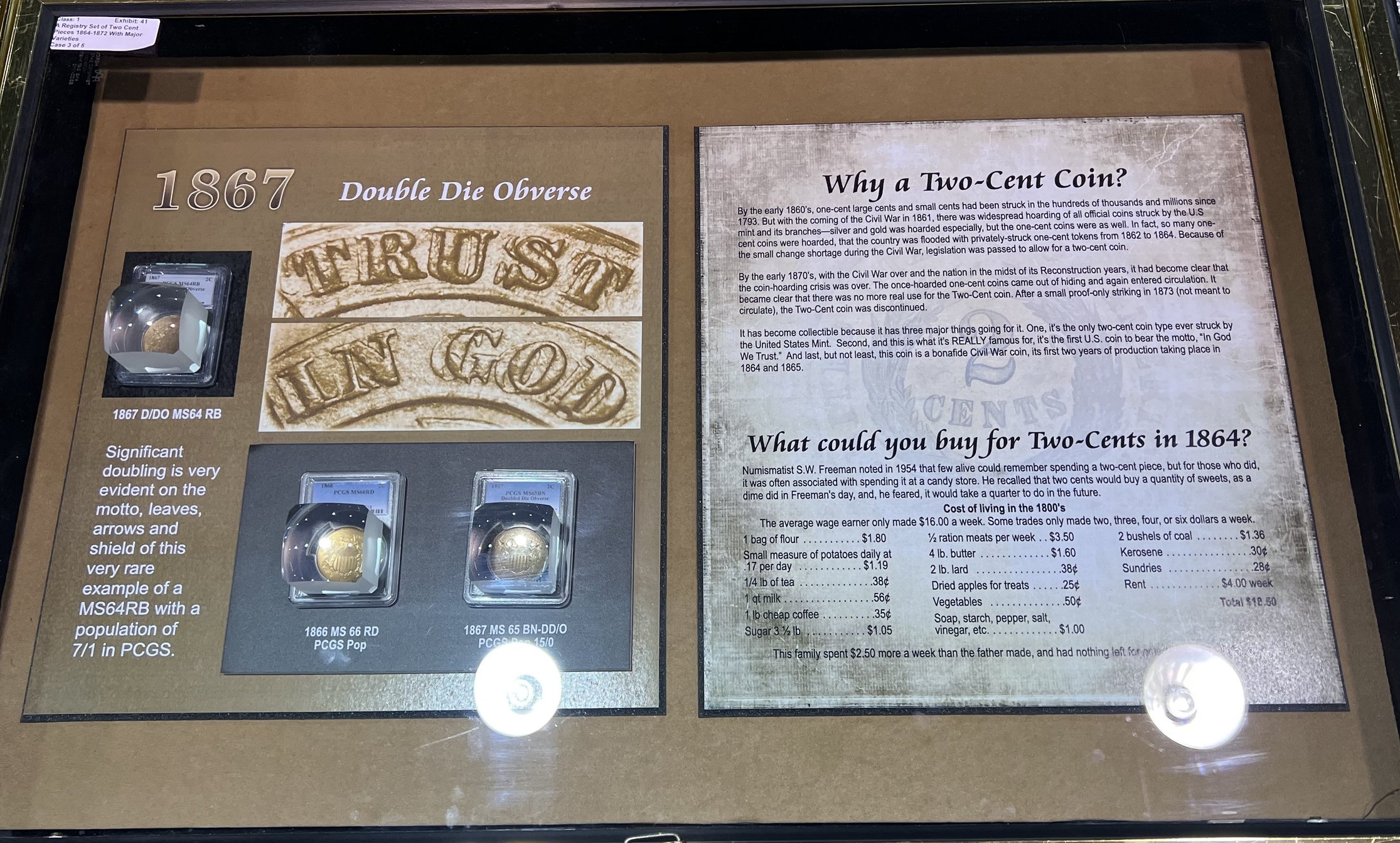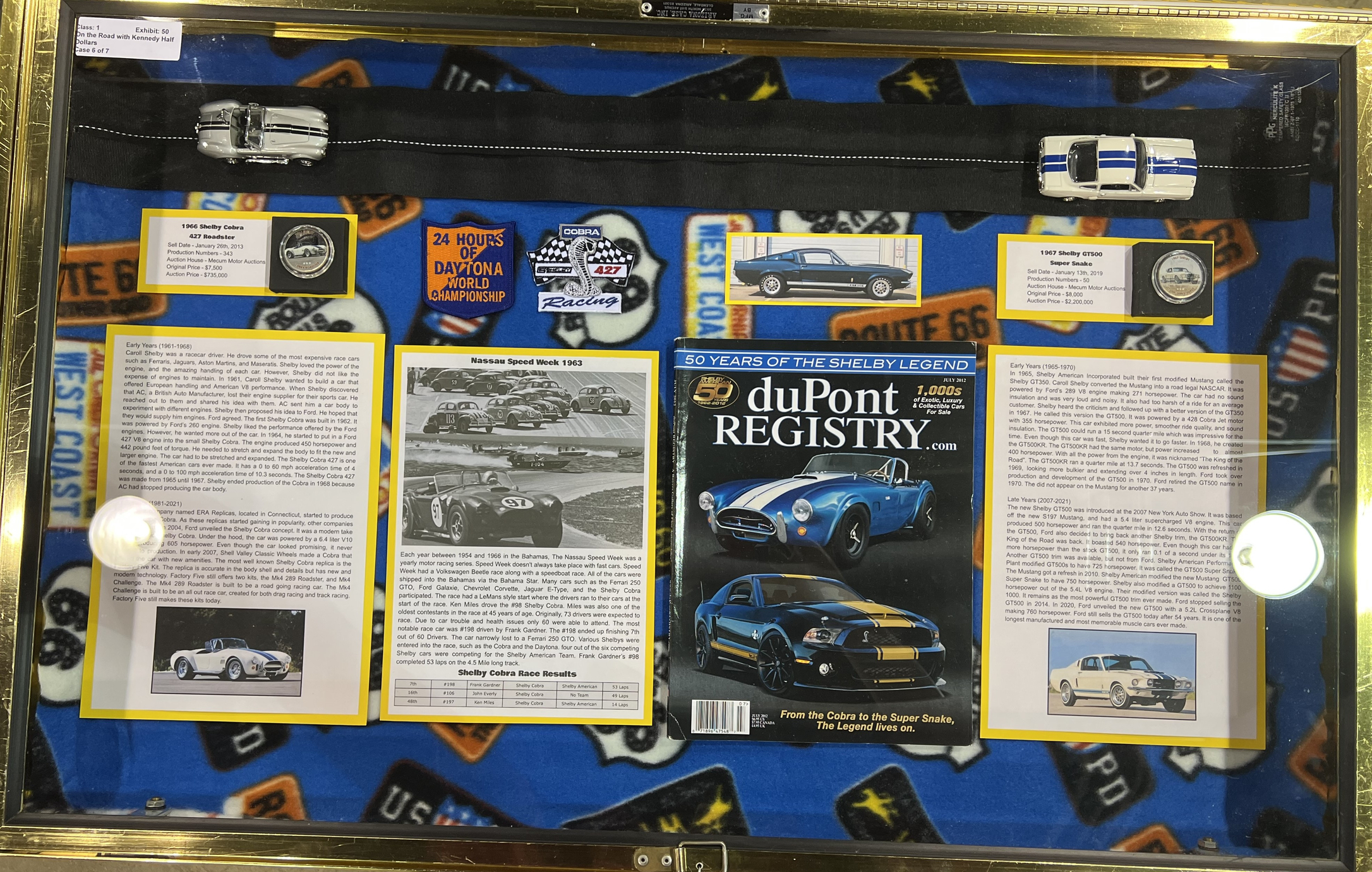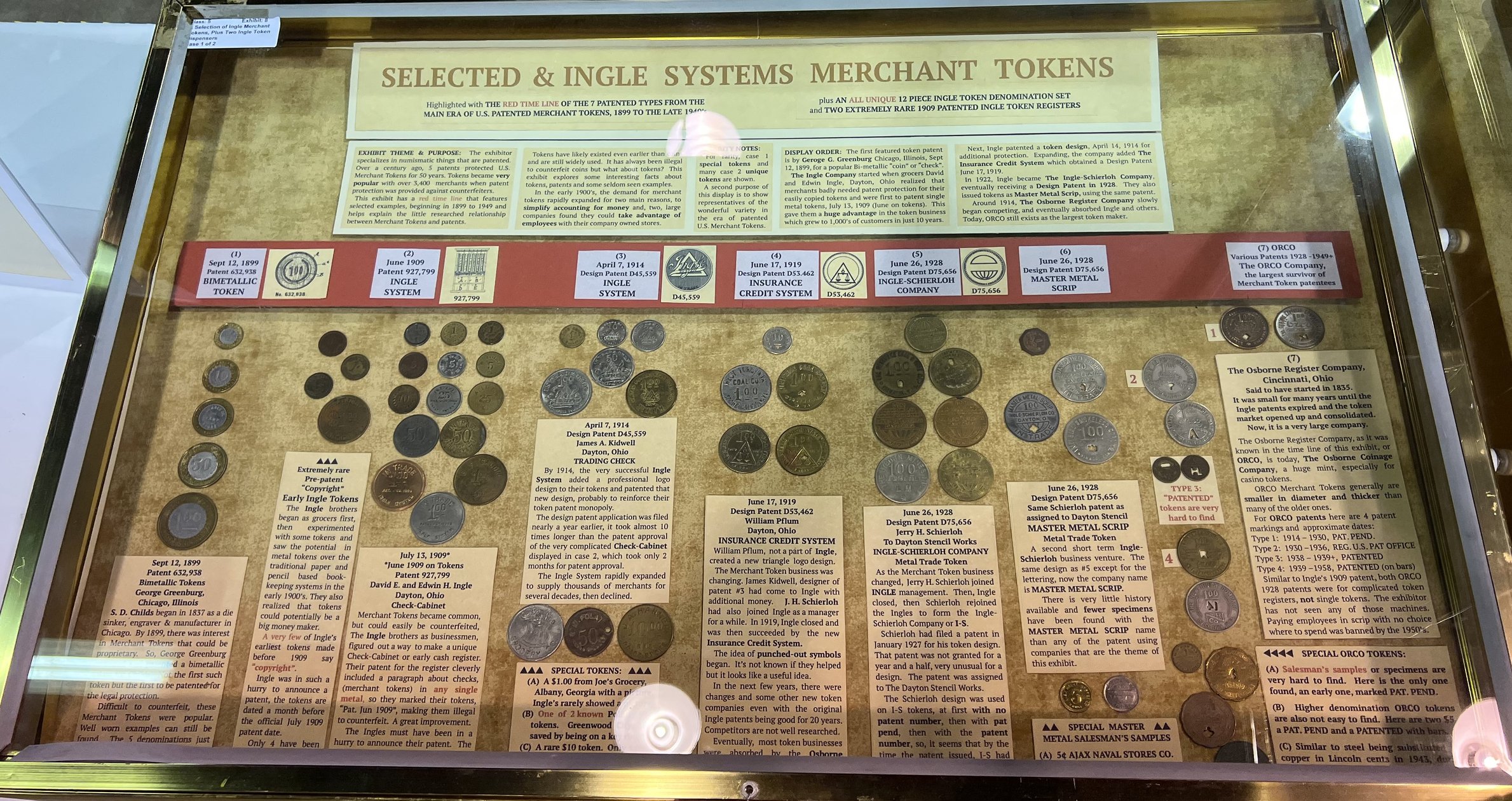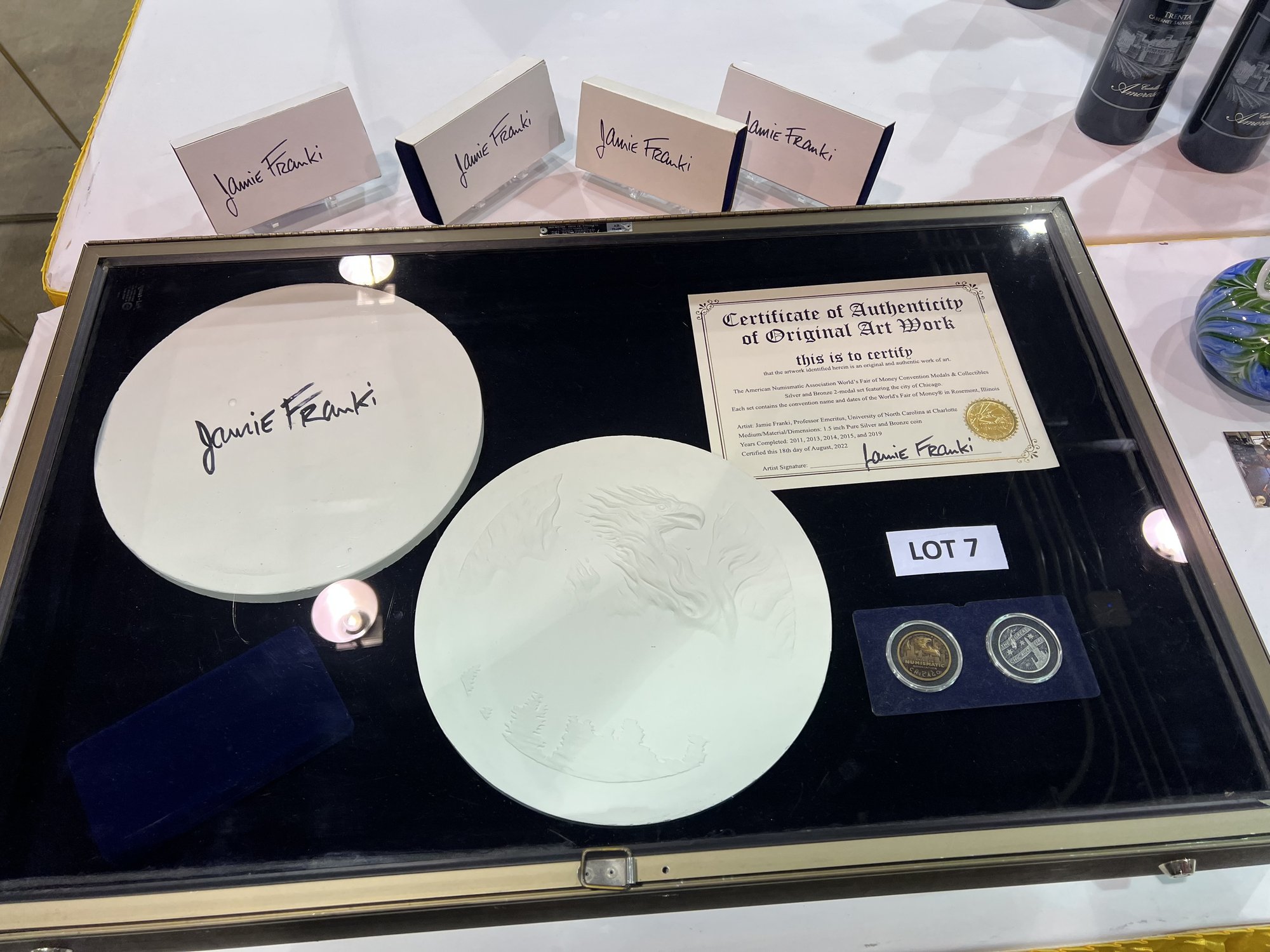 After the show opened to the public, several more forum members stopped by to say hi. It was great seeing these folks, some of whom I hadn't seen in quite a while!
Mark/ColoradoCoinGuy

Andy and Chris/Fishteeth

Doug Noblet who brought a bottle of wine from a mutual friend/customer of mine!

Roy Ash brought me this very cool antique hat pin made with Indian cents from the turn of the century

And Ben and Abe also stopped by!
After a flurry of business, soon things died down and I was able to have some of the other bottle my friend brought and which he knew was my very favorite wine – Rombauer Zinfandel!
Then 8 of us headed back to Gibson's for another evening of favorite food, fantastic wine, and fabulous friends!
Since Gibson's is a bit of a walk away from the Hyatt, I ran into this gentleman who was kind enough to walk me back to my hotel
Friday morning, I took time to explore the shipwreck exhibit and the ANA museum coins. Both displays were fascinating and amazing!
Central America exhibt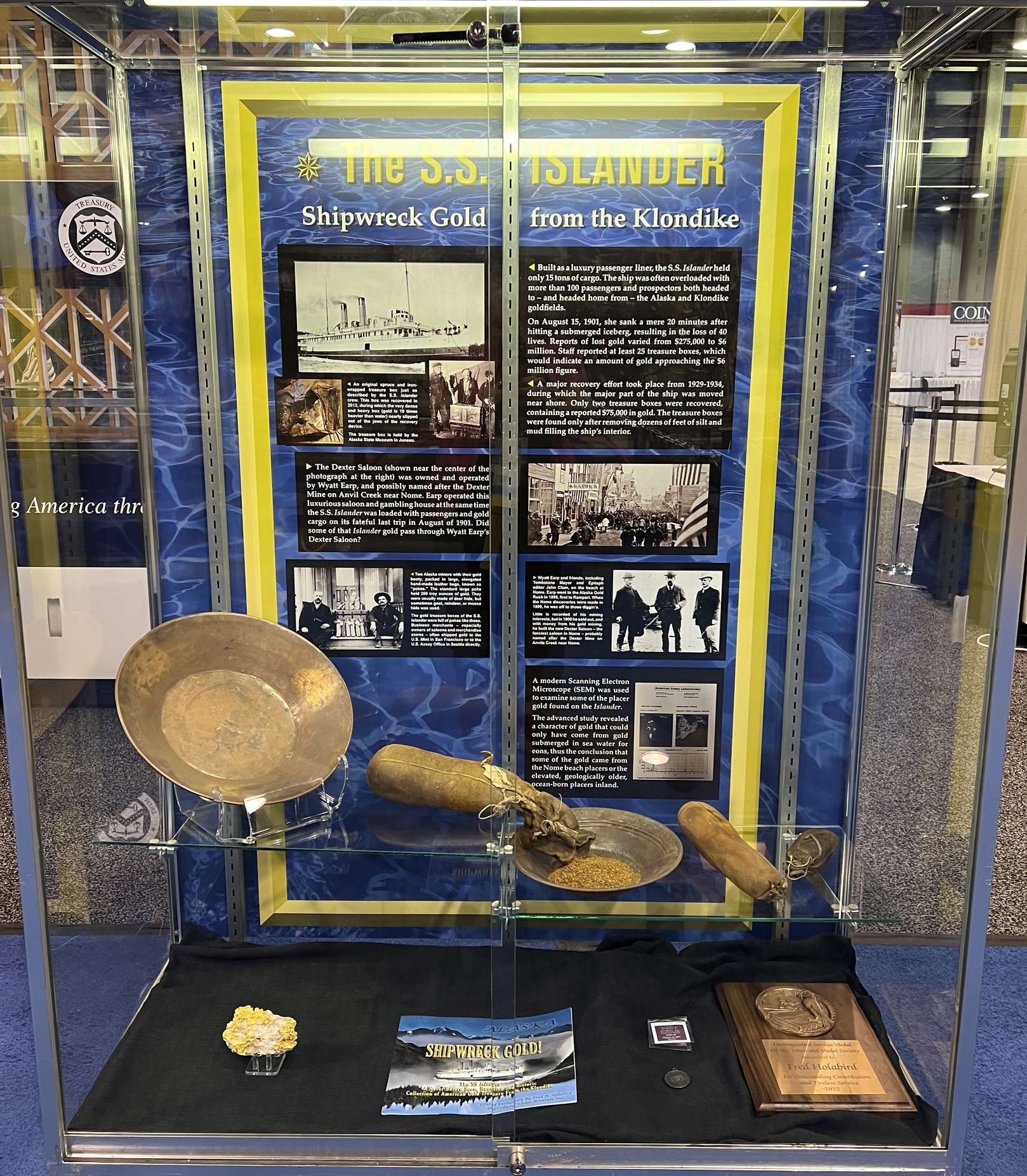 The ANA Museum exhibit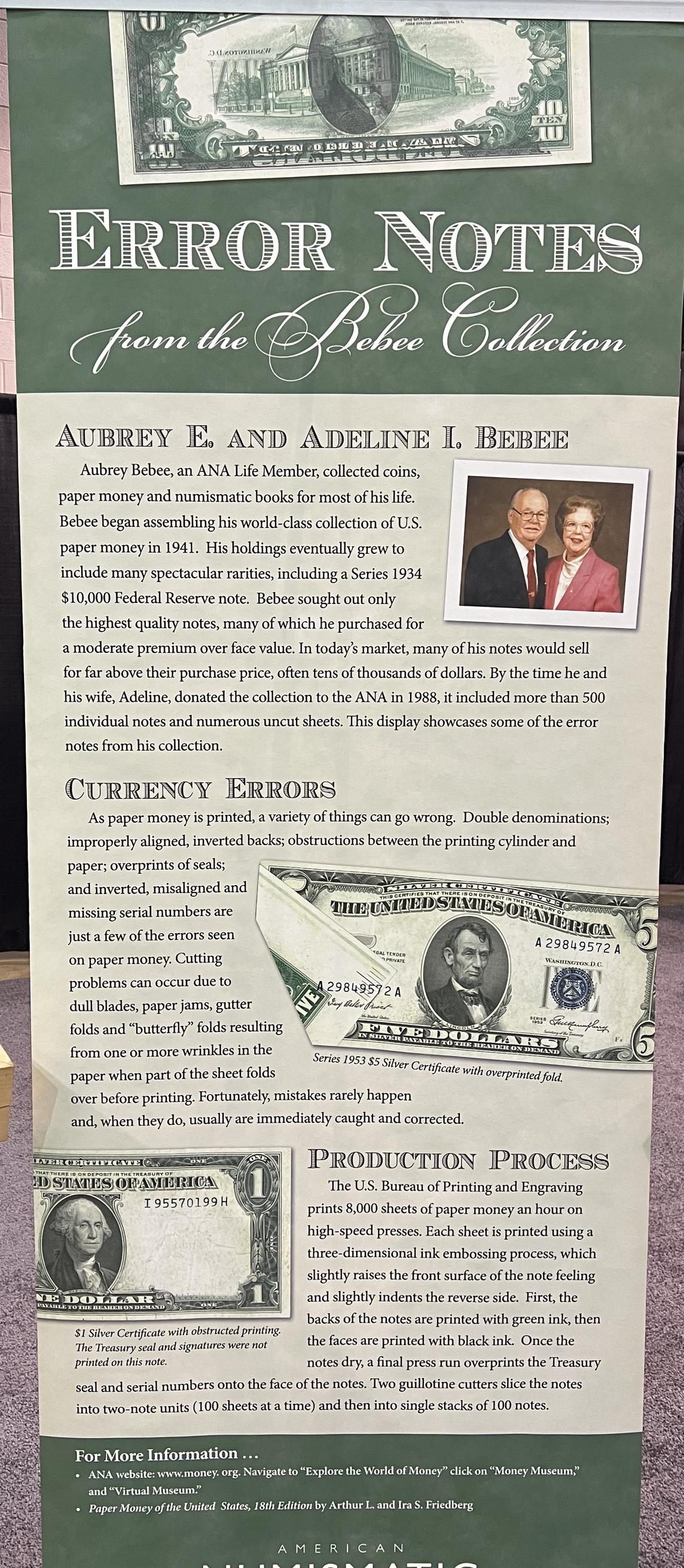 Friday ended up being one of my business days at the show. I had a lot of customers who ended up buying quite a few pieces from my inventory.
Later in the afternoon, Jerry Bobbe stopped by for a brief chat

I also ran into my good friend Ron Guth!
Then it was time to head over to the ANA banquet.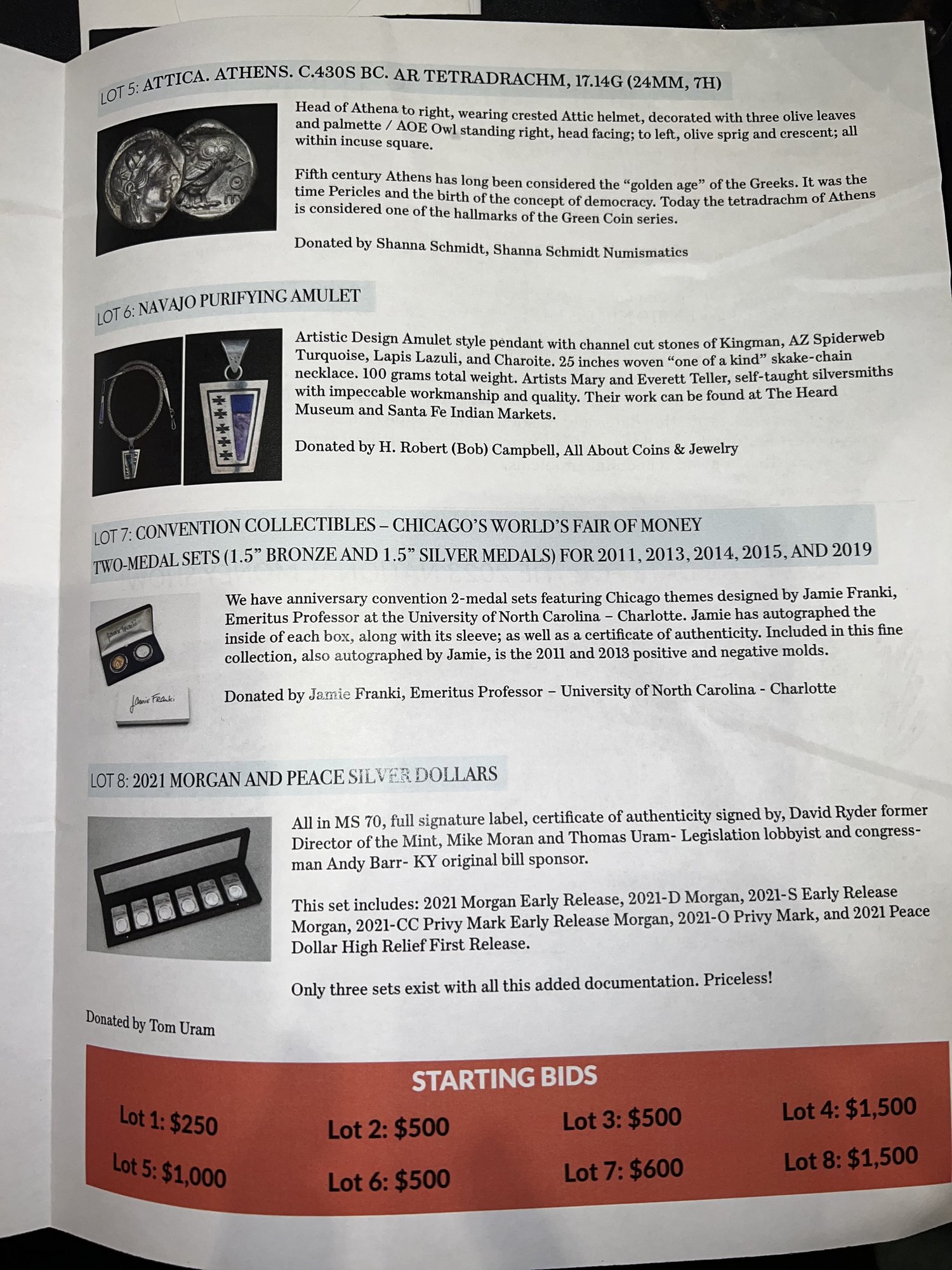 Abe Lincoln gave the most impressive and dramatic recitation of the Gettysburg Address that I've ever heard!
Michael Shutterly won Best of Show and 1st Runner Up for his two exhibits
Saturday was on the slow side as usual, since many dealers have to pack up and catch their flights around the country. It was raining and thundering throughout the day and we were all hoping it wouldn't affect our flights too much. Soon it was my time to pack up and head to the airport. I enjoyed a nice glass of wine before boarding my flight.
But soon, I found out my flight was delayed but only for an hour. My friend Greg Lyon was at the airport and I was able to join him at the Admiral's Club while I waited for my flight. There were several other coin dealers waiting for their flights as well and I enjoyed chatting with them.
Soon I was on the plane heading home!
Soon I was home with my hubby and my sweet Penny!

I had a great time and a great show! Next up – this week is the Las Vegas Palace Station show, then the Buena Park show in a couple weeks, and Long Beach the end of September!
Charmy's June 2022 LONG BEACH EXPOS SHOW REPORT w/tons of Pics!
As always, I really look forward the Long Beach show since it's basically in my back yard and I can sleep in my own bed each night. And this show didn't disappoint! I really enjoy the new hall, it's easy to load/unload, easy and close to park, with lots of friendly familiar faces! (By the way, I finally upgraded my phone to the iPhone 13 and it's fancy high quality camera did not disappoint, especially when it came time to take close up photos of people as you'll see later in this report!)
The loading dock is large and spacious and you don't have to wait in line to pull into the lot and unload. The only waiting is for the bourse to open for set up! While we were waiting, my friend Matt who had a room at the Hyatt right across from the convention center, stood at the balcony that overlooked the loading dock and waived to us!

That's me waiving back to Matt!

Catching up with friends while waiting for the finishing touches on the bourse floor.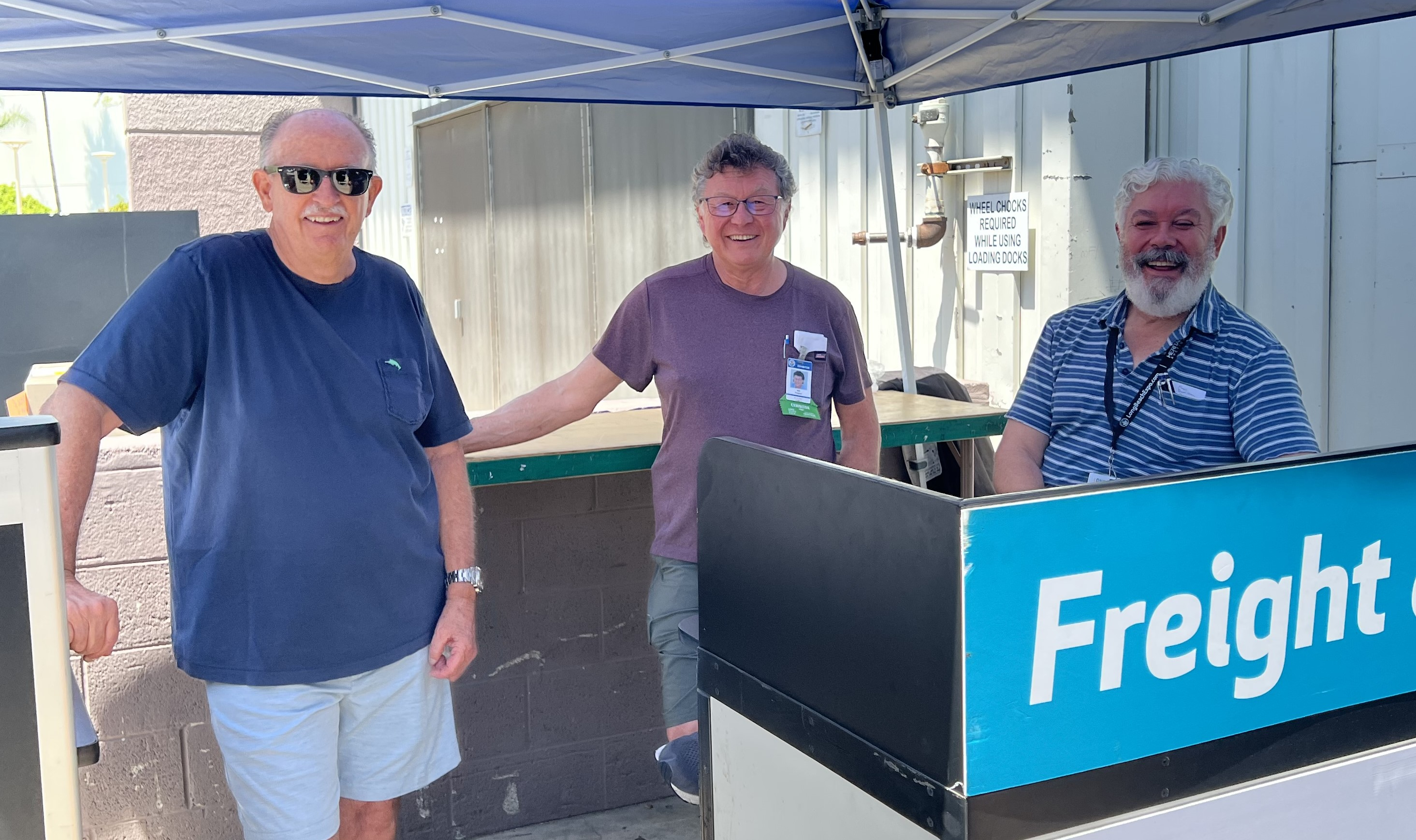 It didn't take long to get everything all set up!

The lobby was all set and ready to greet the public on Thursday!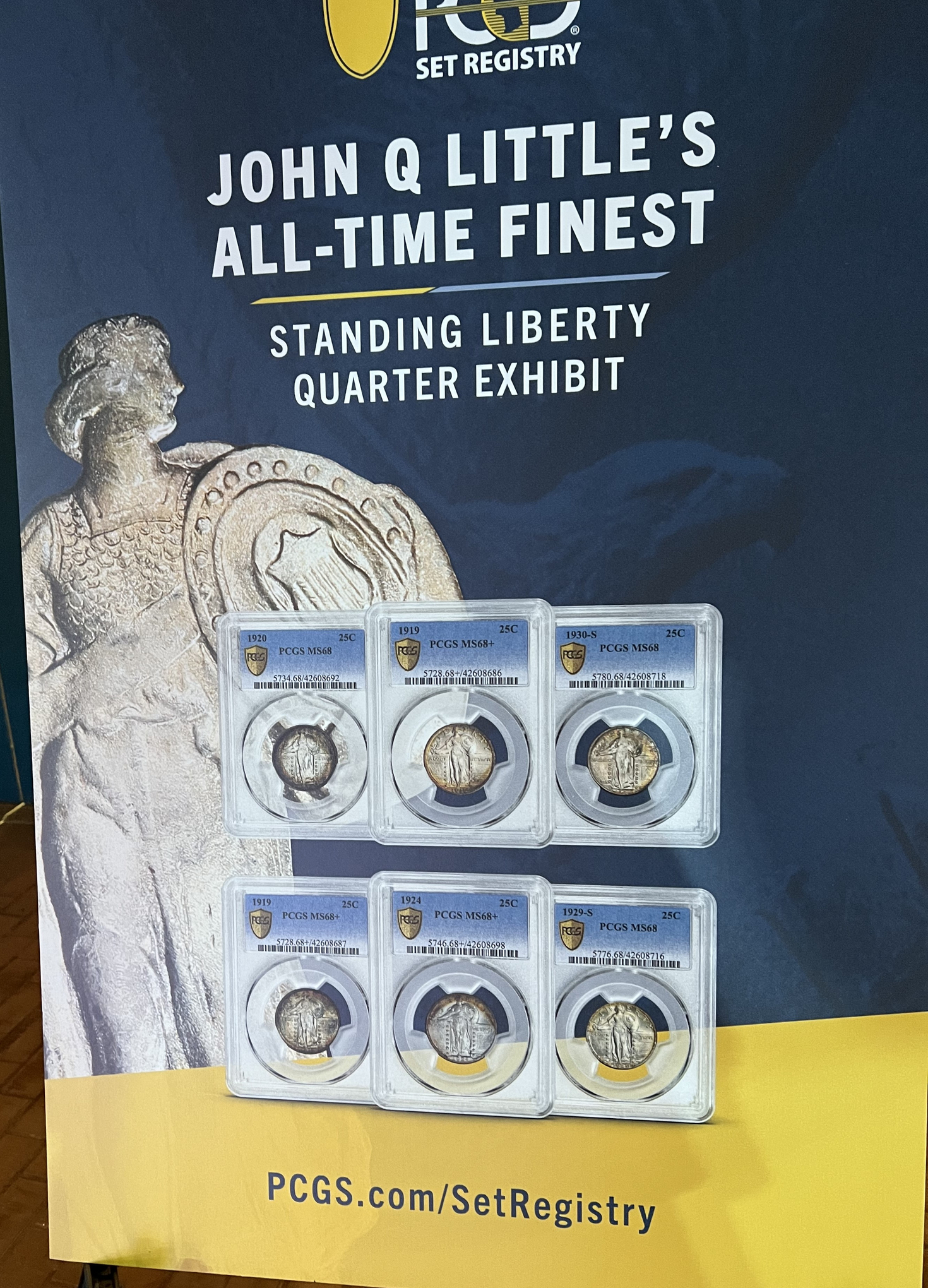 My booth buddy Rich and I found this new larger-than-life gumball machine that decorated the lobby

Curt Mease/PCGS had a booth near mine with some great PCGS memorabilia!

Curt even gave me one of PCGS's 2022 sample slabs

The PCGS folks were cheerfully celebrating a birthday while setting up their tables

Soon it was time to take a moment, relax, and open one of the special wines I brought – this is Reserve Cab from my favorite Temecula winery, Wiens. I also posed the bottle with some of my Penny Lady swag!

For dinner that night, we headed over to a very popular locals-type place on Pacific Coast Highway in Seal Beach – Captain Jack's. They have super fresh seafood and great steak. I had their prime rib and lobster while my friend Matt Chapman had prime rib and crab. A dealer friend from Visalia, Bob Holston and my booth buddy Rich Wogoman also joined us. We could have easily split our meals as they were huge! Since I drive home, I got to take the leftovers back to my hubby who was a very happy beneficiary of some great prime rib and lobster!
I meant to take photos of our dishes but I guess we were so hungry I forgot, but remembered afterwards when we got our "doggy bag"!

On Thursday, I arrived at the show about 9:15 and there already was a HUGE line of folks waiting to get in. It was hard to capture just how long the line stretched out because it curved around inside, then outside around the building and towards the loading zone, but here are several pics.
Our friendly security guards!

And the Legend table was right inside the front door and always busy when I walked by their table!

When the doors finally opened at 10am, a steady crowd quickly streamed in!

Thursday was so busy, I didn't get around much to take photos of the crowd inside. I sold a lot of Pretty Pennies, but I also bought a quite a few new Pretty Pennies, both certified and raw, including a couple emerald green toned Lincolns!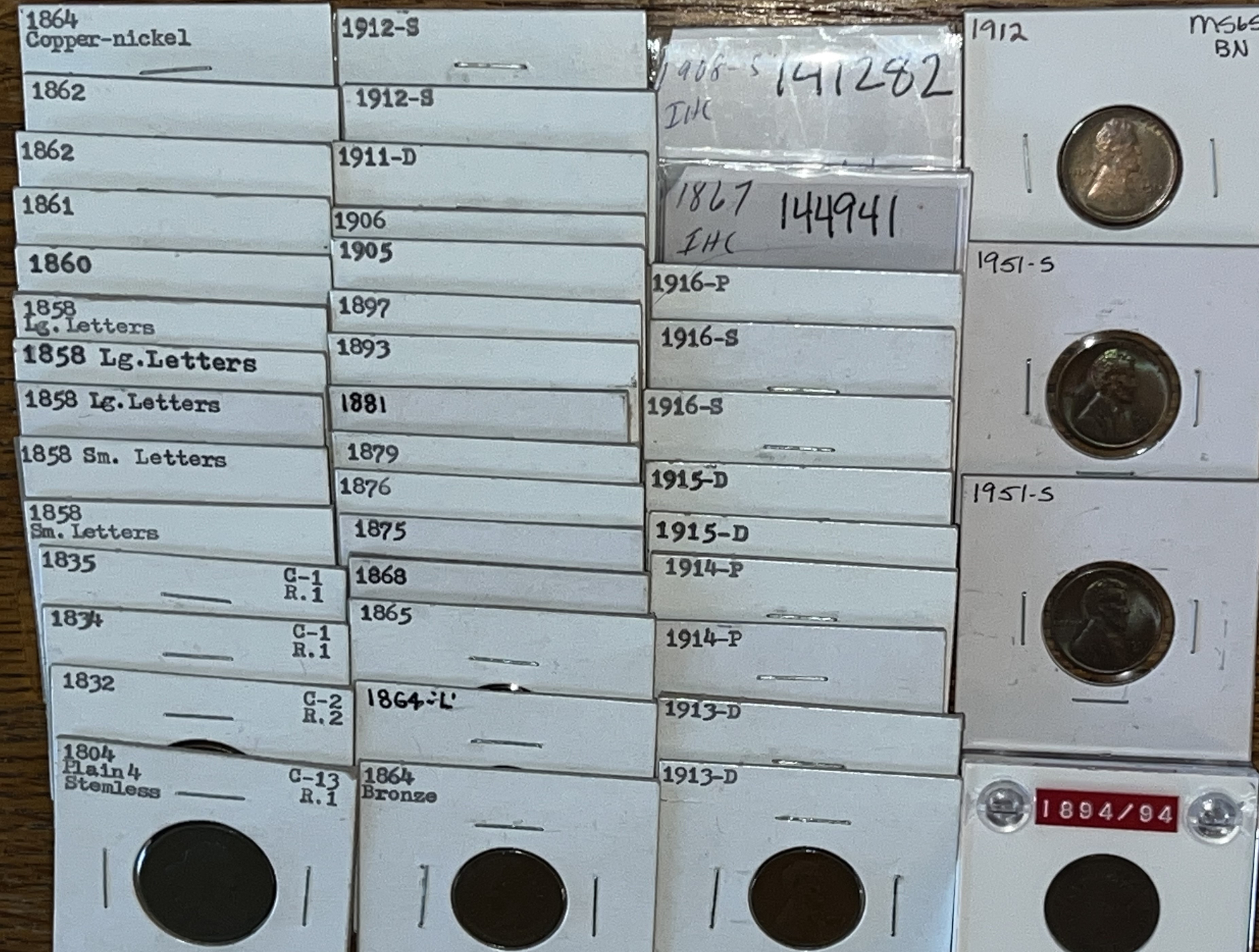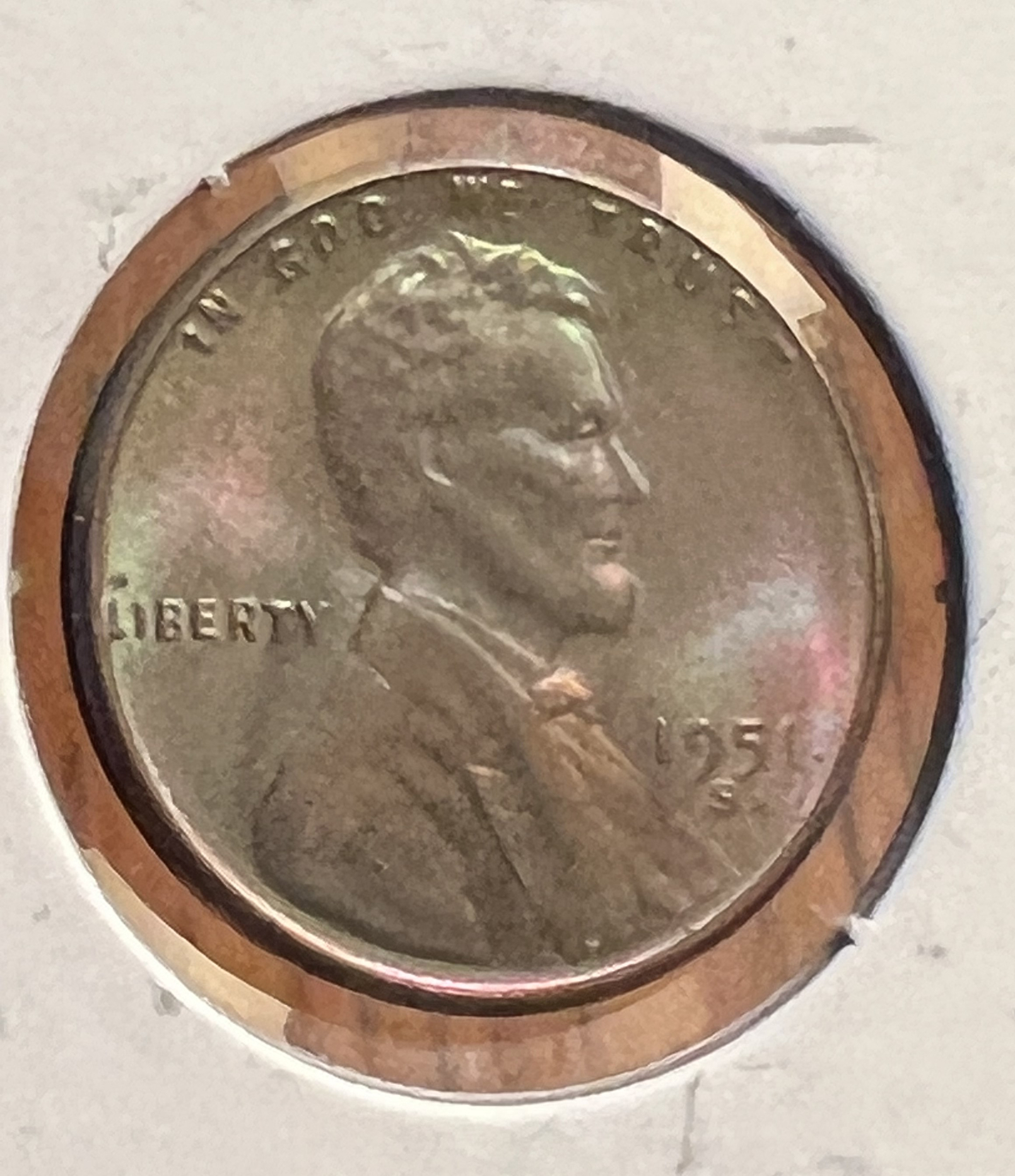 I also found a neat 1906 Indian cent pocket mirror for my collection!

There was an amazing collection of half cents on display that will be featured in an upcoming August auction – the James R. McGuigan Collection.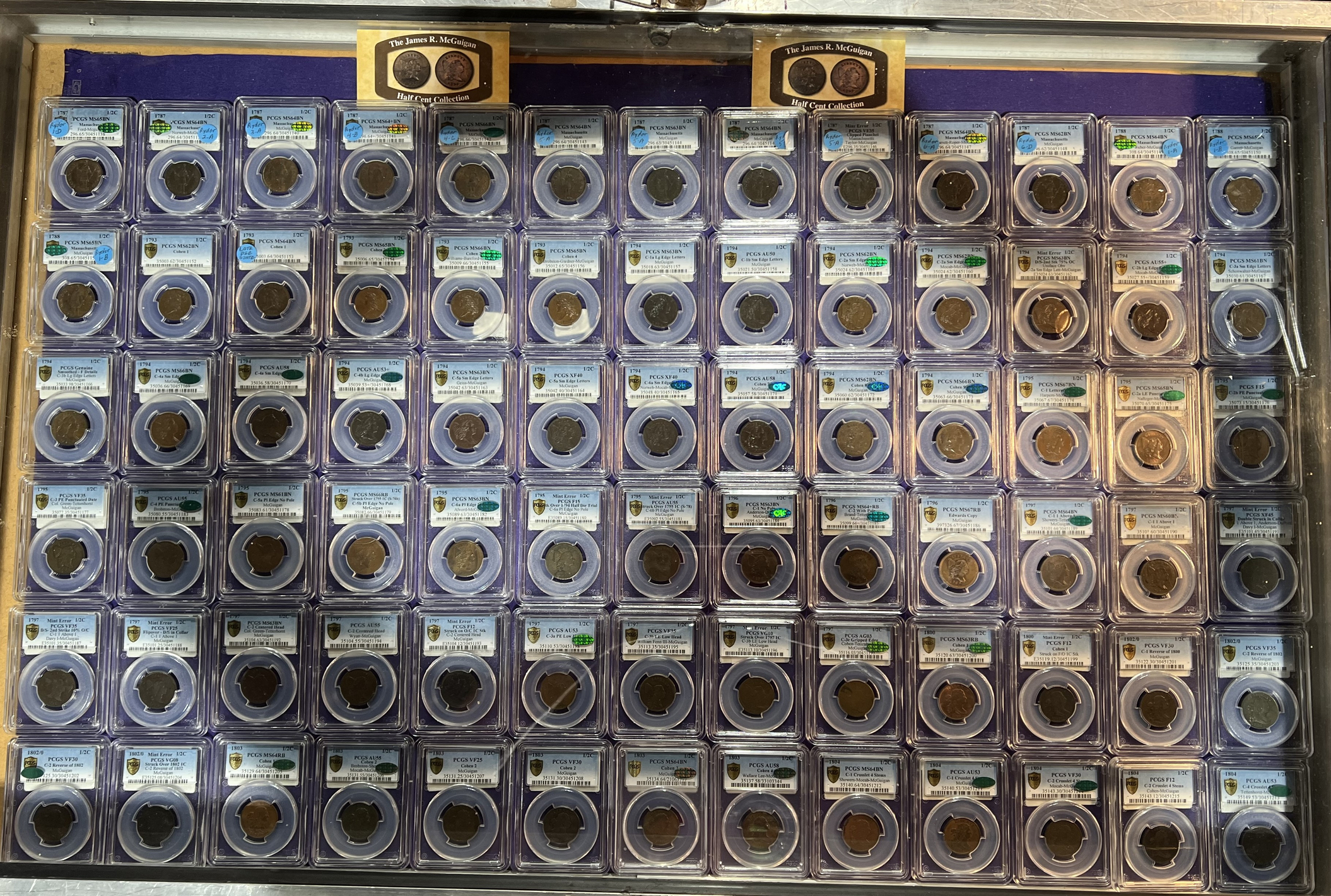 Thursday afternoon we opened a bottle of Justin Isosceles – mmmmm it was really yummy!

For dinner on Thursday night we headed over to La Opera just up behind the convention center. It's a fantastic Italian restaurant that we hadn't been to in quite a while. We really enjoyed the atmosphere, the food was fantastic, and the service was top notch.
I enjoyed one of my favorite Chardonnays which was so refreshing and tasty on a warm summer evening!

After dinner, Matt was showing me some of the settings on my phone camera so he took some photos of me then changed the background and came up with these "portrait" type photos – it was fun and I've been playing with the settings for my grandbaby's photos as well! Here are a couple of me and my little granddaughter – I'm really pleased with all the neat features of the iPhone 13!
Friday morning started off slowly but soon picked up. I had quite a few sales, then had some time to walk around the bourse and take more pics.
PCGS was busy as usual!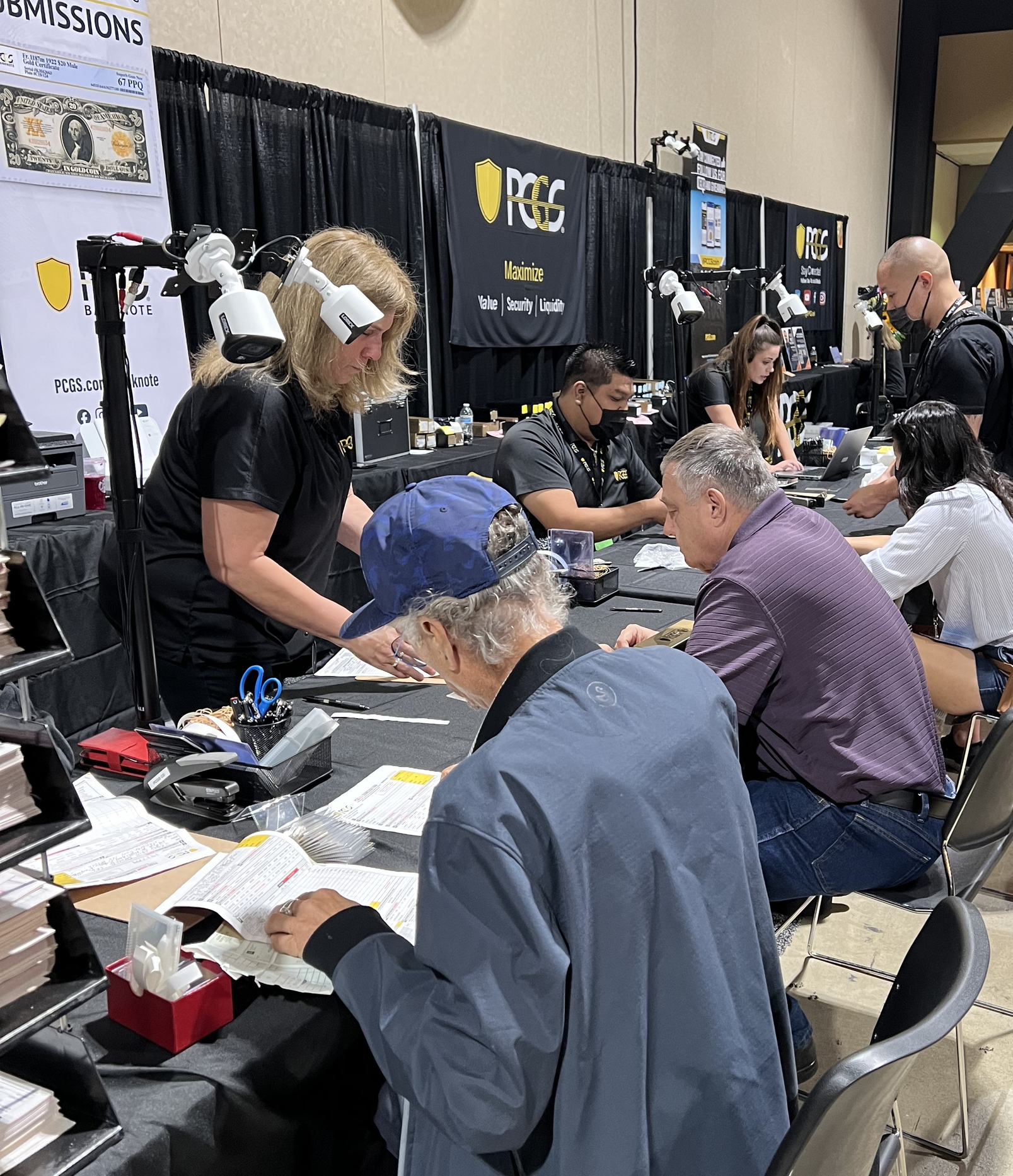 GreatCollections had a beautiful group of Lincoln cents and other coins on display before their upcoming auction.
Steve Feltner/PCGS was really busy at the "Meet the Expert" table

Randy Pollock with London Coin Galleries

The Pirate's table is all set for the kids' treasure hunt on Saturday

The sports section tables in the back of the room were quite busy, especially the Memory Lane and PSA tables!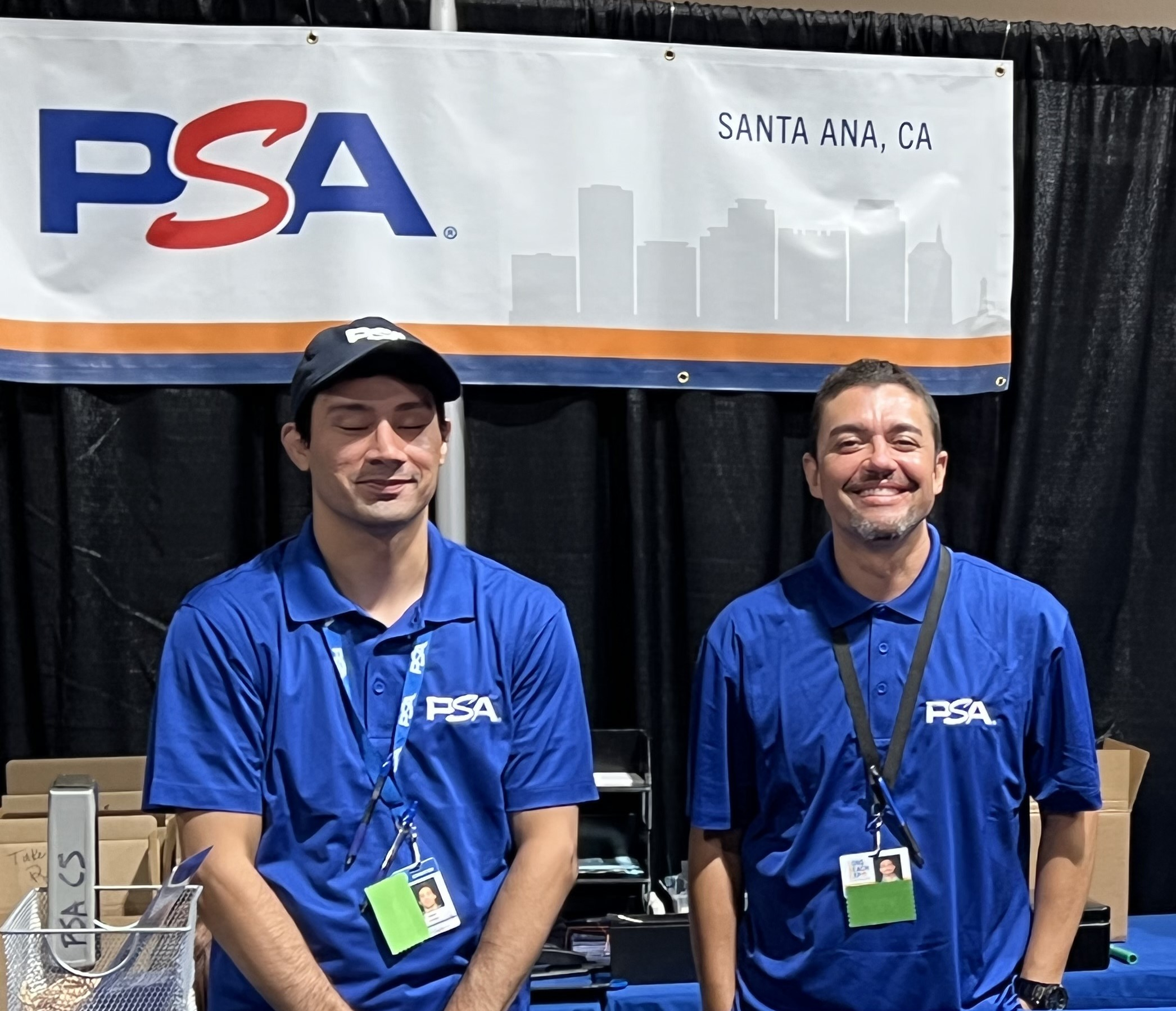 BG Entertainment had a sports table out front in the lobby area with some amazing autographed sports memorabilia, including this autographed Mike Tyson boxing glove.

My friends Dave and Deanne at DJ's Coins from Idaho are among the friendliest and nicest dealers I know!

This is Kerry Pieorpan – he's very hard working and runs the Buena Park show, as well as a monthly show at the Embassy Suites in Anaheim.

Even the stamp section was active!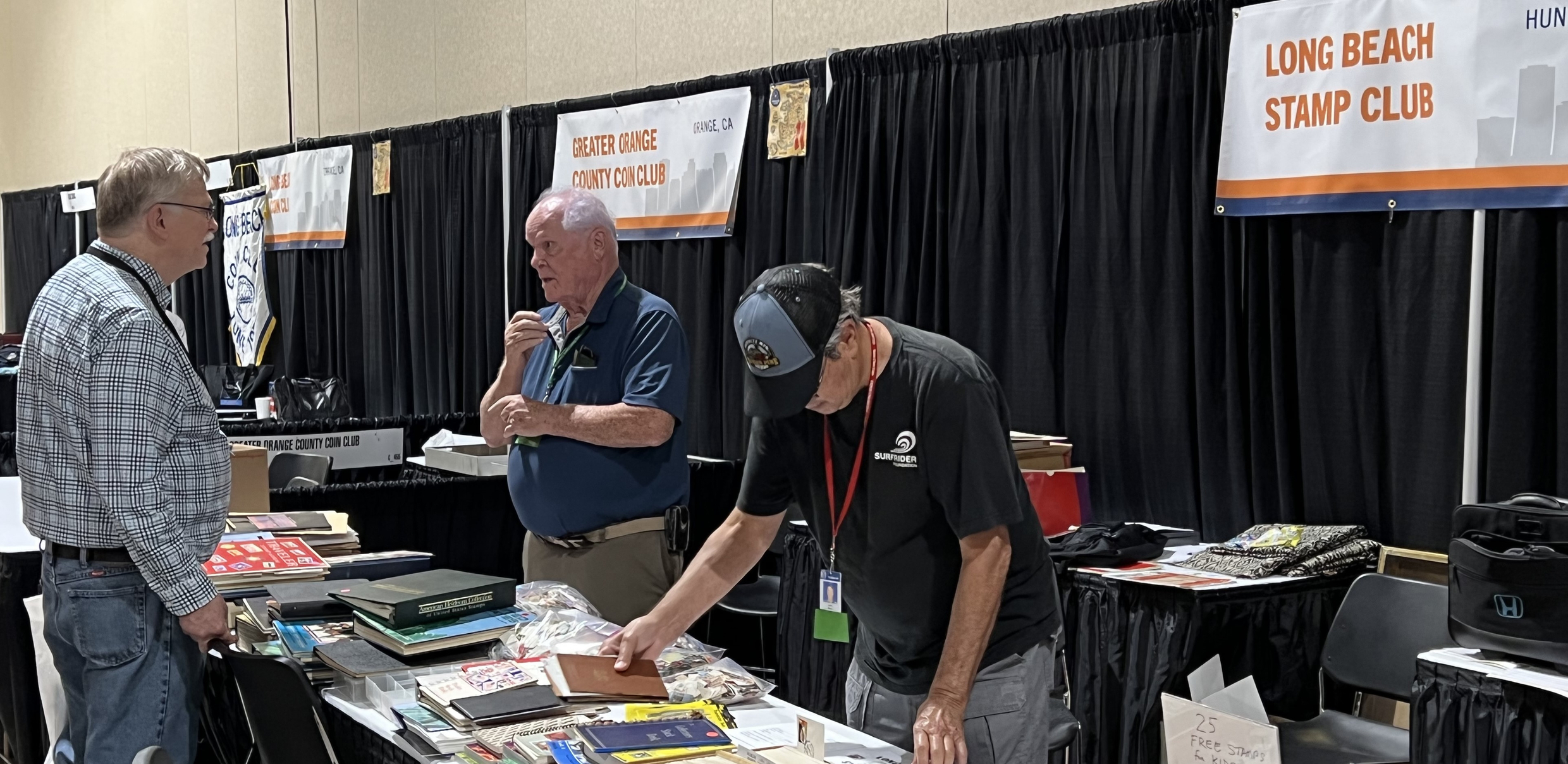 The PCGS Submission Lounge seemed to always have folks getting assistance with filling out PCGS forms

John Q. Little's All Time Finest Standing Liberty Quarter Collection was on display next to the PCGS tables – all I can say is WOW!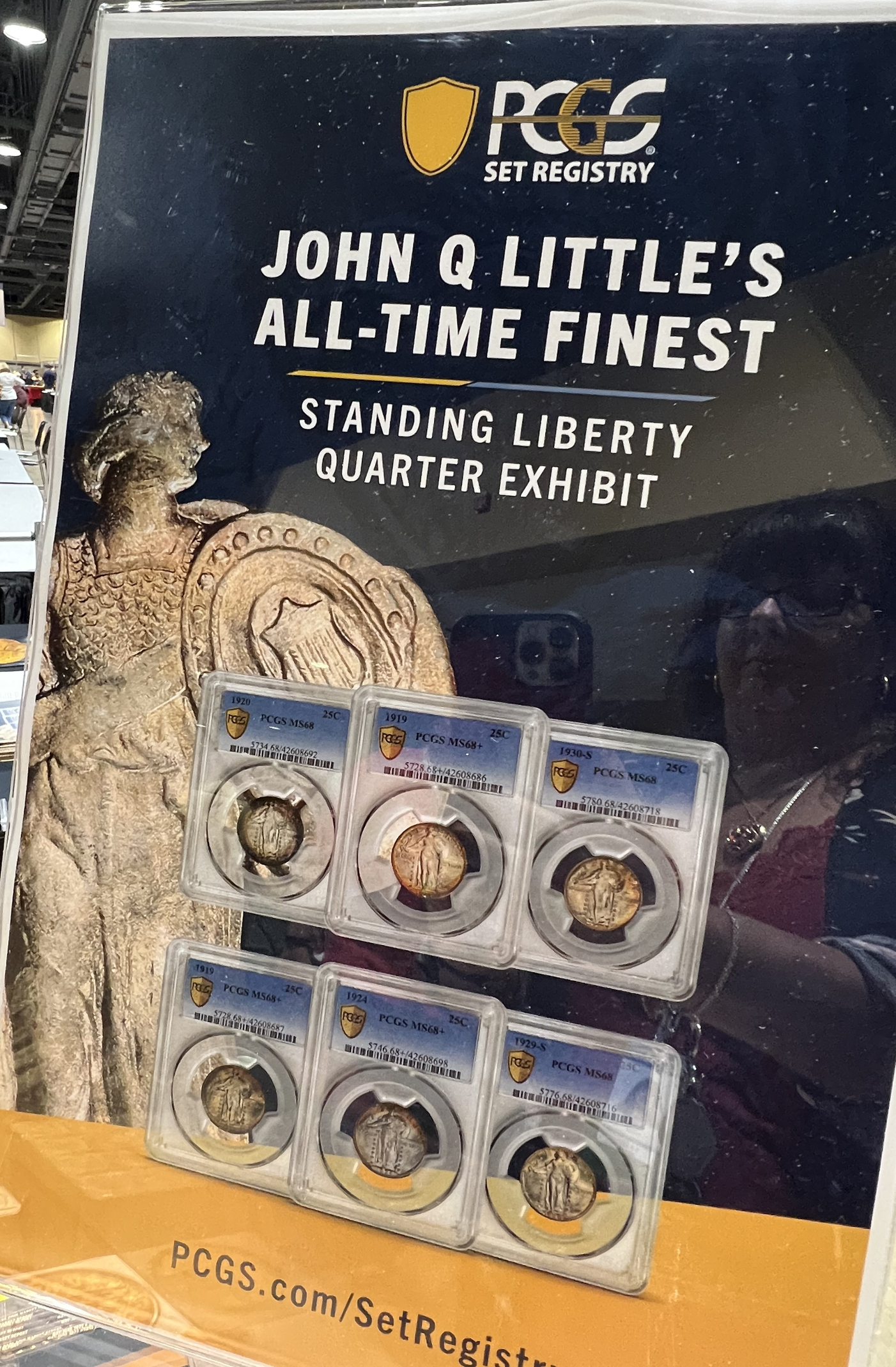 I stopped by the Real American Treasure table to check out their amazing collection of old certified holders which included scarce PCGS Doily and rare Regency holders with their velvet bags, and even a couple of NGC's very rare black holders. It was fun chatting with Christopher Bryan and his partner Jeff Oxman about these old holders. I saw a 1995 Lincoln Double Die in one of the regency holders, and was a bit surprised to find out the value of the holder was not just 2-3 times the value of the coin, but many multiples of the value of the coin!

They even had an original edition of David Hall's book, "A Mercenary's Guide to the Rare Coin Market."

Before I left their table, Christopher gave me a copy of one of his books, "Real American Treasure," which he autographed for me. I haven't had a chance to read it all yet, but I've flipped through it and it loos fascinating, and I can't wait to delve into it!

So for our last afternoon at the show, I opened my favorite "go-to" wine, Rombauer Zinfandel!

Over at the Witter Coin table they were having a fundraiser for Witter Coin University. This young man, Curt, agreed to have his head shaved at the show – and he had a full head of long thick hair so it took quite a while to get through it! They ended up raising $6,000!

Rich and I outside the convention center by the aquarium

Friday night we went to our usual Friday-night dinner place – King's Fish House. Our usual dinner friends, Karl and Joanne, were on a cruise so they weren't at the show, so it was just Rich and me. I had my usual macadamia nut crusted halibut and a glass of white wine. It was a very casual relaxing evening.

Then when we went to get our car at valet, I couldn't help but notice and admire this bright metallic neon green Ferrari (with Texas plates) parked right out front – wow – what a car!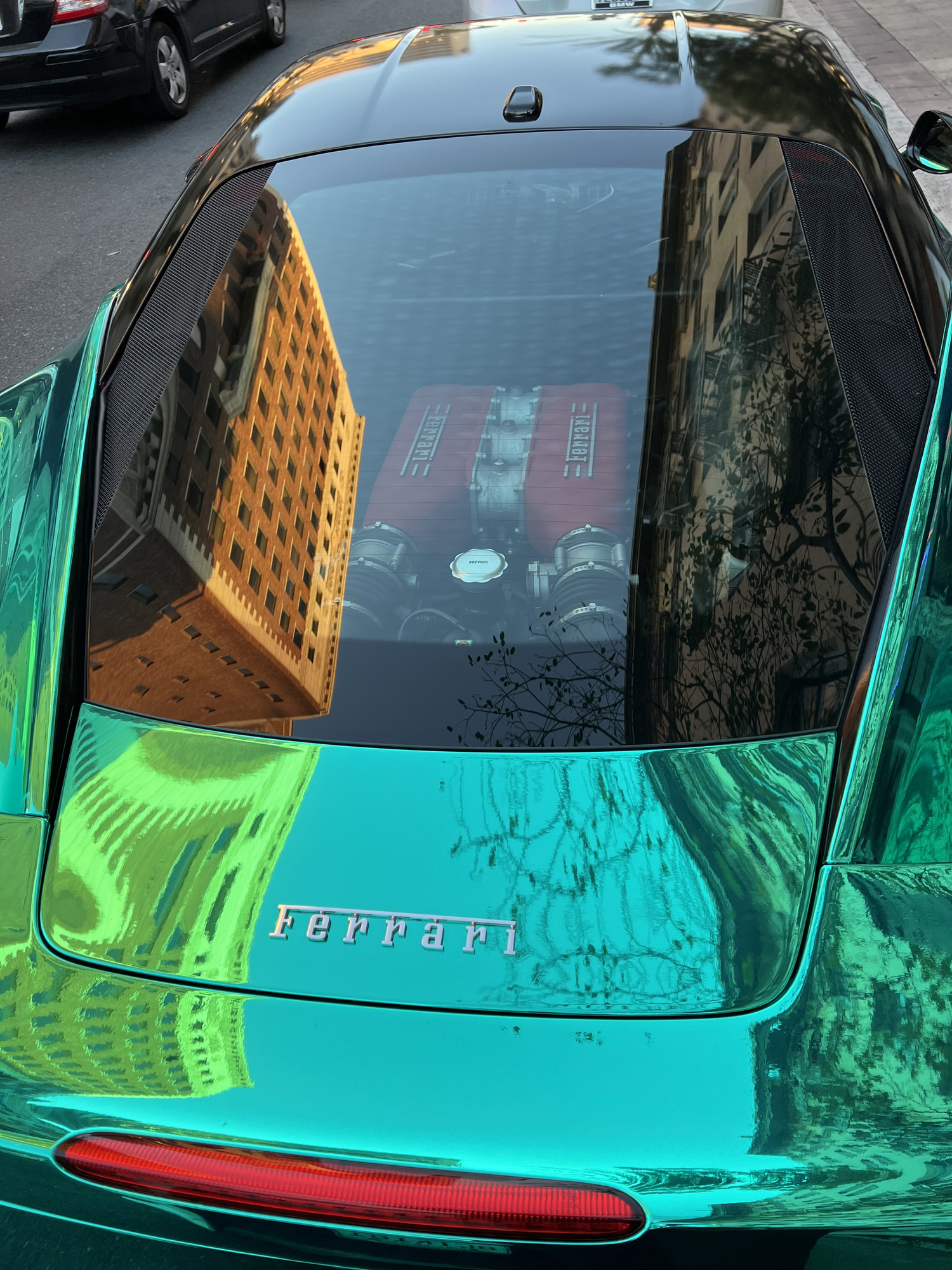 Sites around the convention center as the sun was setting

Saturday was actually quite busy for me – between all the kids stopping by our table for the treasure hunt and customers, the morning flew by. But by around 1pm, things quieted down again so I took more photos, many of the people around the show. Here are some of the kids (and their families) who stopped by my table for the treasure hunt

James Worthy made was signing autographs, including Taryn's son (Taryn is in charge of the bourse floor).

These close up photos were taken in Portrait Mode with my phone:
They had a face-painting table and we saw lots of young and slightly older folks with beautiful designs on their faces!

This is Taryn, she (and her staff) run the Long Beach show

Several PCGS folks had their faces painted too!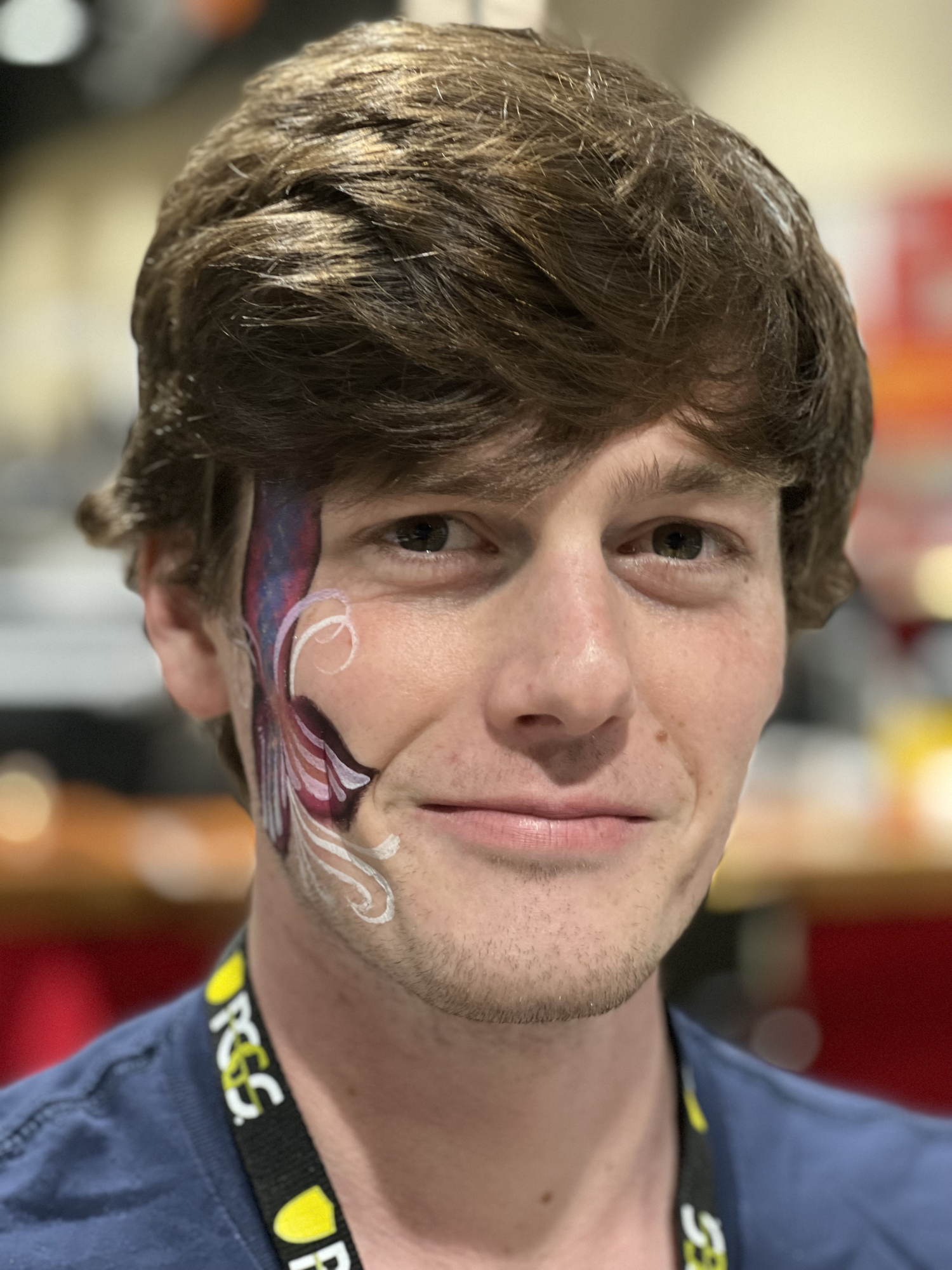 Heather was a great sport dressed up as a shark – she was a huge hit, especially with the kids!

The whole PCGS group!

Soon it was time to pack up and head home to the hubby and Penny.
Rich and I both really enjoy doing the Long Beach show together and it seems to fly by. Rich has been attending the Long Beach show since he was a boy with his father who was one of the founding members of the Long Beach Coin Club, so the Long Beach show is sort of in his blood. He too had a good show, sold most of the things he brought to sell, and bought a few pieces for his collection. We both thought it was a good show and look forward to the next one in September.
Next up: San Diego Coinarama this weekend (July 9-10), the the ANA's World's Fair of Money Show in August!
Charmy's 2022 CENTRAL STATES (CSNS) COIN SHOW REPORT w/tons of Pics!
Wow! this was such a busy show with lots of new coin purchases that I'm just now finally digging out from my post-show paperwork, coin inventorying, processing, and website updating, not to mention a long day trying to get home from Chicago during a huge thunder storm and tornado watch that occurred Saturday evening. The CSNS folks pulled out all the stops to make this a successful show, and in spite of some unforeseen helper issues, from all accounts, they greatly succeeded. There were even record lines of folks waiting to enter the show on the first day!
A few days before I left for Chicago, I had just returned from another show which followed a series of back-to-back shows. The CSNS show was the last one I would be attending for a while in that string of shows. While I was really tired, I still very much looked forward to being back in the Chicago area as I suspected from all the pre-show publicity, this CSNS show would be a very well-attended and active show.
I left bright and sunny OC for the show on Tuesday so I could attend the PNG dealer day on Wednesday. Coincidentally, there were several other coin dealers on my same flight!
I never get tired of viewing the OC shoreline from up in the air, it's always beautiful and breathtaking.
Flying into the Chicago area is also equally breathtaking!
I rode to the Renaissance with a couple other coin friends, and checked into my room – I was happy to see I had a nice view.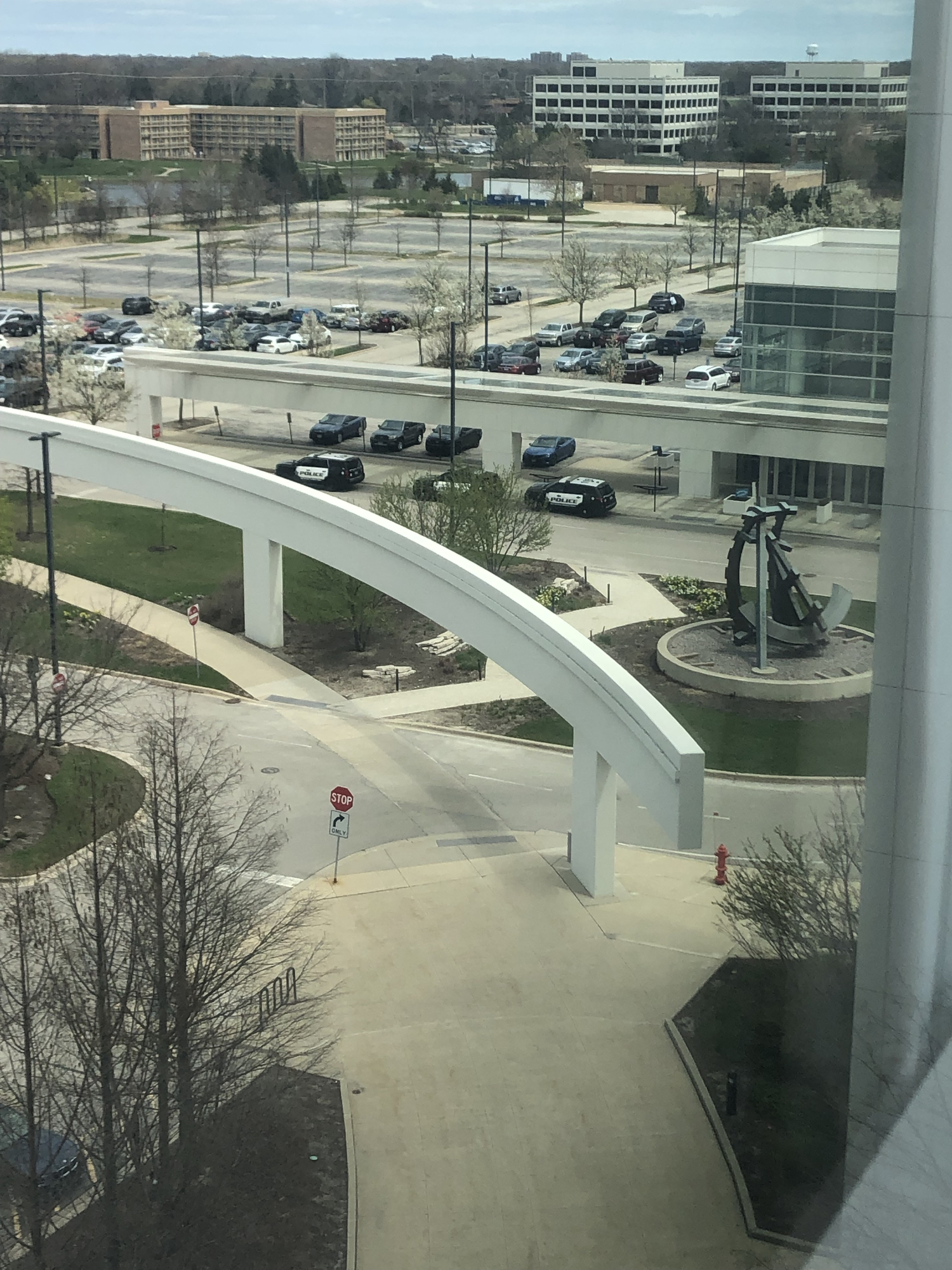 I then went down to the restaurant for dinner with my friends.
After dinner, I stopped in at the bar. Of course, with the Renaissance being the host hotel and site of the show, I enjoyed seeing and catching up with several of my coin dealer friends, some of whom I hadn't seen in a couple years. Then it was off to bed to rest up for (hopefully) a very busy week!
Dealer day began at 9am on Wednesday morning, so I went down early to register and get my new badge. All along the hallway from the hotel to the convention room, CSNS put up several great signage advertising the "new" CSNS show.
I also wanted to stop by PCGS to drop of some coins for show grading. The PCGS folks are always friendly and happy to indulge my photo-snaps!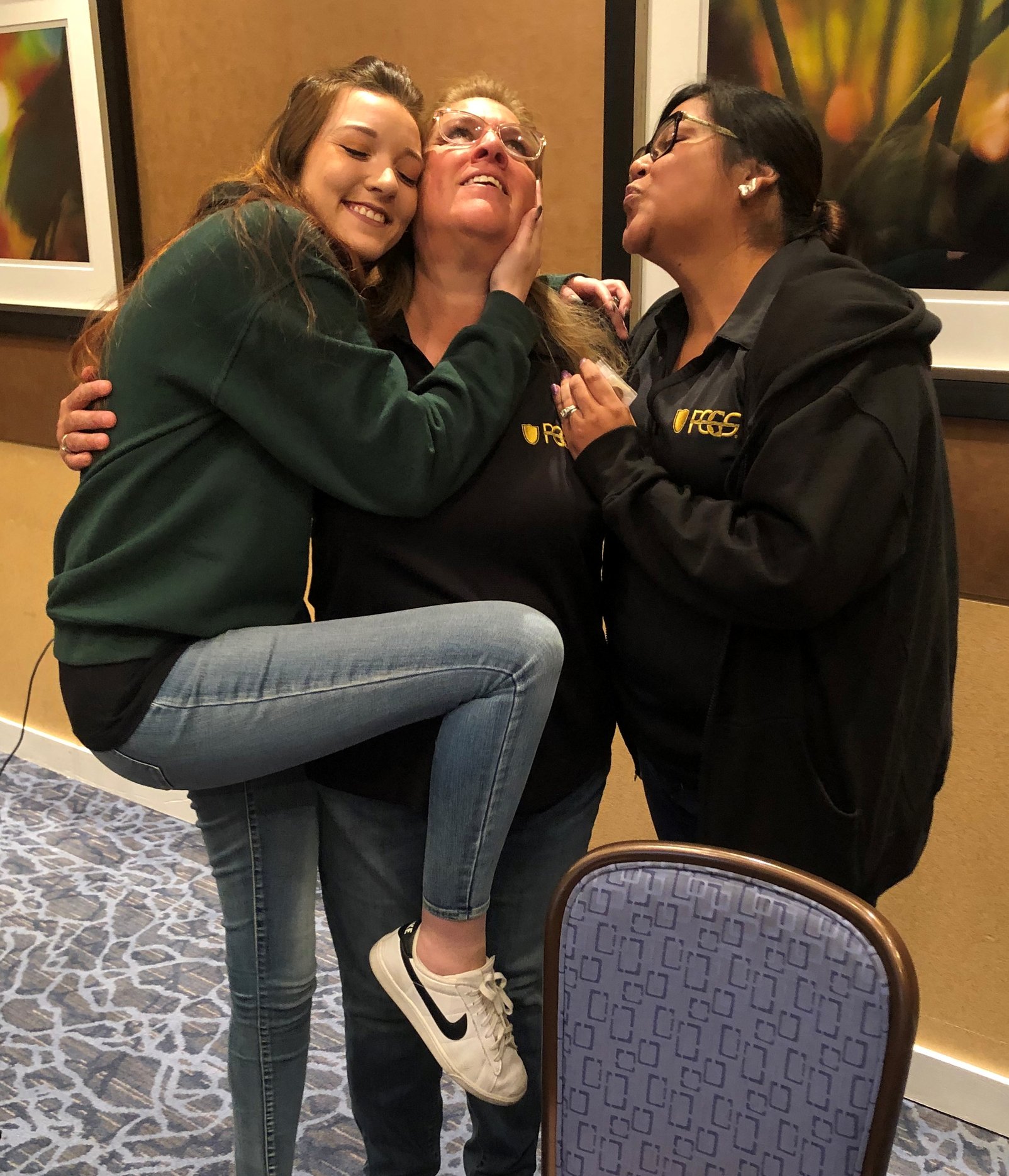 When I got into the show, there were probably around 40 PNG dealers set up, so I made my way around hunting for coins for my customers and for general inventory, and was fortunate to find some really great pieces.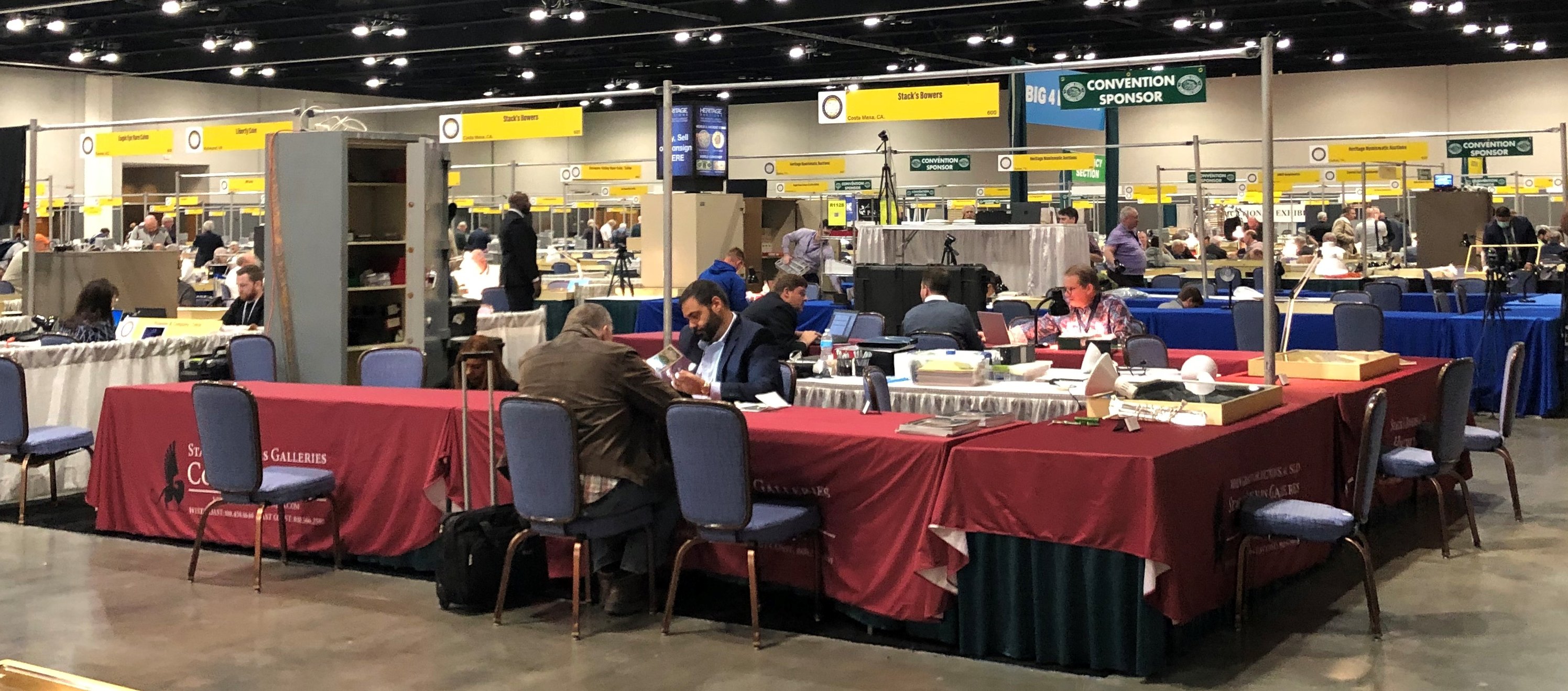 I ran into my dear friend Mitch Ernst who is President of CSNS and was still working very hard making sure everything was ready for general dealer set up at 2:30pm.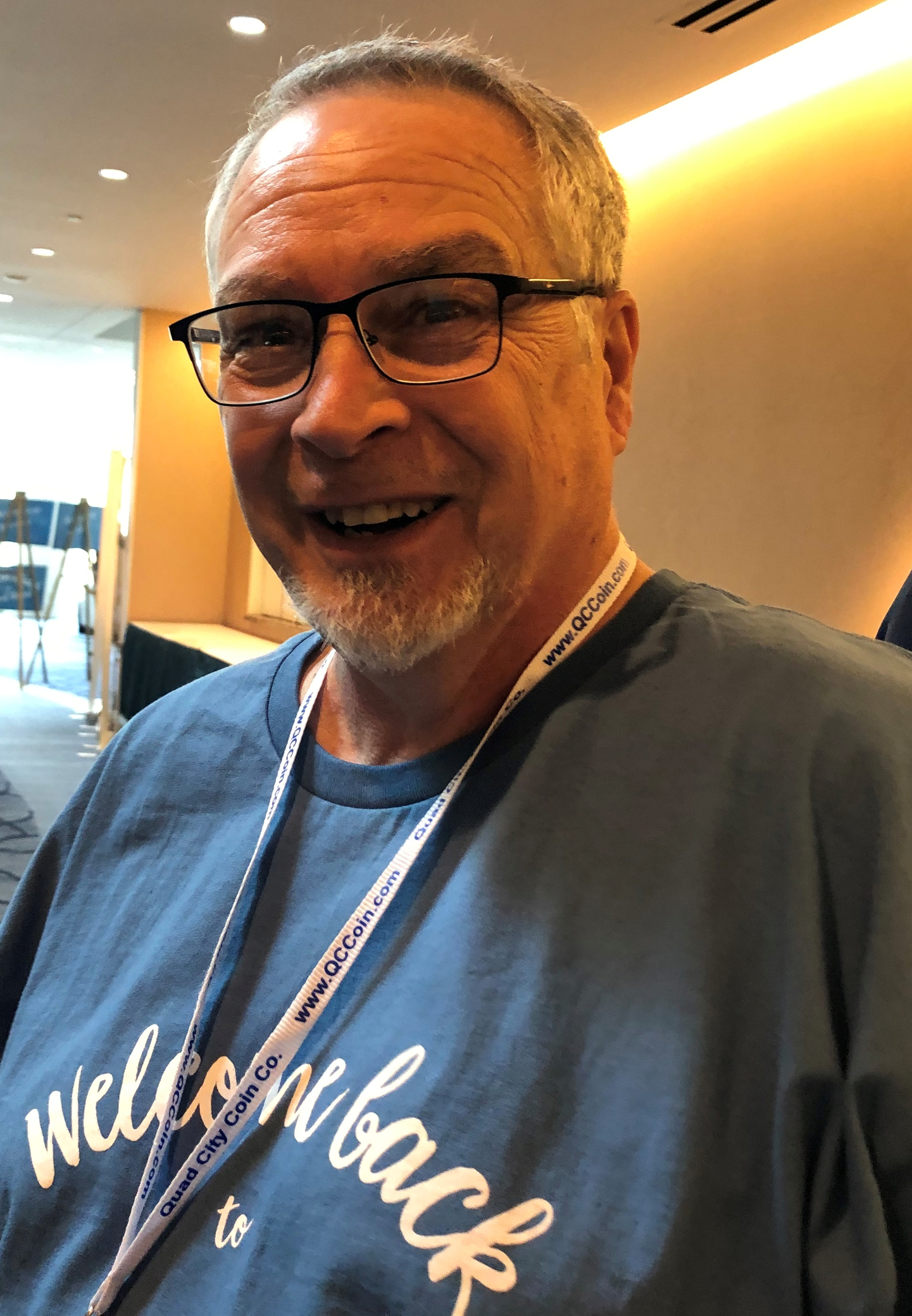 The day before, Mitch had sent me a photo of two familiar faces whom you may recognize from the FUN show. They were working hard helping set up the show – Dreama Hurst and Cindy Wibker! Mitch said they and a few other FUN volunteers were invaluable in helping prepare the show!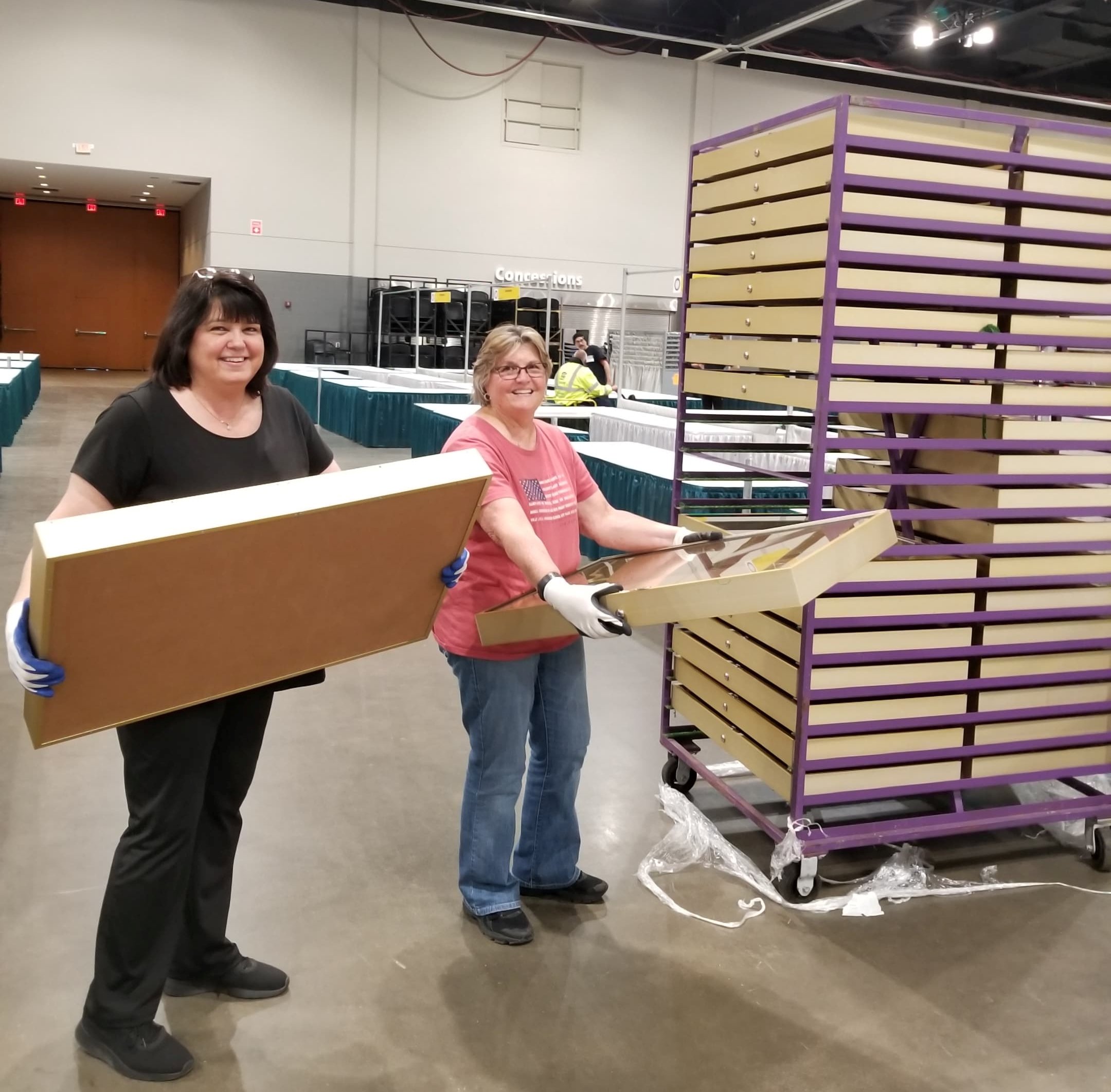 So all non-PNG folks had to exit the bourse by 1:30 so that some of the PNG dealers could move to their regular tables. Then at 2:30, the rest of the table holders were let in to set up.
After I set up my table, I walked around to see if I could find some more Pretty Pennies, which I did! I ended up buying more coins at this show than I ever have at a single show, and I also sold a ton of coins as well. These are the coins I acquired throughout the show (less of course the ones that went to new homes during the show!)
I gawked at the amazing "Big 4" coins at GreatCollections' table.
I met Justin Waddell at the hotel bar earlier and we had a great time talking coins and in particular, he told me he had both of the only two known beautiful Indian cent proofs struck on white metal. Being a lover of Indian cent errors, I couldn't wait to see them, so he stopped by my table and showed me the PF66+ Cam specimen (which was not for sale) – boy, was I was drooling over this amazing piece! He later showed me the PF65 piece he had for sale and I seriously considered figuring out a way to purchase it.
Soon, it was wine time – these are the two bottles I brought (Del Dotto Cave Blend and my go-to favorite Rombauer Zinfandel, along with a show staple box of Cheez-It crackers!
After the show ended on Wednesday, I was going to head over to the riverboat casino in Elgin, but my Uber driver suggested I check out the Rivers Casino in Rosemont near the airport since it was nicer and closer. I agreed it was very nice, good sized, and had several of my favorite games. I look forward to going back when I'm in Rosemont for the ANA!
Thursday morning the show opened to the public – and wow! no one could believe the amount of people who were waiting in line to get into the show! Yes, they had some backlog at the registration table, but it soon got worked out and things seemed to flow more smoothly and faster, and it didn't take that long before everyone was through the doors!
When I got to the show, I ran into Ben Franklin!
A guy offered me this AMAZING Indian cent proof and I was thrilled to purchase it from him. it's one of the most gorgeous "brown" proofs I've ever owned and is completely cameo in hand without even putting it under light. Needless to say, it didn't last very long and was sold within an hour to one of my customers who was specifically looking for toned proofs!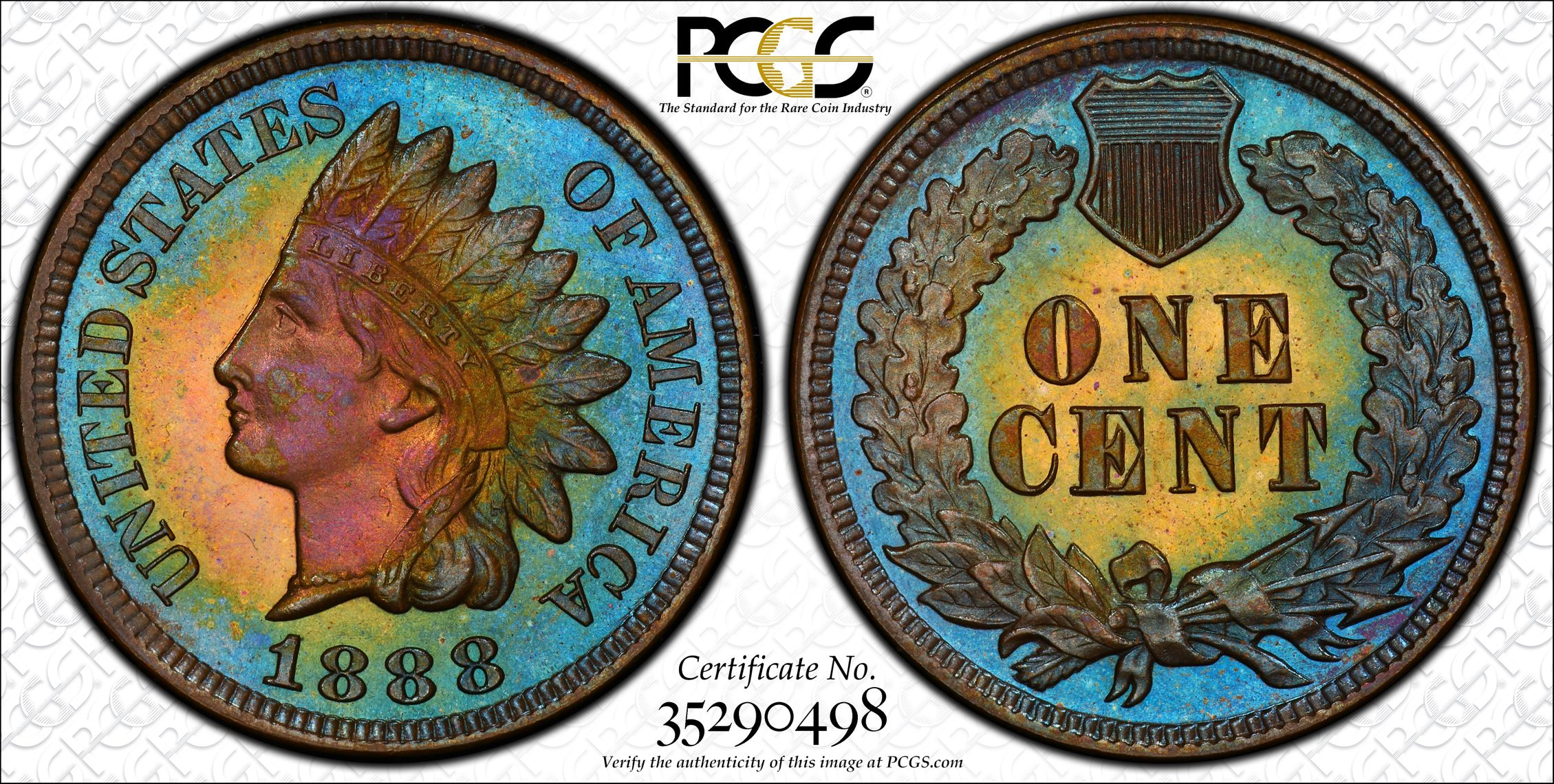 I also bought a few coins from Justin (mentioned earlier), including this beautiful 1868 Indian cent proof with a rotated die "medal strike" – again, it didn't last very long either!
Forum member BidAsk stopped by for a photo op

One of my favorite vest pocket dealers is this young man, Eric Lindholm. He is so smart and sharp, and one of the nicest people I know! I like to give him a list of coins I'm specifically looking for and he scavenges the entire bourse floor for me. He really is an amazing young man and so enjoyable to work with!
This is one of my most charming, sweet, kind, enthusiastic and gracious customers – Bob Radford. Every time he buys a coin from me, he lets me know how excited he is to add it to his collection. And to top it off, he showed up at my table with TWO bottles of very yummy wine – one from Paseo Robles and one from Columbia Valley in Washington – he even remembered to bring plastic wine glasses!!
And this is Bob with Mike Bureny/Morgandollar78
Heather Boyd (PCGS Director of Marketing and message board moderator) and Chris Demoray (Director of Sales) stopped by my table and introduced themselves – even though we all know who Heather is, I'd actually never met her in person. She and Chris are super nice, and were so very kind to let me know how much they appreciated my show reports.
Another one of my favorite people, Larry Sekulich (my exhibit instructor from Summer Seminar several years ago), stopped by to say hi and catch up. He also brought me this very appropriate wine coaster – which I promptly put to good use that later afternoon with one of Bob's wines!
After the show, we stopped by the hotel bar for a cocktail before we headed off to dinner and ran into Andy Lustig/MrEureka and PCGS's Curtis Mease
Then we had dinner at Chicago Prime Steakhouse – wow! it was fantastic!!
This is my happy place!
These are some of the appetizers we had
While we were having appetizers, one of the waiters brought me a glass of wine out of nowhere. Then he pointed to a couple across the room, and I understood. It was a fellow wine lover dealer friend, Jeff Wuller at Arrowhead Coin and Jewelry in Arizona, with whom I set up next to at the Tukwila show – he had sent a glass of wine over to me which was AMAZING! So when I went over to thank him, I couldn't believe that it was a VERY DELICIOUS Caymus cab!
So I shared a taste of the Caymus with a couple people at my table taste it, including Matt Chapman who usually prefers beer, and he loved it so much that he bought a bottle for the table (the restaurant price was $200/bottle!). But I have to say, it was one of the most yummiest wines I've had in a long time!
Then, when we had finished that bottle, because it was so very amazing, Ron and I decided to go in together and buy ANOTHER bottle of Caymus for the table! It's kind of like drinking good wine begats drinking more good wine!
By the way, and perhaps due to the great wine, I forgot to take photos of the delicious steak we had. I wish I had taken a photo of the huge tomahawk steak that 3 people split – everyone said it was delicious!
On Friday, I walked around and took a few photos before the public was let in.
PCGS folks hard at work

When my lightbulb burnt out, CSNS David Harper was very kind enough to retrieve a new one and even install it for me!

Two very hard-working ladies, Billie Blattel and her daughter Amanda Blattel with CDN Exchange

Isaiah Hagerman/Vamsplus stopped by and showed me an interesting medal in a huge PCGS holder

Tony/Earlyaurum also stopped by

Robert/Rob41281

This enthusiastic young man and his very supportive mom bought a couple Indian cents from me

My dealer friend David of DJ's Coins in Idaho

Jack Smith

Carol, Bob Campbell's wife, from All About Coins in Utah

Ben and me signing the Declaration of Independence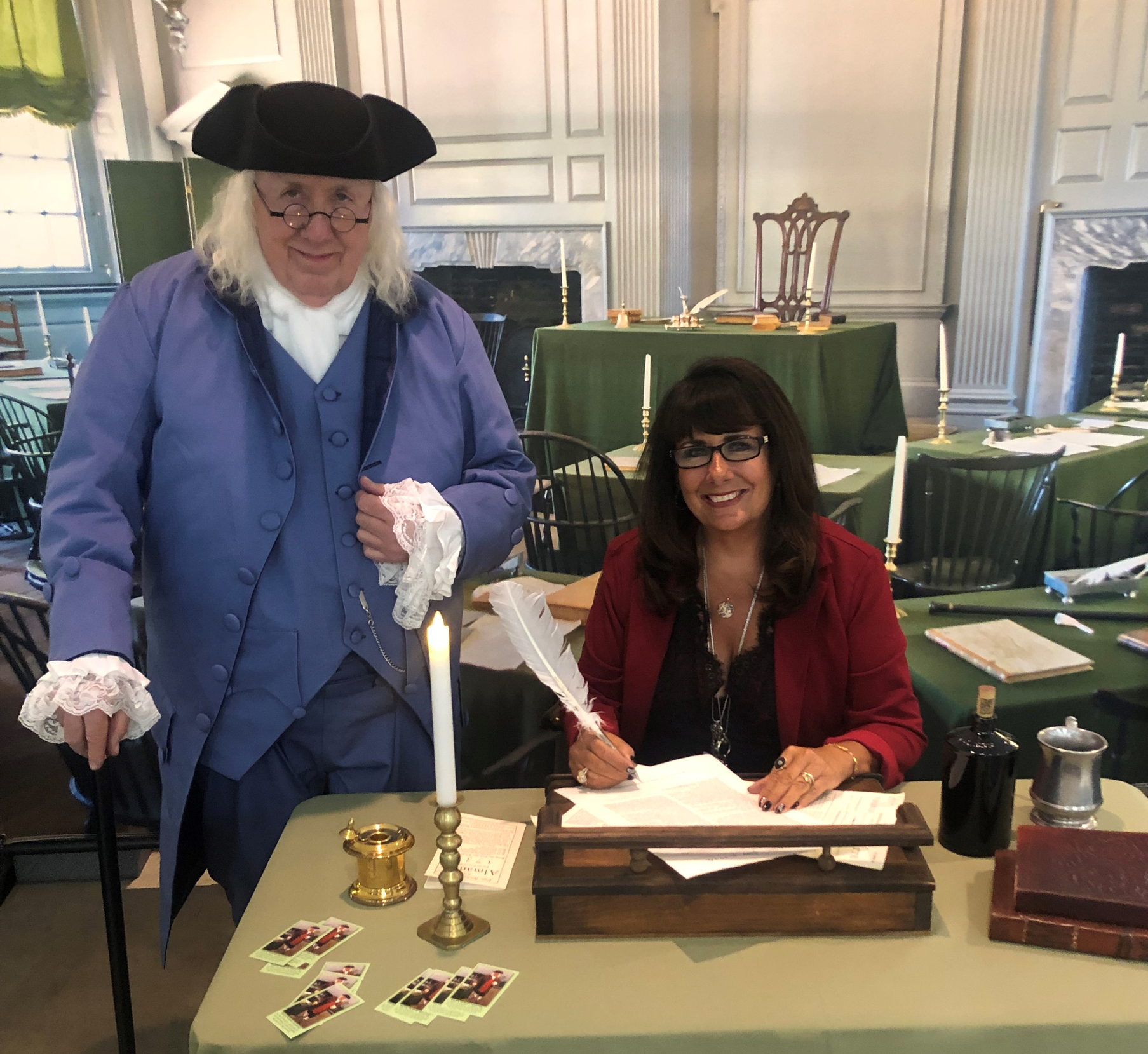 CSNS Message Center helpers, Cliff Mishler and David Harper

Mitch Ernst and his son Sam, without whom the show wouldn't go on!

A few pics around the bourse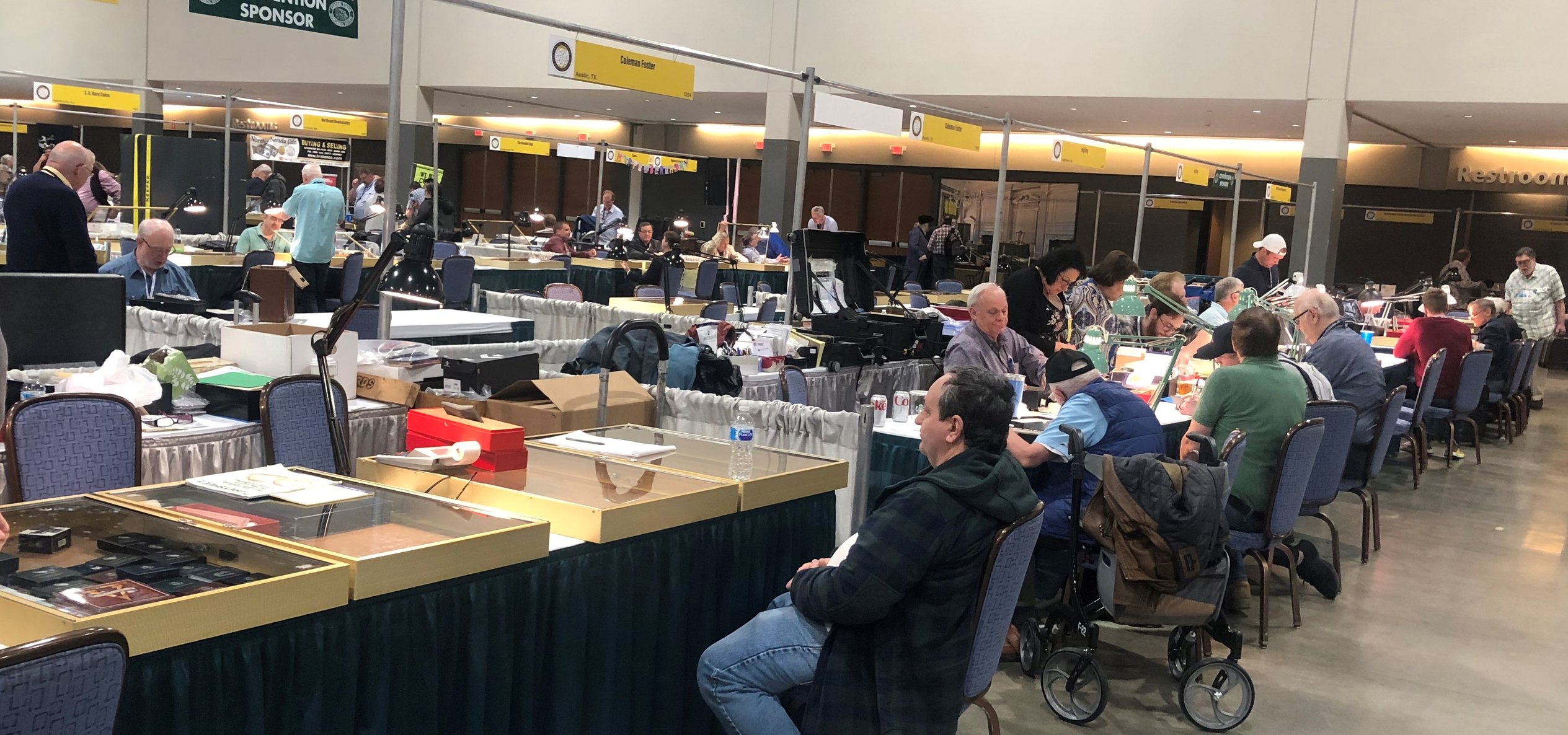 As many of you know, this show had to famous Large Cent collections that were "dueling" each other. They were amazing to see side by side and it was had to tell and a very close call as to which one was "better" but I understand the Walter Husak collection won out by a mere 4 votes! (Thank you Curtis Mease for providing some of these photos)
I also found some more very fun penny exonumia for my personal collection, including a set of interesting repousse/pop out pennies, and more prisoner-made penny teapots, another bracelet with prisoner-made penny charms, and a really neat small buffalo pan from the Pan Am Expo (to go along with my encased penny frying pans from the same Expo)
I also bought a really neat scarce Conder token (Warwickshire D&H 128) with a buckled die and large die cracks for my personal collection – messed up planchets are one of my favorite types of Conder tokens to collect!
On our way out to dinner Friday night, we came upon a wedding party who was apparently having their reception at the hotel.

Then we took the hotel shuttle to a highly recommended Greek restaurant, Meze, which was not far from the hotel

They had this huge octopus on ice right when you enter the restaurant!

This is the same group of folks from Daniel Frank Sedwick Coins (who specialize in shipwreck coins) with whom we dine with a the Black Olive Greek restaurant in Baltimore. We tried to find a suitable substitute Greek restaurant at this show, and while the wine and atmosphere was nowhere near that of the Black Olive, I can say that the food was equally as good!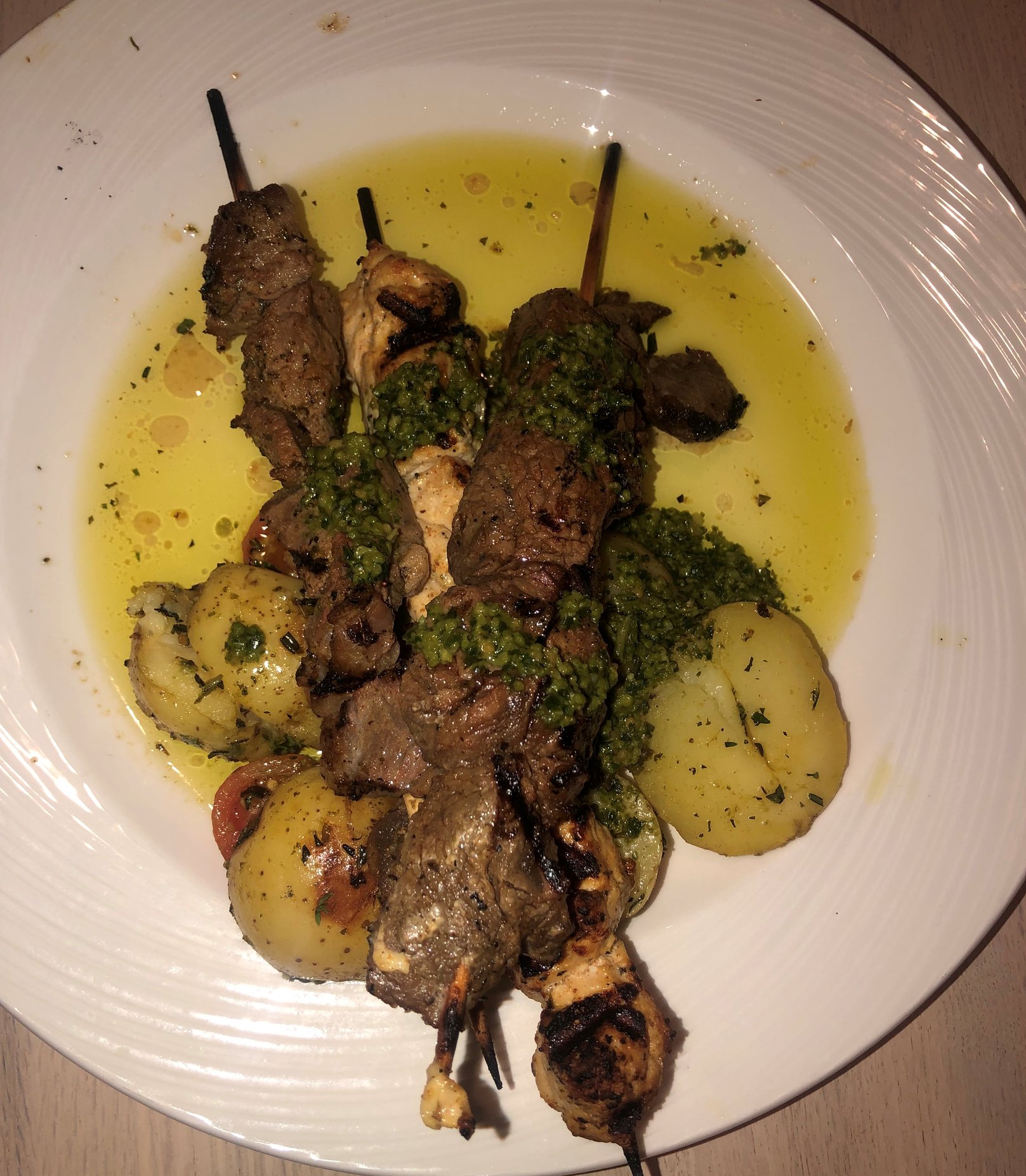 After we arrived back at the hotel, a few of us stopped by the old bar that they had just opened for "one last hurrah" and we found it hopping with lots of folks from the show!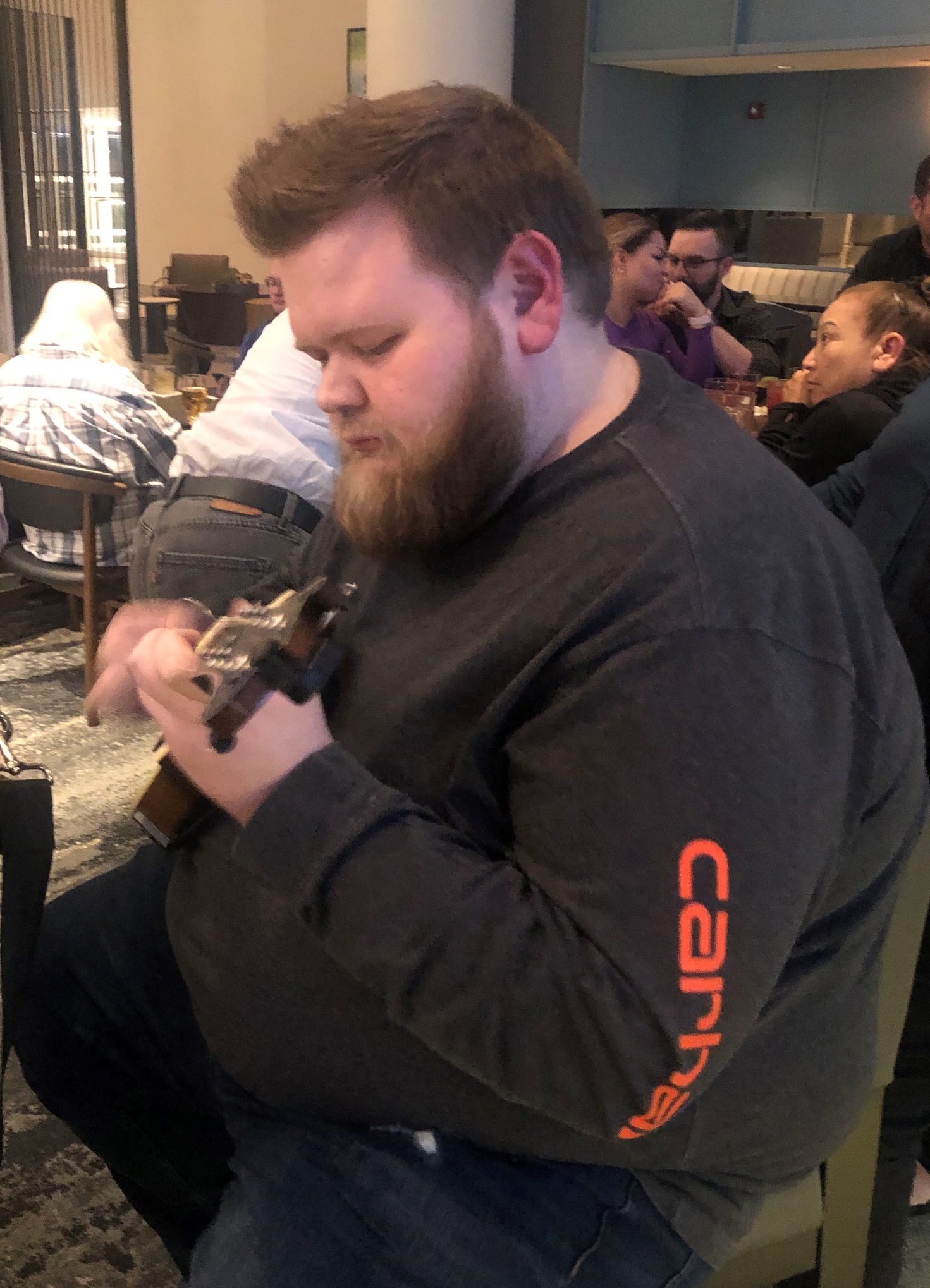 Saturday morning was relatively quiet at the show, though it is always refreshing to see a lot of families bring their children to the show!
Even though we weren't able to get together for dinner at this show, my very favorite (not to mention beautiful) couple stopped by my table – Dino and Lisa Koromvokis!
Soon, once again, it was time to pack up and head to the airport. We had all been hearing about lots of flight cancellations due to the impending severe storm (and nearby tornado) that was predicted to arrive that evening. I was travelling with Karl and Joanne and we all had our fingers crossed that it would pass before our flight, but alas, it didn't. Our flight to OC was delayed, delayed, delayed, then the ugly red CANCELLED appeared on our app! So we scrambled for new flights and while I'm on the phone trying to get a new flight later that night, the representative said there were several middle row seats available on a flight to OC, so I booked a seat and just in the time it took to do that and then pull up my friends' account, all those seats were taken! So we went to the Admirals Club and where the reception reps there can help with rebooking flights. We eventually found a new flight that would leave later than night to LAX with enough seats for us and decided to take a chance that it wouldn't get cancelled and booked it. I then called my son and asked if he would pick us up, even though we wouldn't be getting in until almost 1am. LA is an hour from OC and he was such a trooper and said he didn't mind at all coming to get us.
Here are some pics of the storm I took at the airport while waiting for our flight
It was a very long and stressful day dealing with our flight situation, and we were all pretty wiped out!
But we know we are very fortunate that we were able to get a flight that night as I know there were several other dealers who weren't quite as lucky as us and had to take flights the next day. Personally, for me, this is the most difficult part about attending coin shows, but thank goodness it doesn't happen very often!
And with my hubby in Mexico at the NORRA 1000 race (no, he's not driving the race car, just helping out!), at least I had my chubby Penny waiting for me!
So all's well that ends well! And after a slew of back-to-back shows over the past few months, I have a 6-week respite until my next show, which will be here locally – the Buena Park show in mid June, followed by the Long Beach show.~~~~
Charmy's Mini April 2022 PNNA Tukwila Coin Show Report w/few Pics
I actually had not intended to do a show report for this show as I had just prepared my Baltimore report before leaving for this show, and needed some time to take care of several business and other items. However, while at the Tukwila show, I happened to pick up a few interesting items, including a low-grade complete Lincoln cent set from a fascinating 11-year old boy. Even though I did enjoy some great food and wine, I didn't take any photos so, sorry, but there won't be the usual photos of people, places and wine for this brief show report. 😉 However, I did want to share the story of the 11-year old and the other interesting items I picked up at the show.
First, another dealer brought me this old ANACS cert card and coin to take a look at. Of course, these old ANACS certification grading cards are collectible by themselves, but what was interesting about this one was that it came with the actual envelope that the coin and card were shipped back to the customer in dated 1982. I can say I've never seen one of these old original postmarked envelopes from ANACS, so I thought that was very cool. However, when I opened the envelope, out popped a 1909-s vdb coin and certification card! That was the icing on the cake!
The other interesting thing I picked up at this show was a penny "prison art" bracelet with 6 penny charms attached. I already have a few of these, but they are one of my favorite penny exonumia items to collect and hard to find intact. This one has a teapot, bell, pot, pan, iron, and a heart all made from Lincoln cents, probably in the late 1930's- early 1940's by a penitentiary inmate. I have previously done articles, presentations, and exhibits on these fascinating pieces.
Then on the last day of the show this 11-year old young man walked up to my neighbor looking to sell a complete Lincoln cent set, so my neighbor referred him to me. After speaking with this young man, I became very impressed because he was so interesting, charming, knowledgeable and very savvy for his tender age (his grandfather was also with him). The set included an authentic 1909-s vdb and an authentic 1922 No D, both in VG. I graded most of the better dates in that grade range. I asked him how much he wanted for the set and he gave me a price. So I looked up the value of a complete set in VG grade (added extra for the 1922 No D which is not usually included in a complete set), and countered with my figure and explained how I came up with my number. He considered it, then countered again. I countered with a slightly higher number than my first. He talked to his grandfather for a minute, then again countered with a number a little lower than his last. I smiled since he was so serious, yet polite, but said that I had to stick with my last offer. He again spoke to his grandfather who told his grandson it was up to him. The young man nodded his head and asked if my offer was for cash. I said sure, and we made a deal.
After I paid him, I asked him how long it took him to put this set together. He surprised me by saying about 3 weeks! I then asked him about the 1909-s vdb and the 1922 No D and he said he bought those from a reputable dealer and told me what he paid for them (he lost a little on the 1922 No D but made money on the 1909-s vdb). I asked him how much he made overall on the album and he said about $80 which wasn't bad for a 3-week endeavor for an 11-year old! The grandfather and I started chatting about how impressive this young man was, while the young man was off and running looking at another table for another deal!
By the way, it was a really great show, very busy and successful, and I especially enjoyed spending time with my brother. And of course, I always enjoy seeing all the Pacific Northwest forum members: @airplanenut , @Bochiman , and @Lakesammman and @PonyExpress8!
________________________________________________________________________________________________________________________________________
Charmy's March 2022 Baltimore COIN SHOW REPORT w/lots of Pics!
I'm so glad coin shows are back up and running! And the Baltimore show has always been a busy and fun show for me to attend and they do a great job organizing and making sure everyone has what they need. As many of you know, quality coins are going crazy right now, so it has been very difficult finding nice pieces at reasonable prices. I managed to buy several pieces, some at good prices, others not so much! I even bought a very tough rare 1888/7 S-1 Indian cent which I was very pleased to acquire for my inventory. I also found a couple very cool Indian cent errors for my personal collection. And of course, in addition to buying and selling coins, as usual, I enjoyed seeing my good friends, having some great food and wine and even playing at the Horseshoe casino!
So, I left Orange County's sunny skies on Tuesday – for noise abatement purposes, they take off west and fly over the ocean, then turn around and head back east. Viewing the coastline from the air is always a beautiful site!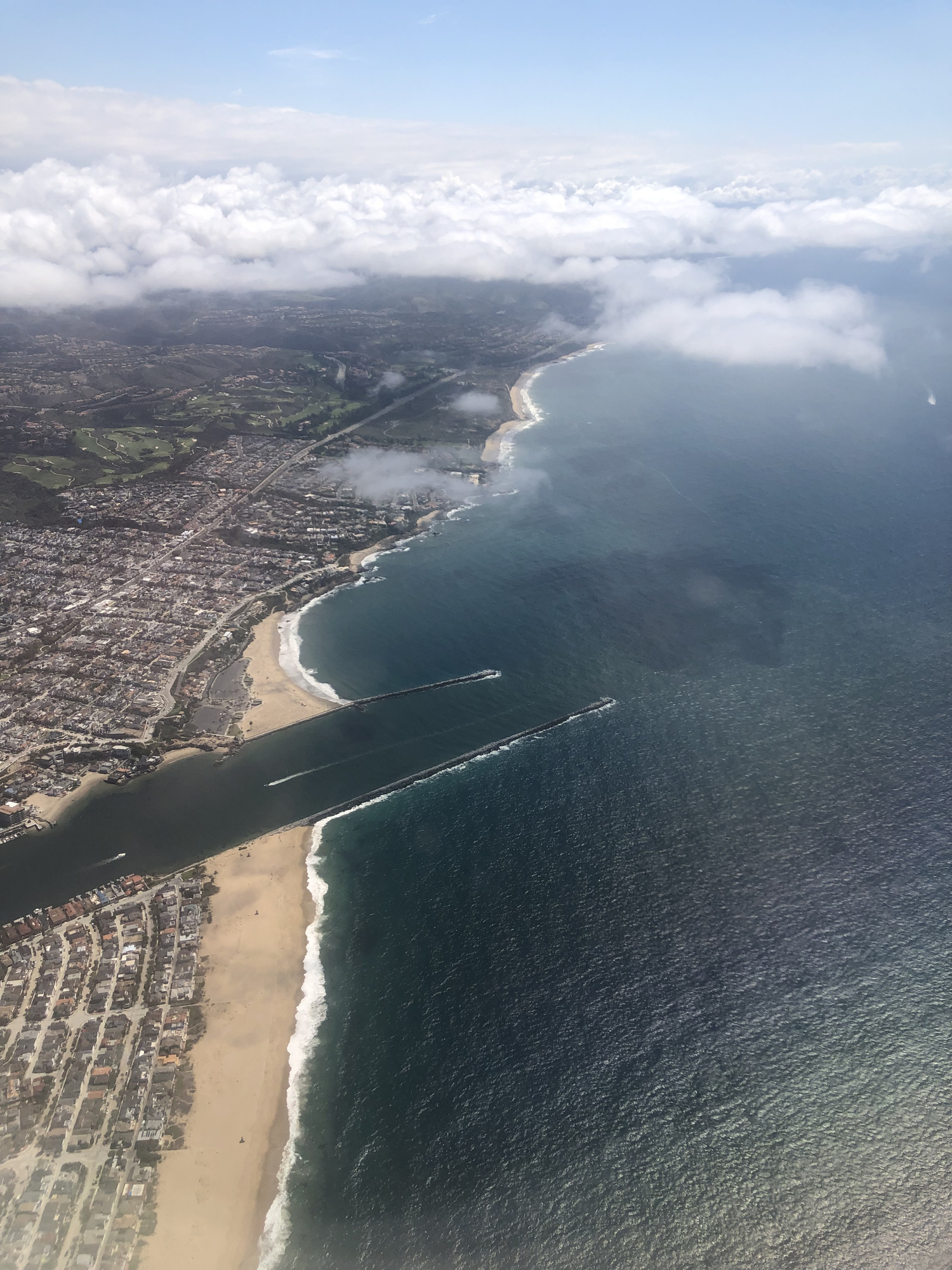 After a long day, changing planes in Dallas, I finally got to Baltimore late Tuesday night, grabbed my bags, and my awesome regular driver was already there waiting to take me to my hotel.
The next morning I headed over to the convention center to do some business at the two dealer trading rooms where I spent a couple hours and ended up buying quite a few nice coins.

These are the coins I bought a the dealer trading rooms and throughout the show

I was also very excited to add two really neat error cents for my personal collection!

Stacks was also open for auction lot viewing
So after doing business in the trading rooms, I took my bags to security and headed to the Horseshoe Casino for a few hours.
I was playing this new poker game called Criss Cross
And the guy sitting right next to me got a Royal Flush and won over $30,000! Everyone was shocked since the odds are pretty low of that happening!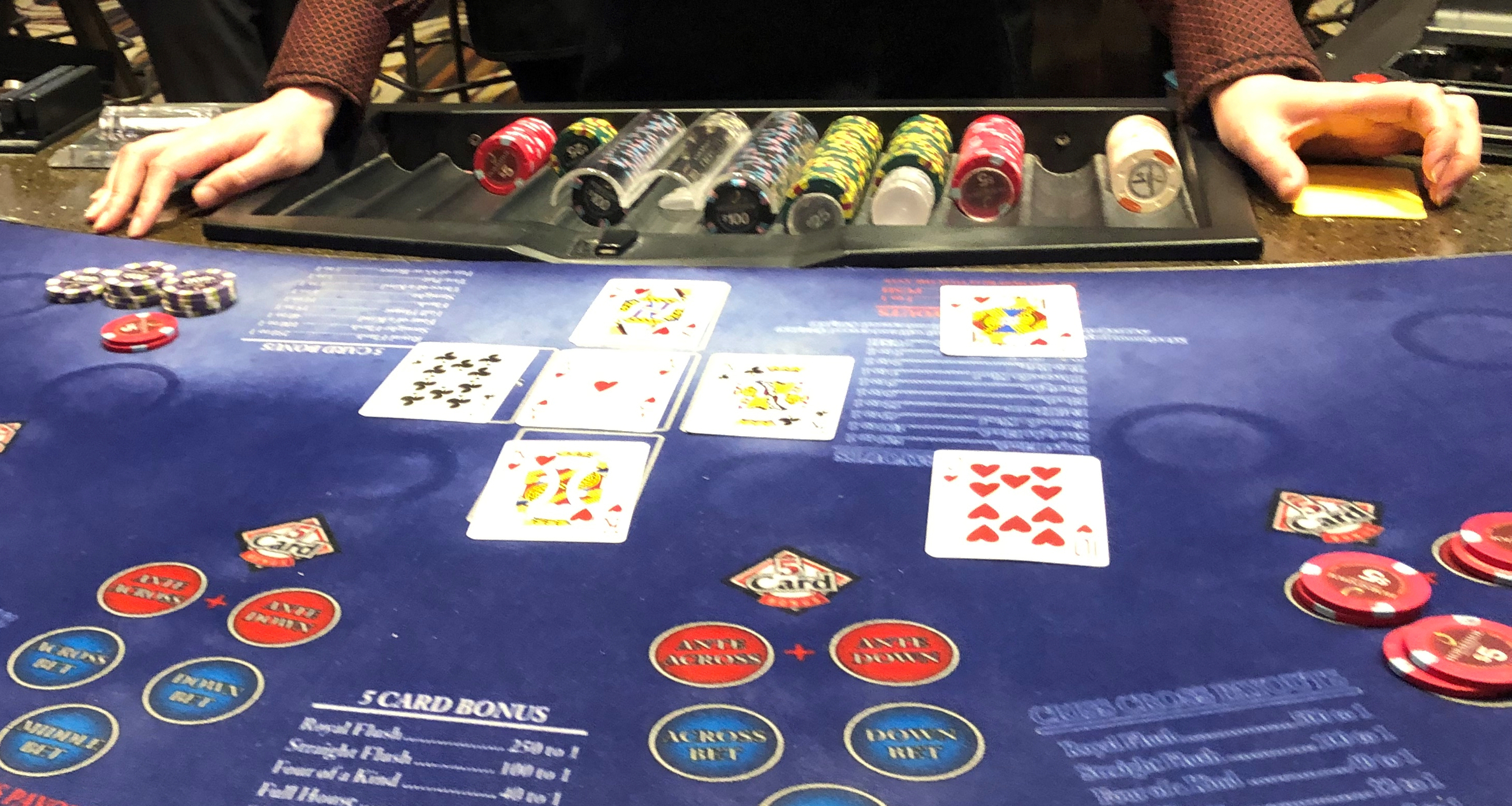 Then about an hour later, I got quads – that was very sweet (though not nearly as profitable as a Royal Flush), but I definitely was equally thrilled!
Later that evening I got together with my usual crew – Mark, Ron and Neil (and one newbie, John) for dinner at La Tavola in Little Italy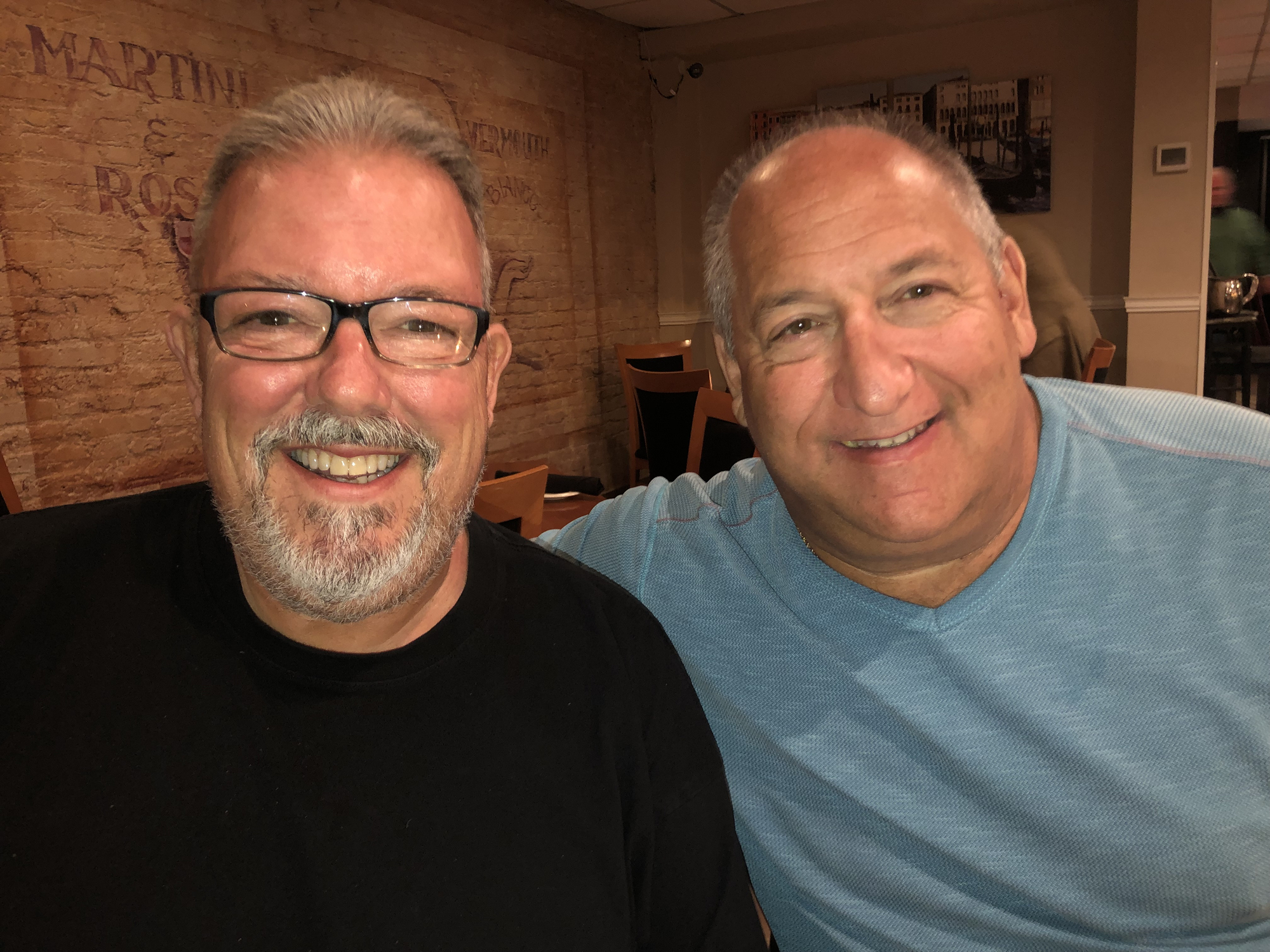 The food there is excellent, and so is the wine!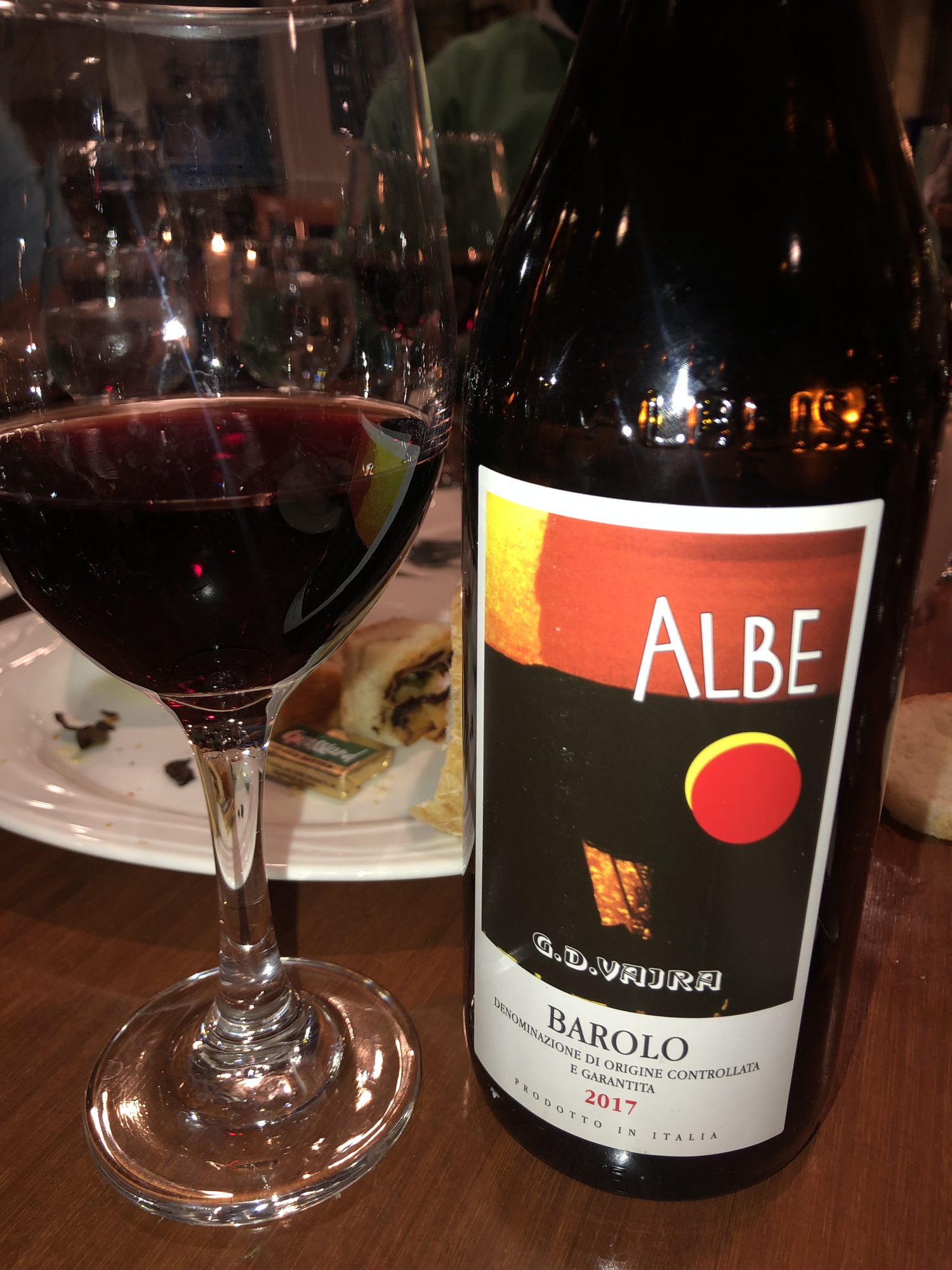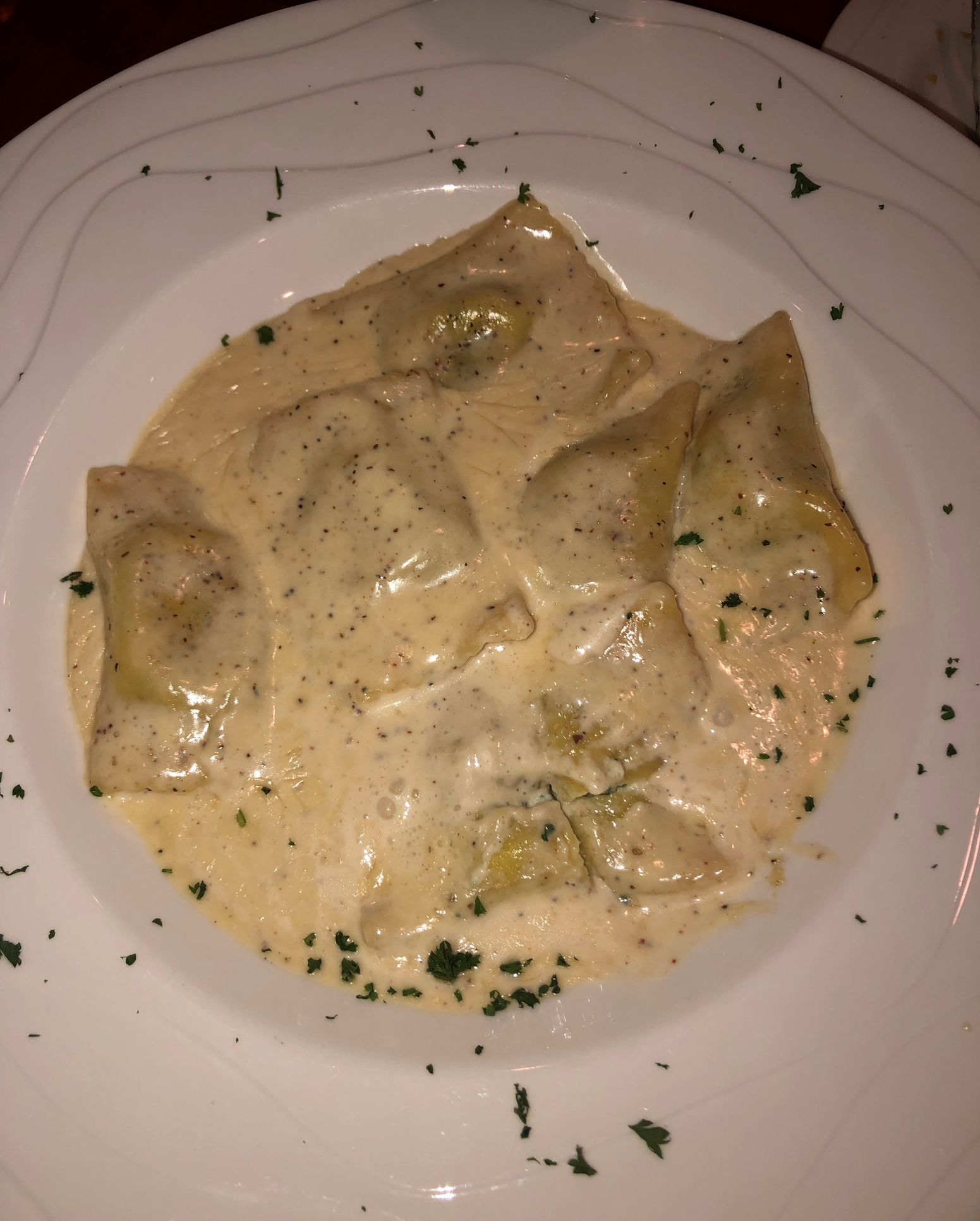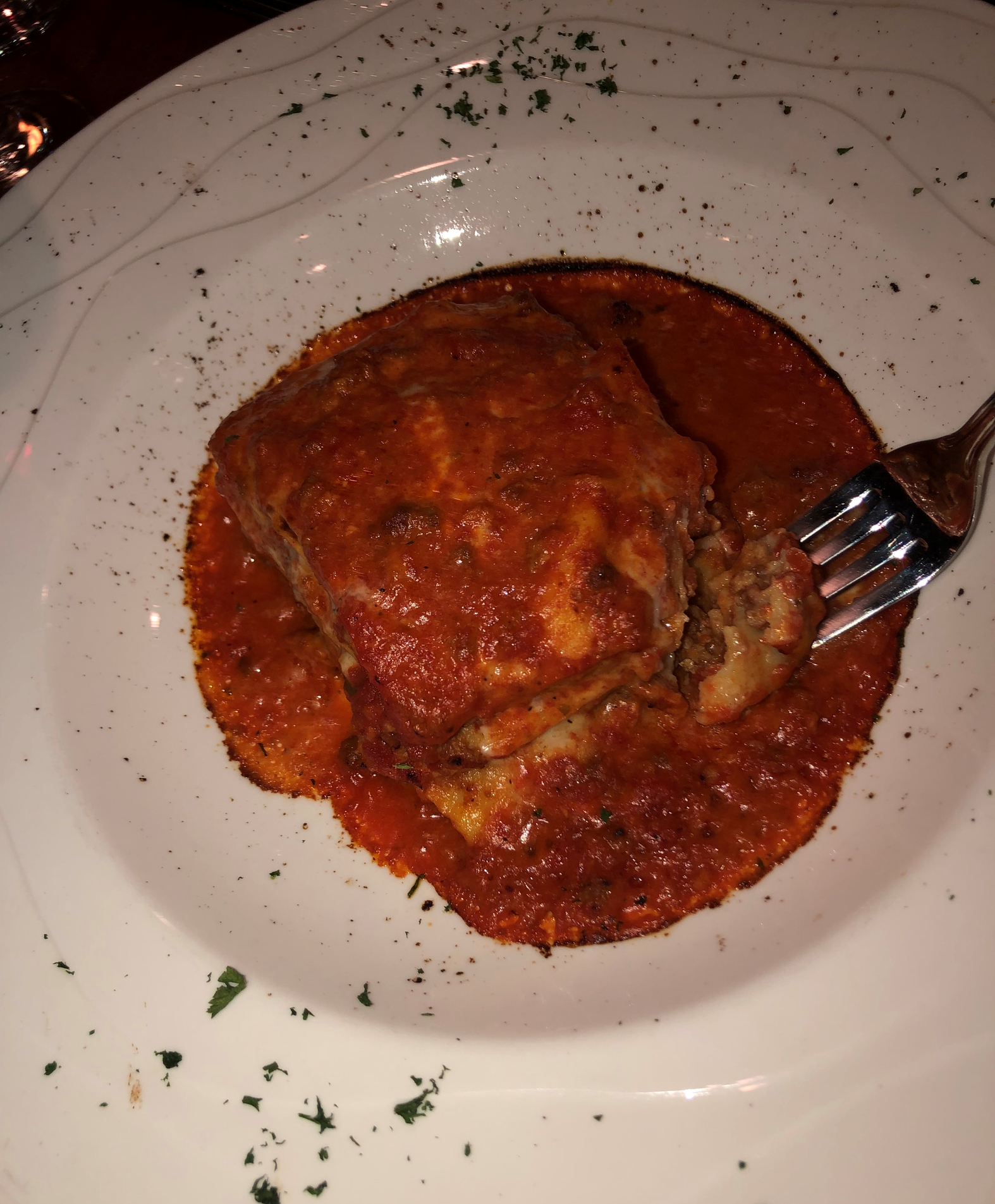 You know the food is good when you see other groups of dealers at the restaurant as well.
I stayed at the Sheraton which is attached to the convention center, so it's a short walk to the convention center.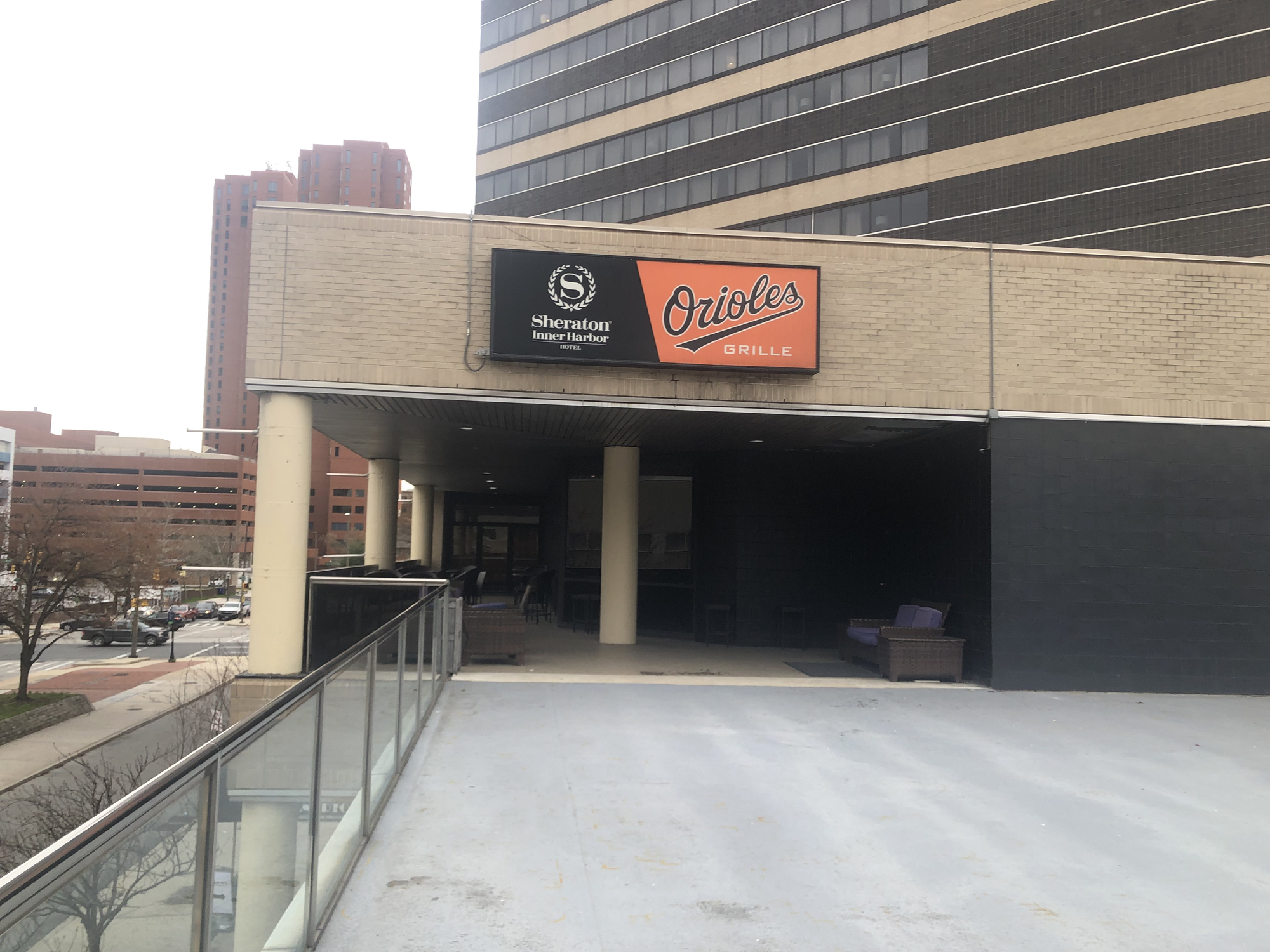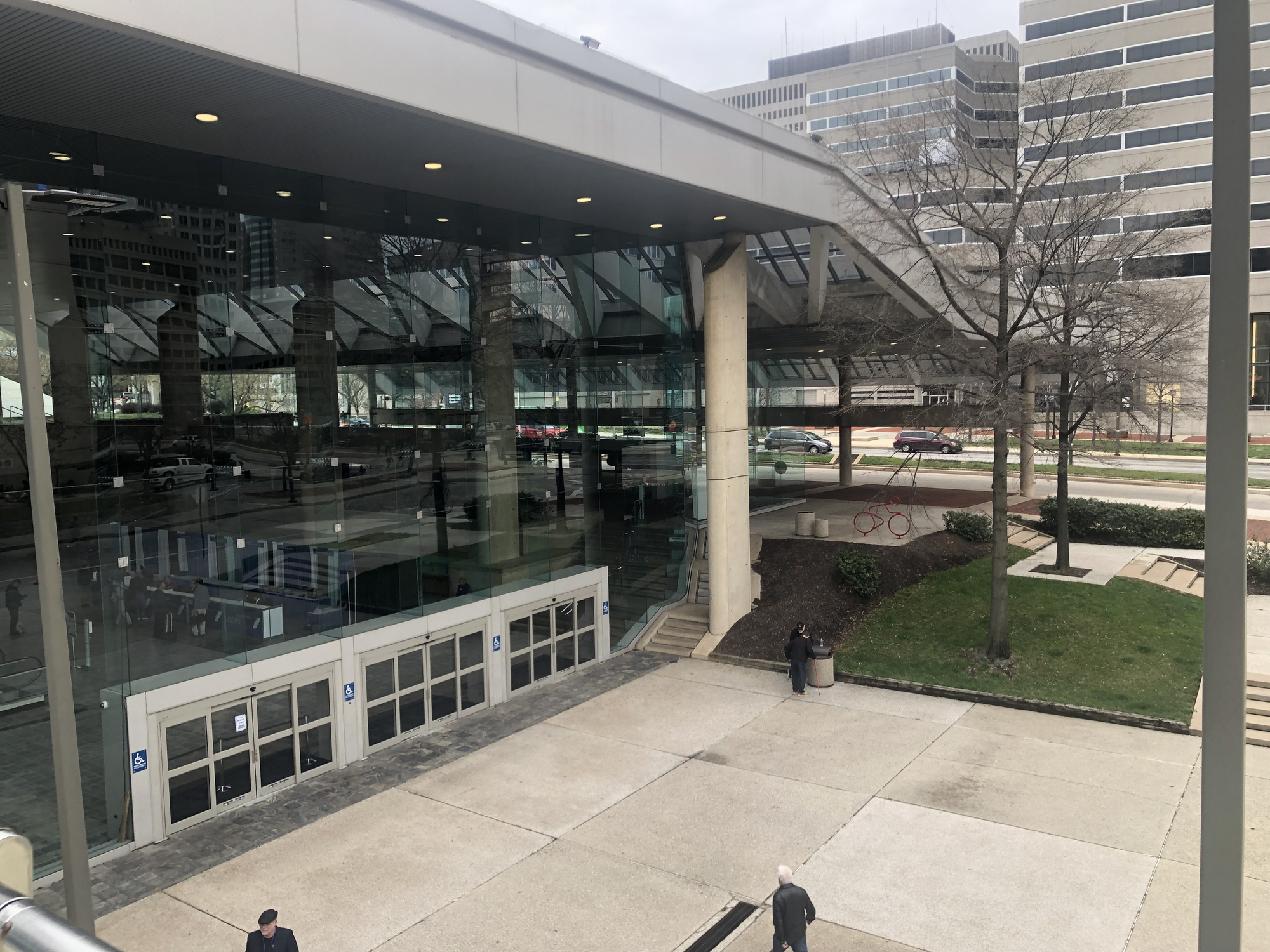 I arrived for the 8 am dealer set up. There were lots of other dealers already waiting to get in.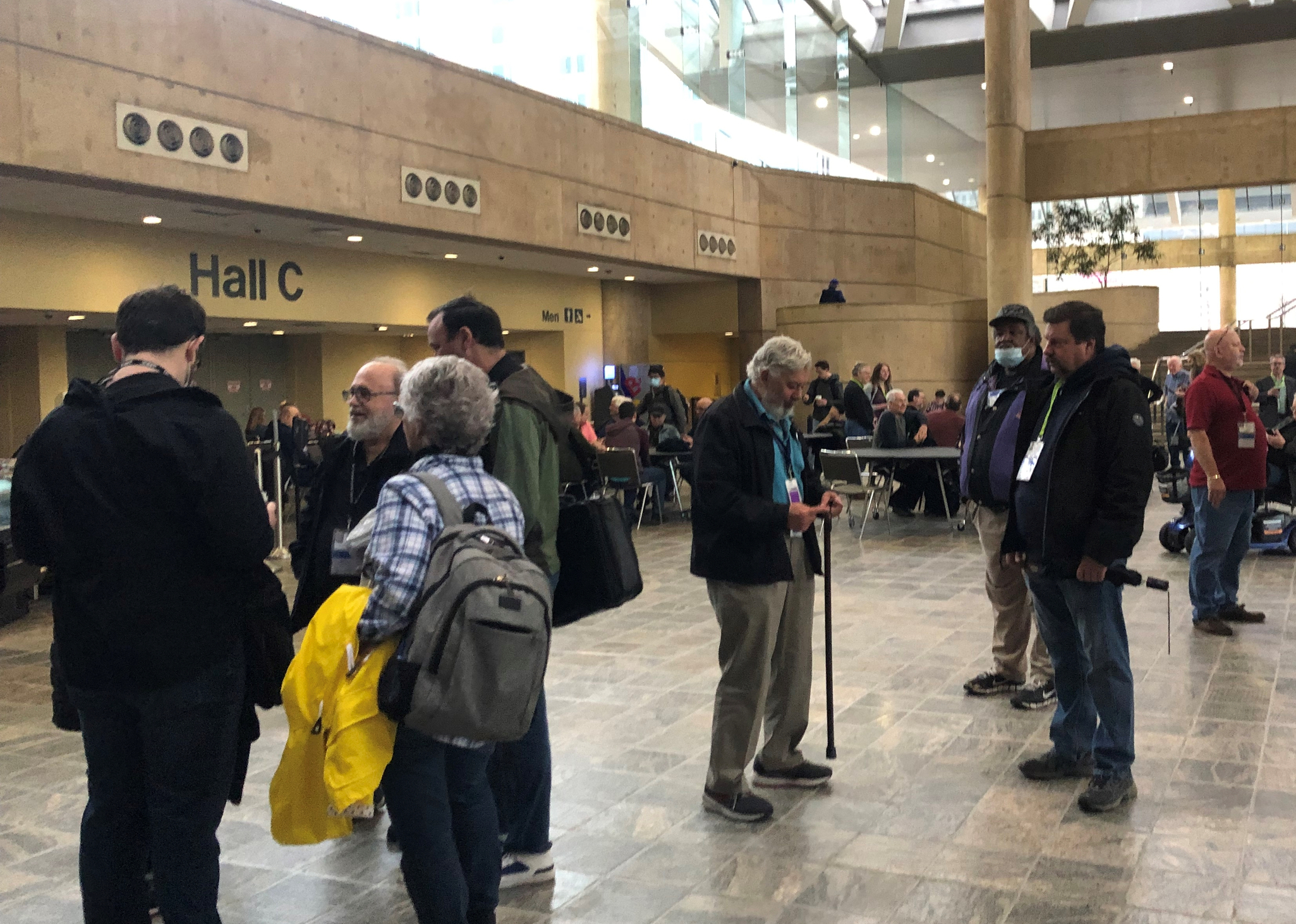 I noticed my ad in the show program!
The doors opened to the public at noon and there was quite a group of folks who streamed in, and soon there was the welcomed buzz in the room.
In between customers, David stopped by my table to show me these interesting old certified coin cards for a 1922 Weak D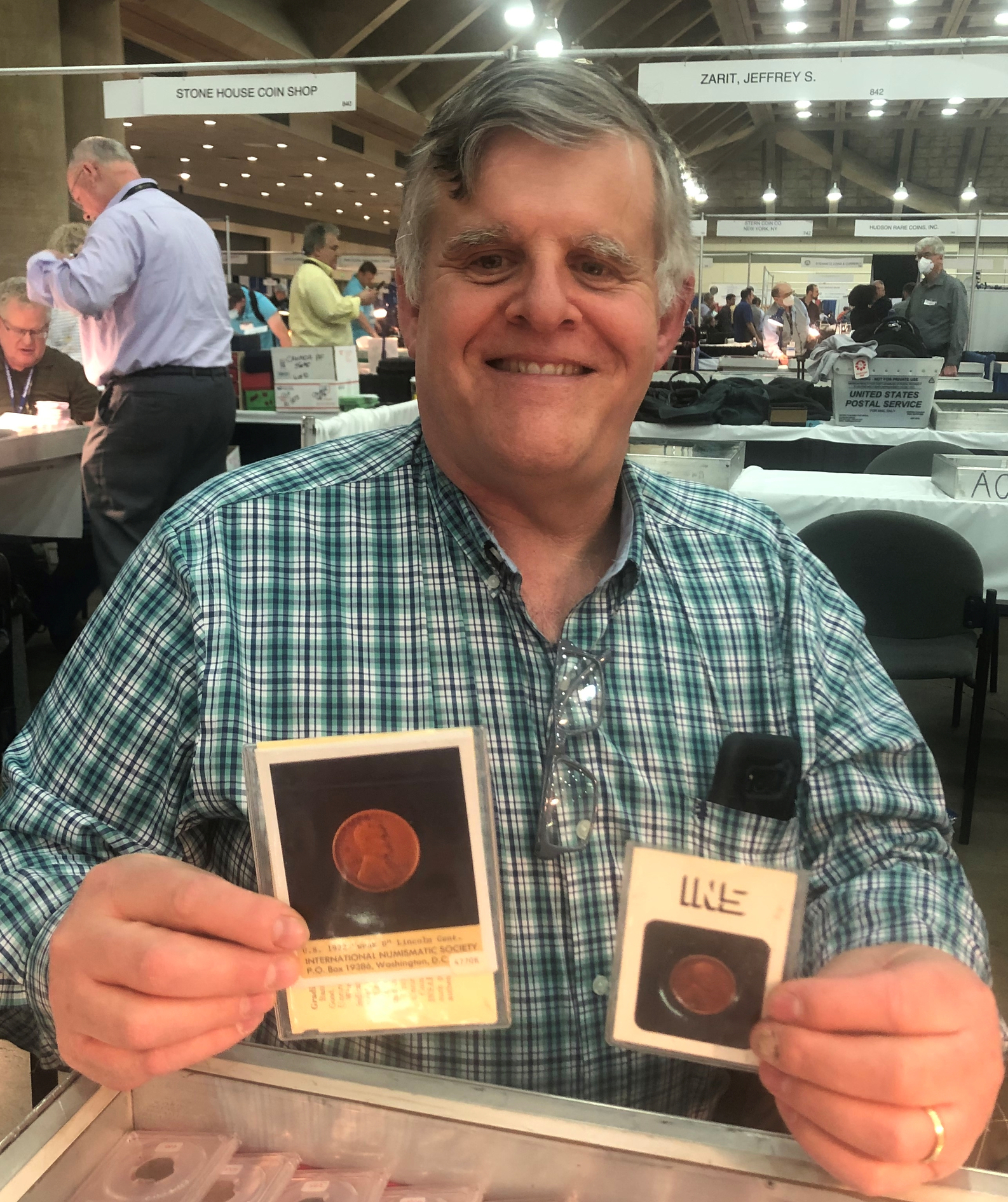 I always check with John Krajelvich to see if he found any interesting penny exonumia for me as he often has an envelope of goodies set aside for me, but unfortunately he said "not this time."
Curtis Mease of PCGS stopped by and gave me this beautiful commemorative medal
I stopped by the Stacks Bowers table and Wayne Berkeley, Brian Kendrella, and Vicken Yegparianto showed me some amazing coins they had on display that will appear in upcoming auctions.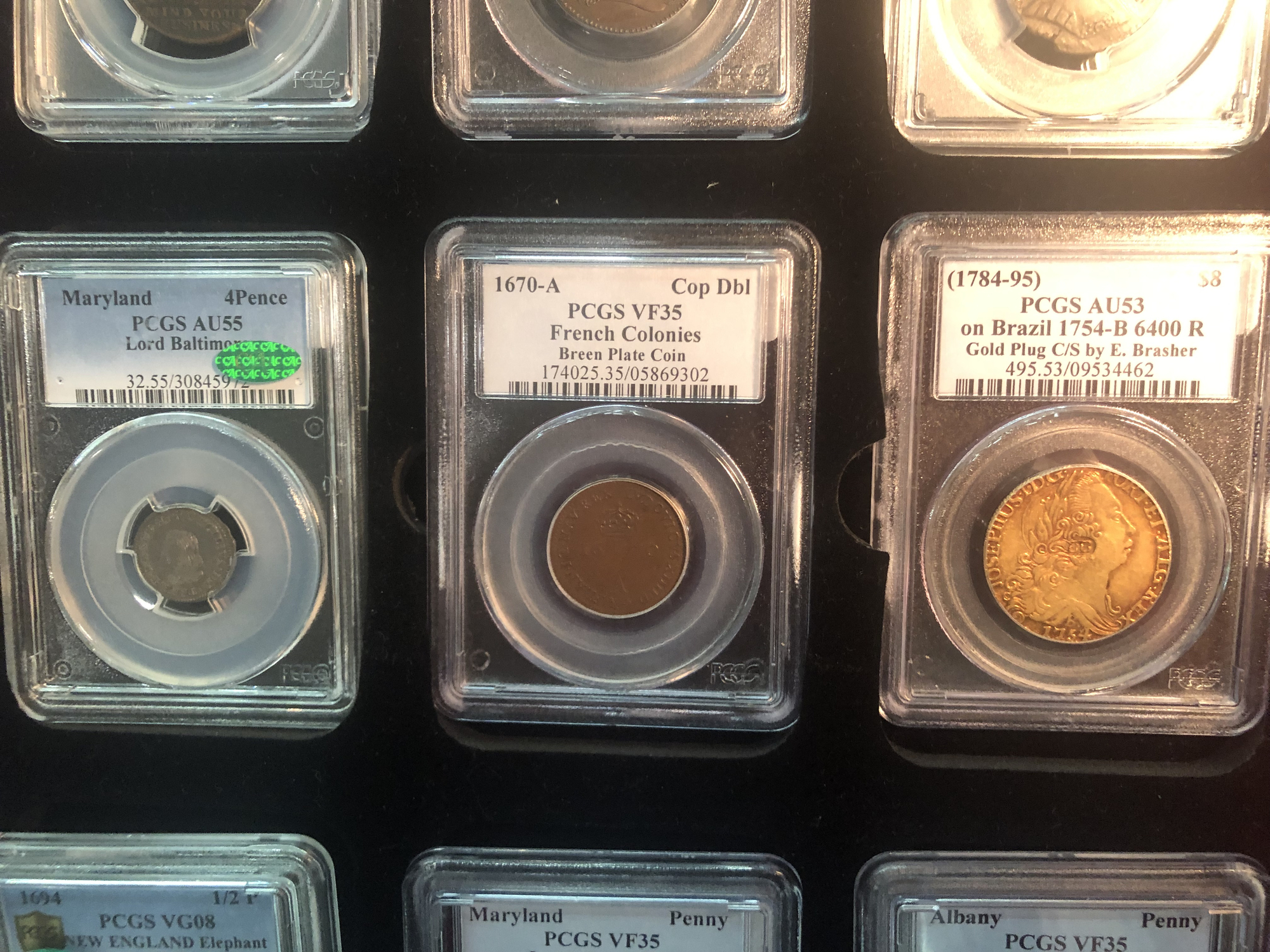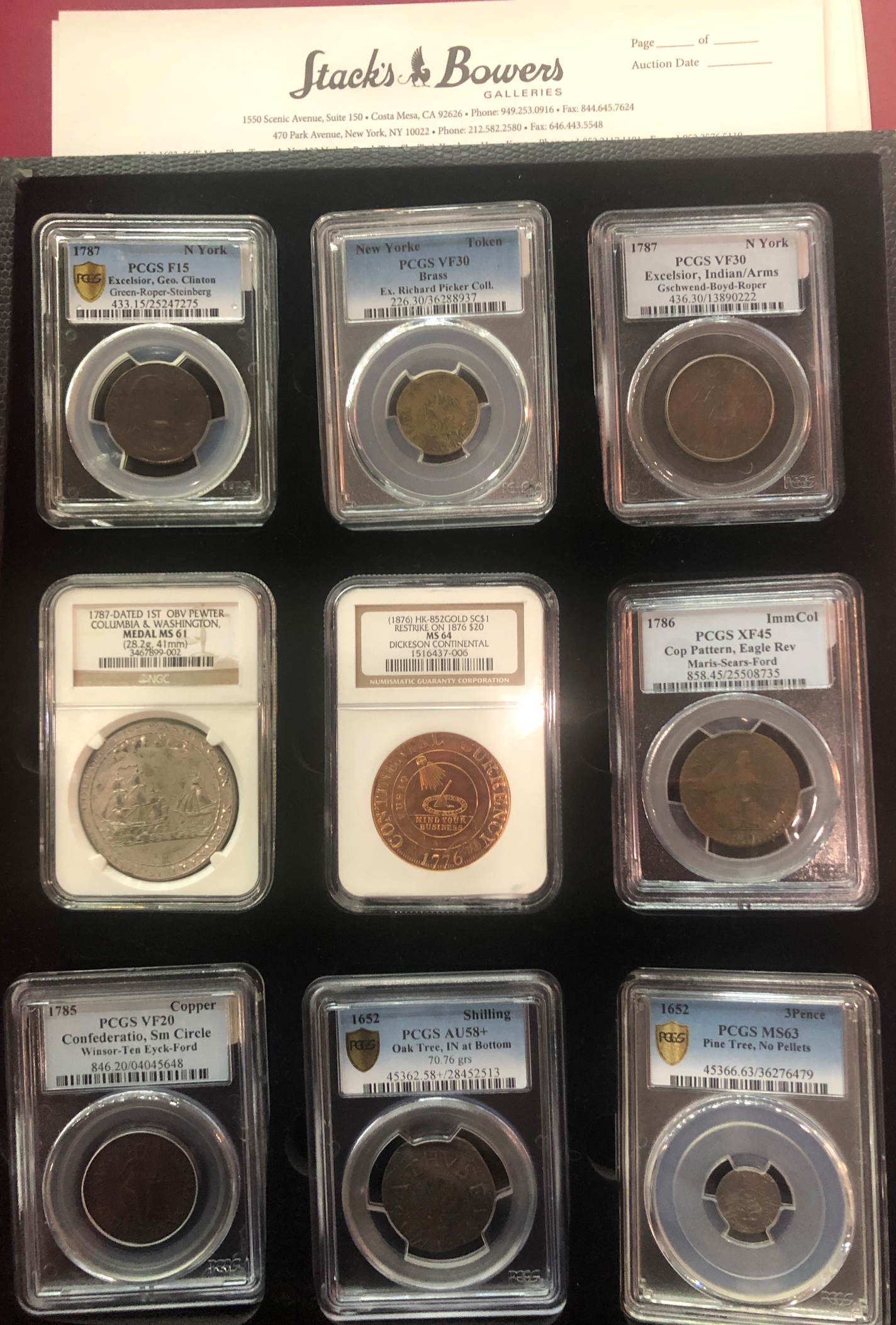 Soon it was time to open up one of the bottles of wine I had brought – one of my favorites, Rombauer Zinfandel!
For dinner Thursday night we headed over to the Capitol Grille – another place that has amazing food. We had another new face in our crew – meet Anna, a relatively new female coin dealer who, like me, sets up on her own!
Their lobster bisque was one of the best I've had, as was their filet with oscar-style topping. And the wine we chose went perfectly with everyone's dinner!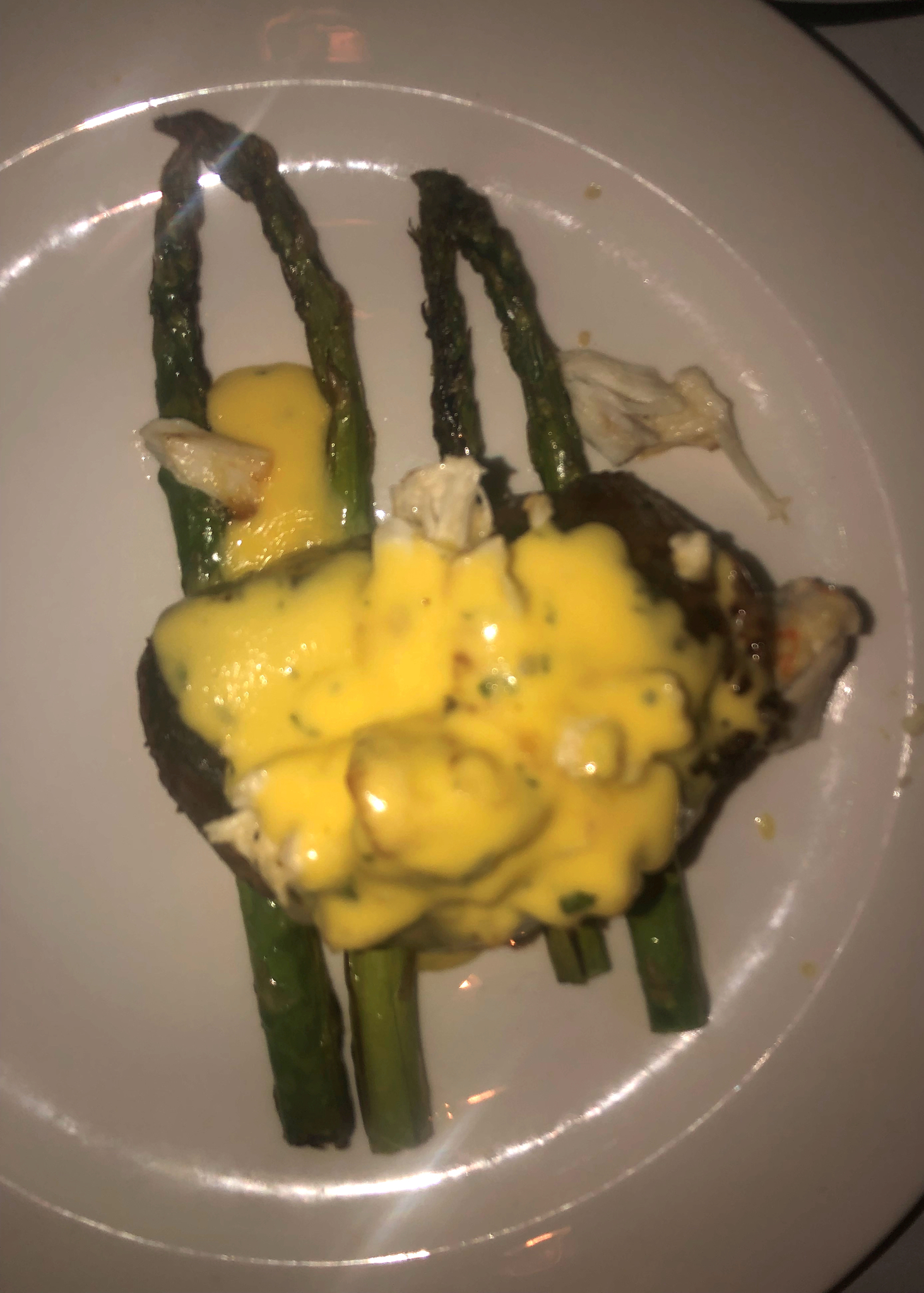 I arrived at 9 when the show opened to the dealers – registration was ready to go and there was already a small group of collectors waiting to for the show to open to the public.
I took a few minutes before the public came in to take some photos around the bourse floor.
Jacob from Coin World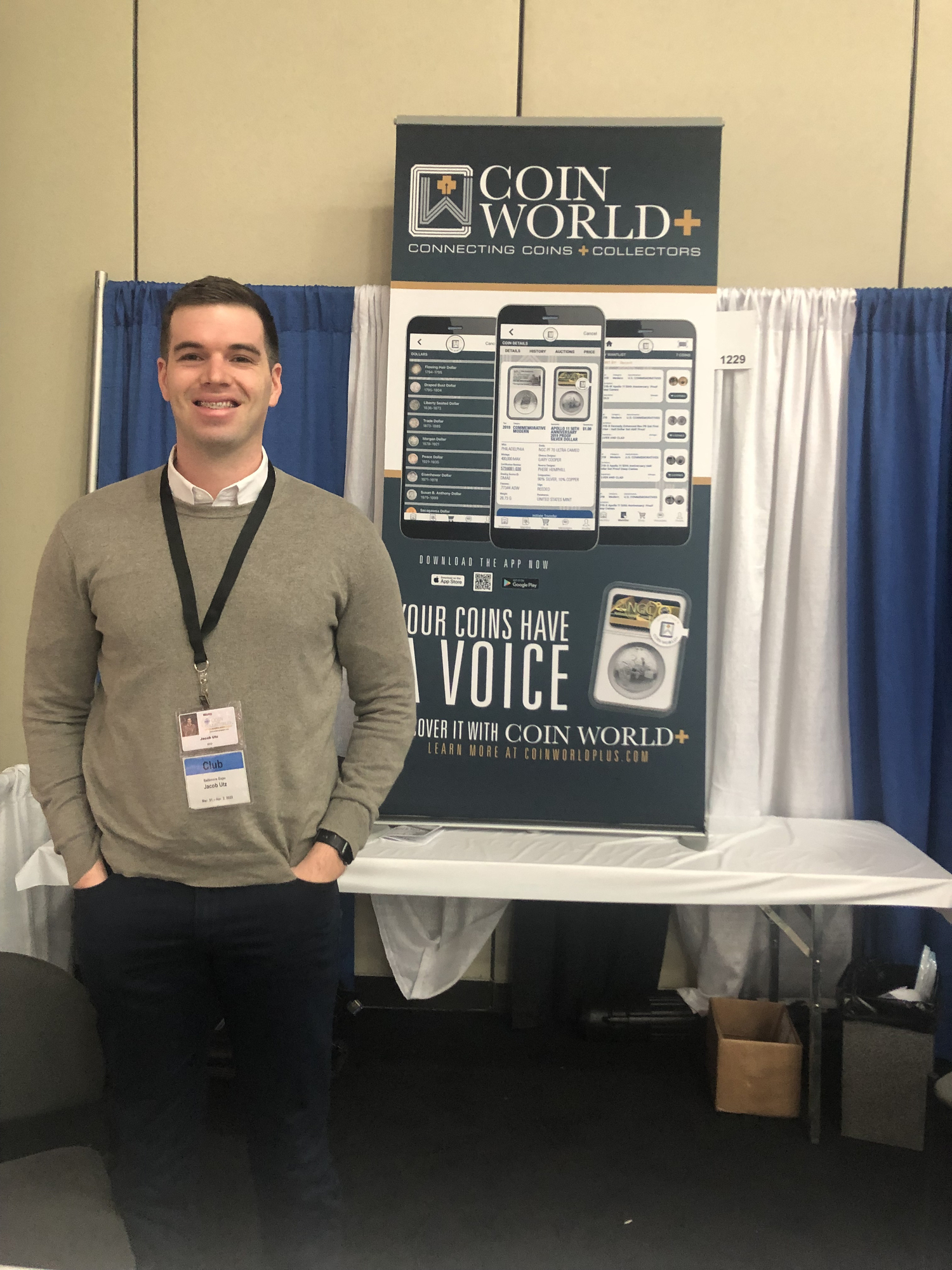 Guys working hard at PMG

NGC Crew

PCGS Folks!

Whitman Ladies

Doug/1Buffan stopped by to say hi

My longtime dealer friend Gary Galbo stopped by to say hi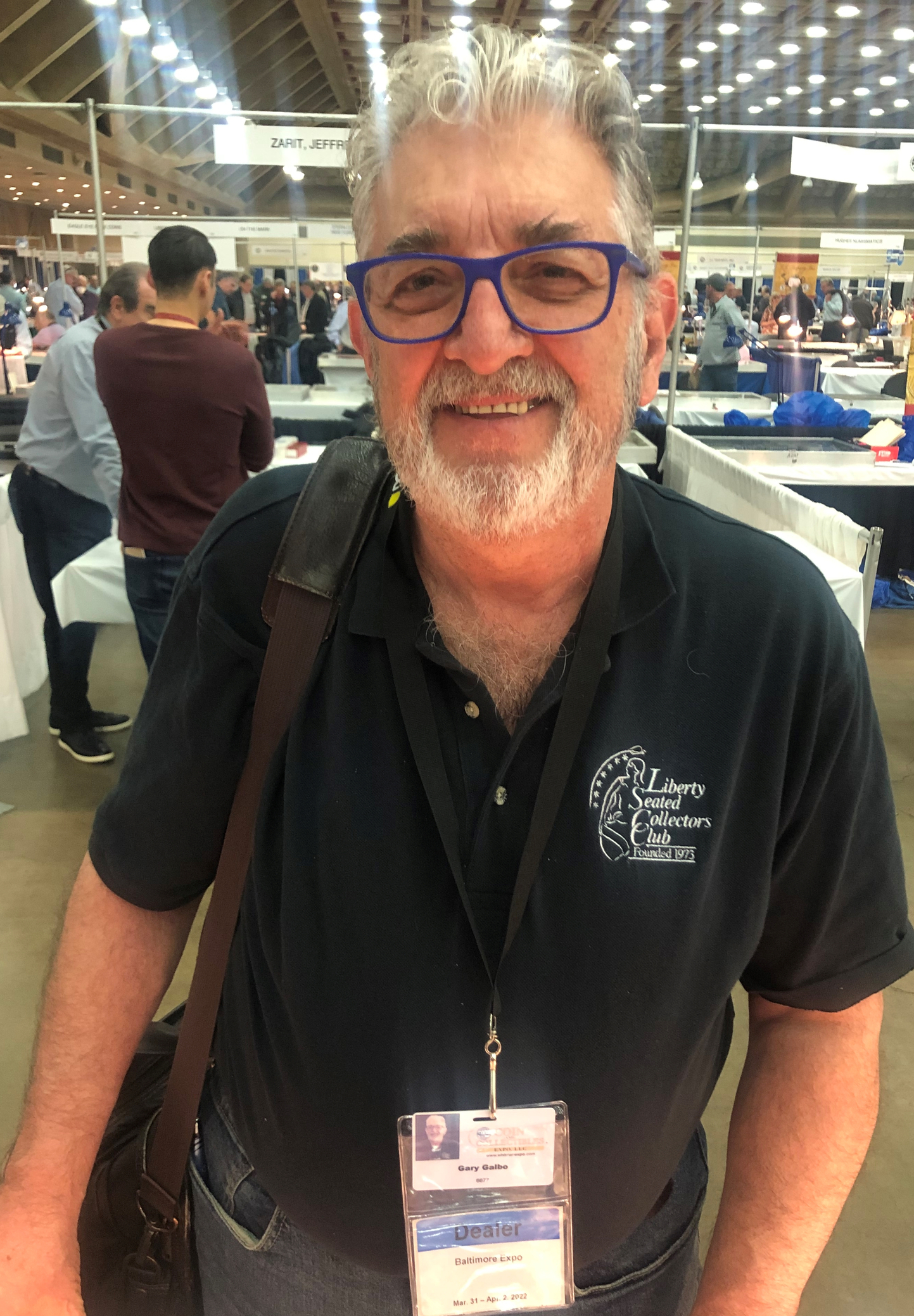 A young man came by with a few Indian cent varieties he had cherry picked, including this super scarce 1888/7 Indian cent (S-1) in VG that I was very happed to buy from him!
Friday night of every Baltimore show is our "Black Olive" night. This time, part of our group (the folks from Sedgwick) could not be at the show so we had some new faces. Tom Reynolds and Brian Alty from Northeast Numismatics were able to join us.
We start with white wine upstairs, taking our time chatting and enjoying the wine while our host Dimitri tells us about the wines we'll be having.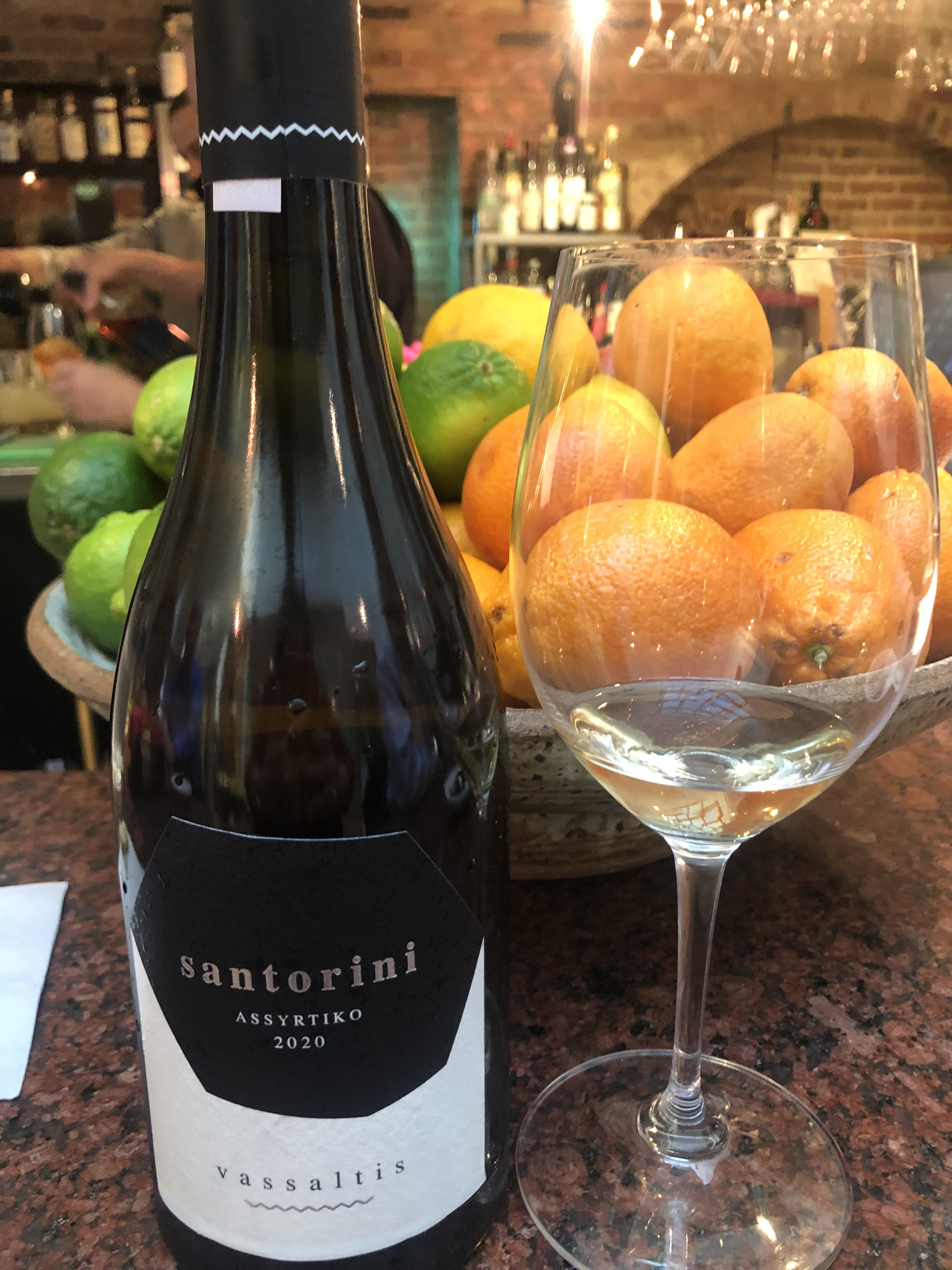 He is the son of the owners and pretty much grew up in the restaurant business. We found some interesting articles about Dimitri and the restaurant on the wall.
Then we head down to the wine cellar where one large table is set up for us.
For someone like me who is not a seafood lover, their gilled octopus is outstanding! They even had a stuffed octopus that everyone said was amazing, though I wasn't quite up to giving that a try!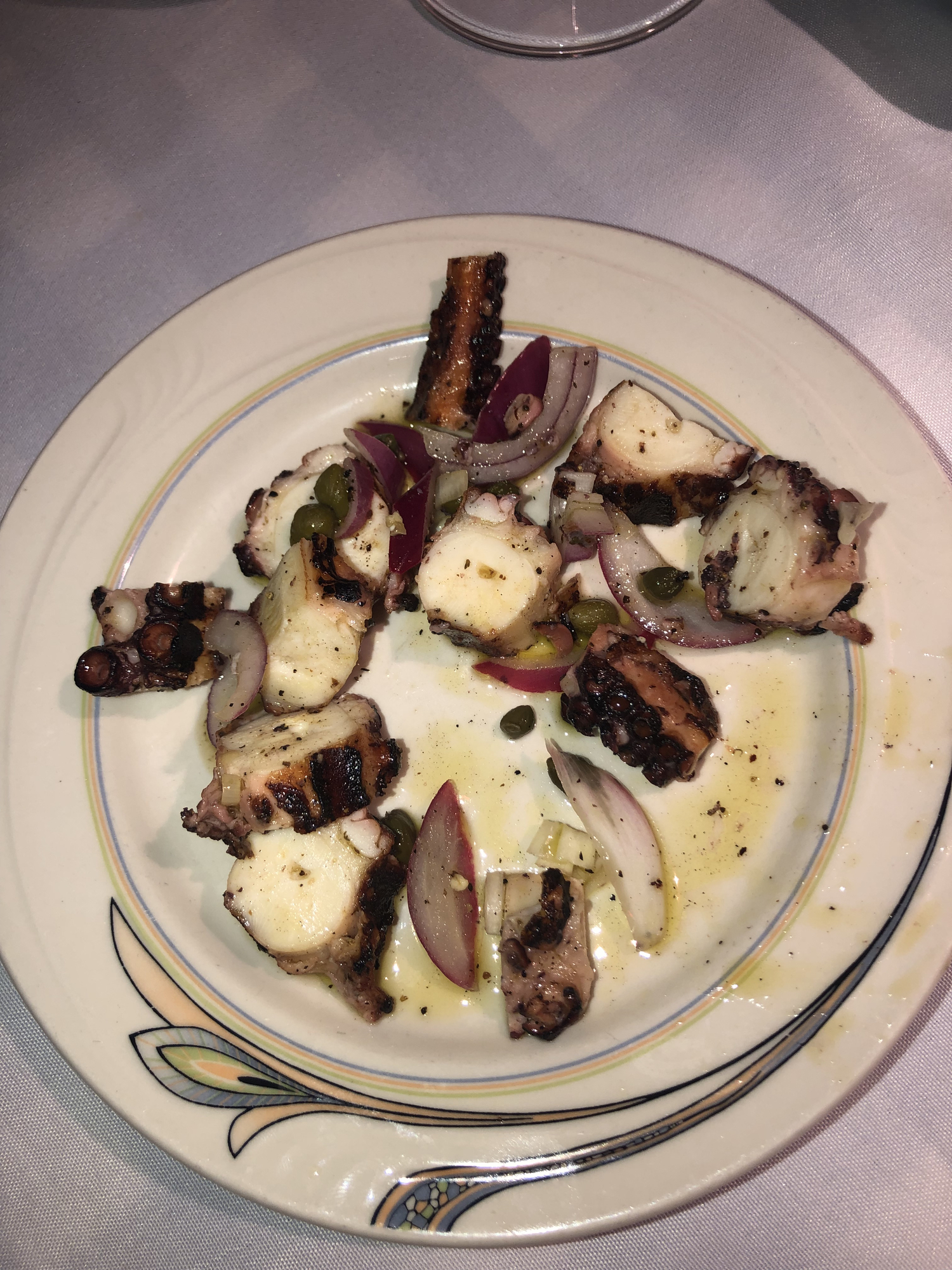 And for dessert, there is nothing better than the homemade walnut ice cream, accompanied by some amazing dessert wine!
Dimitri was once again a wonderful host and treated us like we were extra special. As usual, the food was great, the wine even better, and the company the best!
Saturday was the usual wind-down day, though I had a few decent sales. Then it was time to pack up and head to the airport. I flew through Dallas on the way to Baltimore, but flew through Denver on my way home. I always love flying over the Rockies, they are so majestic and beautiful.
I was exhausted when I arrived home, but so glad to be home with my hubby and of course Penny who seems to enjoy making my suitcase her cuddling spot!
Next up: the PNNA show in Seattle/Tukwila tomorrow, then Central States in a couple weeks!
________________________________________________________
Charmy's February 2022 LONG BEACH SHOW REPORT w/lots of Pics!
WOW! What a show! Every dealer I spoke with said this was one of their best Long Beach shows ever, and it was one of mine too! Thursday was especially busy, so busy that we never stopped to grab a snack and my boothmate ended up passing out – more on that later! Any way, this show was a really fantastic show all the way around.
This is our second time at the new hall, and I think now that folks are getting used to its location which is right next to the aquarium, they're liking it better than the old hall.
And the loading area is right behind the aquarium and is exclusive to our event.
Most everyone I talked to said they are liking this location because the parking is right across the front entrance and there are no stairs to navigate up/down to get to the bourse floor.
Also, the bourse floor is rectangular rather than triangular which seems easier for everyone to navigate.
PCGS set up a lounge area to give people some space to organize and prepare their submissions before they get in line so it speeds up submissions.
Set up went quickly and smoothly, then I took some time to shop around the bourse for customer want list items. I also had just acquired a complete set of Indian cents in MS63/64 RB and an almost complete set of Lincoln cents in MS64 RD. Unfortunately, except for the 1877, all of the Indian cents were broken out of PCGS/NGC holders and put into a Dansco album. And the same was true for most of the Lincoln cents, though there were about 10 that remained in their original holders. While the sets looked beautiful side by side in an album, of course it is hard to get your money back out of raw coins compared to what was paid for certified coins. I sold the Indian set pretty quickly, but it took more time for the raw Lincoln cent to sell, but it finally did, including half of the certified Lincoln cents. Here are photos of some of the Lincoln cents.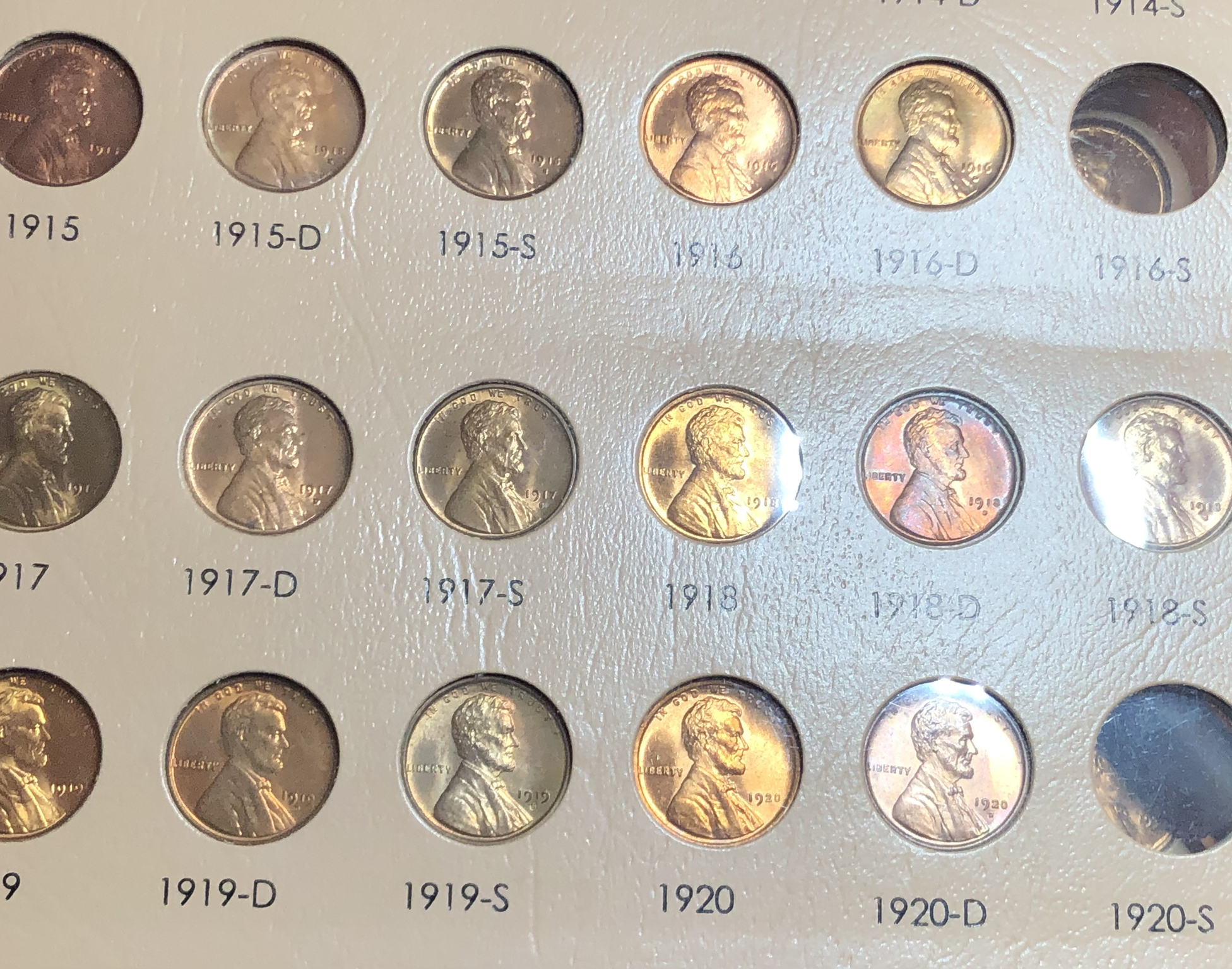 A customer also gave me a nice little group of Indian cents to sell on consignment
After things slowed down it was time to open up a bottle of wine. This is my super duper boothmate Rich Wogoman and I having some wine in my new special customized Penny Lady Yeti cups!
Our usual Wednesday night dinner place, Cafe Piccolos, was closed so we found another Italian restaurant, Michaels, just off 3rd Street. It wasn't quite as good as Piccolos, but it still had some tasty dishes and we enjoyed the wine we brought. Ron Guth and Karl and Joanne Stephens joined Rich and me.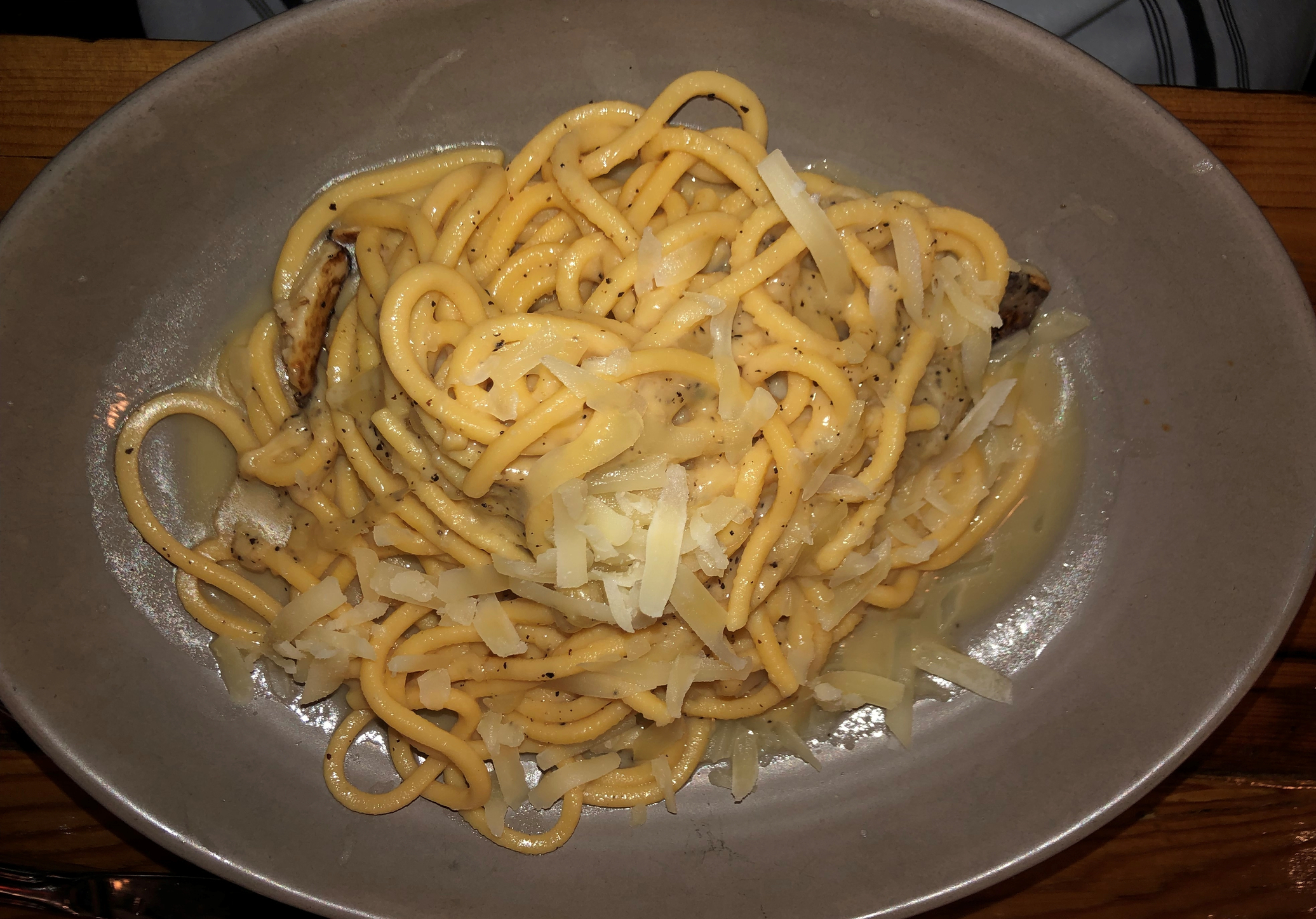 We all agreed their Tiramisu was amazing!
Thursday morning we got to the show just after 9am when it opened for dealers, and there were already several folks lined up to get into the show.
I walked around before the public was let in and took a few photos. PCGS was busy as usual!
Paul at ANACS
Wayne at Stacks Bowers stopped by to say hi
So did Jerry Bobbe
When the show opened, there was a very long line of folks waiting to get in. And a line quickly formed for the PCGS table. These photos were taken by the LB Expo folks.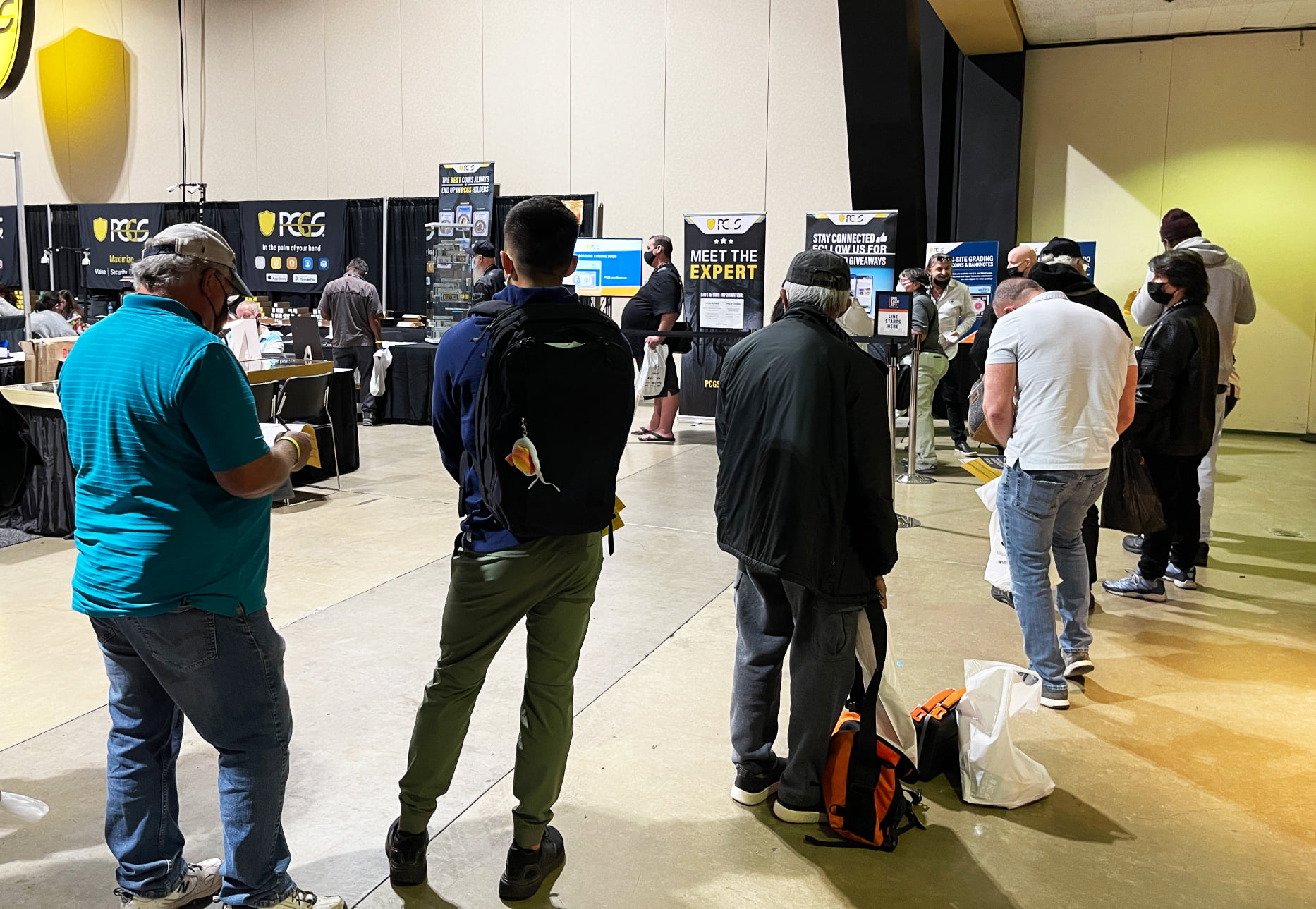 I mentioned earlier that Thursday was extremely busy for everyone, including Rich and me. We were both dealing with customers, and I was trying to sell my Lincoln cent set, while Rich had a lot of silver and other items he was walking around the bourse selling. And my booth was really hopping with more customers than usual. By early afternoon Rich came back to the booth after running around the bourse and said he had a headache. I gave him some aspirin and he sat down to rest while I was helping some customers. Within a couple minutes I turned around and saw Rich slumped over on the back table. I immediately yelled for someone to call 911 while I tried to wake him up (I thought he had an aneurism or stroke since he complained of a headache just before he passed out – thank goodness it wasn't that serious!). Our neighbor called 911 and gave me the phone to to explain what was going on. Within a couple minutes Rich began to wake up and, although he was pale, he recognized me and sat up. By then, security and the on-site EMT was at our booth assessing him. And within a few more minutes the fire department EMT's were at our booth as well. They gave him all kinds of tests, ekg, tested his blood sugar, etc. and determined that because Rich hadn't eaten anything all day and hadn't drank much water either, he had become dehydrated. They gave him a couple bottles of water to drink slowly, His color began to brighten and he was returning back to normal. The 911 folks were there about half an hour. At the end, they advised that he should go to the hospital but Rich declined since he was feeling much better after drinking the water. We had also ordered a pizza that had just arrived so he had some of that too. Soon the EMTs gathered up their gear and gurney and took off.
I have to say that everyone that worked on Rich was extremely calm and professional, including the security guards who first arrived and the onsite EMT. And even later that day and the next, the security folks stopped by to see how he was doing. I was very impressed and grateful that help came so quickly. And we both learned a good lesson not to neglect ourselves even though we were busy and preoccupied at the show! So Rich took it easy the rest of the day, and even though it stayed busy for a while longer, I kept an eye on him.
After the show closed on Thursday, we met up with Ron Guth again at Captain Jack's in Seal Beach. They are located right on the harbor off PCH and Broadway and have some of the best seafood around, as well as amazing prime rib! It was packed and even though it's about 30-40 minutes away from the convention center, there were several groups of other dealers having dinner there as well. They also have a couple of beautiful aquariums along the wall inside.
Friday morning I had some PCGS business to attend to and went by their table. They were swamped as usual!
I took a few other photos around the bourse
I saw a separate thread about the "smash and grab" that occurred overnight at the show. I spoke to one of the security guards and he said they are looking at all cameras both inside and outside, and looking into all possibilities as to how it could have happened With all the years of shows I've been doing, I've never heard of something like this occurring. Security said they are considering if someone may have stowed away under a table, or possibly a janitorial worker, or other avenues that someone was able to gain access. But he said they are are a bit perplexed that someone could smash a case after everyone had left, and not one of the security guards heard it (meaning that perhaps it was done during the show but covered up and hidden until later). The security guards are all retired 20+ year police veterans who have been doing security for this show for a long time. They are pretty sure they will get to the bottom of how this happened.
Friday wasn't as busy as Thursday but it was still steady and I found a few more coins to add to my inventory. Overall I was very successful in finding some nice coins at this show.
I also found quite a few raw coins to help fill my raw coin customer want lists!
I also bought a set of 1930 repousse "pop out" pins for my penny exonumia collection.
An old friend, Ryan Moretti (used to work at Stacks and now has his own shop in Arizona), stopped by to say hi
I was really glad Todd/BluCC Photos was at this show, so later on Friday afternoon I gathered all my latest purchases for Todd to photograph. He's been photographing my coins for over 15 years, mostly during shows, but over the past two years, I've had to ship all my coins to him to photograph, so it was nice to have them photographed at a show again!
Friday night we went to our usual King's Fish House just up Pine street right behind the convention center.
Rich and I arrived a little early so we had a couple very refreshing Henricks and Tonic with lime at the bar while we waited for Karl and Joanne.
We love this place as the food is really great and they offer free corkage for our wine. – I definitely recommend King's Fish House!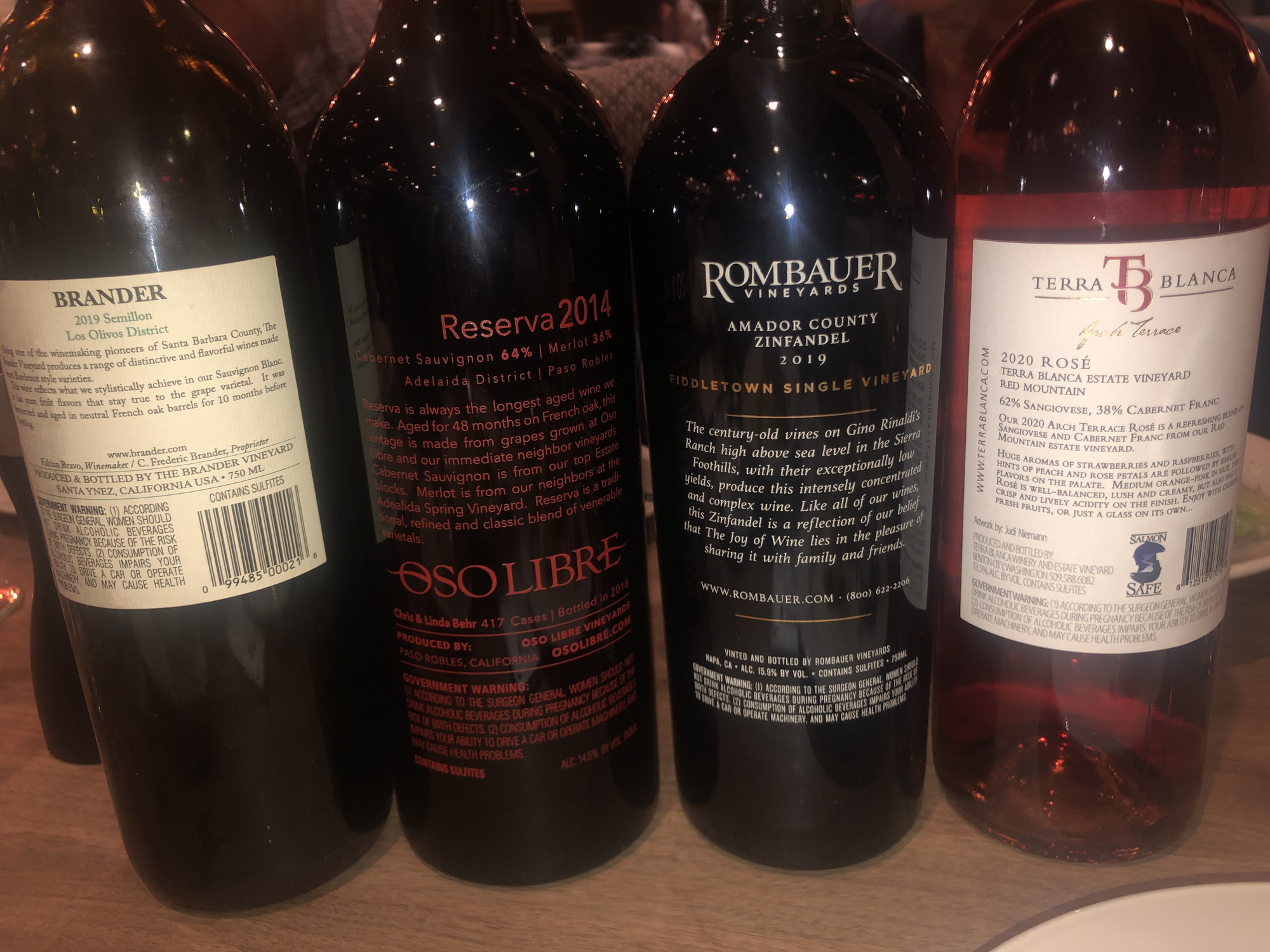 My favorite entre is their macadamia nut crusted halibut but this time I tried their Miso Sea Bass and it was delicious!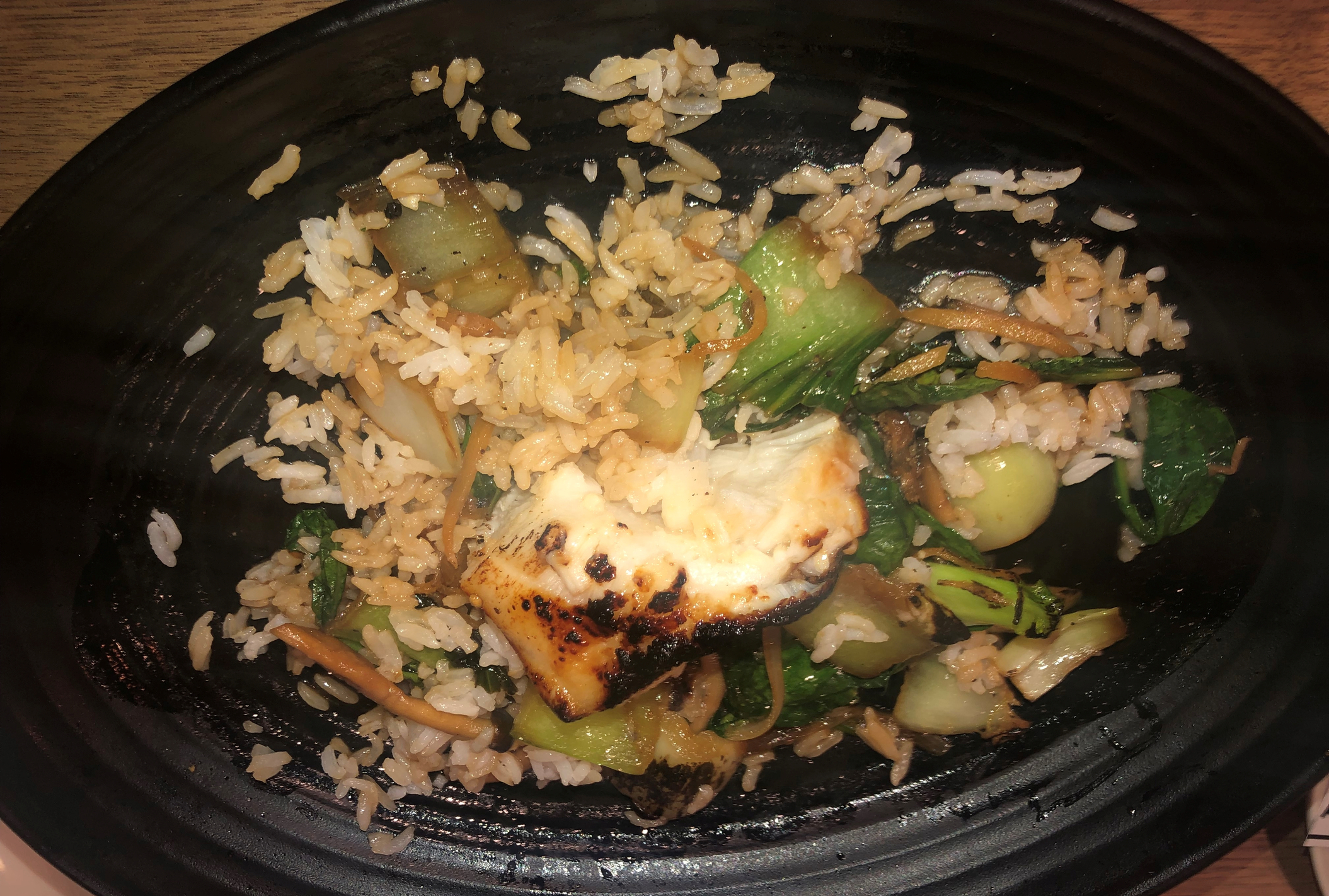 Saturday morning I took time to finally view the amazing Tyrant Collection. I have seen it displayed at other shows, but this time I took more time to look closer at some of the coins, especially the early copper. Wow, if you ever get a chance to see this collection on display, I highly recommend taking time to look closely at these treasures!

Curtis Mease who now works at PCGS had a really great display of his PCGS sample slabs and PCGS memorabilia.
Also on Saturday, the Expo staff was all decked out for the kids' Pirate Treasure Trivia hunt.
Once again, there was a nice steady stream of folks entering the bourse floor when it opened!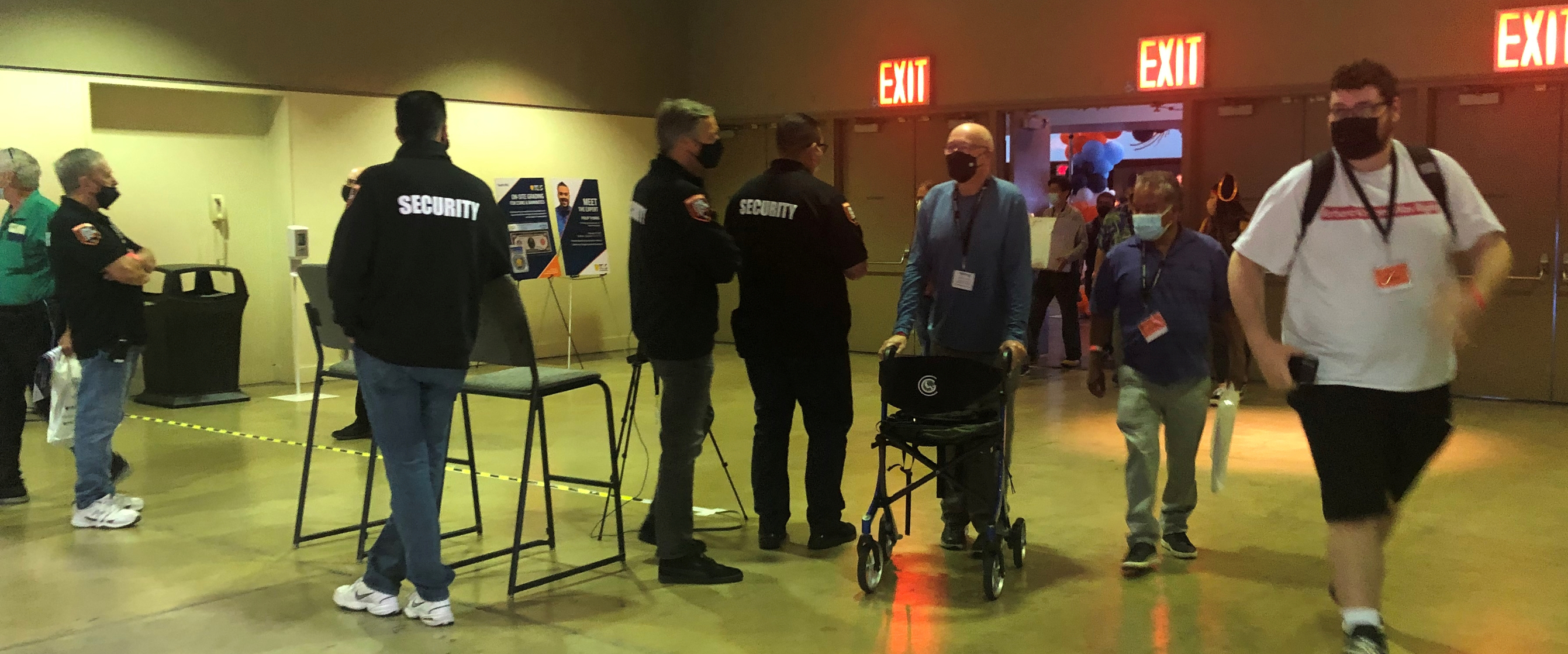 I was one of the stops on the Treasure Trivia trail so I had tons of kids stop by to make their guess of the answer to the trivia question I was given. We had so many kids stop by that I ran out of penny goodies to give them! This especially cute little girl and her dad let me take their picture for my show report. She was very good at reading the question and the entire correct answer!
We stayed most of the day until there was very little public left. Then it was time to pack up and head home. After such a busy week, I was exhausted when I finally got home so after unpacking, I put my feet up, had a glass of wine and just relaxed. The next day I got out my new purchases and all my paperwork, and got to work. And there was my cutie-pie Penny right there cuddled up next wo me squished inside my coin box!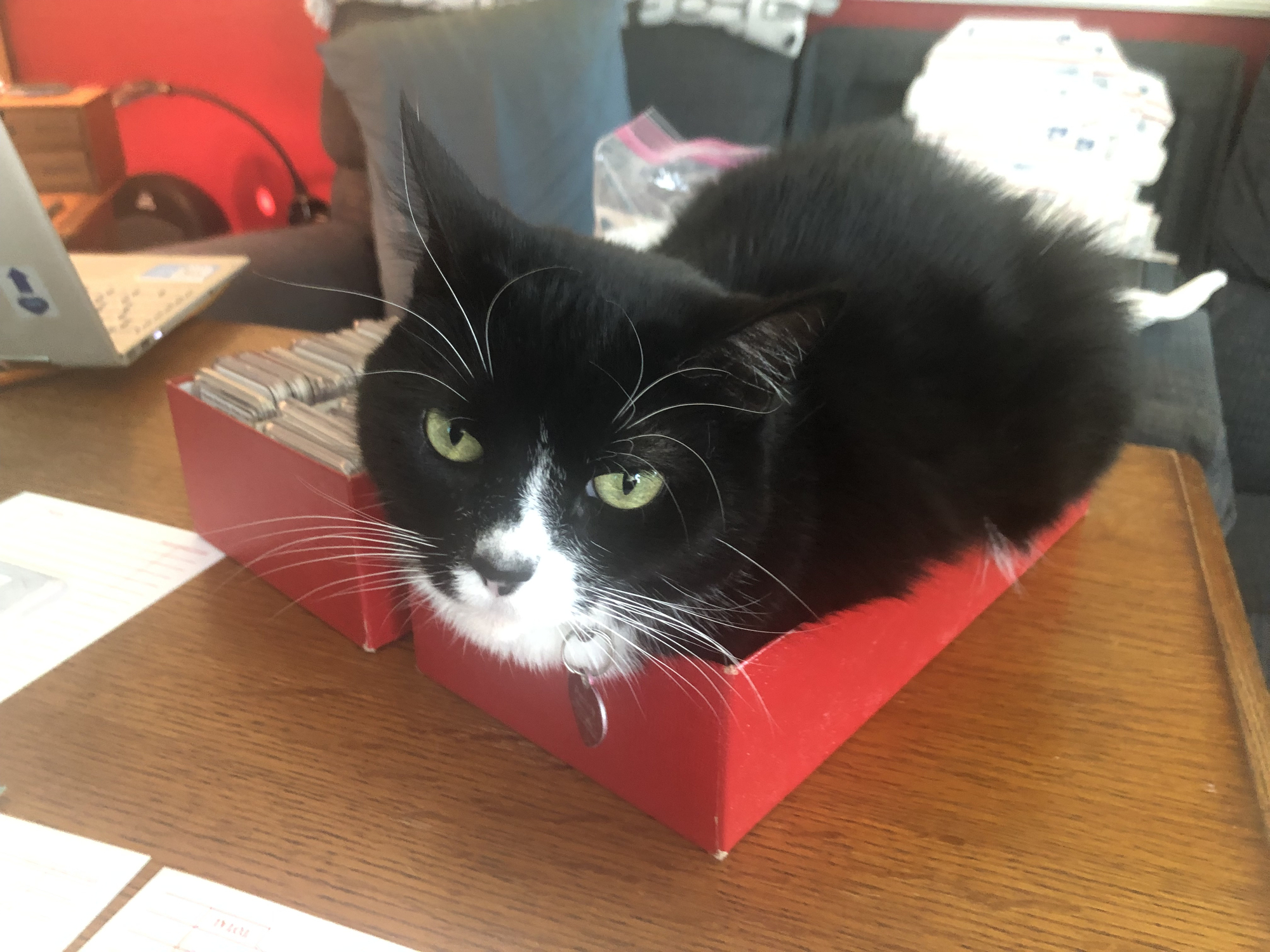 As I said, this was an exceptionally busy and successful show – and I look forward to the next one in June. The Long Beach Expo folks really do work hard to put this show together and make sure everyone has what they need – they do a great job!
Next up I have a very busy March – The Las Vegas Palace Station show, the Buena Park show, McIntosh Sacramento show, then Baltimore!
Charmy's 2022 FUN COIN SHOW REPORT w/tons of Pics!
Sorry this is a bit late, it's been a very busy week trying to dig out since I returned from the FUN show. IT was a really great show, and I was very busy with both sales and purchases. I worked hard trying to find coins for my customers as well as to fill holes in my inventory. The market is still quite strong, especially the penny market which remains very popular. Nice quality better dates have been harder and harder to find and are getting very strong prices. In some cases, I've been having to pay over the PCGS guide prices just to acquire quality key and semi-key dates. In any event, it was a very active show and from all accounts, very successful!
As with every FUN show I've attended, I was very excited to be once again participating in this show as it's always the best show of the year!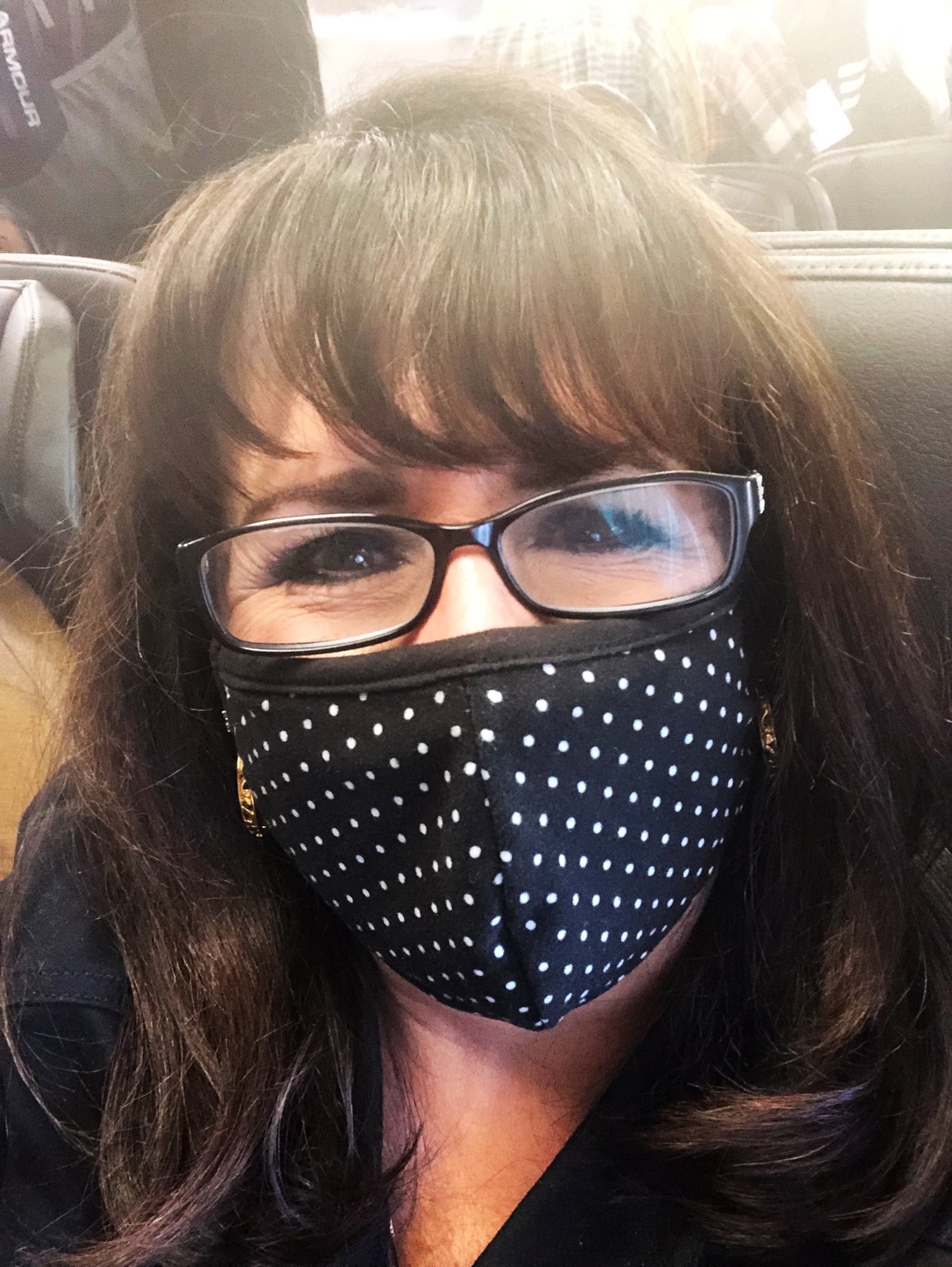 I left beautiful sunny Orange County for Orlando on Sunday since I had some pre-show business to take care of. For those of you who are interested in the aerial photos, planes take off from the John Wayne airport and fly up very fast to help with noise abatement, then they level off and (depending on winds) usually head west over the ocean before they turn around and head back east (or north or south), again to minimize noise over very expensive houses. There's also a curfew so no planes can take off or land before 7am or after 11pm.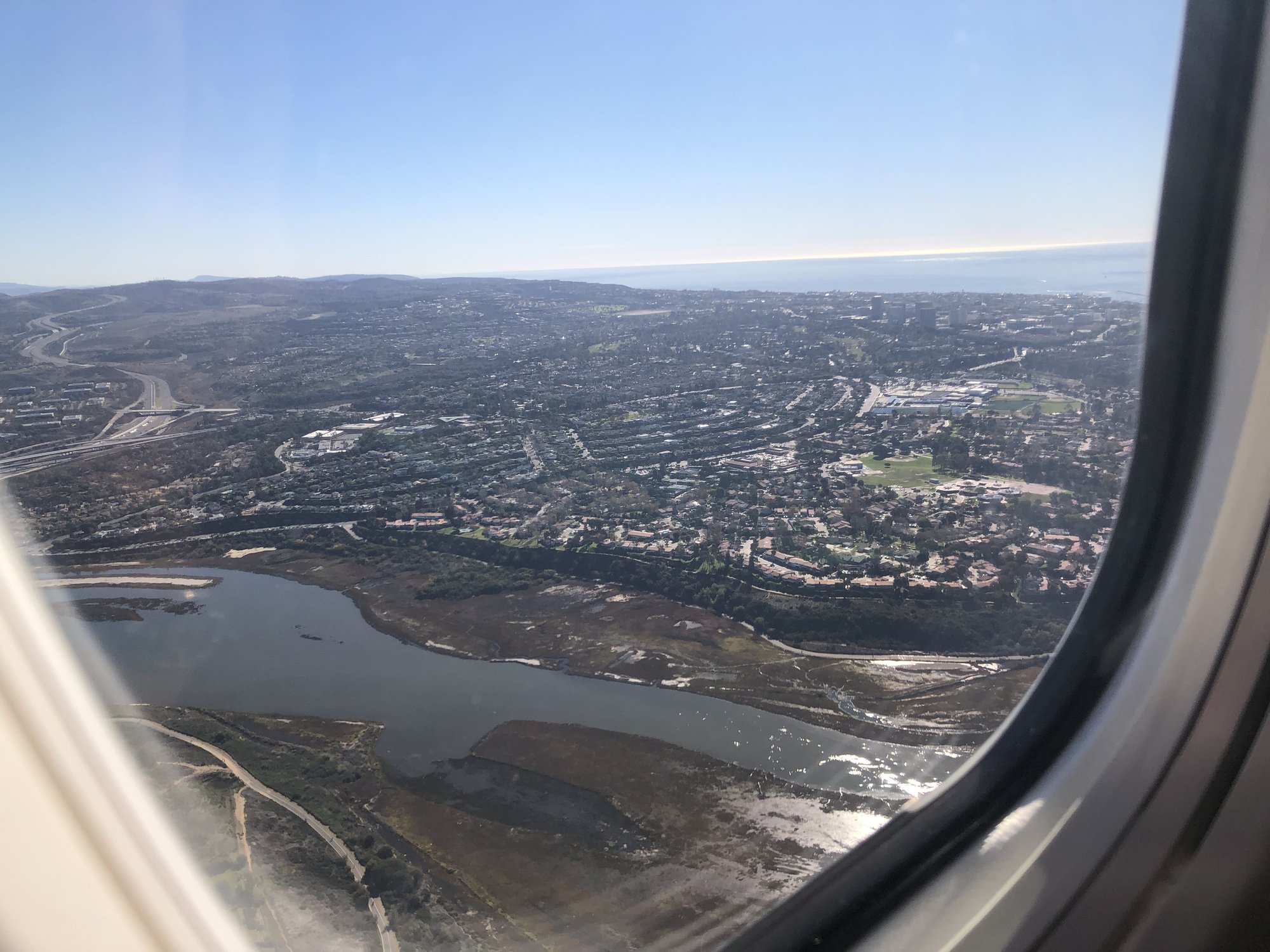 I flew over the Rockies, and changed planes in Dallas – they still had their Christmas decorations up at the airport. I was very pleased that I had no flight delays or cancellations and my trip was smooth sailing!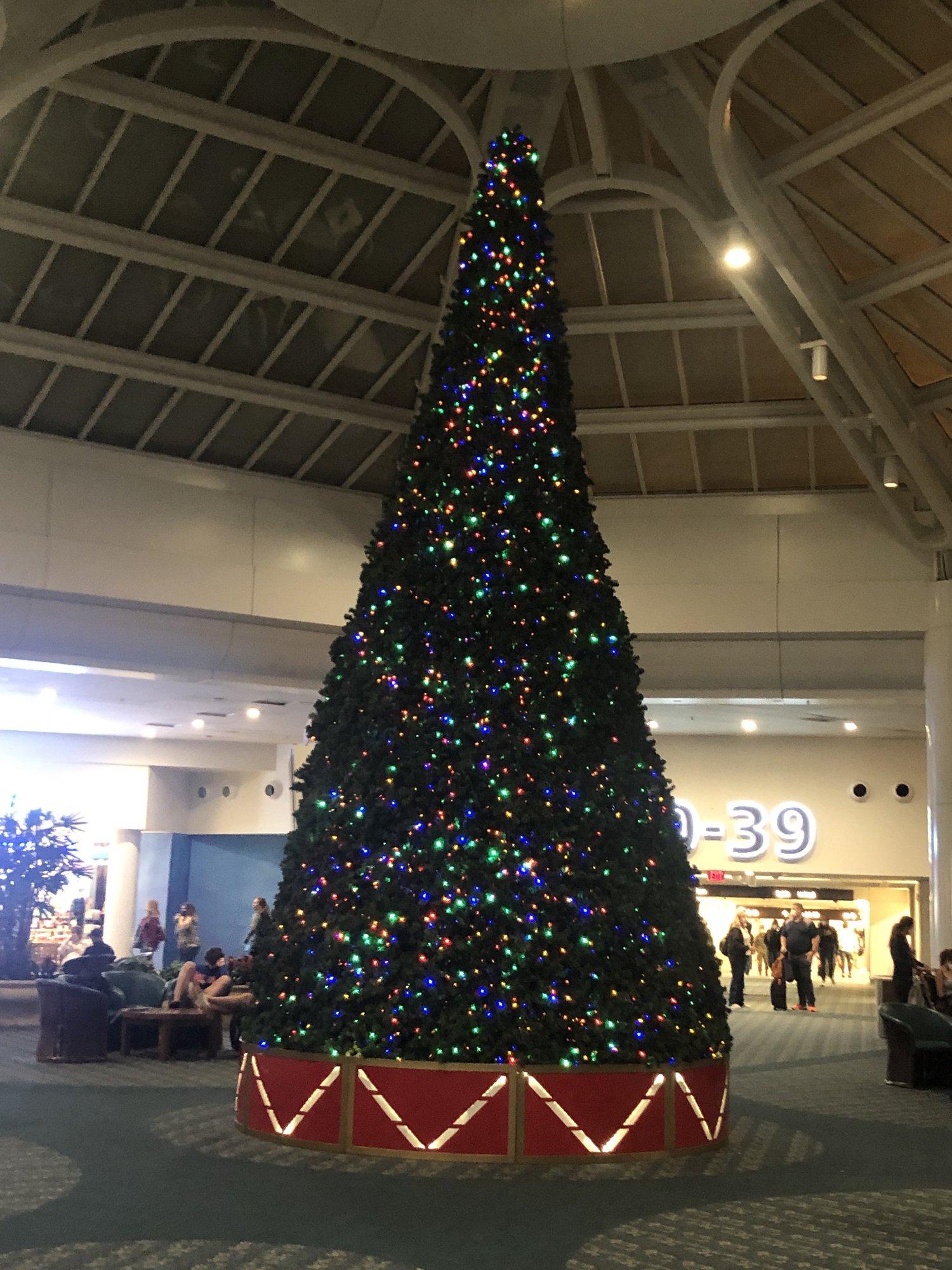 Then it was on to warm 80 degree Orlando, even at 8:30pm when I landed! I stayed at the Hilton which was connected to the convention center and was supposedly the closest hotel to the North Concourse. The hotel was beautiful and not very busy when I arrived.
So Monday morning I took my bags across the connecting walkway to the convention center. It was a gorgeous day!
When I entered the convention center, I was told the North Concourse was on the complete opposite side from where the walkway connected to the convention center and that you had to go down the elevator, outside and walk all the way around the entire convention center (there was no way to get to the North Concourse through the convention center). Boy, I wasn't expected to have to drag those bags that far – I'm guessing it was about a mile all together – but I did and was so glad when I finally arrived at the security room and could stow those heavy bags! Had I known how far it was, I definitely would have taken an Uber! Now I was free to do my business, go out to dinner, etc., without worrying about my bags. I also spent some time on Tuesday at the Hard Rock Casino in Tampa since I basically had that day all to myself.
Set up for the dealers was Wednesday at 2pm so I again walked the mile or so over the convention center, but this time I didn't have to lug my heavy bags with me. I checked in at registration, got my bags and waited along with a throng of other dealers for the doors to open!
Before many dealers arrived!

It didn't take long for all the dealers to crowd around the escalators and the elevators!

Set up was quick for me, then I wondered around the bourse floor to start buying coins. It was great to see many folks I hadn't seen in two years! I found quite a few Pretty Pennies to fill in gaps in my inventory, as well as some for my customers. These are all the coins I bought throughout the show!
I brought a nice bottle of my favorite Rombauer which I had up in my room, as well as two wonderful bottles of Del Dotto – a Sangiovese and a Cab – that I shared throughout the show. The Del Dotto was amazing, and me and my customers and dealer friends really enjoyed both bottles!
That night a group of us went to Maggiano's for dinner and enjoyed some more scrumptious wine! Maggiano's is right across from the Crooked House tourist attraction.
Ron Mirr, Greg Allan, Me, Neil Ulrich
The show opened to the public on Thursday morning at 10 am, so I arrived early to take some photos and also to process the coins that I had purchased the day before.
Me and by buddy Abe!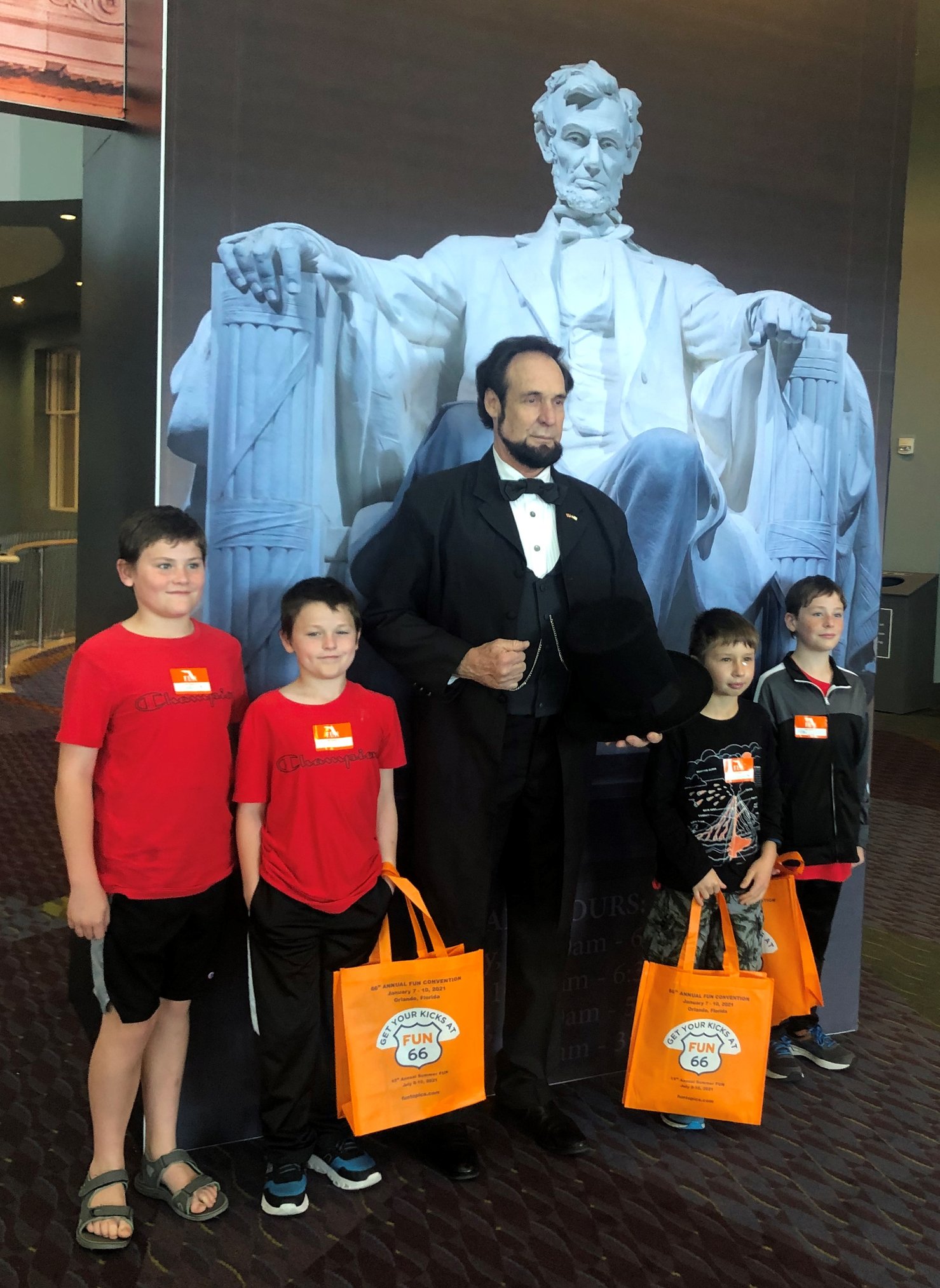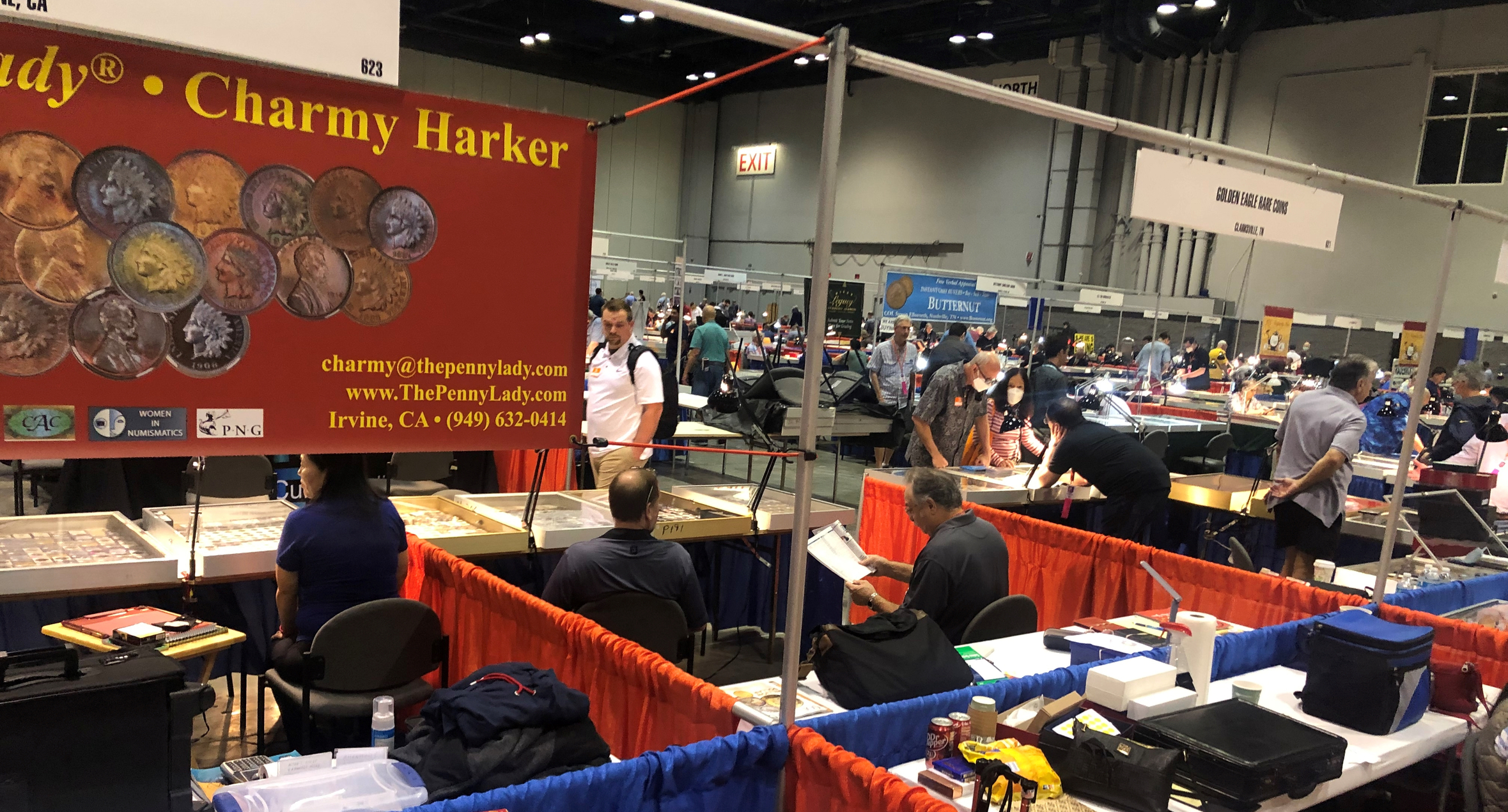 Not long after the show opened, a loud buzz filled the room – it was really great to hear that buzz because it meant there was a lot of business going on!
I soon became very busy, and forgot to take photos of some of the folks who stopped by. However, I did get these two:
Phil/Habaraca

Gabriel Green/Quality Rare Coins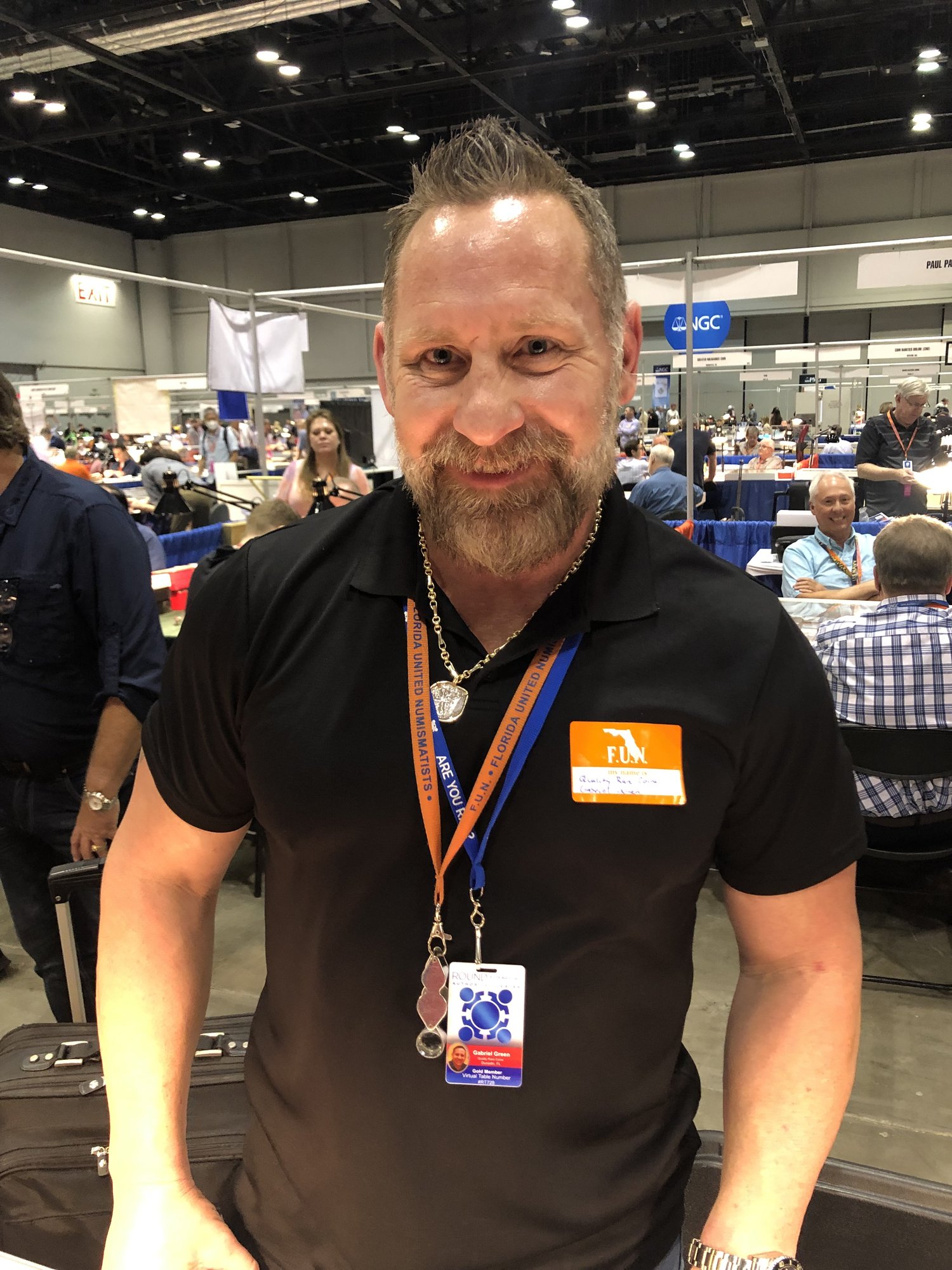 This is Stewart Bley's amazing collection!

PCGS was set up right across from Stewart's booth – they had a "lounge" set up so customers could fill out their forms without taking away from others who were all ready with their submissions.
The day seemed to just fly by, but of course I did manage to have some of my Del Dotto wine, and shared it with a couple of folks who stopped by. Then it was time to head out to dinner. This time we went over to Delmonico's with my good friends Karl and Joanne Stephens and Al Boulanger (foreign coin dealers).
We started off with a really nice Cakebread Chardonnay, then had a tasty bottle of Prisoner Cab that went well with my scrumptious Marsala steak and pasta! Delmonico's was very popular among the dealers as there were a few other tables filled with dealers from the show. And I can see why it was popular, the food was delicious and so was the wine!
The restaurant had some great cartoon drawings on all the walls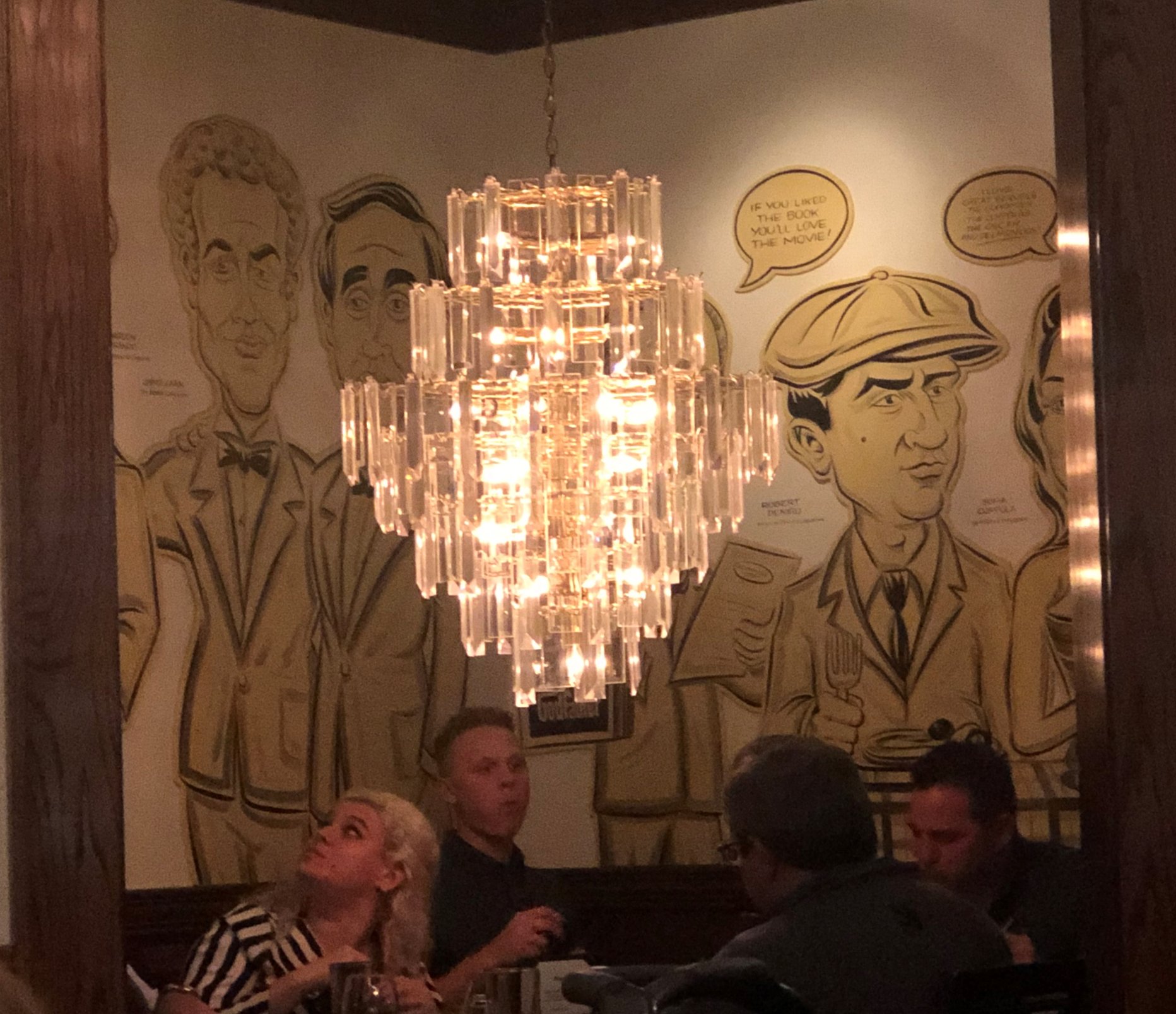 Friday morning I again arrived early so I could take some more photos around the bourse and get some more work done before the public was let in.
The PCGS table (that's Tom Reynolds submitting coins)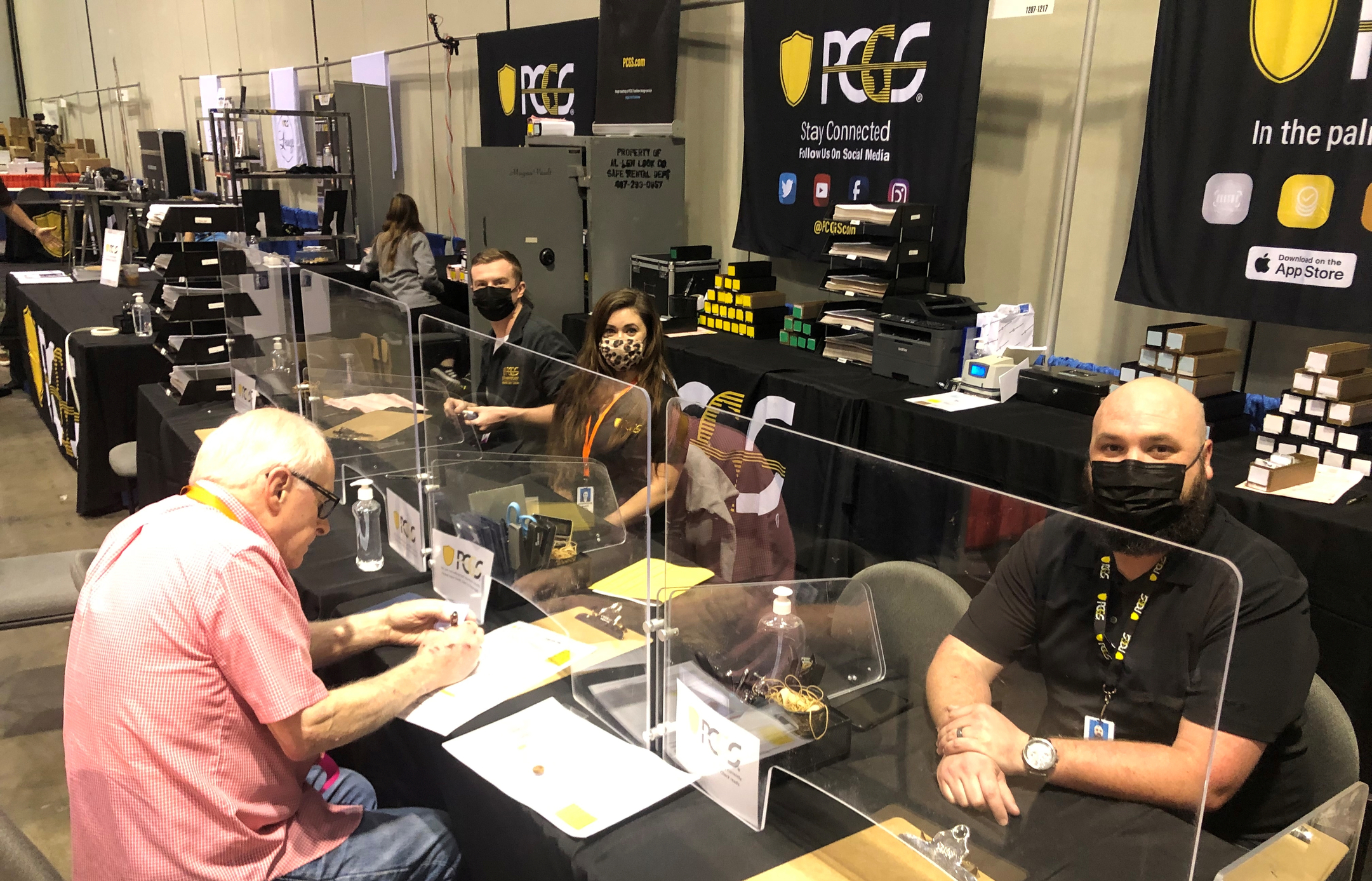 David Lange and the NGC folks

ANACS folks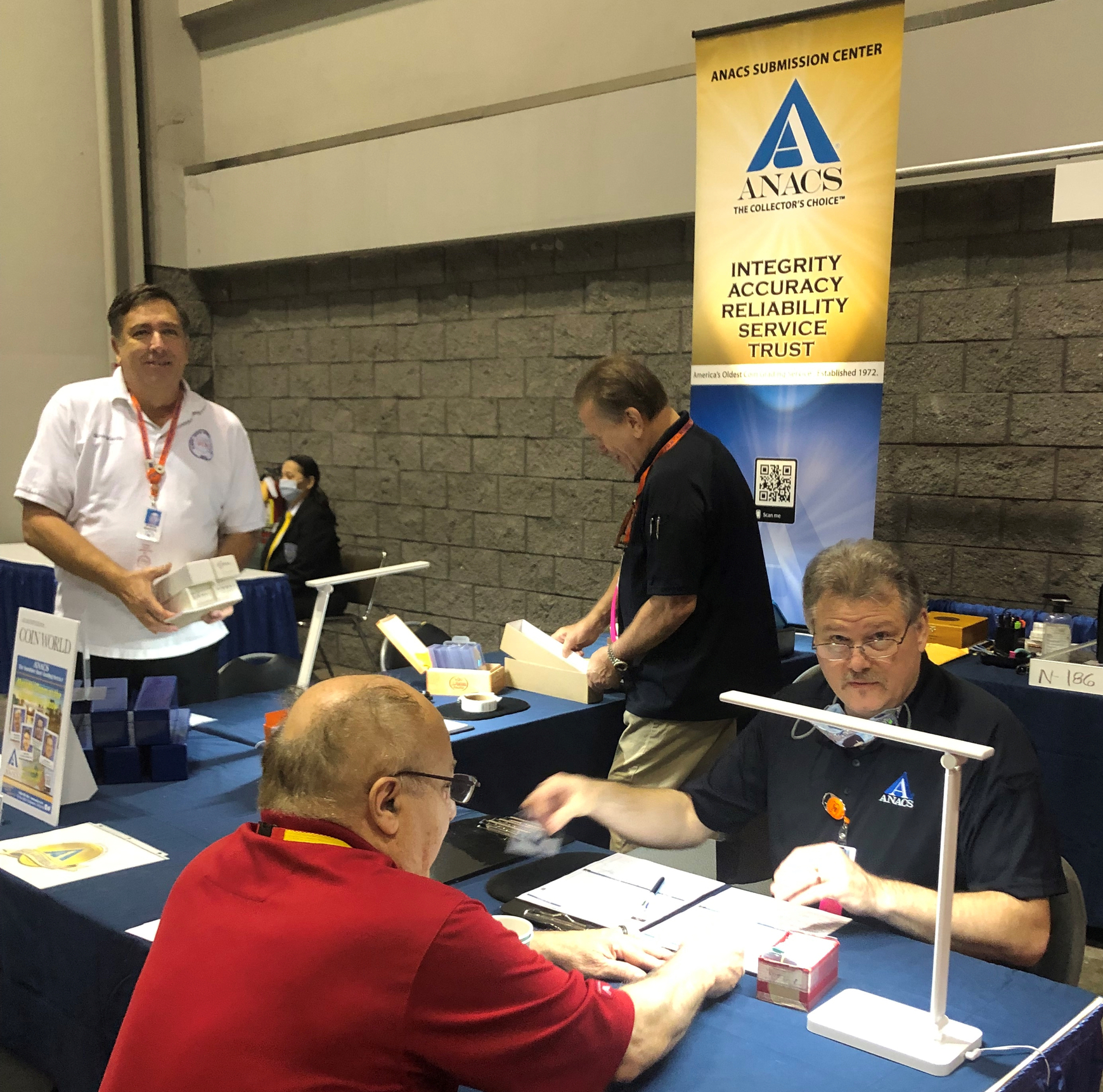 Tony at Northern Nevada Coins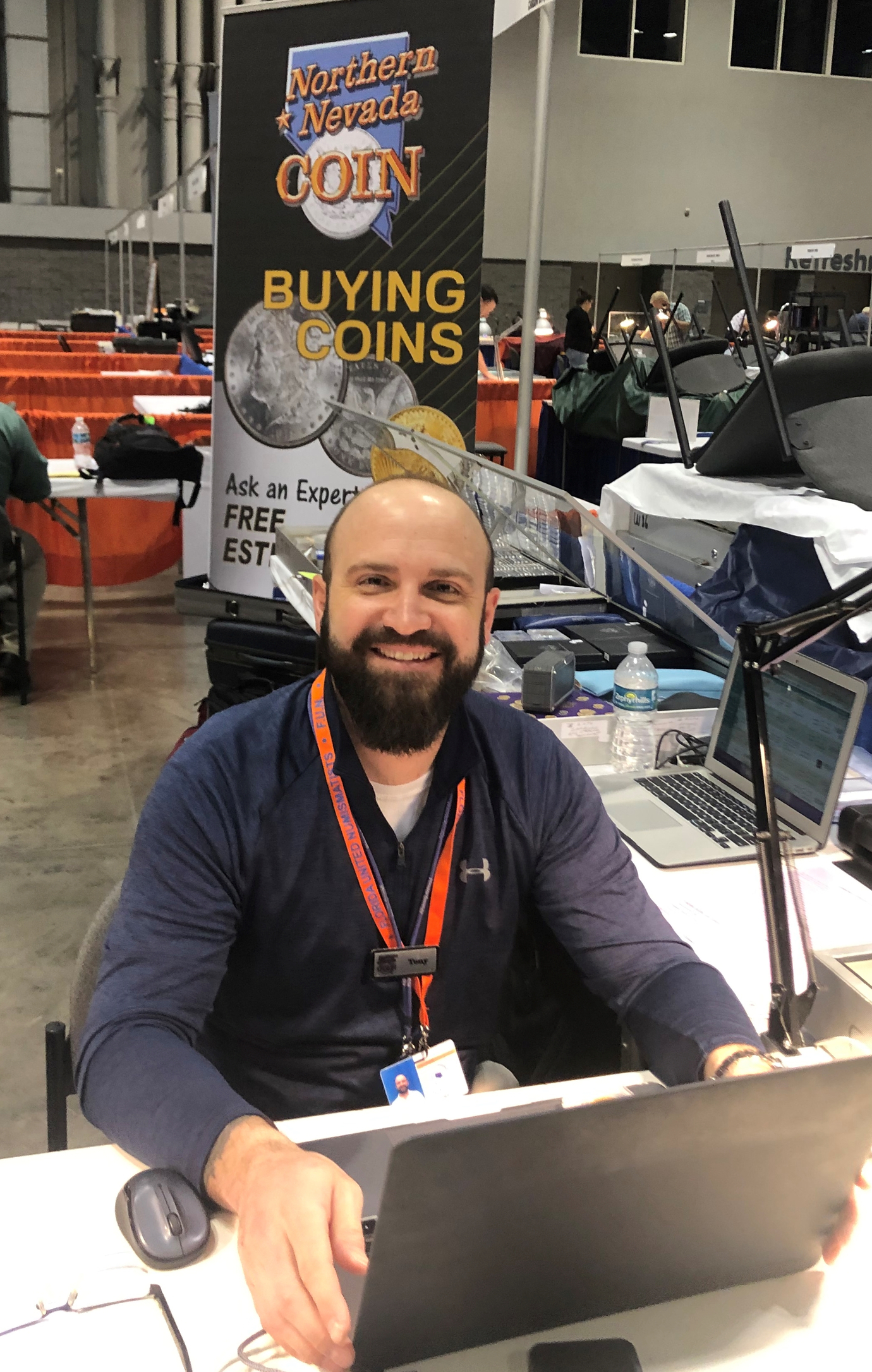 Wizard had a huge area full of supplies in the back of the room!

There were a lot of great exhibits this year – here are some that I found interesting: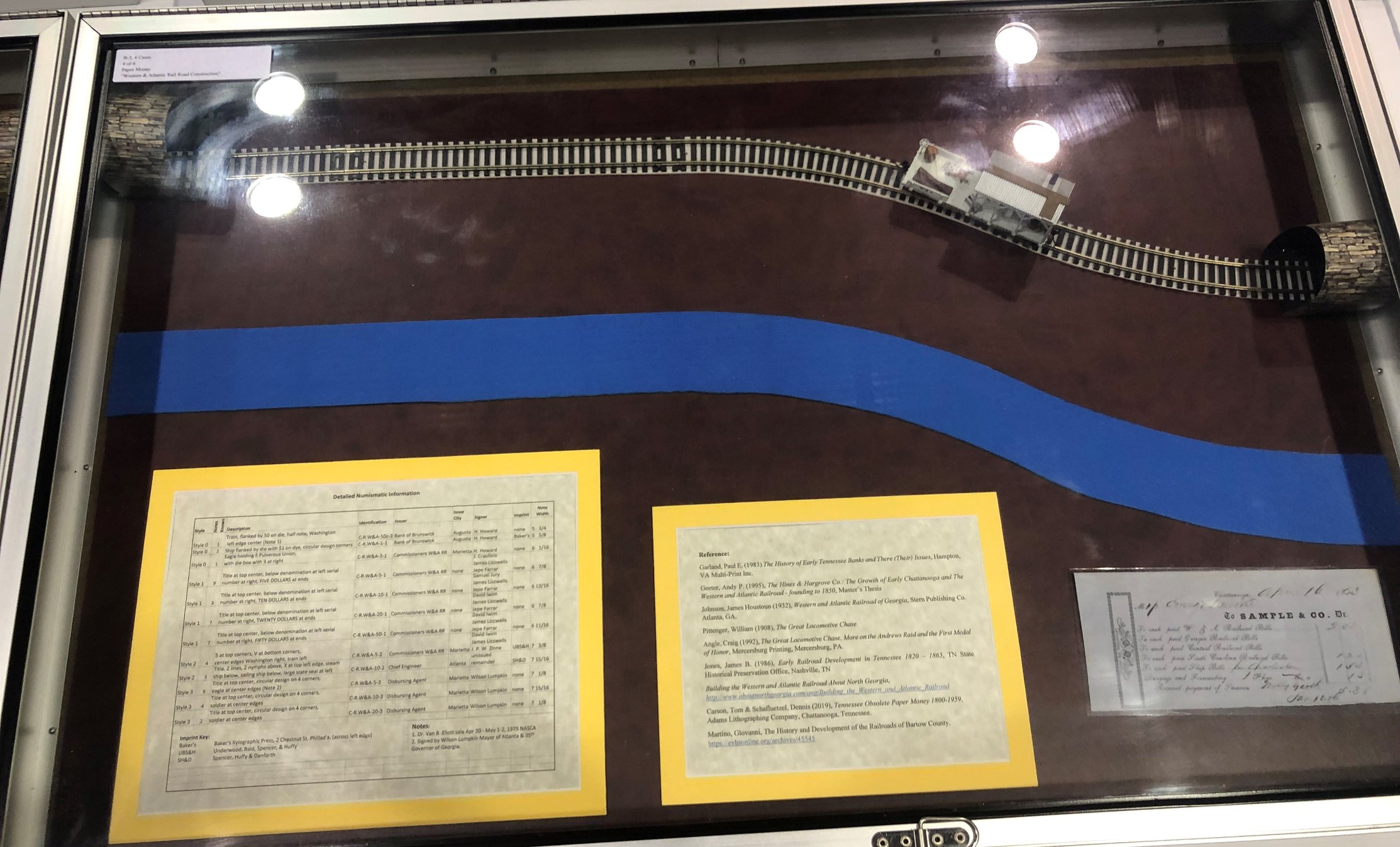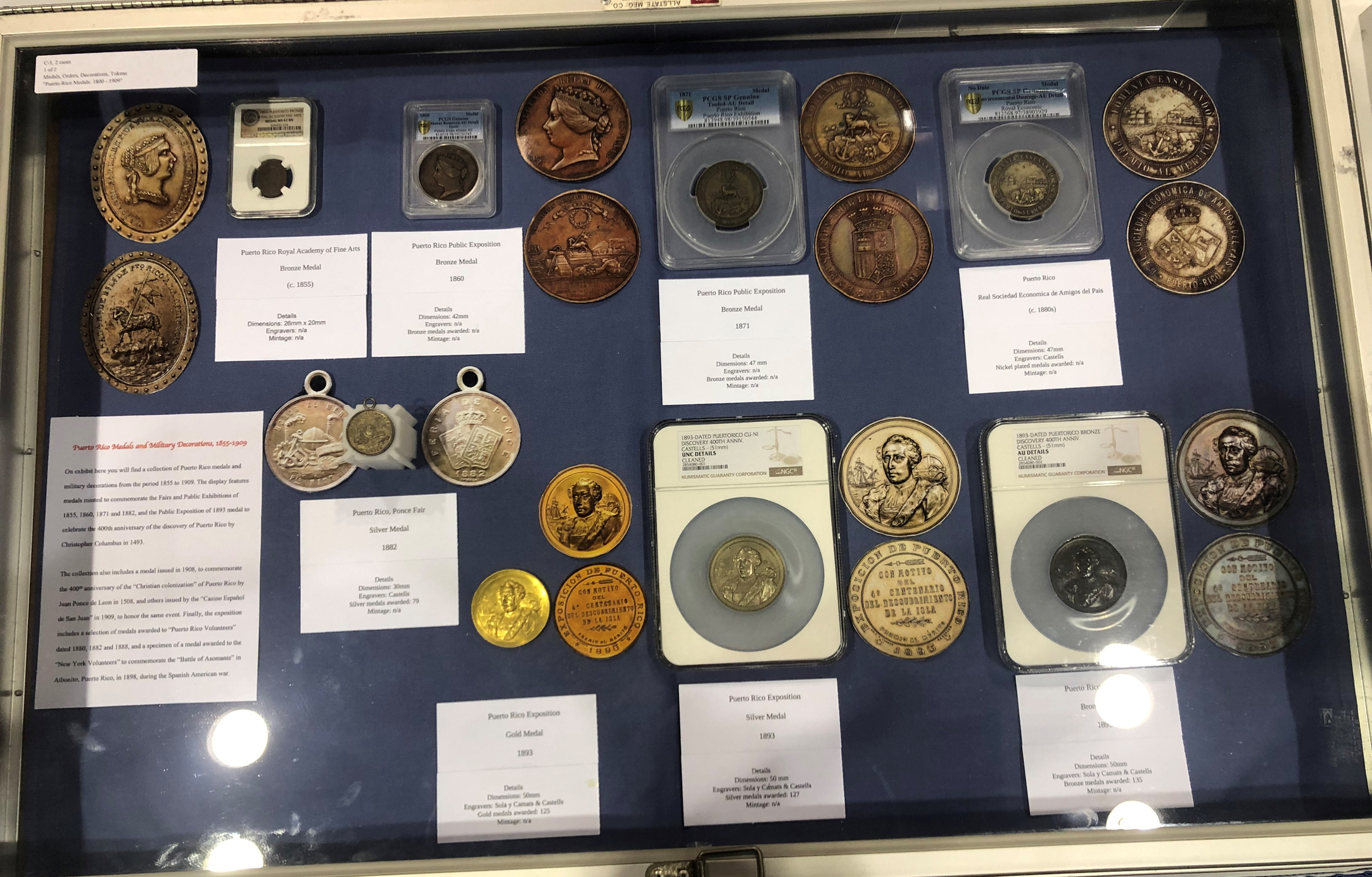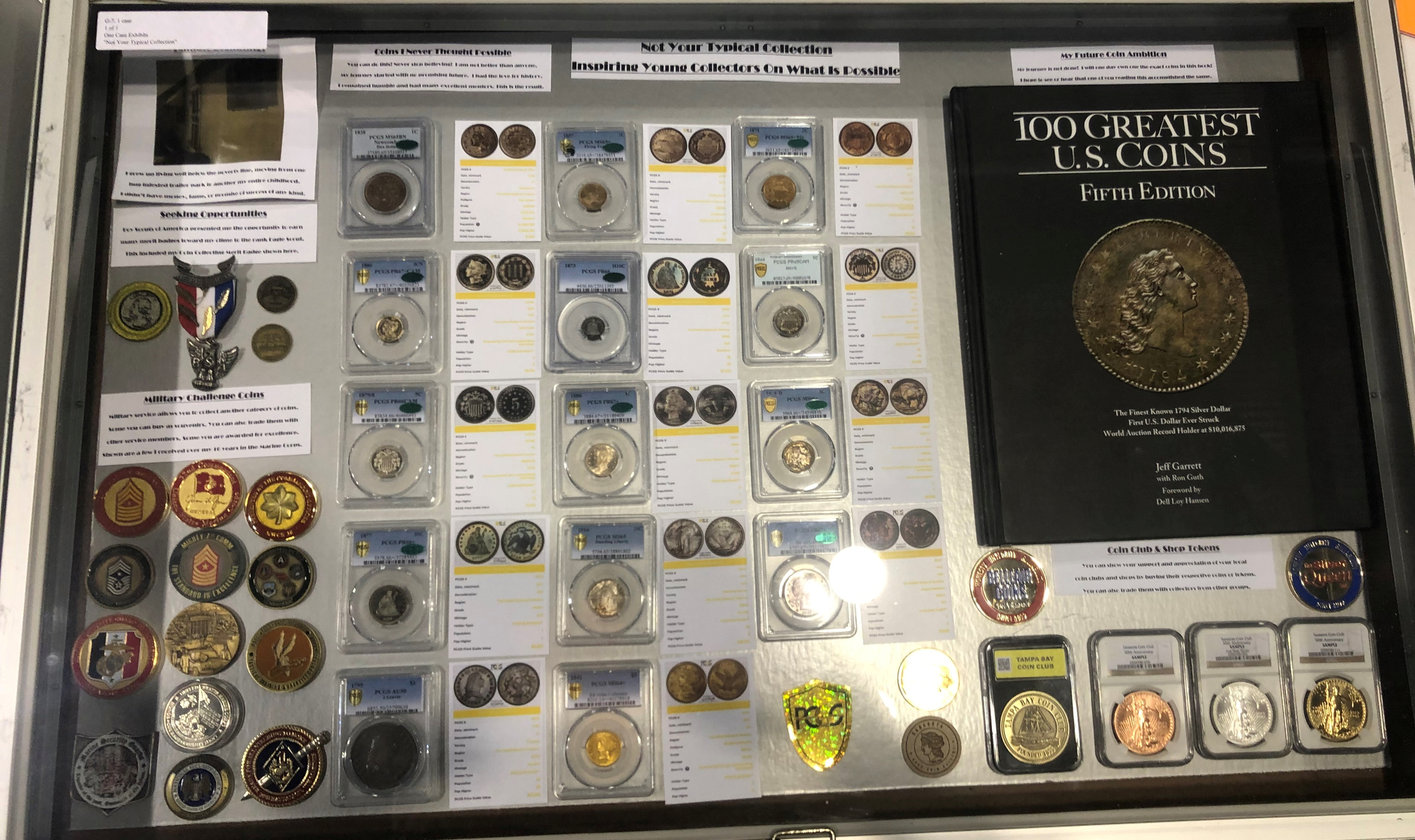 This is a plaque showing the past People's Choice winners (you'll note lil' ol' me is on the list under 2014!)

David Lawrence Rare Coins had an amazing display of coins from the D.L. Hansen collection


When 10am rolled around, there was once again quite a crowd of folks who streamed in!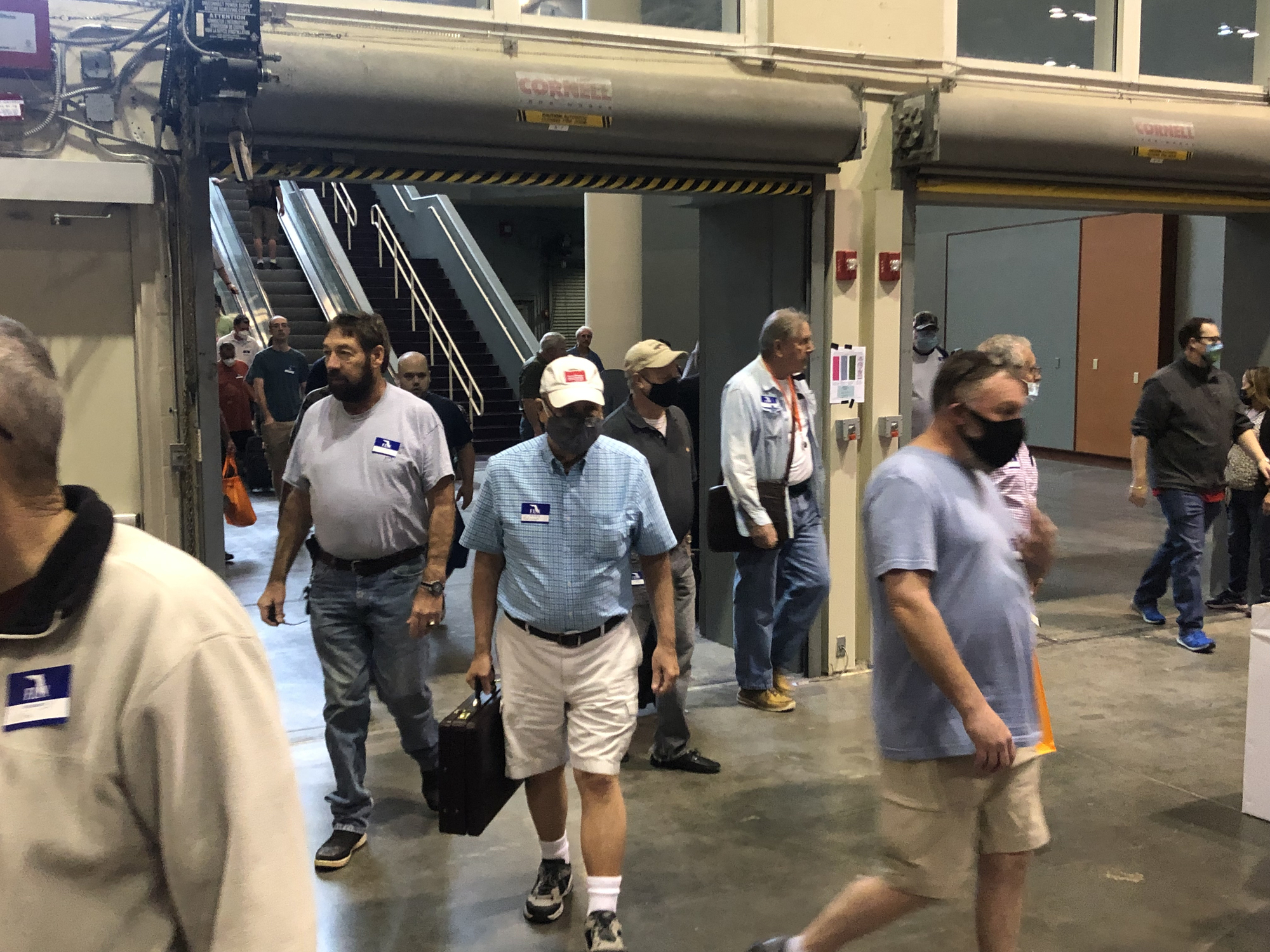 Once again, the bourse floor became very active very quickly!

Steve Feiertag/Winesteven stopped by to say hi

Me and my copper weenie bff Greg Hannigan/Coin Cube Trading

Greg and his beautiful wife Cecelia

Greg also brought over a great bottle of Chateau Ste. Michelle cab from the Washington area – Greg is such a generous sweetheart!

Speaking of sweethearts – here's one of the BIGGEST sweethearts in the world – Dino Koromvokis

And this is one of the hardest working women in numismatics – Mary Lynn Garrett

My foreign coin dealer friend Al Boulanger brought over a nice bottle of 2014 Syrah to share with me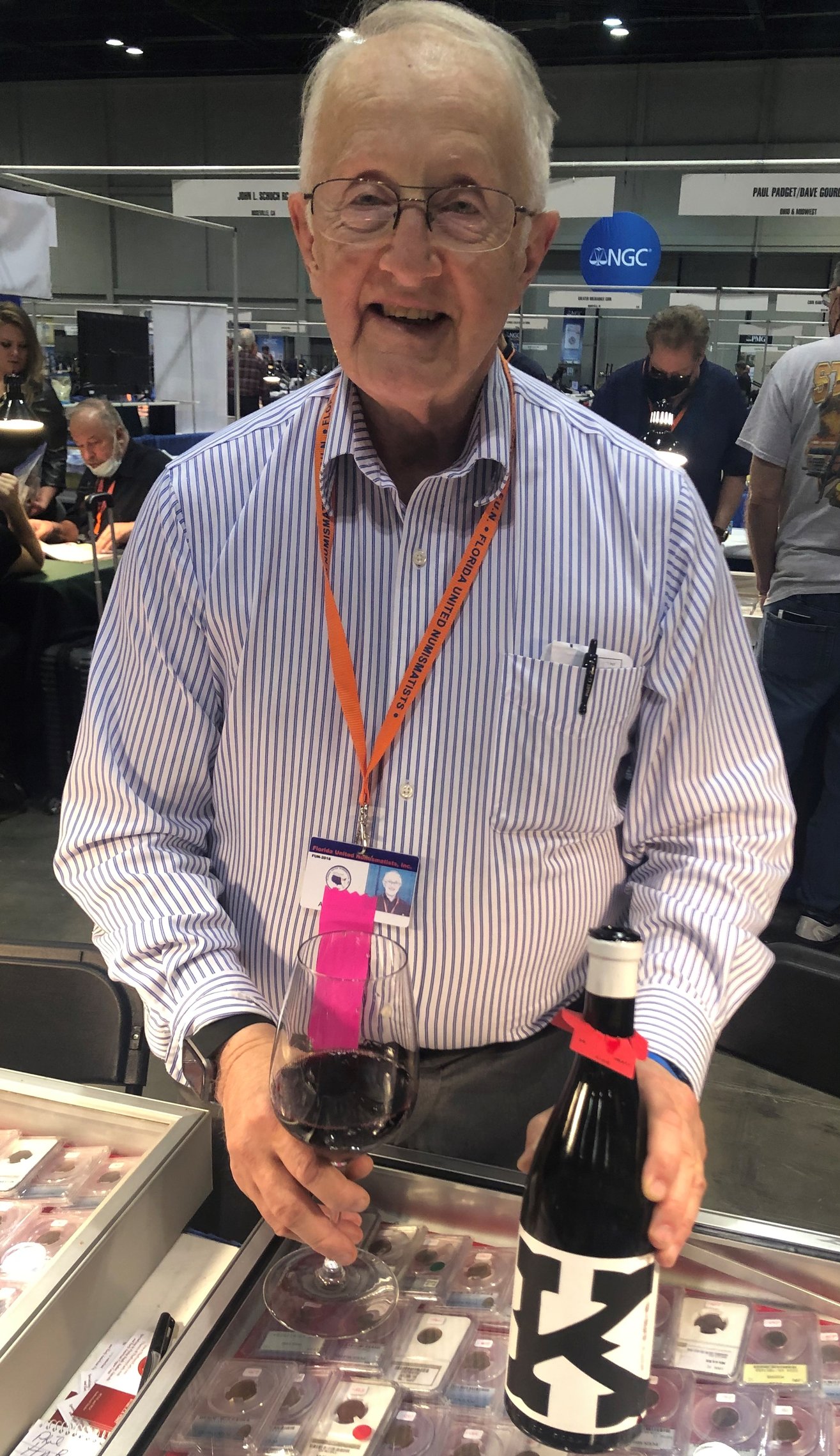 It happened to be my friend Karl Stephens' birthday so his boothmates got him a cake and champagne to celebrate!

That night a bunch of folks from Coin Cube Trading got together at Spencer's Steakhouse for dinner – left front going back and back RT to the front: Cecelia Hannigan RC, Greg Hannigan RC, Mark Borckardt, Pierre Fricke, David Huang's friend Eric Lindholm, David Huang, Joyce Fricke, Dino Koromvokis, me, Isaiah Hageman.

I splurged and had this very yummy steak and lobster tail, though I could only eat not even half of it.

And I shared this tasty dessert with Dino

Suddenly, it was Saturday, my last day! I had an 8am meeting so I had to pack up and get to the convention center early. After the meeting, I "manned" my table and worked on a few things before the public was let in. I was surprised by how many people were at the show, and there seemed to be more families than usual which was great! I ended up doing quite a bit of business, but soon it was time to pack up and head to the airport. I was entertained by a beautiful sunset as we headed out of Orlando!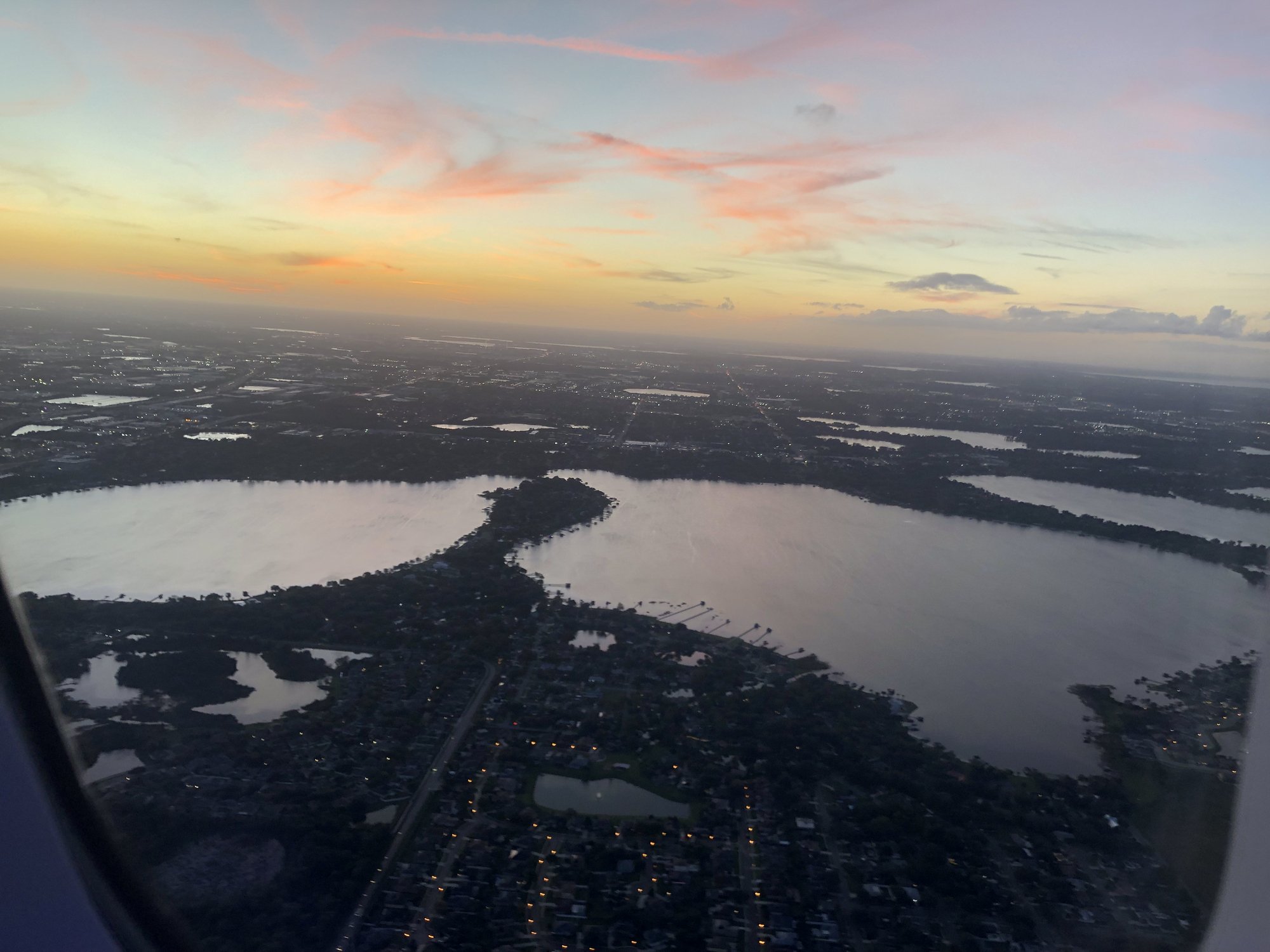 I was very tired but very happy to be headed home after a long busy week!
As always, I was very glad to be home with my hubby and my chubby Penny!

That's about it – next up – the San Jose Coin Show, the Long Beach Show, and the Vegas Show!
_________________________________________________________________________________________________________________________________________
It's been two years since the last Baltimore show was held so there was lots of excitement and anticipation before this show – and the show did not disappoint! Lori and her team did an amazing job promoting the show, making sure things ran smoothly and the dealers had what they needed. As many of you know, quality coins have been hard to find and buy "reasonably" this past year so I didn't buy as much as I usually do at the large shows. Some coins I really liked were selling for quite a bit more than usual retail prices which isn't surprising right now. I did most of my buying before the show at the dealer trading room and found some very nice pieces to add to my inventory. I also found a few neat pennies during the show, including a gorgeous 25% red 1955/55 DDO PCGS MS64+ BN and a beautiful tough to find 1877 PCGS AU58. I was busy for most of each day and overall sales were really good. The best part for me was that I got to see some of my dealer buddies who I haven't seen in two years, especially the group that attended our Black Olive dinner event on Friday night!
So that's the "market" side of my show report and, as Laura put it a while back, here's the "fluffy pancake" part of my Baltimore show report! You'll see pics of some coins, but mostly pics of coin people, local food and great wine. So if this bothers you – no biggie – simply close this link and move on. 😉
This is me on the plane very happy to be going to another coin show and looking forward to seeing all my friends!
On Tuesday, when I left Orange County, it was a beautiful sunny morning, and I finally got to Baltimore late Tuesday night. The airport was quite deserted, but luckily I have a regular driver that picks me up/drops me off whenever I'm in Baltimore.
Tuesday was absolutely gorgeous in Baltimore, surprisingly warm and sunny! Several dealers set up in a room in the convention center on Tuesdays and Wednesdays of the Baltimore show for dealer-to-dealer business. So first thing Wednesday I headed over to the convention center to do some pre-show business and found several nice pennies – and sold a few pieces as well.
I also stopped by Stacks lot viewing

Some dealers not set up in the dealer room like to do a little trading outside the dealer room.
Security opened up at noon so after I was finished with my business, I dropped my bags off and headed over to the Horseshoe Casino for a few hours before table holder set up which was at 5pm.
At 5pm, there was quite a crowd of dealers waiting in the lobby to set up their booths and start the wheeling and dealing!
After I finished setting up, I walked around the floor hunting for coins to fill in my inventory and for customer want lists. I was pleased to find a few more coins. These are the Pretty Pennies I picked up at the dealer trading room, as well as some pieces I bought throughout the show
That evening, a group of us went to LP Steamers for dinner. In case you're not familiar with this super casual seafood restaurant, they are known for their crab legs, shrimp, and other fresh seafood platters. They serve you a platter of crab legs with a hammer and a bucket and you go from there. When you're through and it comes time to clean up the table, they just pick up the plastic table cloth along with all the crab shells, etc. and throw it in the trash, then lay down a new table cloth for the next customers. Here are pics of some of the dishes we had.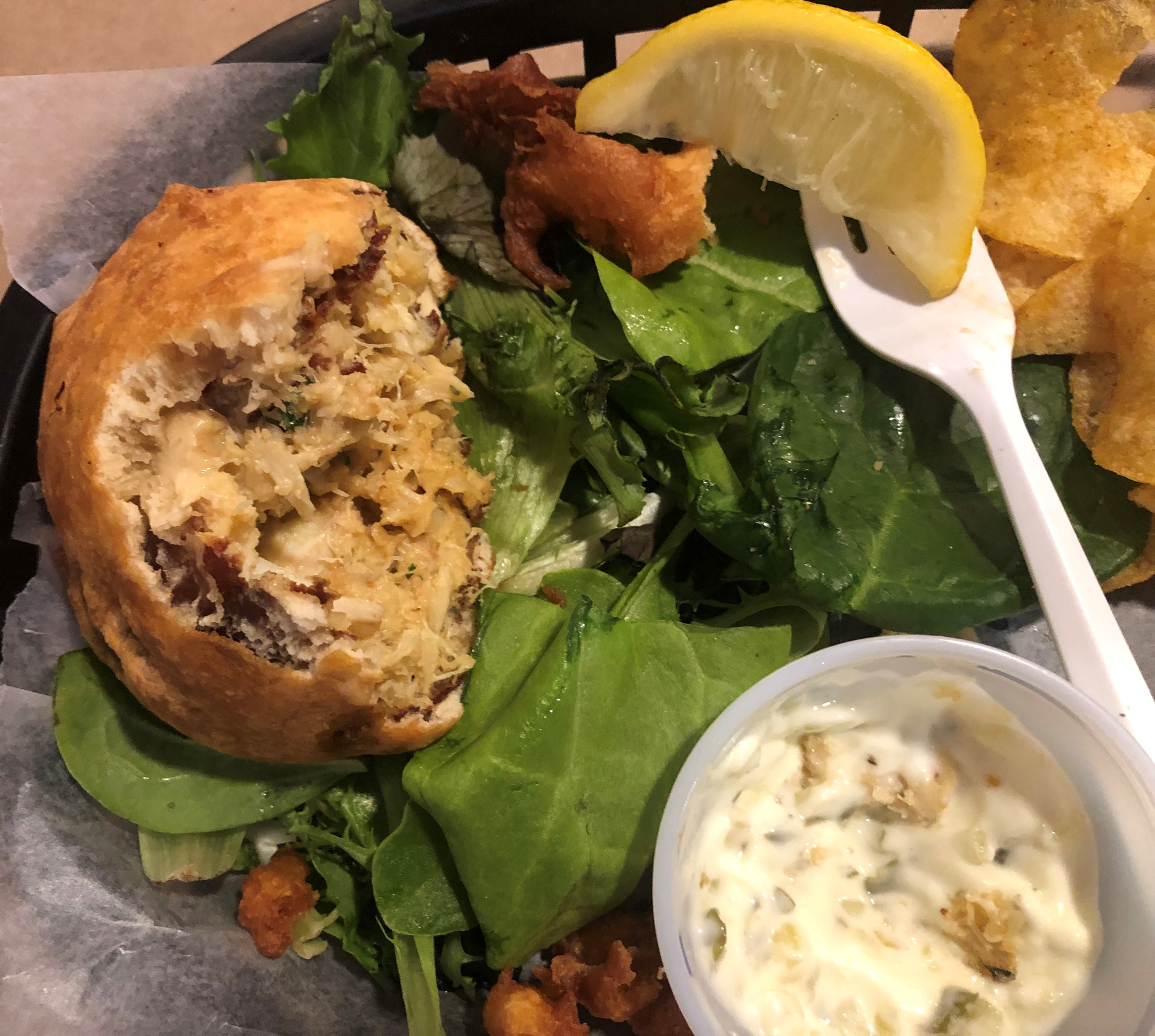 In the morning, the show opened up to dealers and early birds only until noon. Many dealers who had arrived late Wednesday began their set up that morning. These are some pics from around the bourse floor before the public was let in at noon.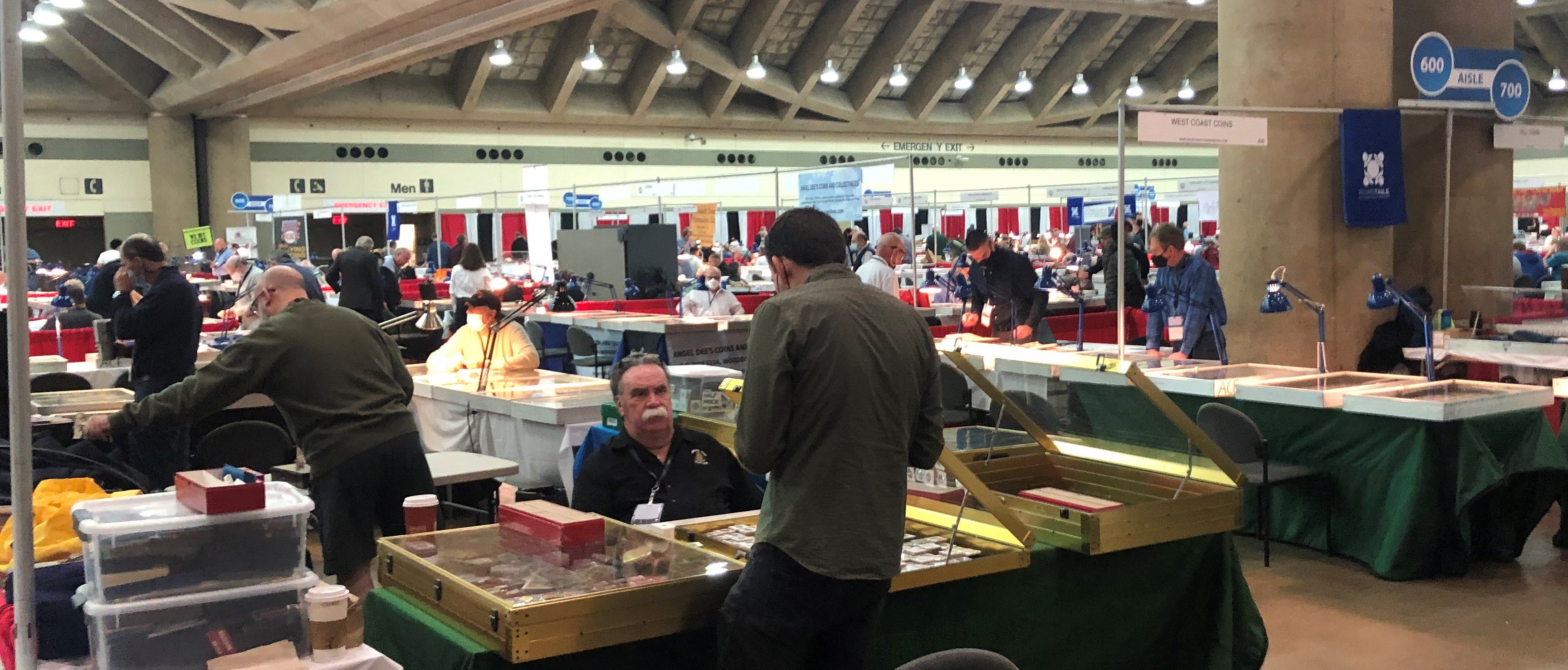 Here are pics of a couple of very friendly guys who dropped by to say hi.
Jeff Shumar

John Feigenbaum

Thursday was really busy and it was great to see some of my regular Baltimore customers at the show. Sales were pretty steady throughout the day, and I even managed to pick up that 1955/55 DDO PCGS MS64+ BN that I mentioned earlier. Also, one of my favorite exonumia dealer friends stopped by and showed me this beautiful encased penny pocket mirror he found and knew I would like for my personal collection, which of course I did! I currently have about 40 various Indian and Lincoln cent pocket mirrors in my collection. In addition to my penny teapots, they are one of my favorite types of penny exonumia to collect. I was very pleased to add this quite scarce Illinois penny pocket mirror to my collection.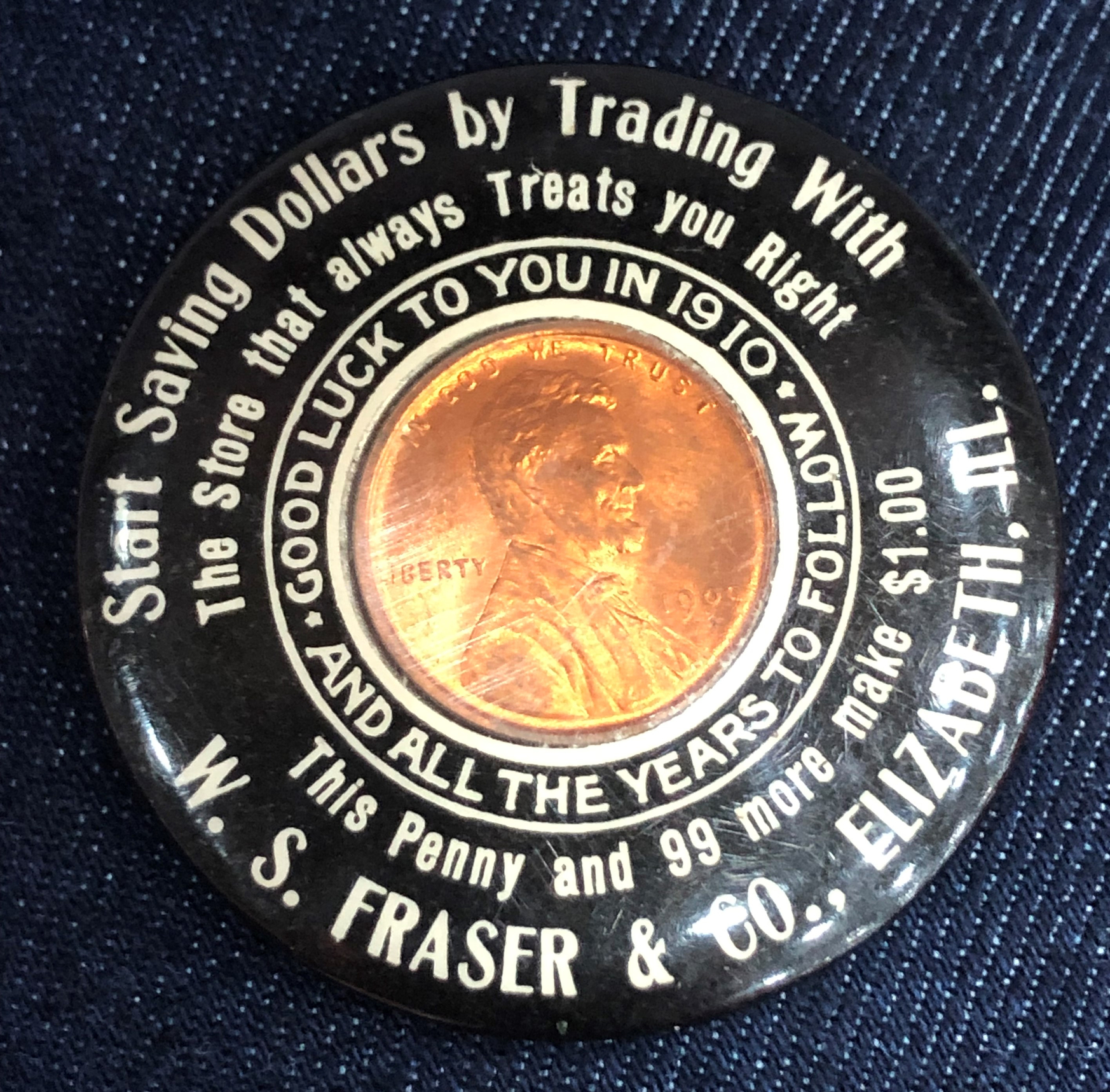 Later in the afternoon, I opened this super delicious bottle of Justin Isosceles that I brought with me. It is an especially delicious wine from Paso Robles and, in my humble opinion, probably the best wine in that area of Central Coastal California vineyards.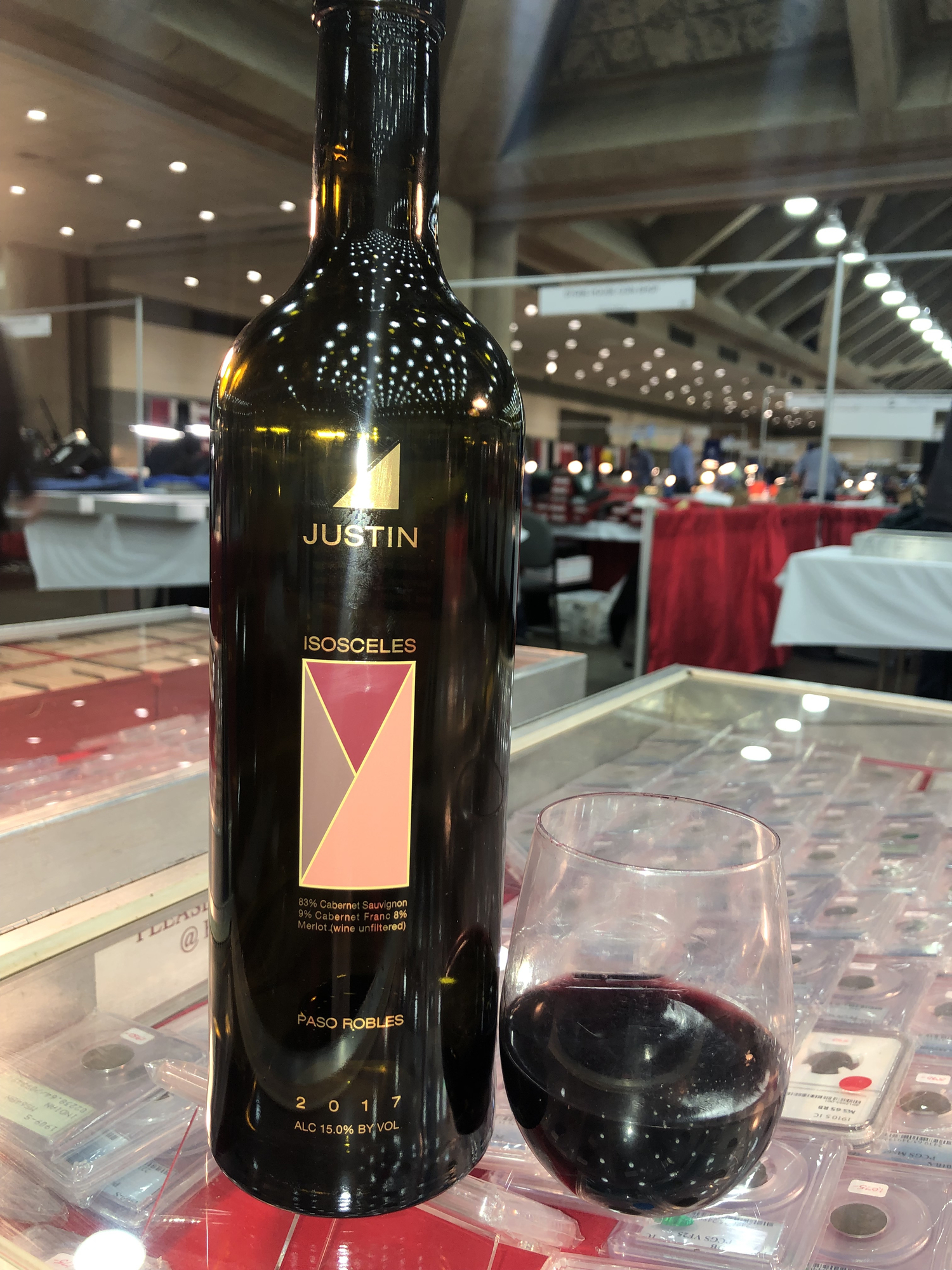 After the show ended, we tried a new Italian restaurant, La Tavola, which was recommended to us by some other dealer friends.
Even though I am not an oyster fan, the folks I was with very much enjoyed them!
And of course we enjoyed this nice bottles of chianti
Friday morning I arrived pretty early at the show – these are some folks waiting in the lobby.
Before the show opened to the public I took a few minutes to walk the floor and took more pics
The very friendly and helpful folks at NGC
And the PCGS folks who are just as friendly and helpful
Lori (from Whitman) who never stopped running around taking care of whatever needed to be taken care of throughout the entire show!
Another very hard-worker and a heck of a nice dealer – Gary Adkins
Brian Alty (Northeast Numismatics and fellow wine enthusiast) and Allie Byers (Scofield Auctions and fellow ANA Summer Seminar buddy)
Dino Koromvokis, my bff birthday twin, and his beautiful wife Lisa
Random pics around the bourse on Friday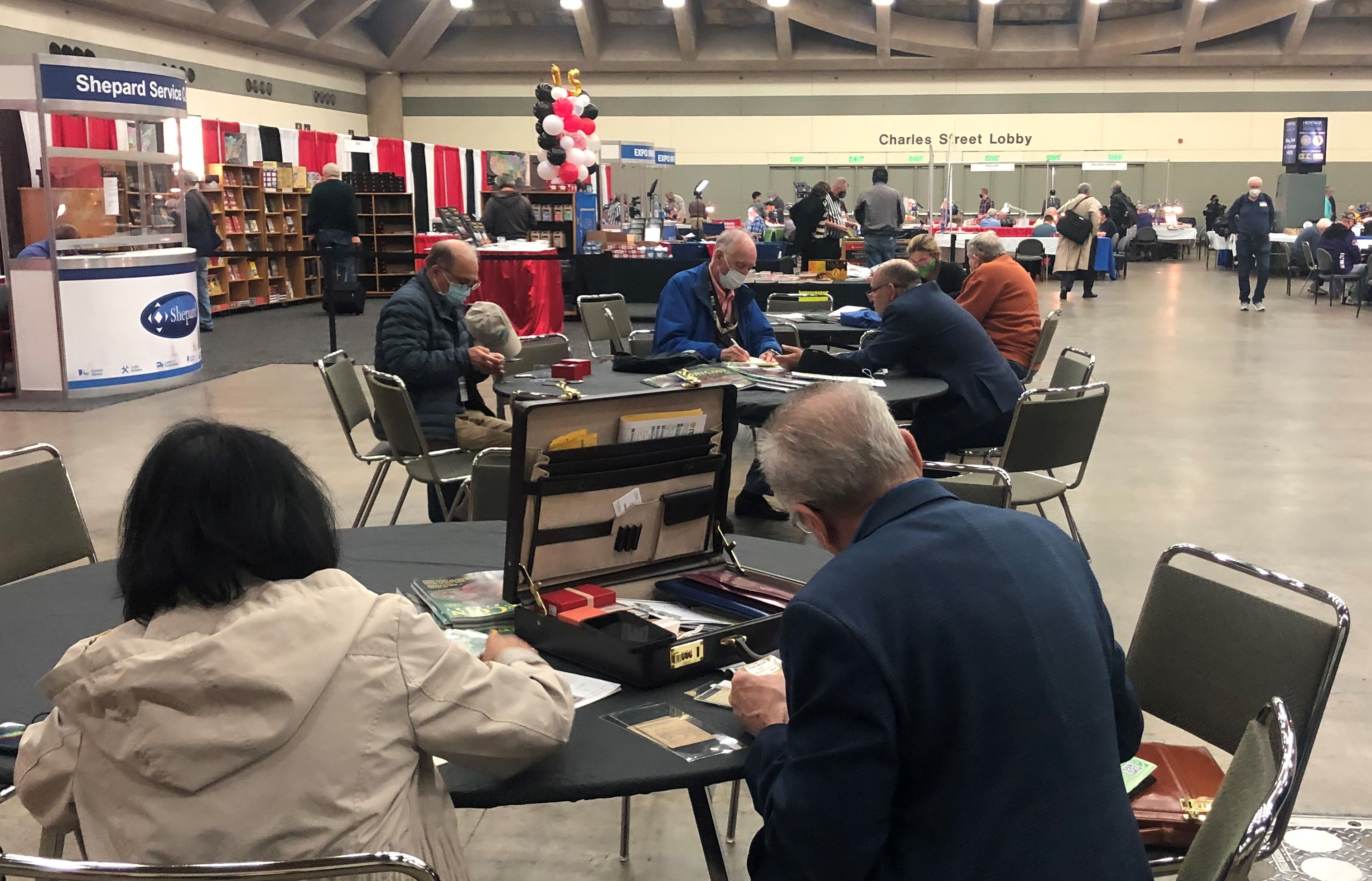 A few other coin forum folks stopped by to say hi
Jaelus and Joe

Mike

Another guy stopped by my table and showed me another piece of penny exonumia he thought I would like for my collection – which I did! I have several different types of pop-out (repousse) pennies, including pins, cufflinks, watch fobs, buttons, etc. This stick pin is made out of a Lincoln cent (with a patent tag on the back). I was very happy to add it to my collection!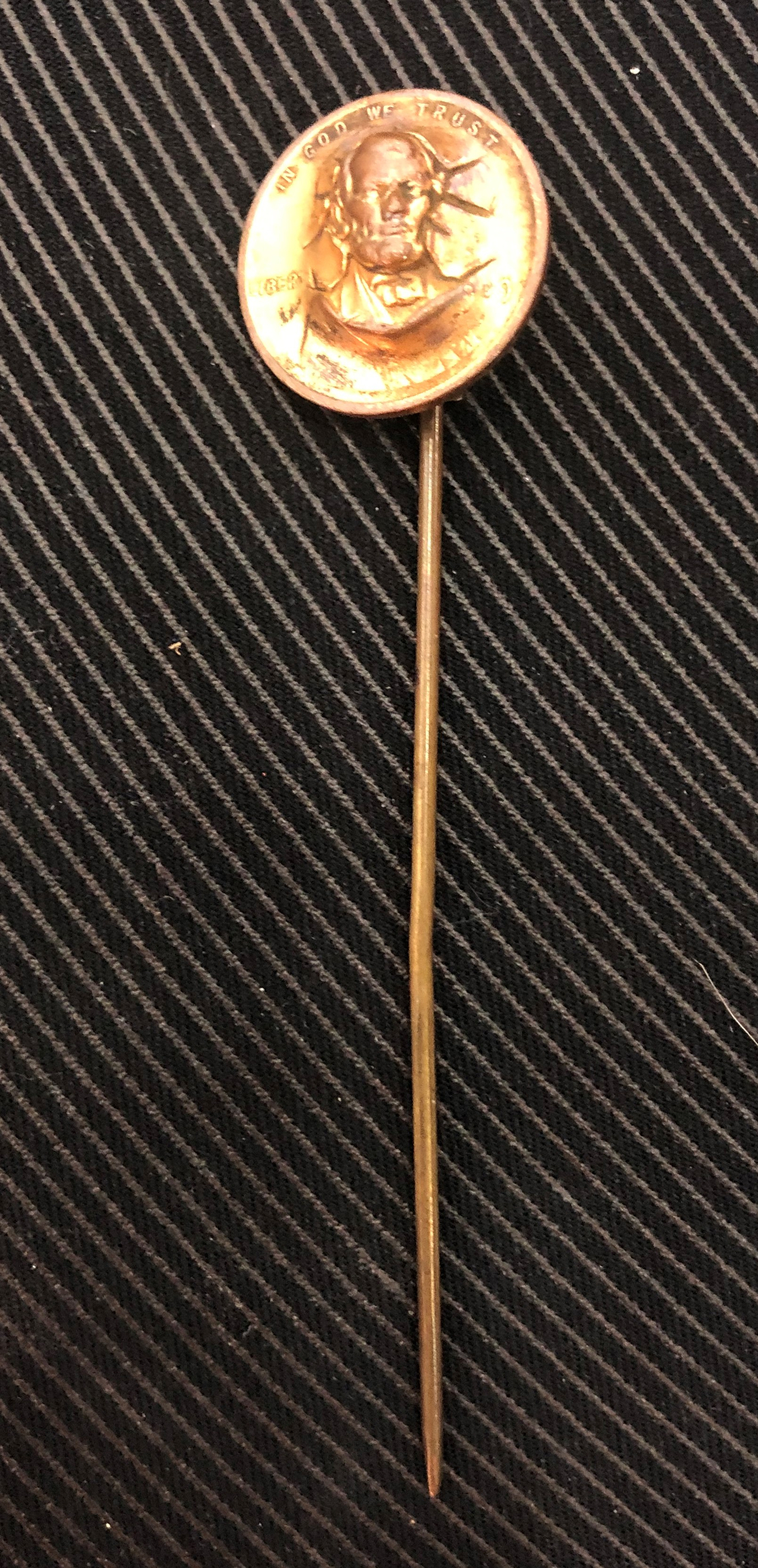 Friday afternoon I opened the other bottle of wine I brought to the show, a Doffo Zinfandel from Temecula. This vineyard is owned by a motorcycle enthusiast who displays his motorcycles at his vineyard. My hubby (who is NOT a wine guy) and I and some friends went to this vineyard and of course, he and my friend's hubby went straight for the motorcycles while my friend and I tasted their delicious wines. I gave tastes of this wine to my table neighbors, Brian, and a couple other dealer friends and they all agreed it was an excellent Zinfandel.
And in case you're interested, here is the Doffo story about his motorcycle venture from their website: https://doffowines.com/our-story/
"The Doffo family's passion for motorcycles can be traced back to Marcelo's childhood in Argentina, where he first fell in love with the imported European motorcycles that were becoming popular at the time. Marcelo moved to the United States in the mid 1970s and eventually opened an auto body shop, Doffo Auto Body, with his brother, Jorge Doffo. Here his eye for perfection was put to good use and he developed his skills as a restorer. After establishing Doffo Winery, Marcelo set out on a quest to find and restore those very motorcycles that mesmerized him as a child. In the years since, the MotoDoffo Vintage Motorcycle Collection has grown to include nearly 200 motorcycles and scooters from around the world and attracts moto enthusiasts and wine lovers alike to the MotoDoffo Barrel Room housed on the winery grounds."
And as I mentioned above, for me the highlight of every Baltimore show is our dinner event at the Black Olive in Fells Point with my foreign coin dealer friends! In case you're interested, here is the story of this wonderful Greek restaurant: https://theblackolive.com/history
This time, however, was even more special as one member of our group (Charlie) had recently suffered a cardiac arrest where his heart had stopped, and he was celebrating his "new lease on life" as well as his 70th birthday. More on this later.
Me and Charlie

We always start the evening upstairs at the bar area with white wine that the owners have chosen for us. This time it was a couple bottles of wonderful Santorini.
Then we head down to the cellar where they have one large table surrounded by hundreds of bottles of wine from various vintages.
This is Dimitris, the youngest son of the owners. He chose the wines for us, told us stories about the wine and his family, and generally assisted us throughout the evening.
He chose these delicious wines for us, including a bottle of Champagne (which Charlie bought for us to celebrate with), to have with dinner
We all signed the bottle of Champagne for Charlie.
These are some of the dishes we had, including the very popular and very delicious octopus! My pasta with lobster tail was absolutely delicious!
After we had finished dinner, we asked Dimitris what was one of the oldest wines they had in the cellar and he told us about their1953 Chateau Canon Grand Cru from France which cost about $800. So Charlie, wanting to celebrate his second chance at life, as well as his birthday, decided to buy that bottle and share it with all of us!
In 2005 they decided to recork this bottle, probably due to the original cork deteriorating
I was truly honored to be able to taste this almost 70-year old bottle of wine and can truly attest that it was delicious, even after all these years!
After dinner, we walked over to one of the many pubs in Fells Point to continue our celebration.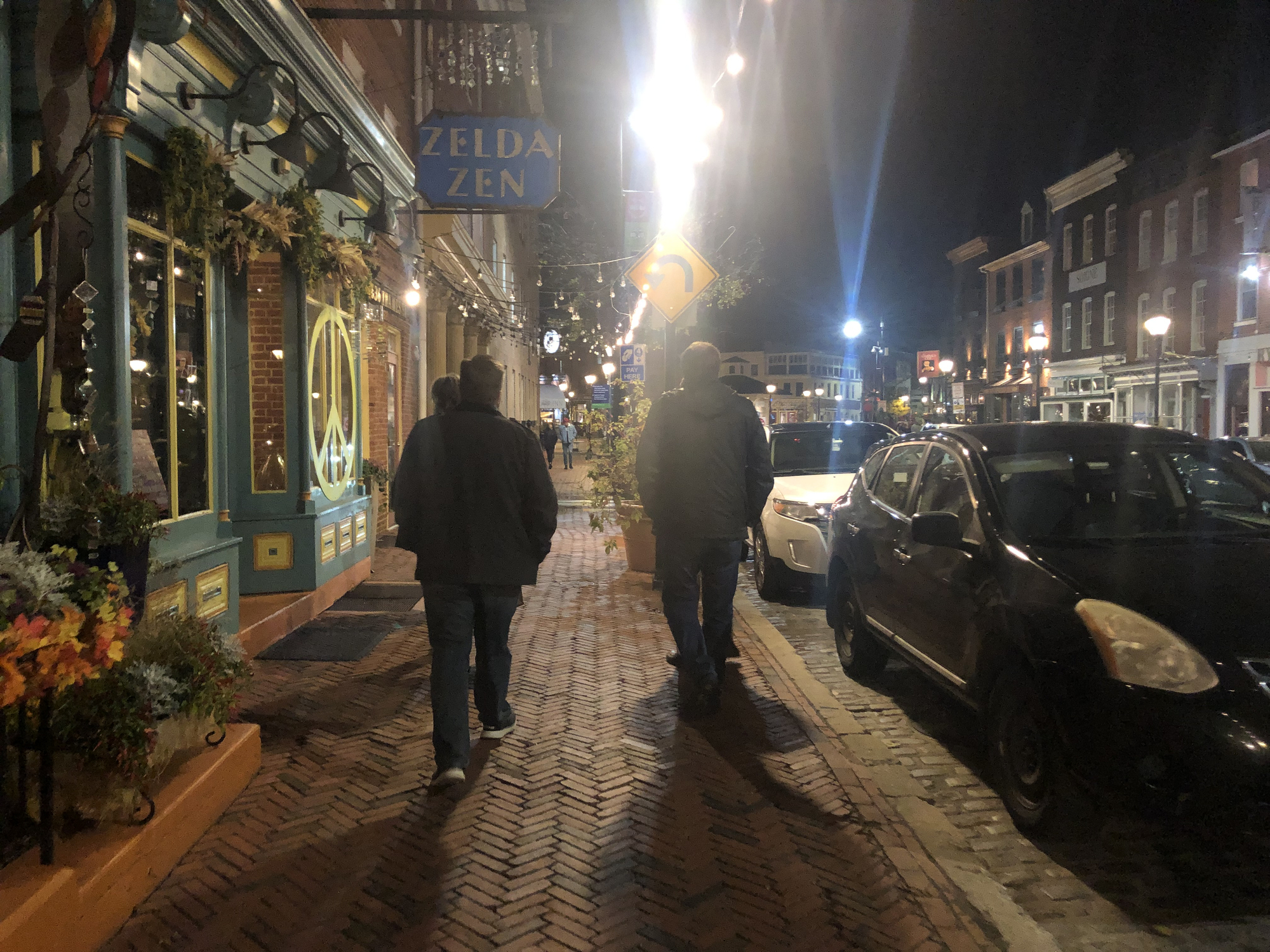 What a truly fun and memorable evening it was being able to spend time with such wonderful people!
So not long after the public was let in on Saturday morning, something occurred that I hadn't seen before at a big show like this one. The dealers who usually set up behind me hadn't shown up so that table was vacant the entire show – except on Saturday. I notice someone had set up at that table. The guy didn't have a case, but had spread a bunch of numismatic items, not all coins, on the table for sale, and he was sitting in the chair behind the table. Since I didn't recognize him, I thought maybe Whitman had decided to rent out vacant tables for the day. However, I then noticed this guy didn't have a dealer badge, which really concerned me because, even though I keep my new coins, money bag, purse, etc. in a case on my back table, it is usually unlocked when I'm at my table, but my back table backs up to that booth's back table and I had no idea who this guy was. So I asked Lori about it and she said no, they definitely were not renting out unused tables and said she would go see what was going on. Apparently, this guy was a "squatter" and had just decided to move in and take over that table. Well, he was immediately told to pack up and leave. I don't know whether he had to leave the show, but I was relieved they took care of it so quickly. I just shook my head at the "gall" of some folks.
So I usually head home on Saturday afternoons of the Baltimore show but I could not get an afternoon flight back to Orange County County this time so I got a flight out on Sunday morning, which meant I could stay at the show all day Saturday. Now you collectors may think that's a good thing, but if any of you were at the show on Saturday afternoon, you would know what a ghost town a large 4-day show is on the last day. I understand that it doesn't seem right, but most of the dealers come to these shows early in the week, and by the last day, they are exhausted and can't wait to get home. In my case, I have always tried to get the latest flight I could on Saturday so I can stay at the show as long as possible but still get home to my family but the airlines have cut back on a lot of flights, so I stayed until the "bitter" end. The show didn't close until 5pm, and this is what it looked like around 3pm.
Luckily, a couple of my Black Olive dealer friends were staying Saturday night as well – Karl even had the same flight back to OC as I did, so after we dropped our coins off at security, we headed out to dinner together. We went to a Lebanese restaurant that I hadn't been to before. The food was really tasty and the wine was good as well. It was a nice way to end the week!
Sunday morning I packed up, picked up my bags at security, and headed to the airport. All went smoothly, no delays, and it was nice to be able to hang out with Karl while we waited for our flights (through Dallas) back home! Bye-bye Baltimore until next time….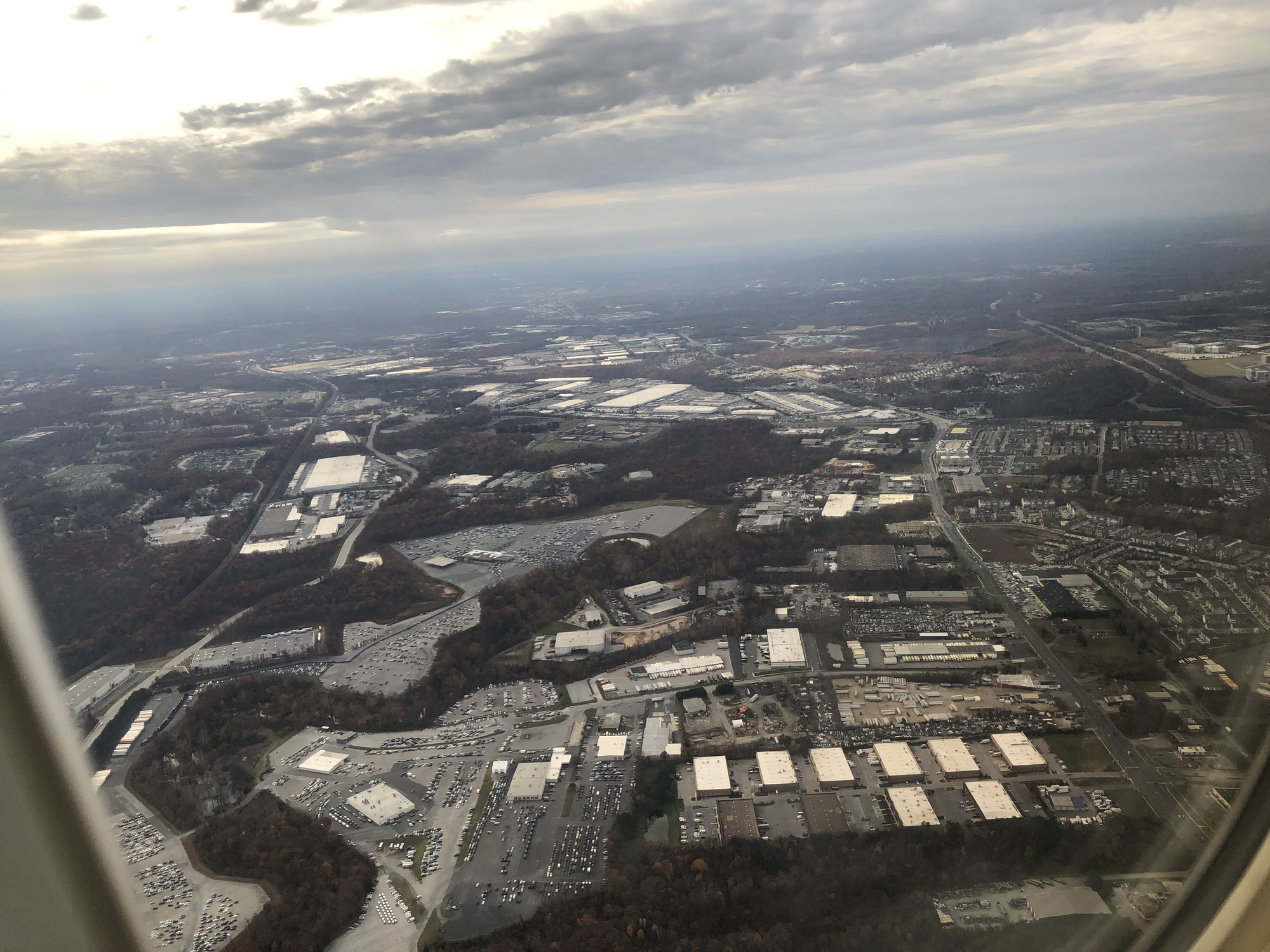 Hello my beloved OC!
And my cutey-pie Penny!
Look forward to seeing those of you who can make it to the FUN show in January! Happy Thanksgiving, Merry Christmas and Happy New Year to everyone one of you!