Having had a 6-week hiatus away from shows, I was REALLY looking forward to the FUN show. For me, it's always been the best show of the year, both buying and selling. And this show did not disappoint. I've read a few reports with mixed reviews, but based on my personal experience at this FUN show, it was super busy and very successful. On Wednesday I did most of my buying, and on Thursday, I never even left my table until 5pm. Friday was a little slower than Thursday, but still had very steady traffic.
As you all know, since I specialize in copper, I personally can't gauge how the market in general is doing. I can say that based on my sales, quality Indian and Lincoln cents are still strong and popular, but early copper seems to have flattened over the last year. But if you're looking for what's going on in the coin market as a whole or reports on how bullion was selling, perhaps you may want stop reading here.
In this report, as usual, you will see pictures of my "nasty wine, while eating whatever," along with pics of the "lights of the city," and of course last but not least "how pretty my coins are." You'll also see pictures of some of the educational exhibits at the show, some of the forum members who stopped by, some of the faces behind the grading tables, photos of the bourse floor in general, and more. So if you're just wanting to be entertained and follow along my adventures at this coin show, then sit back, grab a glass of your favorite nasty wine or other beverage, and read on!
I left chilly but sunny SoCal Tuesday morning. As usual, we took off from John Wayne Airport heading west over the ocean, then turned back and headed east. The view of Newport Beach and the coastline is always breathtaking from the sky.
I connected through Houston, then finally landed in Orlando Tuesday night.
Rick had arrived on Monday and had rented a car so he was kind enough to pick me up at the airport. After I checked in to my hotel (one of the many "Rosen" hotels in the area), we walked across International Drive (right past the famous upside down house) and grabbed a bite and drinks at one of the local pubs, and listened to some great music.
The next morning (Wednesday) after sleeping in a little, we grabbed breakfast then headed over to the convention center to view some auction lots and do a little business before the bourse opened for dealer set up.
By the time the doors opened at 2pm, there was a huge crowd of dealers waiting to get in.
I set up pretty quickly, and it wasn't long before my usual vest pocket dealers began stopping by to show me their Pretty Pennies. I also took a few minutes to hit some of my favorite dealer tables to see if I could fill some want lists. Wow, I found some fabulous and scarce pennies at this show, including an 1888/7 in PCGS F12, a beautiful 1877 in PCGS MS65 BN, a unblemished 1914-D in PCGS MS64 RD, and a colorfully toned1916 MPL in PCGS PF66 RB!
I also found more than the usual number of quality Pretty Pennies throughout the show.
Here are a couple pics of the bourse floor taken from my table (1025) during set up (that's Rick's son Kenny in the dark red shirt photo-bombing my pic!)
After things settled down later in the afternoon, I opened one of my very favorite "nasty" wines that I had brought with me – Rombauer Cab!
My buddy Neal (retired FBI now coin dealer) happened by and shared a cup with me.
After set up was over, a group of us headed over to Charley's Steak House on International Drive for an amazing dinner! It is located right across from the very scary looking Starflyer ride which is all lit up at night and changes colors.
Charley's is rather pricey but I can't say I've ever had a better steak! And their lobster bisque was full of tasty chunky lobster.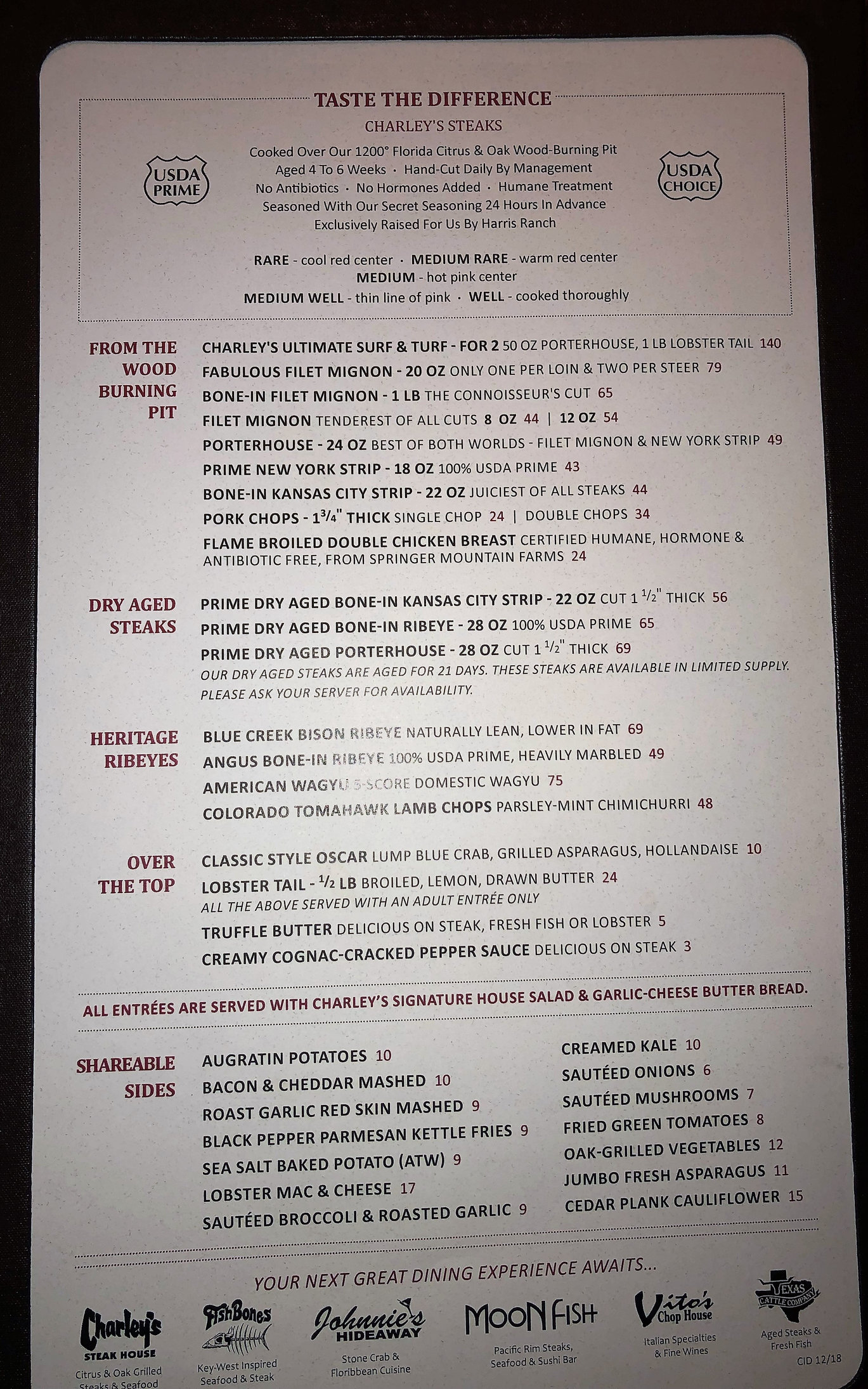 Of course we had some great wine too! They have a huge wine selection – this bottle of Rodney Strong Cab was one of their featured wines and it was so amazing that we had two bottles!
The show opened to the public on Thursday.
I was non-stop busy from the moment the public began streaming in until 5pm when I had to leave for a meeting. It was great to be so busy that the day just flew by! Again, these are photos of the bourse taken from different directions at my table location.
Dave/DPoole took a moment to stop by to say hi
I also picked up a couple of nice penny pocket mirrors for my collection, including a couple that John Kraljevich had set aside for me.
John also sold Rick Snow these two original letters from the designer of the Indian cent, James Longacre. They were written shortly before he died.
I also bought this very cool Christmas postcard that would be given out with a penny tucked inside the tiny envelope that is glued to the inside of the card.
After the show ended, six of us headed over to PF Changs – I know it's a chain, but when you're in the mood for Chinese food, you can't go wrong with PF Changs. Our table was filled with lots of great and varied dishes! And what goes better with Chinese food than a very tasty refreshing Mai Tai!
Knowing that Rick and I are huge Game of Throne fans, during dinner Neal presented both of us with actual rocks he picked up from one of the castles in Dubrovnik, Croatia, where Game of Thrones was filmed!
Although Friday wasn't nearly as busy for me as Thursday was, it was still steady and I had good sales throughout the day. A few more forum members stopped by to say hi.
Bill/Ponderit
Bob/Watersport and his friend Dave
Brian/Wabbit2313
And Mel
At 1:30, I headed over to the Fly-In Club meeting. Chris Pilliod gave a fascinating presentation on the various Indian cent errors he's collected over the years. He really had some amazing errors, including a rare triple struck Indian cent and this very rare V nickle struck on an Indian cent planchet.
After the meeting before I went back to my table, I took a few pictures around the bourse floor. These are the very busy and hard working folks at the PCGS table
And here's a picture of my bff Cindi
Another pic of the bourse at the other end of the room from my table
That night the "Coin Dealers Helping Coin Dealers" group held a reception/meet and greet at Maggiano's.
It was a really nice gathering of probably over 100 people. They served all kinds of hors d'oiuvres with a cash bar. Rob Oberth works does a great job getting everyone together and managing this group on Facebook. They also gave out a nice souvenir half dollar.
That's Rob on the right
Here are photos of the various folks who attended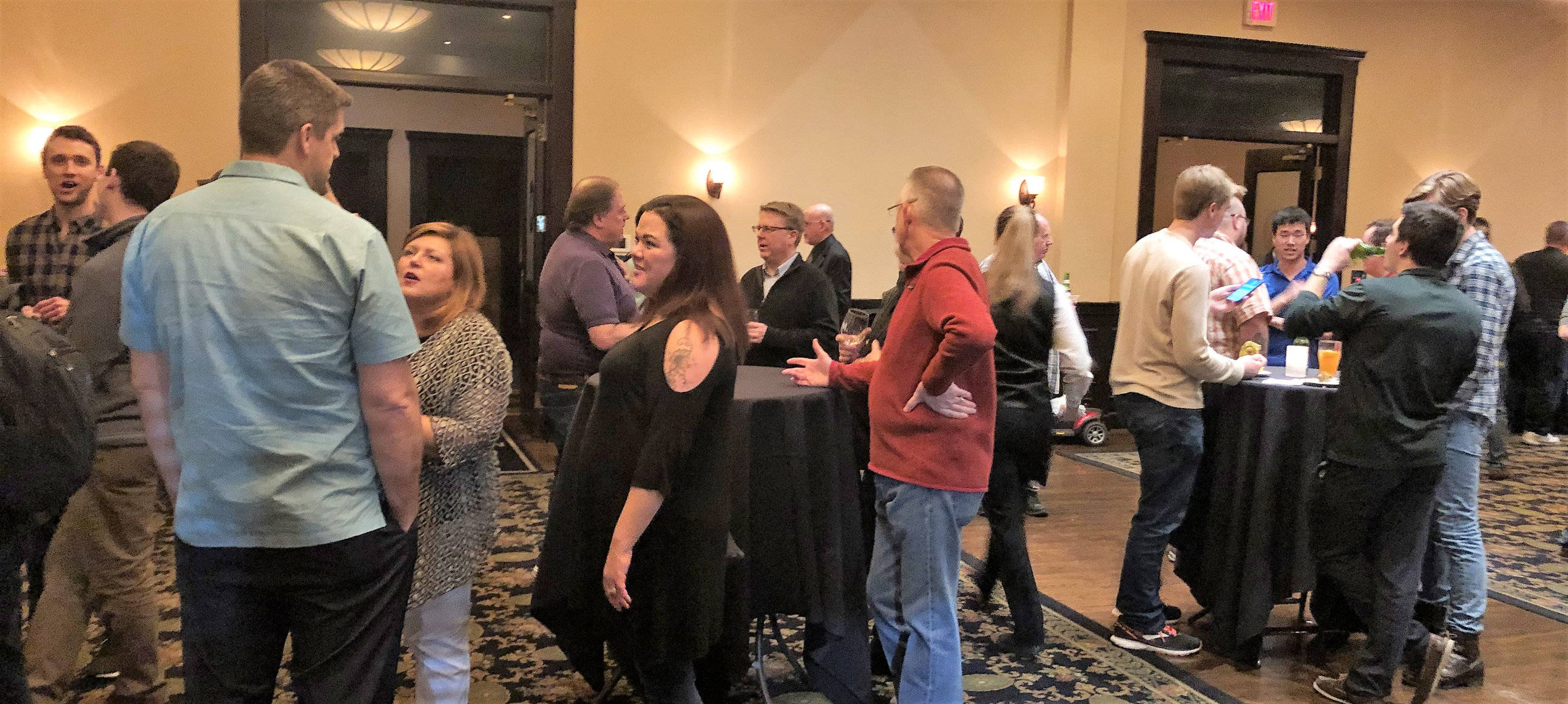 After the reception, we stayed for dinner at Maggianos
They had a special on another of my favorite wines!
Saturday morning I had to get up early for an 8am Women In Numismatics board meeting, followed by our general meeting.
We had a really good speaker, Jim Zylstra, who gave a presentation on "bride-price" in primitive money. It was a fascinating talk on a very unusual numismatic topic!
After the meeting, I decided to peruse the educational exhibits. The FUN show is known to have some very competitive and well-crafted exhibits. Here are just a few of the exhibits – I don't know which exhibit one as it wasn't announced until later on Saturday.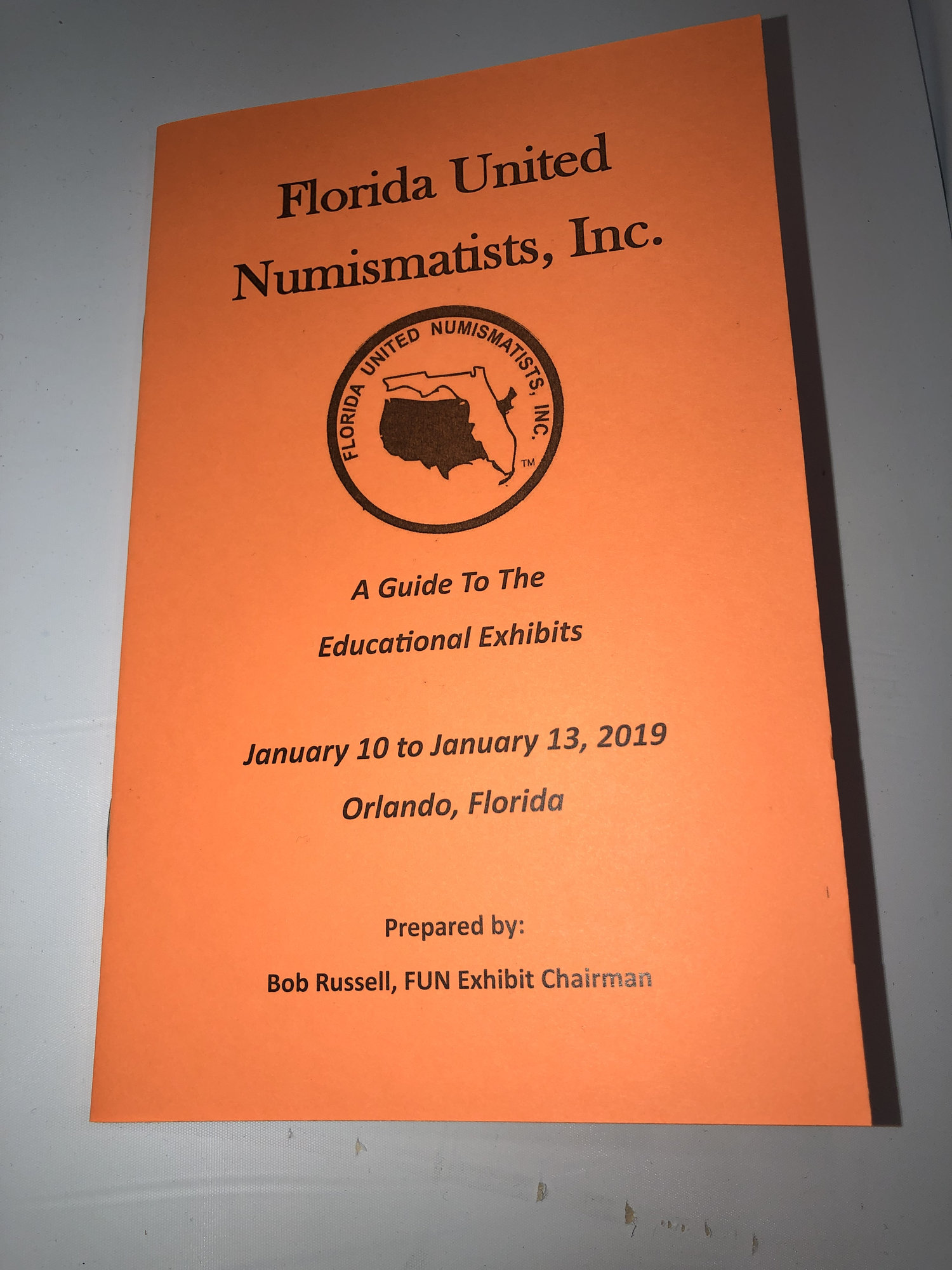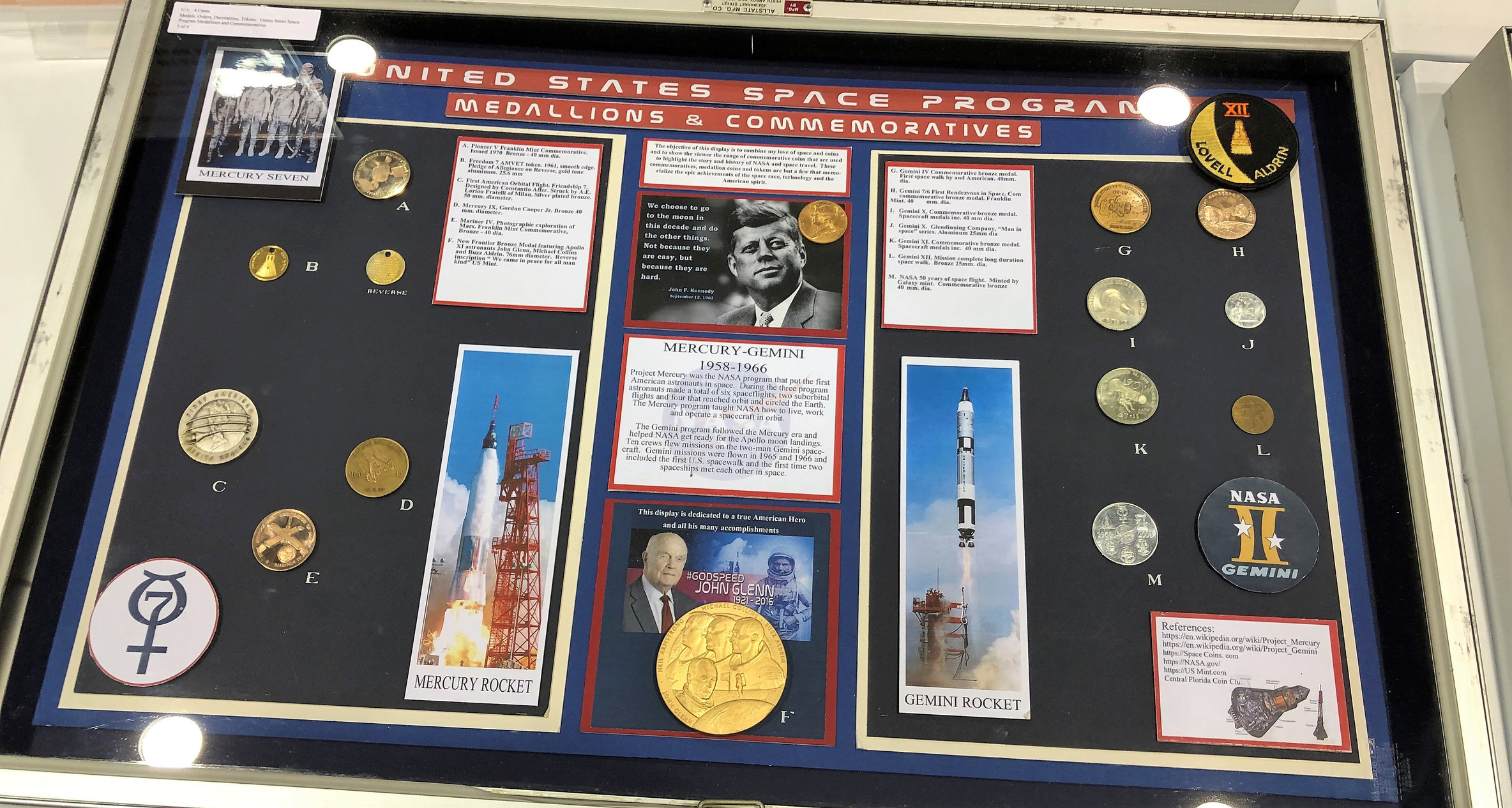 This is Paul working the NCS table
Even though they were swamped, the folks at the NGC table were very kind to take a few minutes to pose for this photo!
And of course here's my bff Cindi working at the ANACS table, along with her co-hort Matt!
After the doors opened to the public, the bourse filled up nicely, though there were many more folks "just looking" or there to ask questions or get appraisals.
Soon it was time, once again, to pack up everything and start my long trek back home. Knowing there was a huge snow storm hitting most of the mid and eastern U.S., I was a little worried about delays and flight cancellations. I was returning through Chicago and I had faith that Chicago knew how to handle tough weather. Even though my flight out of Orlando was delayed, it took off in time to get me to Chicago for my connection to Orange County. Bye-bye warm sunny Orlando, for now!
However, when we arrived in Chicago, it was still a bit of a nail-biter because we were stuck on the tarmac waiting for the plane at our gate to get de-iced before it could take off.
I had only 20 minutes to make it from the C terminal to my gate at the B terminal and I had to lug my heavy bags with him as I hurried to my gate – I was one of the last people to board my flight! But I need not have worried because we were stuck at our gate for quite a while before we took off because our plane had to be de-iced, and several planes ahead of us getting ready to take off also had to be de-iced.
However, I again began to get a little concerned about my flight because the John Wayne Airport has a curfew and if an incoming flight gets there past 11pm, they are diverted to LAX which is over an hour away from my home (whereas John Wayne is only 10 minutes away). But even with all the delays, our flight crew managed to make up time and landed at John Wayne at 10:30pm! YAY!
My hubby was out of town at our place in Lake Havasu when I got home, so I only had my grumpy Siamese kitty Sierra (who ignores me) and sweet Penny waiting for me at home! Both were very ho-hum about me arriving home because I was disturbing their rest!
Next up, the Long Beach show the end of January!